Hello from the Wine Tastings Guide!

This is The Poor Man's Guide to Fine Wine™, a monthly newsletter on all things wine and your guide to finding great wine at affordable prices! Each issue brings you articles about goings-ons in the world of wine as well as reviews of inexpensive wines.

If you like this newsletter and our website, please forward this email to someone you know who enjoys wine or wants to learn more about wine and wine tastings. If this was forwarded to you and you like what you read, you can subscribe to The Poor Man's Guide to Fine Wine for free now.

If you have suggestions, questions, article requests or comments, please contact me -- I love to hear from my readers!


---
Contents of this issue of
The Poor Man's Guide to Fine Wine™
Article: What in Earth Is Terroir?
The Poor Man's Guide's Wine Reviews
---
What in Earth Is Terroir?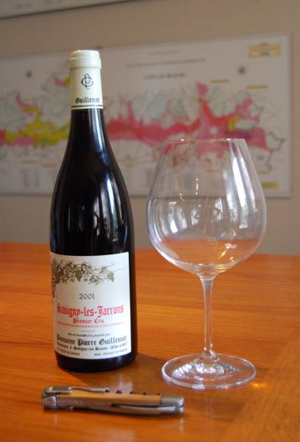 Terroir is a term that starts to come up a lot once you start discussing fine wine, particularly in Europe. From the French, terroir can be loosely translated as "a sense of place", referring to the unique characteristics that a particular vineyard bestows upon the wines produced there. It can also be used to refer to a particular vineyard (as in "Montrachet is a great terroir."). While the exact definition and implication of the term is a hotly debated subject amongst wine lovers, in general, you can think of it as a conglomeration of the microclimate and geological factors which contribute to the life of those vines which are growing in a particular vineyard. The idea is that each vineyard, particularly the best vineyards or grand crus, have unique characteristics which it imparts to the wine; that not all vineyards are created equal and that each has its own unique subtleties which distinguish it from others. In fact, much of the European wine and vineyard system has been built around this idea, with wine regions distinguished by distinct appellations and the wines made there being named for their origin, not necessarily just the name of their grape. For example, a Clos de Vougeot is a Burgundy wine that comes from one grand cru vineyard in the Côte de Nuits by the same name. Many producers can make wine in one such vineyard. Generally, wines that come from a specific plot of land, as opposed to blends from many regions, are much more highly sought after and considered to have more unique and characterful profiles.

Now, one of the first implications of this idea is that wines from a given terroir or vineyard will have distinct characteristics that separate it from others. If this were true, an experienced taster should be able to blindly taste ten wines from Burgundy and tell you without a doubt which vineyard each came from. In fact, this is extraordinarily difficult to do. Clearly, the wines of Burgundy can be dramatically different even though all the reds and whites are all made from the same two grapes, Pinot Noir and Chardonnay. Likewise, Riesling grown in Germany can be dramatically different from two different vineyards right next to each other. Nevertheless, blindly identifying vineyards is very hard. Ignoring the fact that producer styles and vintages also have an impact on the character of the final wine, many people have used this to argue that there is no such thing as terroir, that there are no unique characteristics that are imparted by the specific land in which a vine grows. They have gone on to argue that if terroir does not exist, then why should we spend so much effort and money searching out only the most famous vineyards? Could not a good producer produce grapes grown just anywhere?

As you might guess, I do not buy into these dissenting views. I am 100% a card-carrying member of the "I Love Terroir" fan club. The question to me is not "does terroir exists?" but rather "how exactly does terroir work and how does it express itself in individual wines?".

Well, to start with the second question, many people superficially and simplistically equate terroir in a wine to a gout de terroir or "taste of the earth". In other words, earthy and mineral aromas and flavors in a wine are the expression of terroir. While this may be true, and it is certainly true that many of my favorite wines do have this character, it is too simplistic a definition. Some vineyards produce mineral wines while others produce more fruity or floral characteristics. In my opinion, the flavors imparted by the terroir is an expression of nature, the character and personality of that plot of land as distilled through the winemaking process. In that sense, wines that express terroir are the most holy, alive and beautiful wines there are. By loving and appreciate what we see in them, we are celebrating nature and the Earth itself. This does not mean that each wine that expresses terroir will taste dramatically different (although they can, particularly when tasted side by side), but there is something special in each one that comes from the unique piece of Earth from which the grapes grow.

In another sense, terroir has a much broader implication than on specific flavors. Sure, vineyards with primarily flint soils may produce different characteristics than those with volcanic soil. But beyond that, there is something ethereal, untouchable, unnameable about the best wines from the best terroirs. It is something hard to put a finger on or to describe to someone who has not experienced it. Like appreciating any fine art, recognizing subtleties such as these in wine takes extensive experience. However, when tasting a truly great wine, from a great terroir and vinified by a great vigneron (winemaker), there is something magical about the wine. And I don't just mean that it tastes good. A ripe grape tastes good. This is something more. It is something moving, personal, alive. It has a reverberating sense of energy and personality. It is not a specific flavor, rather it is a subtle intensity of spirit. As Terry Theise says, "The grand cru vineyards are the Earth's erogenous zones. Some have described the great wine Romanée Conti as being like a sphere, complete and with a central core that gives it a grandeur and balance that few wines possess. While I agree, I think that this characteristic is not solely applicable to this wine. Any great wine from a great terroir, if fully expressing that terroir, seems to have this roundness, this completeness, this core of energy that sets it apart. I firmly believe that this is an impact of the terroir of a great vineyard itself.

So what does this mean to you? Why should you care about terroir? Because unique personalities means more interesting wines which means you don't get bored. Me, I get bored drinking Bordeaux after Bordeaux or Californian Cabernet after Californian Cabernet which all taste the same, no life, no personality. Not to say that there aren't some great Bordeaux and Cali Cabs. One of the ways that you can be on the look-out for distinctive wines is to recognize that the impact terroir makes on a wine can be subtle, and if a winemaker is overly aggressive in their manipulations of a wine, that terroir may be lost. In a sense, the best winemakers baby those grapes along while trying to be as non-interventionalist as possible; allowing them to express their potential, but without getting in the way of what they have to say. For example, excessively ripe grapes, aggressive extraction, high alcohol, and excessive oak influence can all cover up the natural subtleties of the wine.

So educating yourself about those producers who are fanatically dedicated to delicately delivering un-manipulated wines that clearly express their terroir is one place to start. I have reviewed some of these types of wines already and some are included in this newsletter. Producers like Huet in Vouvray, JJ Prum in Germany's Mosel, Baumard in the Anjou, Marc Olivier in Muscadet and many others (an exhaustive list would be impossible) work hard to preserve the natural beauty and voice of their wines, particularly those that come from unique terroirs. Some regions are better known for emphasizing terroir and hold it as a lofty goal to achieve (or maintain) in their wines. For example, the term was practically born of Burgundy, where hundreds of different vineyards are vinified separately to maintain their unique characters. Many producers in Alsace, the Loire Valley, Germany, Austria and even Champagne work hard to grow healthy grapes from great vineyards and then get that fruit into the bottle in as non-interventionalist a way as possible, retaining all that life and personality.

The journey of discovering terroir and how it expresses itself in the world's great vineyards is a lifelong one. Open your mind and start exploring and you will find a fascinating world with as many unique wines as there are unique people on this planet.

Cheers!
---
The Poor Man's Guide's
Wine Reviews
Wine Ratings Explained:
Zero Stars
A wine I don't particularly recommend.

One Star
Well made, simple and tasty wines that I recommend.

Two Stars
Excellent quality. Worth an extra effort to search out and enjoy.

Three Stars
Outstanding wine of the highest caliber.
+
Plus
Either a wine that is close to deserving a higher score or a wine that may not be showing that much but with the potential to move up in quality with further aging. A young wine that may be closed up or shows potential for significant improvement. Assuming it opens and improves with additional age, it may merit a higher rating.
???
Flawed bottles or wines that are difficult to assess for any number of reasons. Judgement reserved.
Sparkling Wines:
Patrick Bottex
Vin de Bugey-Cerdon
La Cueille
Drink Now-2011
$20
This is a wine you don't see very often. It is a sparkling rose, almost red, from the Savoie region in France. From what I've heard, these are often made from Gamay.

The nose has an interesting creamy, almost lactic, nose which is sweet and enticing. An interesting contrast here with a bright attach of fruit followed by a fresh but sweet midpalate. Tight acidity pulls up the rear end to clean it all up and keep it focused. This is really yummy; fresh and refreshing. One Star Plus. Importer: Kermit Lynch Wine Merchant, Berkeley, CA.
---
White Wines:
Château Font-Mars
Picpoul de Pinet
Languedoc 2007
Drink Now-2009
$10
An interesting white from the Languedoc in the south of France, the grape is Picpoul de Pinet. I was told this was an ideal oyster wine, so after tasting it I tried that assertion out. Low and behold, it was a great pairing to raw oysters and I would guess is a good basic seafood wine in general.

Fresh aromas of lychee, gooseberry and quince, this even has hints of oyster shell-like minerality. Bright and fresh yet with a roundness and richness on the palate not unlike a good Muscadet or Bandol Blanc. Rich while light. Flavorful yet never heavy. Simple but never boring. Great basic and fun seafood wine at the right price. One Star Plus. Peter Weygandt Selection. Importer: Weygandt-Metzler, Unionville, PA.
Hiedler Grüner Veltliner
Löss, Kamptal 2007
Drink Now-2010
$16
Austrian wine is not well know by the average wine drinking public in the US but it should be. The Grüner Veltliner and Riesling wines can both be outstanding from good producers and many are still a relative value. This one is a good value and a very solid wine, but for the price comparison the version by Stadlmann below is even a better deal. By the way, if you find Terry Theise Estate Selection on just about any wine from Austria, Germany or Champagne, you are very likely to have an excellent wine.

Smokey flint and grapefruit aromas and a simple but vibrant citrus and honeydew melon flavor. Pure and clean but lacking a bit in the middle, maybe just a function of the vintage which a bit less complete in most parts of Austria than 06. Nice nonetheless and good for current drinking. One Star. Terry Theise Estate Selection. Michael Skurnick Wines, Syosset, NY.
Louis Jadot
Mâcon-Villages
2006
Drink Now-2012
$12
Jadot is one of the largest and most respected domaines in Burgundy, producing both negociant wines from bought grapes and domaine wines from their own vineyards. This is one of the former, coming from Chardonnay vineyards in the Mâconnaise at the southern end of Burgundy.

Nice stoney tropical fruits, a creamy and rich mouthfeel and a hint of saline minerality combine to make this a refreshing but flavorful summer drink. Nice basic white Burg to enjoy over the next few years. One Star. Importer: Kobrand Corporation, New York, NY.
Domaine de la Pépière
Muscadet Sèvre et Maine sur Lie
Clos des Briords
Vielles Vignes
Marc Olivier 2006
Drink Now-2024
$13
Muscadet sometimes gets a bad rap. Most people think of it as a simple, refreshing white to suck down with light seafood dishes. And yes, it can be that. But in the right hands it can be so much more. Perhaps the low price has kept them from being considered a real contender in the world of fine wine? Made from the Melon de Bourgogne grape in the western Loire Valley, the best examples of these wines can be deceptively light when young. No, they aren't big and fruity, but the intensity of mineral and sea flavors are something to behold. This Muscadet is one of the best, from very old vines (thats what vielles vignes, or VV, means on a French wine label) and an outstanding producer.

Aromas that literally bring you to the French coast. Sea air, salt and even a savory hint of something like Parmesan cheese. Crisp, steely minerality, granite and sea shell create a flavor impact that is both intense yet subtle and refined. Wound up and intense similar to what you might expect from a very young traditional Chablis, but there is a sense of nervous energy reverberating within, shimmering and just aching to jump out at you. Refreshing now but should get better and better with age. Refreshing is an understatement. If you love nature, then this wine is for you. LIke a breath of fresh sea air while admiring the wonder of rocky geological formations. The quality to price ratio here is just downright silly. I bought tons of this in bottles and magnums, partially because I love it and partially because it is from my son's birth year and I look forward to drinking a bottle or two with him someday. Two Stars Plus. Louis/Dressner Selections. Importer: LDM Wines Inc., New York, NY.
Salomon Riesling
Undhof Kögl
Library 1993
Drink Now-2015
$35
Salomon is one of my new favorite producers. Coming from the Wachau in Austria, they make outstanding Grüner Veltliner and Riesling. This particular wine comes from the Kögl vineyard, one of their top two and is a library release, held at the winery for years and just recently released.

Minerals, petrol, honey, camomile, chalk and iodine. All the good stuff. This is a beautiful Austrian Riesling nose. The flavors are steely, bracing and shimmering with life. Not an opulent or sweet Riesling. No, this is a classic Austrian Riesling covered in minerals and elegant length. Mature now but still vibrant and has a youthful nervosity and elegant texture. This can drink well for some time still. Two Stars. A Terry Theise Estate Selection. Importer: Michael Skurnick Wines, Syosset, NY.
King Shag
Sauvignon Blanc
Marlborough
New Zealand 2007
Zero Stars
Drink Now-2009
$8
This is cheap, but I still can't recommend it. I do like many New Zealand Sauvignons but something was missing from this one. The nose did have some typical grassy notes but it was a bit diffuse and flat with some hay, melon and apricot. Tangy attack of bright fruit but then borders on the sweet. A bit unbalanced and awkward, this just didn't come together for me. No bad flavors but not enticing. Zero Stars. Importer: American Beverage Group, Inc., San Clemente, CA.
Stadlmann
Grüner Veltliner
Traiskirchen Thermenregion
Trocken 2006
Drink Now-2016
$12
As mentioned above Austrian Grüner Veltliner and Riesling can both be outstanding from good producers and many are still a relative value. This one is a particularly good value for the price.

A slightly smokey nose of gunflint, white peaches and pineapple lead to pure, stoney fruit flavors. The texture is quite round and ripe for a Grüner but has that enticing, slightly bitter, savory note that makes Grüner so food friendly and mouthwatering. If I had to put a descriptor on it, its like a hint of grapefruit seeds and zest there to lend a fresh accent to the fruit. Excellent value. One Star Plus. Bill Mayer Selection. Valley View Wine Sales, Glen Ellen, CA.
---
Red Wines:
Domaine d'Aupilhac Montpeyroux
Coteaux du Languedoc 2005
Drink Now-2015
$20
From the Languedoc in the south of France, this wine is a blend of traditional southern grape varieties including 30% Mourvèdre, 28% Carignan, 25% Syrah, 12% Grenache and 5% Cinsault.

Aromas of tobacco, toast and spicy berries introduce a spicy darkly fruited wine with velvety tannins and a brightness that keeps it from being heavy. Both rich in flavor and very drinkable. Very nice southern red. One Star Plus. Importer: Kermit Lynch Wine Merchant, Berkeley, CA.
Château des Baumelles
Bandol 2001
Drink 2010-2026
$25
While I am a big fan of Bandol, this producer was new to me. I've heard of them for some time but had never seen a bottle in the US. So I was excited to try it out!

This wine was initially quite brooding in character with peppery, brambly DARK black fruit. Rustic rich and dense flavors with abundant powdery tannins that coat your mouth. After an hour in a decanter this started to get a bit more accessible with a chewy texture. Not that deep in terms of layers of flavors but it is rich and dense. Quite rustic, not a polished Bandol, but perhaps that is more typical to the appellation. This would be quite nice in a few years with some rustic Provençal cuisine, a roast leg of lamb perhaps? One Star Plus. Importer: Weygandt-Metzler, Unionville, PA.
Casa Silva Carmenère
Colchagua Valley, Chile
Reserva 2006
Drink Now-2010
$13
Carmenère is an interesting grape that was actually planted widely in Bordeaux in the distant past, with only small amounts of it still remaining there. It has become popular in Chile.

This one shows an almost Merlot-like plum and ripe bing cherry. It has herby, leafy plum and cherry fruit and a hint of alcoholic heat. However it has enough herby tang to keep it somewhat balanced. Not great, but not a bad basic everyday wine. Like the Ravenswood below its a bit fruity and ripe for my taste, but I suspect this will have some fans. One Star.
Frescobaldi Castiglioni
Chianti 2006
Drink Now-2011
$14
Frescobaldi is a large producer in Tuscany, producing several wines from various regions in the area, including Chianti and Brunello.

Dusty, but in a good way, like a cart full of ripe cherries being dragged through a rustic country side. Ripe cherry fruit and an almost Beaujolais-like freshness and juiciness to the palate but with dusty finishing tannins. Good simple pizza wine. One Star. Importer: Folio Wine Co., Napa, CA.
Louis Jadot Santenay
Clos de Malte 2005

Drink Now-2017
$24
From the village of Santenay in the Côte de Beaune, this rouge is a Burgundy from a single vineyard plot although it is not a premier cru. It is hard to find inexpensive Burgundy values these days, so take note!

Pure and refreshingly crunchy ripe red berries are laced with prominent earth and black pepper spice notes. The flavors light up your palate with spicy and intense medium-weight ripe but tart red fruits. A tight finish with some tannin grip suggest this will improve with a few years in the cellar. Quite pure, full of mineral and acid grip and really gets those salivary glands working. This is not a wine for those of you looking for an in-your-face fruit bomb. This is a great example of terroir and balance. Definitely makes you want some food! Two Stars. Importer: Kobrand Corporation, New York, NY.
Domaine de la Pépière
Cuvée Granit 2006
Vin d'Pays, Marc Olivier
Drink Now-2012
$13
Red Muscadet? Who ever heard of that? Well, no one, because it is illegal by French wine law to label it as such. But yes, this comes from the same region and producer as the excellent Muscadet reviewed above. It has to be called generic Vin d'Pays by law. This is an interesting blend of Malbec (called Cot in the Loire) with some Cabernet Franc and Merlot.

This acts almost like an extra-stoney Cru Beaujolais with fresh red fruit accented by stoney, crushed granite minerality. This wine is alive and has a bright attack of tart but juicy red fruits with bracing stoney structure and a hint bitter herby notes to add complexity and interest. Vibrant and refreshing. Not a powerhouse in terms of weight but complete and utterly satisfying. This is great with a bit of a chill and is an ideal summer red. It is also very food friendly. Another stupid value! Two Stars. Louis/Dressner Selections. LDM Wines, Inc., New York, NY.
Ravenswood Vintners Blend
California Zinfandel 2006
Drink Now-2010
$8
Ravenswood is a famous vineyard in Sonoma which is known for its various single-vineyard Zinfandels. While quality was high in the past, even these wines have been hit and miss in recent years. Nevertheless, the Vintners Blend series has tended to be a good value for simple but tasty wines in a pretty forward, sweet style.

Spicy and brambly wild berries are simple but nice. A hint of alcoholic heat gives a bit of a stewed aroma. Spicy and fruity flavors are simple and on the ripe side. Not really my cup of tea in that this is quite fruit forward and sweet but if you like fruity California wines its not a bad value for an everyday pizza and pasta wine. One Star (barely).

---
Have a Reader Tip or a Question? Contact Me!
I love to hear from my readers and visitors. If you have a handy tip to share or questions or comments on anything related to wine and wine tastings, please contact me!


---
Looking for Wine or Wine Tasting Related Info? Search our site!
You can now search through all of my pages by using our handy Search This Site feature. You can also browse through a site map to find the information you desire. Still can't find what you are looking for? Then contact me!


---
© 2008 Poor Man's Guide to Fine Wine. All Rights Reserved.


---