Inexpensive Wine:
The Poor Man's Guide to Fine Wine™
A Free Wine Newsletter!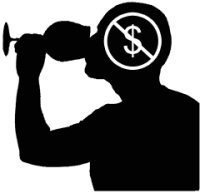 Inexpensive wine does not have to be mediocre or bad wine! When first learning about wine, one of the hardest things to do is to find truly great wines that don't cost you an arm and a leg. This free newsletter, The Poor Man's Guide to Fine Wine™ helps you to learn more about the world of fine wine and to find those hidden gems, those wines that fly under the radar and are worth much more than the general public knows. We all know that if you have a thousand dollars to spend on a bottle, you can find a great wine. The harder trick is to find a truly great inexpensive wine. After all, few of us are billionaires, so while we may occasionally splurge on a special bottle for grand occasions, we need a long list of go-to everyday wines that will not disappoint.
I send out a FREE issue of The Poor Man's Guide to Fine Wine™ by email approximately monthly!
See All The Back Issues
The Newsletter Generally Includes Three Sections:
The basics of wine, wine tasting and hosting a wine tasting party are pretty well covered on our website. Therefore, this newsletter is not meant to replace that basic information. Instead, it helps to both introduce you to more specific and advanced topics and goings on in the world of wine as well as to review and help you find fine inexpensive wine. Included in each edition are the following:
An update of what is new at the Wine Tastings Guide, as appropriate, including new articles and sections.
A discussion of an interesting current topic in the world of fine wine.
The Poor Man's Guide... - This is where I review inexpensive wines from around the world so that you can get an idea for what to look out for for great quality for lower prices. Yes, there truly are great wines in these price categories, not just mediocre ones that "are drinkable"! Generally, I focus on wines under $20, although I will go as high as $50. For more information about how I rate wines and my personal philosophy about wines, see below!
This Poor Man's Guide to Fine Wine™ newsletter is delivered approximately once a month, full of new info just for my subscribed readers!
Subscribe now, it's free!
I will only use your email to send you The Poor Man's Guide to Fine Wine™. I will not share your email address with anyone and I will not send you any other email.
---
How The Poor Man's Guide to Fine Wine™ inexpensive wine ratings work:
I am not a fan of scoring systems for rating wine. Can you tell the difference between an 88-point wine and an 87-point one? Can you consistently call those wines those scores day after day, blind? I think not. Wine is such an evolving, living and subjective thing that there is no 100% accurate way to quantify its quality. Different drinkers have different tastes and any one wine may show quite differently in different situations on different days.
Therefore, I do not believe in the 100-point scale for grading wines as is used for many other wine publications. The written description and evaluation of a wine is generally much more telling than any one number that is given. However, people do respond to some sort of grading scale to know where a wine falls in the scheme of things.
In The Poor Man's Guide to Fine Wine™, in addition to the written description, we grade wines on a three star system. Any wine that gets any stars is worth your time! One star is not a criticism! It means I like the wine and recommend it. Here is a guide to what the inexpensive wine stars mean:
Zero Stars: These are wines we do not recommend particularly. They can be anything from frankly flawed and undrinkable to mediocre. Even the best of them are not something we would go out of our way to drink on a regular basis. Pay attention to the written notes to determine why we felt these were not deserving of at least one star.
One Star (*): These are wines that are well made and deserve drinking. While they may not blow you away, they are pleasant and serve a purpose. Generally that purpose is not sitting for hours delving into all the layers of complexity of these wines, but they are often nice, pure and simple wines that do well with food, as a simple sipping wine or just to relax with. These are the types of wines we, and most wine lovers, drink on a day to day basis. If inexpensive, they represent good values for everyday drinking.
Two Stars (**): A great wine by any definition, these are special wines that are truly excellent in quality. They go above the one star wines in that they generally have a greater level of complexity and depth, offering great interest and pleasure. These are excellent wines and worth the extra effort to search out and enjoy. Don't make any mistake about it, these are the type of quality inexpensive wines we dream about and look for on a regular basis.
Three Stars (***): Three stars are reserved for truly great wines of the highest caliber. These are not just excellent wines, they are absolutely outstanding, capable of reaching the highest heights of wine. In the right context, they are capable of moving you. This is a rare breed of wine, at any price! So I will not fool you, in the under $50 price range these wines are not common. However, they do exist! Searching out and finding these gems is one of my life passions and I hope to bring that search to all of you! However, no one needs to drink these wines everyday. Don't just search out the three star wines. First of all, you won't find them that often, and second, you will miss out on all the great one and two star wines that are truly fine drinking.
Plus (+): You will see a plus sign next to some inexpensive wine scores of one or two stars. This represents a wine with the potential to move up in quality to the higher rating level with further aging. Usually represents a young wine that requires some time in bottle to really show itself. It may be closed up, needing age. Assuming it opens and improves with additional age, it may merit a higher rating.
In general, you won't find many zero star wines in our newsletter because we know what we like and actively search out good, naturally made, unique and personality filled inexpensive wines. We avoid homogenized, cookie-cutter, mass produced plonk without distinction. Even our everyday, inexpensive wine choices are real, living, breathing expressions of the Earth, made by people who care about fine wine and respect their raw materials.
My Philosophy on Fine Wine: Read about my views on wine and what makes a wine good or great. This can help give you a perspective on what types of wines I like and are likely to rate more highly. You may not always agree with my reviews, but that is one of the fun parts of wine! Everyone is entitled to their own opinion and their own personal preferences.
My Disclaimer: I do not get samples, donations or special treatment from any wineries, wine distributors, importers, wine retail establishments or anyone else in the wine business. The inexpensive wine examples we review and rate in our newsletter are wines we purchase for ourselves, or were enjoyed with friends, and are enjoyed on a day to day basis in our home. It is what we drink and explore as part of our everyday enjoyment of wine and food and we are sharing it with you. Therefore, we have no financial or other interest in the sales of these wines and have nothing to gain from their sales in any way, shape or form. That way, we can give you a viewpoint and review which is wholly unbiased by outside factors. The only biases are our own preferences and subjective opinions about what makes a wine great. To get a sense for that, you can read more about My Wine Philosophy.
---
Go back to the top of the Inexpensive Wine Newsletter page.