All About Hosting a Wine Tasting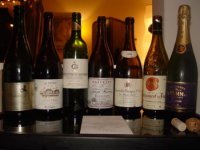 Hosting a wine tasting is one of our favorite ways to entertain. The combination of great wine, even better company and some tasty snacks leads great conversation and lots of fun. Also, there is no better way to learn about fine wine than to jump in and start tasting and discussing wines with other people who are eager to learn. You can only learn so much from books, the rest has to come from experience. So don't be intimidated, we have all you need to get you started so that you can plan a home wine tasting. We'll give you some fun wine tasting party ideas to spice up your event so that when you throw a wine tasting party you and your guests will have a great time.
Bookmark This Page:
---
Be sure to check out our other sections which will help you plan your first wine tasting:
How to Serve Wine
Support our website by buying your wine and wine accessories from one of our affiliates:
Wines - Have great wines shipped to your door from one of the following great online wine sources. Most also have wine tasting packs, gift certificates and wine clubs!


---
Go back to the top of the Hosting a Wine Tasting page.