Wine Tasting Kits
Wine tasting kits and a wine tasting flavor wheel are a great way to learn more about tasting wine. When you first start out learning how to taste wine you may have a hard time finding the descriptors to explain what you are smelling and tasting. You may also not be very familiar with certain aromas that are commonly found in wines. When you hear someone describe a wine as smelling of rose petals, anise and black currants do you know what they mean? Well, these two wine accessories can help you train your palate to understand and appreciate many of the commonly occurring wine aromas and flavors.
---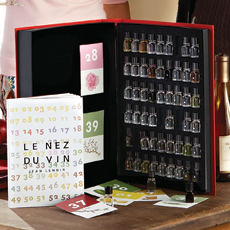 Wine Aroma Tasting Kits
A tasting kit is generally a box of small vials. The vials contain essential oils or other aromatic things covering dozens or even over a hundred different types of aromas. The purpose of the wine tasting kits is to help train you about wine aromas. While it can be hard at first to sit at a table, put your nose in a glass, and to name two or three or more different aromas you find, with practice you can get better at this wine tasting skill. Using these wine tasting kits can help you build up the sensory memory that you need to remember and pinpoint each aroma.
These kits and wheels can help you learn about tasting wine but they can also be a lot of fun and can be a conversation piece when you host a wine tasting party. You can even play games, like asking a guest to close their eyes and to try to identify an aroma just by smelling one of the aroma vials in the aroma kit.
Wine tasting aroma kits can be bought at many wine shops and at wine supply vendors. However, my favorite version, pictured here, called "Le Nez du Vin", is available through International Wine Accessories.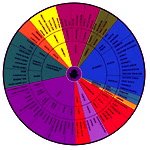 Wine Tasting Flavor Wheel
A wine tasting wheel is a device that lists the different types of aromas and flavors which can commonly be found in wines. It has general categories as well as specific descriptors. The purpose is to help focus your attention when tasting wine so that you train your palate not to miss anything lurking there in this mysterious and complex beverage. You can learn more about this on our Wine Tasting Wheel page.
---
Done learning about Wine Tasting Kits?
Return to the Wine Accessories page.