Grape Varieties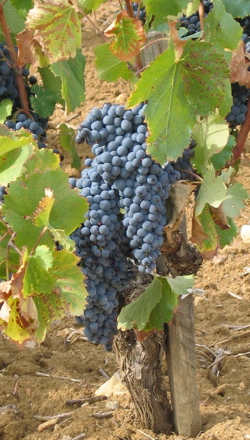 Grape varieties are the various types of grapes that are grown around the world. All important wine grapes are the same species, vitis vinifera. However, there are hundreds of cultivars, very roughly like different breeds of dogs, of these wine grapes which vary considerably in their characteristics.
While each grape variety is at least distantly related to the others, the characteristics of each type can vary so much that they produce quite strikingly different wines. While the vineyard in which they are grown, the winemaking style and other factors all impact the resulting wine, the grape variety often gives a unique signature that can be consistent across various wines made with that grape. That being said, wines produced from one grape can vary a lot as well. While they may have some common features, they can vary in others.
Of the hundreds of wine grapes grown around the world, only a relatively small number are involved in the production of most of the famous wines we all know and love. Below, you will find links to several of these best known, and most widespread, grape varieties with information about that grape and the wines they produce.
Of note, while some wines are made from only a single type of grape, many are a blend of two or more varieties. For example, the white wines of Burgundy from France are 100% Chardonnay and the reds are 100% Pinot Noir. However, red Chateauneuf-du-Pape, from the Rhône Valley in France can be a blend of up to 13 different red varieties. Even wines named for their primary grape often have small amounts of other grapes blended in. For example, a California Cabernet Sauvignon, while it contains a large majority of Cabernet Sauvignon, can be blended with small amounts of other red grapes, most commonly Merlot and Cabernet Franc. There is a common misunderstanding that blended wines are somehow inferior to unblended wines. This is not necessarily true as some of the best and most famous wines in the world come from a blend of grapes. Instead, generally wines that are blended from various sources have less of a distinct character than those which come from a single vineyard or domaine.
---
Grape Varieties and the Wines They Produce
White Grapes:
Red Grapes:
---
Go back to the top of the Grape Varieties page.