Piedmont Wines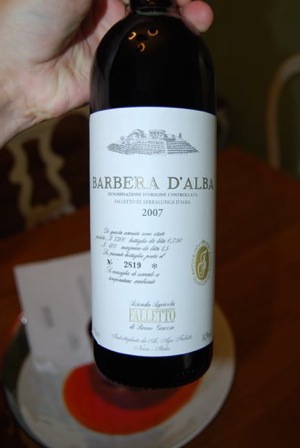 Piedmont wines come from the north of Italy in a region called, you guessed it, Piedmont! Or Piemonte in Italian. It is a large region in the far northwest, surrounded on three sides by the Alps, bordering France and Switzerland. This hilly, northern, and cool (by Italian standards) region is the birthplace of some of the best wines in the world, certainly in Italy.
While Tuscan wine may be more well known to the average person, largely due to the widespread recognition of Chianti, some Piedmont wines are even more sought after and revered by wine aficionado, particularly those from Barolo and Barbaresco. It is certainly one of our favorite Italian wine regions!
While one cannot generalize about the style of Piedmont wines, as there are several sub-regions which produce different types of wine, the area is certainly best known for its rich red wines, particularly those made from the grape Nebbiolo. I like to think of Nebbiolo along the lines of Pinot Noir in Burgundy. It is a finicky grape that is difficult to grow. But when carefully grown and vinified it is capable of producing wines of great finesse and complexity. It can make wines that are lighter and ethereal with silky textures as well as darker, meatier wines with great depth and power. Terroir has a huge impact on the wine and wines from various regions in Piedmont can vary tremendously in their specific character. Many have great longevity and as they mature they have several similarities to older Burgundy with its silky texture, aromatic nose of red fruits, dried rose petals and meaty earth and mushrooms/truffles.
---
Some of the Most Well Known Piedmont Wines
Barolo: The small region of Barolo makes one of Piedmont's most famous wines. Barolo wine can fetch high prices and is highly sought after, particularly from the top producers. The region is further divided into further subdivisions (Barolo, Castiglione Falletto, La Morra, Serralunga d'Alba, etc.). As a big generalization, the wines, made from 100% Nebbiolo, tend to be more "masculine" and full bodied than those from nearby Barbaresco (see below), the other most famous Piedmont region. They are long-lived wines that improve with age. Traditional styles can require 10 or more years before being ready to drink. However, in recent years, some producers have favored a more modern style with more new oak aging to make softer, flashier wines. While the traditional wines (from producers like Conterno, Giacosa and others) can take more patients, we find them to be ultimately the better, more passionate wines. These wines can be incredibly complex with heady aromatics and textures can be breathtaking. Unfortunately, most good Barolo is expensive, starting at around $40 in the US and going up quickly for the most famous producers and vineyards.
Barbaresco: Barbaresco is a close neighbor to Barolo and shares the limelight as the two most famous Piedmont wines. Barbaresco wine, which is also 100% Nebbiolo, has many similarities to Barolo, with similarities in the aromas and flavors of rose petal, red fruits, tar, earth, meat and mushrooms. However, the character of Barbaresco can be quite different. It is generally less tannic and could be said to be the more "feminine" of the two with a great elegance. Some are more approachable younger but the best examples still require some years to reach maturity. Like Barolo, they are not inexpensive.
Barbera: Unlike Barolo and Barbaresco, which are Piedmont wines named for the place they came from, Barbera is the name of a grape. This grape is widely planted in the north of Italy and possibly reaches its greatest expression in Piedmont. Particularly the Barbera d'Alba and Barbera d'Asti are famous versions which can be sublime. The wines tend to be fruitier, riper and less tannic than Nebbiolo but still with a meaty complexity to the flavors. Young they taste more generous and fleshy. They are excellent food wines. Made from similar vineyards, there are many similarities to Barolo although these tend to lack some of the depth and longevity of the best Barolo. For this reason they tend to be much less expensive and are an excellent option as a "poor man's Barolo". For example, Bruno Giacosa, one of the best producers in Piedmont and the world, produces a single-vineyard Barbera from the Falletto vineyards which typically runs around $30-40. However, his Barolo, from the same vineyard, can fetch several hundreds of dollars!
Dolcetto: Again, Dolcetto is the name of a grape. It is also widely planted in Piedmont and makes wines that are even more fruity and lighter than Barbera. They can be great, simple and refreshing food wines and tend to be quite inexpensive. If I had to compare it to something better know, they can be similar to Beaujolais from France, with similar juicy, ripe fruit but with an Italian touch. They are best drunk young and make good everyday drinking wines.
Moscato d'Asti: Moscato is a white grape, the same grape as Muscat in France, which is vinified in many ways in different regions. However, it has an affinity for making sweet or slightly sweet wines. The Moscato d'Asti, made near Asti in Piedmont, is a famous example and is both slightly sweet and has a slight sparkle to it as well. Most are frizzante with just a slight sparkle while a few are spumante with bubbles approaching the level of Champagne and other sparkling wines. These are all relatively inexpensive. While poor examples can be cloying, simplistic and boring, the best have a great energy and fresh fruitiness which is fun and refreshing. If you are a guy trying to seduce a lady, I haven't met a woman who doesn't go gaga over these slightly sweet, slightly sparkling wines!
Arneis: Arneis is another white grape grown in Piedmont. The wines are dry and vibrant with minerality and rich fruit flavors.
Other Piedmont Wines and Regions: There are several other wines and sub-regions in Piedmont, to many to cover them all here. Some, like Gattinara and Ghemme, make wines largely from Nebbiolo, sometimes blended with some other grapes. They can have characteristics similar to Barolo and Barbaresco. Some wines are simply labelled as the grape, such as Nebbiolo d'Alba, often produced as a second wine or more inexpensive wine alongside their Barolo. The Cortese grape in Gavi produces another dry, vibrant white wine.
---
Done with the Piedmont Wines page?
Return to the Italian Wine Regions section.