Cheese and Wine


Cheese and wine are a match made in heaven. It is as simple as that. We all know that food and wine go together like...well like two things that go together wonderfully! However, we have a hard time saying that any food is better with fine wine than good cheese. The hedonistic aspects of both the wine and the creamy cheese bring each other to new heights. There are literally hundreds of types of great cheese from around the world and with thousands of wines the wine and cheese pairing possibilities are endless. Fortunately, it is easy to experience wine and cheese together and easy to experiment to see which combinations work the best. You can even design a wine and cheese tasting around just that goal! The great news for all of us is that the variety of great cheese has improved dramatically in the last several years. Most fine markets now stock dozens of outstanding cheese selections from around the world.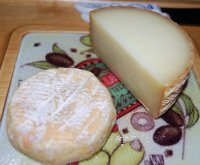 Cheese makes a great accompaniment, either as a starter to a meal, as a pre-dessert course in a multi-course meal or just as something to snack on during a wine tasting. It is such a versatile food that we pretty much serve some type of cheese at every event we host. Here we will share our thoughts on wine and cheese pairing, from the classic pairings like Port and Stilton to some general concepts to keep in mind when serving cheese with various types of wines.
---
| | |
| --- | --- |
| | Fromages.com is a great website which offers dozens of the finest French cheeses right from the source. They ship perfectly ripened and stored cheeses worldwide right to your door! It is hard to find authentic French cheeses so lovingly cared for in the US, but its all available here. Their website provides descriptions and information about each cheese as well as wine pairing suggestions. You can order individual cheeses or select from their cheese boards. |
Support our website by buying your wine and wine accessories from one of our affiliates:
Wines - Have great wines shipped to your door from one of the following great online wine sources. Most also have wine tasting packs, gift certificates and wine clubs!


---
Go back to the top of the Cheese and Wine page.