The Tuscany Wine Region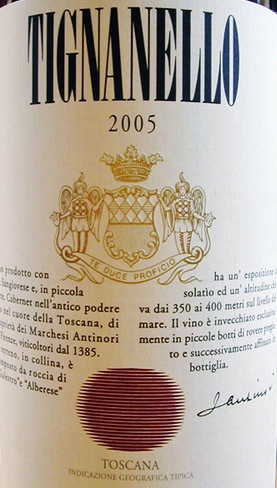 The Tuscany wine region is a large region of Italy on the west Mediterranean coast north of Rome. The most famous and largest city in the Tuscan region is Florence. Wine is produced throughout the region from several different appellations. Giving a general description of Tuscan wine can be tricky because it is such a large region, producing both red and white wines.
As a huge generalization, the most famous wines of Tuscany are rich, red wines which can often age quite a long time. The most famous region for Tuscany wine is probably Chianti, whose name is almost synonymous with Tuscany wine and known by almost everyone. But there is much more to Chianti and Tuscan wine than those bulbous, basket-wearing bottles.
If any one grape variety can be said to be the grape of Tuscany wine, it would be the native Sangiovese. This grape and its various types is at least partially the blend of many of the red wines of the region. However, many other grapes are grown here, including Cabernet Sauvignon and Merlot, among others.
Below is a further introduction to some of the most famous sub-regions, or appellations, within Tuscany and the wines they produce.
---
The Individual Appellations of Tuscany
Chianti:
For better or for worse, Chianti is the most famous wine name of Tuscany. It is one of the oldest regions and has been producing wine for centuries. It is a large region in the middle of Tuscany and the principle grape variety used is
Sangiovese
. This varietal produces wines with an earthy complexity to the bright red and black fruits. It has the acidic bite to give it freshness and lift while being capable of producing a wine of great depth. Currently, wines must have at least 75% Sangiovese, although some have more, up to 100%. There can be 10% Canaiolo and up to 20% of any of the other grapes approved for use in the region, including Cabernet Sauvignon, Merlot and Syrah. Chianti can be labeled as simply Chianti but can also be labeled according to one of several sub-appellations in the area, most notably Chianti Classico and Chianti Rufina. The wines of Chianti can vary quite a bit. While some of the less expensive examples are simple with a tart bright fruitiness, some can be quite dense and rich and age-worthy. The
Reserva
wines are aged the longest and are usually from the richest, ripest fruit, giving the most complex and structured wines.
Of note, while well known for the strange squat bottles with a straw basket around it, most Chianti are not bottled that way these days. In fact, much of those basket bottles you do see are inexpensive, and often inferior, Chianti.
Brunello di Montalcino: This Tuscany wine is produced from a small region around the city of Montalcino near the Chianti region. The wine is produced from 100% Sangiovese. However, here it is a local clone of Sangiovese called Sangiovese Grosso, also known locally as Brunello (roughly translated as the "nice dark one"). This clone of Sangiovese produces a darker, more muscular wine than the normal Sangiovese. Therefore the wines tend to be darker and richer than those of nearby Chianti. They are aged a long time, at least 50 months after the harvest, partially in oak barrels and partially in bottle. The Riserva bottling are aged a year longer. These wines can have a leathery, fleshy texture with lower acid than Chianti and darker flavors. They tend to be quite structured and can take many years to reach their peak. Younger wines are also bottled as Rosso di Montalcino and are a good, less expensive option if from a good producer.
Vino di Tavola or Super-Tuscans: Many years ago, adventurous Tuscany wine makers started experimenting with various grape varieties in various locations throughout Tuscany. Because these wines did not conform to the local rules for wines from any one specific appellation they could not call them Chianti or Brunello or any other place name, they were simply called Vino di Tavola, or "table wine". However, wine lovers around the world started to take notice of some of the best of these wines and coined the term "Super Tuscans" to distinguish them. Some of the famous first wines were Solaia and Tignanello from Antinori, Sassicaia and Ornellaia. This lead to an explosion of new planting and wine making in the region and hundreds of new wines, often with creative names made up by the producer rather than relating to a specific growing region. It is very difficult to make generalizations about these wines because they are made from many different types of grapes, from different sub-regions and in different styles. Common grapes used include Sangiovese, Cabernet Sauvignon and Merlot. While some producers make more traditionally Italian styled wines there are many that make wine in a more "international" or "modern" style, using lots of new oak for aging and producing ripe, rich, powerful wines along the lines of modern California or Bordeaux Cabernets and Merlots.
Vino Nobile di Montepulciano: This Tuscany wine, made around the town of Montepulciano, is sometimes confusing to people. There is an Italian grape variety called Montepulciano which is unrelated to this town. Some wine made from Montepulciano, the grape, is even made in parts of Tuscany. It is most famous for its part in Montepulciano d'Abruzzo, not in Tuscany. However, Montepulciano is not a part of Vino Nobile di Montepulciano. Instead, these wines are made from a minimum of 70% of Sangiovese (the local name being Prugnolo gentile), blended with other grapes. The wines are aged at least 2 years in barrel, 3 years for the riservas. Like Brunello, these wines tend to be a rich, powerful and age-worthy example of Sangiovese.
Vernaccia di San Gimignano: This is a white grape, Vernaccia, grown around the medieval hill town of San Gimignano. Considered to be one of Italy's best native white wines, they tend to be very dry, with a stony minerality.
Other Tuscany Wines: There are literally dozens of different types of wine produced in Tuscany. It would be impossible to cover them all here. Many of the most famous fall into one of the categories discussed above. However, particularly in the more inexpensive range, there are many that deserve your attention. There are often very good value wines costing no more than $10, made from varieties such as Sangiovese, Montepulciano, Cabernet and Merlot. There is quite a bit of variety though, so ask for suggestions as some are good value, everyday drinking wines and others are plonk. We often review such wines in our newsletter, The Poor Man's Guide to Fine Wine.
---
Done with the Tuscany Wine page?
Return to the Italian Wine Regions section.