Bordeaux Wine Region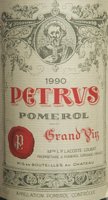 The Bordeaux wine region is located in the southwest of France, straddling the Garonne River. It is one of the most famous wine producing regions in the world, perhaps the most famous, and the wine of bordeaux is considered by many to be the best expression of the Cabernet and Merlot grapes anywhere. Yes, the same Cabernet and Merlot you know from Californian wines! The Bordeaux wine region is where they originated.
Bordeaux is a rather large area, with several smaller sub-regions, or appellations. Wine can be grown from many areas within the region but only those within specific areas can be named for their village. For example, one of the most famous villages within Bordeaux is Pauillac (pronounced roughly "p-why-ak"). Famous vineyards such as Mouton-Rothschild, Lafite-Rothschild, Latour and others are in this region.
Bordeaux Wine Region Wines and Grapes: Many of the most famous wines from the Bordeaux wine region are dry red wines. However, a good deal of dry white wine is also produced, particularly from Graves, one of the Bordeaux appellations. Luscious sweet whites are also produced most famously in nearby appellations of Sauternes and Barsac, amongst others.
For the famous red wines of Bordeaux, there are 5 principal grape varieties that are allowed to be used (although there are a couple other rarely used ones). These include Cabernet Sauvignon, Merlot, Cabernet Franc, Malbec and Petite Verdot. All of these are red grapes that tend to produce full-bodied wines although they all have unique characteristics. Cabernet Sauvignon is often described as more masculine than Merlot, with firmer structure and tannin. Its classic aromas and flavors are of dark berries, such as black currants, along with hints of tobacco, pencil lead shavings and other complexity. Merlot is similar but usually a bit rounder, softer. Most wines of Bordeaux are made of a blend of these grapes, although for most Cabernet Sauvignon and/or Merlot make up the majority. The wines of the left bank (see below) tend to have much more Cabernet while the right bank wines tend to have more Merlot.
Bordeaux Names: Most producers in Bordeaux are named Château because the vineyards are found around large, old castles (chateau means castle). So the names are Château Mouton-Rosthchild, Château Latour, etc. Some smaller or newer producers are exceptions. Most of the more important wines are also known by the village or appellation they come from, such as Pauillac, St. Julien, Pomerol, etc.
First Growths: Many years ago many of the vineyards of the left bank (see below) of Bordeaux were classified into a tiered system. First growth wines (premier cru) is the highest level, reserved for the wines thought to represent the pinnacle of Bordeaux. The famous first growth vineyards include Mouton-Rothschild, Lafite-Rothschild, Margaux, Latour, and Haut-Brion. These wines can fetch incredibly high prices. Many of the other wines of the Bordeaux wine region are ranked as 2nd growth, 3rd growth, 4th growth or 5th growth.
Left Bank versus Right Bank: The most famous vineyards that produce red Bordeaux are separated by the river that runs through the region. Those wines produced on the left side of the river, when looking at a map, are often referred to as left bank wines, including villages such as Pauillac, St. Julien, Margaux, St. Estephe, etc. Cabernet Sauvignon is king here with most wines consisting of a majority of this grape.
The wines to the right of the river are known as right bank wines. Merlot is much more prominent here and make up the majority of most blends although there are notable exceptions. Most importantly, Cabernet franc is an important major component of some wines, most famously, Chateau Cheval Blanc. The two most famous appellations of the right bank are Pomerol and St. Emilion.
How Do They Taste? Of course there is a great deal of variety from producer to producer and from appellation to appellation. However, in general the red wines of the Bordeaux wine region are rich, full-bodied wines which have significant structure that allows them, even demands them, to age for extended periods of time. It is not uncommon for the best wines to require 20 or more years to come to maturity and many will last many decades beyond that. They start with a core of dark fruit, tending toward black currant (or cassis liquor) or bing cherry (particularly for the wines with a lot of Merlot). However, this is often accented by many other aromas and flavors including a minerality which is described as pencil lead shavings, tobacco, and cigar box cedar. As they age they soften and aromas of truffles or mushrooms often come out.
The Dry White Wines of Bordeaux: Bordeaux also produces a large volume of dry white wine. The two most important grapes in these are Sauvignon Blanc and Semillon, often blended together. These tend to be dry, vibrant and steely in their younth, but like the reds can age a long time. The Graves is an appellation particularly known for their dry white wines, although it also makes reds.
The Sweet White Wines of Bordeaux: Sauternes is the most famous appellation in the world for sweet white wine. It is there and in neighboring Barsac that the best sweet whites are produced. These wines are generally made from late-harvested Sauvignon Blanc and/or Semillon which are left on the vine to ripen fully and for botrytis cinerea to set in. This fungus, known as "noble rot", causes the grapes to dry out, essentially becoming raisins on the vine. This concentrates the sugars and flavors and produces a sticky sweet wine of great concentration and intensity. The best of these wines can age almost indefinitely and the most famous, particularly Chateau d'Yquem (pronounced roughly "ee-chem"), are very expensive, but arguably worth it!
---
Done with the Bordeaux Wine Region page?
Return to the French Wine Regions section.