Rhone Wine Region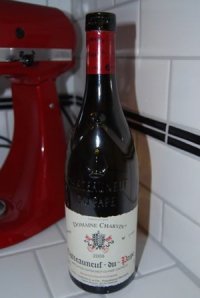 The Rhone wine region in France is a large area spanning from the south of Burgundy down to Provence, following the Rhône River valley. It is best known for its rich, earthy red wines but produces a wide variety of wine styles from dozens of small appellations. In general, the Rhône is divided into two main regions, the Northern Rhone and the Southern Rhone.
What do Rhone wines taste like?
The Red Wines: Red wines of the Rhone Valley tend to be darker and more ripe than the wines of its neighbor to the north, Burgundy (this is a huge generalization). Part of this is due to the slightly warmer temperatures, especially in the Southern Rhone and Chateauneuf du Pape. It is also due to a difference in grape varieties which are used to produce the wines. The red grapes that produce the wines in the north are mostly Syrah, a dark, thick-skinned variety which generally produces full-bodied wines with excellent structure. It is capable of producing quite powerful wines but with considerable finesse. In the south, there are several grape varieties grown but the ones which are most prominent, including Grenache, Mourvedre and Syrah, are also all quite dark, powerful grapes, capable of producing meaty, rich and full-bodied wines. Many of these wines tend to be a bit more rustic in personality with a quality the French call sauvage. While Grenache tends to be fruitier and less tannic than Mourvedre and Syrah, when ripe it can produce quite large-scaled wines, with gobs of meaty, rich fruit.
The White Wines: The white wines of the Rhône can vary quite considerably. In the north, two vastly different styles are to be found. Viognier is a grape that is grown in Condrieu, Chateau Grillet and other appellations in the northern Rhone. It produces a flowery, perfumed wine which tends to have a round, seductive texture but with relatively low acid. The wines can be quite pretty but are generally produced for near-term consumption. Of note, the red Rhone wines of Cote-Rotie in the north can include a small amount of Viognier in the blend (the rest is Syrah). The white Rhone wine found in appellations like Hermitage, St. Joseph and others are made largely from a completely different grape, Marsanne (although Roussanne is also used). Marsanne tends to be bigger, more earthy and structured. The best white Hermitage can age gracefully for a very long time. A small amount of Marsanne and Roussanne can be used in red Hermitage, blended in with the Syrah. In the Southern Rhone, several white varieties can be produced. Most of the white Cotes du Rhone and Chateauneuf du Pape are blends of these grapes but many include a hefty dose of Roussanne. Sweet Muscat is also produced in some areas of the Southern Rhone.
Rhone Wine Appellations
The Rhone region refers to a huge area following the course of the Rhone river valley and therefore is subdivided into many smaller villages and wine producing appellations. As was previously mentioned, it is split into the Northern and Southern Rhone. However, each is further divided into many smaller appellations. The appellation "Côtes du Rhône" can be used for various wines from both the north and south, although there is more from the south. Specific village names can be found on most of the other wines. In the north, there are several famous appellations including Hermitage, Côte-Rôtie, Condrieu, Cornas, St. Joseph and Crozes-Hermitage. In the south, the most famous appellation is Chateauneuf-du-Pape, which produces its most prized and expensive wines. However, several other small appellations deserve mention, including Vacqueyras, Rasteau, Gigondas, Beaumes de Venise (where delicious sweet Muscat is produced) and Tavel (exclusively rosé wines).
---
Done with the Rhone Wine Region page?
Return to the French Wine Regions section.