Hello from the Wine Tastings Guide!
This is The Poor Man's Guide to Fine Wine™, a monthly newsletter on all things wine and your guide to finding great wine at affordable prices! Each issue brings you articles about goings-ons in the world of wine as well as reviews of inexpensive wines.
If you like this newsletter and our website, please forward this email to someone you know who enjoys wine or wants to learn more about wine and wine tastings. If this was forwarded to you and you like what you read, you can subscribe to The Poor Man's Guide to Fine Wine for free now.
If you have suggestions, questions, article requests or comments, please contact me -- I love to hear from my readers!


---
Contents of this issue of
The Poor Man's Guide to Fine Wine™
SPECIAL EDITION! Importer Focus: Current Kermit Lynch Releases
---
Importer Focus: Current Kermit Lynch Releases - Champagne, Sparkling Wines, Alsace and Beaujolais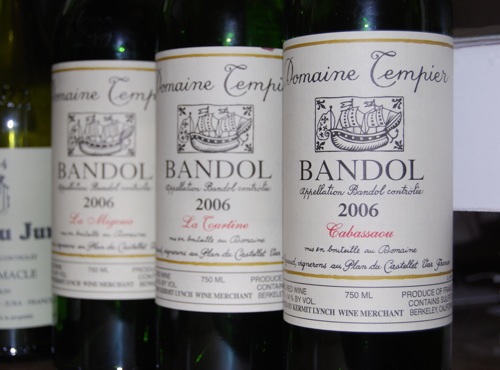 I'm gonna do something a bit different. I usually start these newsletters with an article on some wine topic followed by a collection of various wine reviews. Well this time I am focusing the whole shebang on one unifying topic. This issue and the next few to come will feature a focus on one of my favorite wine importers, Kermit Lynch, and his current selections. This issue will include wines tasted from Champagne, Sparkling Wines, Alsace and Beaujolais. Oh, and smidgen of white Bordeaux!
It is no secret that I am a big fan of Kermit Lynch Wine Merchant. Ever since coming of wine age in the bay area and exploring Kermit's shop, learning from his newsletter, reading his book and attending his wonderful events (Oyster Bliss is an annual trip for us), I've been hooked. Why? The guy's passion for wine, culture and life is infectious. And his taste in wine is very much in line with mine, for the most part. He has been single-handedly searching out the most unique, traditional and characterful wines in France and Italy for decades. A failed hippy musician, Kermit caught the wine bug in the 70's and shortly thereafter starting growing his wine empire. His dedication to finding the most outstanding, honest and alive wines is inspiring. He abhors and avoids the homogenization and modernization of much of the wine world, searching out only the truest, most honest expressions of their respective terroirs. If you want to learn more about Kermit Lynch, his wines and wine in general, I urge you to sign up for their monthly newsletter and to read his book, "Adventures on the Wine Route"!
I recently had the opportunity to taste through a large chunk of Kermit's current offerings. One of the immediately noticeable things I found with this exercise was that there is no "filler" in his portfolio. There are inexpensive wines, there are expensive wines, but they are all there for a reason. They are all worthy and all have unique personalities that deserve your attention.
Why focus on only one importer's wines for these issues of the Poor Man's Guide? After tasting these wines I felt they represented a unique opportunity to explore the wine world (at least the French wine world) through the lens of one man. I was also struck by the fact that just about every wine I could wholeheartedly recommend. Besides, Kermit's wines do represent a large portion of the wines found at retailers across the US. Most of my readers will be able to find at least some of these wines, either directly from Kermit's store in Berkeley or through other retailers that buy from Kermit. Many of the wines are already in the marketplace and some will be coming later this summer or fall.
Now, I must make a disclaimer that not all these wines quite fit the Poor Man's Guide criteria. I, for the most part, try to keep the wines I feature in my reviews under $50 with a few exceptions here and there. In this and the next issues, I will be presenting all the wines I tasted of Kermit's current releases. Many are $50 or under but a handful are more. I am not listing prices here, just ratings and my brief impressions. See the explanation for my Three Star rating system at the bottom of this page.
Finally, I have to include… The Poor Man's Guide to Fine Wine does not have any interest in or financial connection to Kermit Lynch Wine Merchant except that I love the wines he imports.
Next time I'll include the wines of Burgundy and the Loire. The final edition will feature the wines of Provence, the Rhone and the South. So stay tuned!
Cheers and Enjoy!
P.S. If you cannot view the HTML version of this email in your email reader and the French characters and stars come out as gibberish, you can view this issue of the newsletter online at the back-issue page.
---
Current Kermit Lynch Selections - Champagne, Sparkling Wines, Alsace and Beaujolais
Champagne:
I'm gonna start out in Champange. What better place to start than with a little bubbly.

J. Lassalle is a producer in Chigny-Les-Roses that I have admired for some time. Their wines have a gentle delicacy to them that is quite enticing. The Brut Réserve (★+) is a fresh and silky wine with hints of herbal complexity that are enticing. The Brut Rosé (★★) also has a great freshness too it, never too heavy. This rosé brings in some strawberry fruit and a chalky minerality to bump up the overall impact. Very nice. The Brut Réserve "Préférence" (★★+) a bit more Pinot Noir in the blend than the regular Brut Réserve and therefore has a bit bigger impact and more punch. Otherwise it is very similar to the previous wine.

The Lassalle vintage wines I sampled included the Cuvé Angéline, their tête de cuvée, and their Spécial Club. The Brut "Cuvé Angéline" 2005 (★★★) is a first rate champagne as it usually is. Silky and creamy in texture, this has the most obvious breed with a long, linear finish with a lot of verve. I really like this. The Brut "Spécial Club" 2002 (★★) on the other hand has a somewhat burlier, more tough and masculine feel in comparison. There is some austerity on the finish and gives the impression that this, despite being the older wine, is quite in its young stages and needs some time to unwind and mellow out. After a few years in the cellar, if this displays a bit more integration, my rating may seem conservative.

While Lassalle often seems to have a delicacy and "feminine" quality to them (do I think that because their head cuvee is called Angéline?), Veuve Fourny et Fils (no relation to Veuve Cliquot) has a more powerful and drier personality. They intentionally go for lower levels of dosage (the sugar that is added after disgorgement) to keep a purer, drier wine. The Brut Blanc de Blancs (★), which is a blend of 3 vintages, currently 06, 07 and 08, is a bit of an anomaly here. It has a very floral, pretty nose but allied to a richer, doughy yeastiness that you didn't get in the wines of Lassalle. Surprisingly, it has rather low pressure, with more of a petillant feel to the bubbles than most Champagne. A nice wine, but in a soft and less assertive style. On the other hand, the Brut "Grande Réserve" (★+) takes things up a notch in all regards. The nose is a bit hesitant but what follows is a firmer, more pressured with with a firm mineral backbone and a dry, stony character. The Brut Blanc de Blancs 2004 (★★) is the best up to this point. A very pretty nose but with a dry, mineral, Alsatian Riesling-like power and energy. The Extra-Brut "R de Veuve Fourny" (★★+) is a non-vintage wine but is currently a blend of only two vintages, 04 and 05. Compared to the previous wine, this has a bit more plushness and body, surprising given that it is an Extra-Brut which has very low dosage. It is very complex with a tight, nervous, wound up energy to it. I like it quite a lot. Fourny's Brut Rosé (★★) is a vinous, rich wine. This is a dark and brooding rosé. It is powerful and taut, I quite like it. Finally, the Extra-Brut "Cuvée du Clos Faubourg Notre Dame" 2000 (★★+) is a limited wine of which only about 1500 bottles are made from Chardonnay grown on chalk soils. Given the older age and vintage it is not surprising that this shows more age and complexity, albeit in a bit plusher, softer style than the previous wines. It also has a bit more oxidative style to it but a great deal of subtle complexity.
Other Sparkling Wines:
The Sommariva Prosecco Superiore di Conegliano Valdobbiadene Brut (★+) is a pretty Prosecco with a fine silky bead and just a hint of honeyed sweetness. Definitely an excellent value sparkler.

The André & Michel Quenard Brut de Savoie (★) is 100% Jacquère, a white grape that is local to the Savoie. It smells and tastes like many still Jacquère, but with bubbles. Simple but refreshing.

The Domaine Achard-Vincent Clairette de Die Brut (???) was a bit hard to judge. There was an aged cheese stinkiness to the nose that didn't really seem typical for this type of wine and was otherwise quite muted both in aroma and flavor. I'm not sure that this bottle is representative. Judgement reserved.

I've always liked the Champalou Vouvray Brut (★+) and this time was no exception. It is not a serious wine. You wouldn't serve it up blind against a vintage Champagne. But what is great about this wine is its fun and seductive personality. Silky and fine as far as the texture goes but with a flirtatious fruitiness and off-dry sweetness that makes it fun and refreshing. Yummy with Indian food! Trust me.
Wines of Alsace:
I sampled a couple wines from Kuentz-Bas, both their basic Alsace and Pinot Blanc. The Alsace 2008 (★) is a blend of Sylvaner, Muscat and Chasselas that has a fruity and sweet-smelling nose of lychee and Moscato-like honeysuckle. Yet on the palate this is on the dry side with a waxy and creamy texture. The Pinot Bland 2008 (★) was also nice with a floral nose with hints of green bean. Silky in texture, open and airy but with just enough chalky minerality on the finish to give it some delineation.

Meyer-Fonné is another producer in Alsace that Kermit has been importing for a few years now. I haven't tasted many of their wines but I quite liked these. The Riesling "Réserve" 2009 (★+) is just a hint off-dry and is a very mineral wine. It has enough plushness and fruitiness to make it easily appealing but I like its mineral and acid spine. The Muscat "Vignoble de Katzenthal" 2009 (★★) is a very pretty wine with a noble, waxy Muscat nose and an outstanding, long and luxurious mouthfeel. This is one of those wines that is hard to spit because it just feels so good in your mouth!

On the other hand, Kermit has been importing the wines of Domaine Ostertag for quite some time. They make a wide range of wines and I sampled a number of them. First up was the Sylvaner "Vieilles Vignes" 2009 (★) which was round and welcoming with hints of wax, flowers and a leafy note. The Riesling "Vignoble d'E" 2009 (★) was also a simple but nice wine. This time, there was some slatey minerality to the fruit and this is just barely off-dry. We go up a notch with the Riesling "Heissenberg" 2009 as this is both more reserved but also seemingly more serious. A bit fuller with more depth than the previous Riesling. The Riesling Grand Cru "Muenchberg" 2009 (★★) was another notch up still, as could be expected. This has a smokey complexity to it and seems almost dark and brooding in the nose. It is a young, full and powerful wine with enough round, ripe fruit to make it approachable at this stage. Not quite as serious as the Muenchberg, the Pinot Gris "Zellberg" 2009 (★+) is more floral and has a seductive, creamy texture. Although not as immediately appealing as the Meyer-Fonné Muscat, the Muscat "Fronholz" 2009 (★+) has classic Muscat aromas of honeysuckle and flowers. This is a dry and serious Muscat with a nice mineral backbone to it. Pinot Noir from Alsace is not usually all that enticing. But Ostertag's Pinot Noir "Fronholz" 2008 (★★) was quite the exception! A lovely nose of dark earth and flowers jumps from the glass. As you might expect from Pinot grown this far north, this is light on its feet and has a linear texture not unlike a Champagne Rouge but don't call it light! While the color is light, it has a firm grip and smokey flavors that are quite serious. The two Gewurz were nice. The Gewurztraminer "Vignoble d'E" 2009 (★+) has a plush lychee, honey and rose petal feel to it with a touch of sweetness. The Gewurztraminer Vendanges Tardive "Fronholz" 2008 (★+) is sweeter and bigger with some noticeable botrytis. It is pretty but I wouldn't say it is qualitatively better than the previous Gewurz.
Bordeaux Blanc:
I was able to taste a touch of white Bordeaux, all from Hervé Dubourdieu of Château Graville-Lacoste and Château Roûmieu-Lacoste. The Château Ducasse Bordeaux Blanc 2010 (★+) is an excellent fresh and pure Bordeaux blanc which is gripping and long. In fact, its structure and palate presence compare favorably to the Graves that followed. The Château Graville-Lacoste Graves Blanc 2009 (★+) is grassy with a gulpable silky and refreshing feel. It is very approachable now. The Château Graville-Lacoste Graves Blanc 2010 (★+) is more floral and seems younger and more exuberant, a bit tighter. Finally, I tasted two Sauternes from Château Roûmieu-Lacoste. The 2006 Sauternes (★★) is very pretty with a pure, floral nose not overly dominated by botrytis. The texture is creamy and fine. Approachable now, this is my choice to drink now while waiting for the 2009 to mature. The 2009 Sauternes (★★★) is richer, deeper and more complex with a creamy intensity to it that is similar to d'Yquem. It somehow rides the rails between being ripe, sweet and succulent while having a fine finishing acid that gives it intensity and presence and balance. Outstanding.
Beaujolais:
The tasting of current Beaujolais started with a few few assorted wines followed by the wines of Jean Foillard.

To start, the M. Lapierre "Raisins Gaulois" 2010 (★+) is made largely from declassified Morgon fruit and it shows with meaty, raisined fruit. This is a great value!

The Domaine Dupeuble Père et Fils Beaujolais 2010 (???) seemed the more classic of the two vintages I tasted, at least in the nose, with a cooler fruit and less ripeness. However, this bottle had a bit of a weird bacterial tickle on the palate that I am unsure of. I think something was wrong with this bottle so for now my judgement is reserved. On the other hand, the Dupeuble Beaujolais 2009 (★★), from one of the most heralded vintages in recent Beaujolais history, was excellent. Obviously darker and riper but still with a classic meaty and earthy character. The mouthfeel is firm and has layers of depth that are quite outstanding for such a modestly priced wine. Great Value!

The Domaine de la Voûte des Crozes Côte de Brouilly 2009 (★★) shows the Côtes signature airy freshness as you would see in the Chateau Thivin. I find Brouilly to be quite Burgundy-like with their linear profile and weightlessness as compared to the meatiness of the previous wine. The texture is fine. The previous wine and this one make a fascinating comparison of how the different terroirs of Beaujolais can express themselves in the character of the wine.

Finally, I got the chance to taste several of the wines from Jean Foillard who is a hugely respected grower in Beaujolais. His wines really transcend what most people expect from Beaujolais and have become immensely popular amongst wine geeks in the know. His Morgon "Côte du Py" 2010 (★★) shows a granite minerality. It is structured but pure, light on its feet and airy. A nice example of how a wine can be both powerful and light and ethereal at once. The Morgon "Côte du Py" 2009 (★★★) is a notch up in depth, intensity and complexity, as one might expect. Frankly the purity and clarity of expression here is remarkable. The Morgon "Cuvée Corcelette" 2009 (★★+) is qualitatively similar to the previous wines, with a similar flavor profile. However, this wine seems even more structured, masculine and powerful, burly even. For now, it is not quite as integrated and accessible but probably just needs some time to come into itself. An example that bigger doesn't always mean better. As one might expect from the different appellation, the Fleurie 2008 (★★) is a bit fruitier and more floral, not as meaty and mineral as the Morgons. Finally, the Morgon "Cuvée 3.14" 2007 (★★★) is another fantastic bottle of Beaujolais. My notes said "Wow, gorgeous nose!", and it was. This is a big wine, but it is refined and fine, almost like a blend of the 2009 Côte du Py and the Corcelette. This is the best of both worlds and flat out great juice. Again, what Foillard is doing to coax out the best of each terroir and let their natural beauty shine is just outstanding. If you are the type that thinks "Beaujolais? Why bother with that simple, fruity, bubblegummy stuff?" then you really need to experience these wines of class and personality. Bravo!

Stay tuned, next issue I'll be covering the wines of Burgundy and the Loire Valley!

Cheers!
---
Wine Ratings Explained:
Zero Stars
A wine I don't particularly recommend.

One Star
Well made, simple and tasty wines that I recommend.

Two Stars
Excellent quality. Worth an extra effort to search out and enjoy.

Three Stars
Outstanding wine of the highest caliber.
+
Plus
Either a wine that is close to deserving a higher score or a wine that may not be showing that much but with the potential to move up in quality with further aging. A young wine that may be closed up or shows potential for significant improvement. Assuming it opens and improves with additional age, it may merit a higher rating.
???
Flawed bottles or wines that are difficult to assess for any number of reasons. Judgement reserved.
---
Have a Reader Tip or a Question? Contact Me!
I love to hear from my readers and visitors. If you have a handy tip to share or questions or comments on anything related to wine and wine tastings, please contact me!


---
Looking for Wine or Wine Tasting Related Info? Search our site!
You can now search through all of my pages by using our handy Search This Site feature. You can also browse through a site map to find the information you desire. Still can't find what you are looking for? Then contact me!


---