Hello from the Wine Tastings Guide!

This is The Poor Man's Guide to Fine Wine™, a monthly newsletter on all things wine and your guide to finding great wine at affordable prices! Each issue brings you articles about goings-ons in the world of wine as well as reviews of inexpensive wines.

If you like this newsletter and our website, please forward this email to someone you know who enjoys wine or wants to learn more about wine and wine tastings. If this was forwarded to you and you like what you read, you can subscribe to The Poor Man's Guide to Fine Wine for free now.

If you have suggestions, questions, article requests or comments, please contact me -- I love to hear from my readers!


---
Contents of this issue of
The Poor Man's Guide to Fine Wine™
Summer Food and Wine: Moule et Frites and Crisp, Dry White Wine!
What's New at the Wine Tastings Guide?
The Poor Man's Guide's Wine Reviews
---
Moule et Frites and Crisp, Dry White Wine:
The Perfect Wine and Food Pairing for Summer?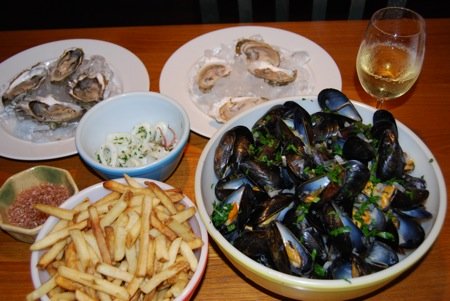 It's a hot summer and nothing quite hits the spot on hot afternoons like crisp, dry, chilled white wine. When you are sweaty and thirsty, who wants heavy, ponderous red wines? Well, ok, maybe occasionally. But for easy drinking on these warm days something light and refreshing really hits the spot. Last month, in Issue 005, I told you all about rosé wines and how great they can be on a summer picnic or barbecue. Here, I want to open your eyes to fresh white wines and the foods, particularly seafood, they go with.

What kinds of whites am I talking about? Well, what you are looking for is something with a bit of zing. You don't want heavy, big whites full of oak and alcohol. No, you want wines with a light freshness and enough acidity to keep it refreshing and bright. When I say light, don't read flavorless. I just mean light in body. Light wines can be very complex and intense in flavor. For example, look at a nice German Riesling Kabinett. The bright acidity and stony minerality make it zippy and intense while adding complexity to the fruit flavors. Look for wines with decent acidity, little or no oak aging and lower alcohol. Some examples? Wines made from Sauvignon Blanc work well...Sancerre, Pouilly-Fumé, white Bordeaux and New Zealand Sauvignon Blanc are all good options. Dry or off dry Riesling from Alsace, Germany or Austria. Dry Chenin Blanc based wines from the Loire Valley such as Savennières or Vouvray. Muscadet from the Loire Valley. Chablis from Burgundy. Many Italian and Spanish whites can fit the bill nicely as well. Heck, most sparkling wines, particularly lighter-bodied ones like Prosecco are in this class of wines as well. You can find several white wines such as these reviewed below.
Sometimes, wines such as these are nice on their own, slightly chilled, to relax in the hot afternoon or as an apéritif before dinner. However, when drinking these crisp summer whites my mind quickly turns to food. Besides being refreshing, their bright, fresh flavors are absolutely perfect for washing down one of my summertime favorites...seafood! All sorts of seafood go well with dry white whites depending on the specific type and the recipe. However, the crisp, lighter bodied wines like Muscadet, Cassis Blanc, Sancerre and such really shine with shellfish.
One of my absolute favorite summertime combinations is Moule et Frites with a crisp, dry white wine. Moule et Frites means mussels with fries and it is a European speciality, particularly in Belgium and France. Whether prepared à la Marinière, à la Provençal or with another of the dozens of sauces that can sometimes accompany them, a bucket of lightly sauced, steamed mussels with a basket of French fries is just about the perfect combination, especially with a cool glass of crisp white wine to wash it down. It just simply does not get much better than this for a fun and festive summer afternoon meal.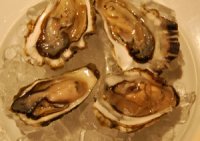 Other food options for these sea-critter-friendly wines? Well just pick just about any shellfish dish as long as it isn't too heavily sauced or flavored. Raw fish or oysters on the half shell are a great choice. In fact, raw oysters practically demand a crisp white to wash them down! Another favorite of mine is Mediterranean sautéed squid. After slicing them up into rings, heat olive oil in a heavy sautée pan till almost smoking, scatter coarse salt in the pan and then throw in the squid pieces and toss them briefly until just seized by the heat and starting to curl up. Throw in a handful of chopped flat-leaf parsley and minced garlic, stir a few seconds and serve! The simplicity and natural beauty of this dish lets the fresh natural ingredients speak for themselves, and boy do they speak beautifully! Oh, and don't forget ample quantities of chilled white wine to suck down with them!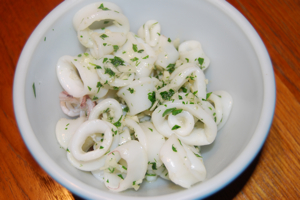 Cheers and enjoy!
Next Month's Article In the Poor Man's Guide: What the Heck is Terroir?
---
What's New at the Wine Tastings Guide?
Oh not much. Just cooking a lot and tasting through lots of great summer wines to find the best for my readers! I attended an outstanding trade tasting a couple weeks ago which presented almost all of the current Terry Theise selections from Austria and Germany imported by WineWise/The Vienna Wine Company. Over 250 wines! Wow. Thats a lot to taste in an afternoon. But I struggled through like a good wine soldier. One of the biggest highlights was that many producers were present themselves to present their wines and talk about their estate and winemaking. Too many wines to cover them all here but the take home message for me was that both Austria and Germany are making a slew of outstanding wines right now! While the 06 Austrians in general were profound, the 07's are quite nice too. It is a bit lighter vintage which will drink better young but nevertheless the wines have great potential and are delicious to drink. One standout was the Salomon estate from Austria. Bert Salomon was very nice and presented a beautiful array of wines. Both the Grüner Veltliners and Rieslings were outstanding. In particular, the Rieslings from one of their best vineyards, Pfaffenberg, were sublime with an ethereal texture that just floated over the palate while leaving an intense flavor impact. Just brilliant wines. I'm a fan!

Additionally, this summer is particularly important because many 2006's are in the marketplace. Why does that matter? Well, my son was born in 2006 so it is a vintage that has special meaning to me. I'm hoping to find a bunch of wines from the vintage to fill my cellar and to enjoy over many years, hopefully sharing some with him many years from now (if I can keep my hands off that long)! Hopefully I can turn you all onto some of them in the process!
---
The Poor Man's Guide's Wine Reviews
Wine Ratings Explained:
Zero Stars
A wine I don't particularly recommend.

One Star
Well made, simple and tasty wines that I recommend.

Two Stars
Excellent quality. Worth an extra effort to search out and enjoy.

Three Stars
Outstanding wine of the highest caliber.
+
Plus
Either a wine that is close to deserving a higher score or a wine that may not be showing that much but with the potential to move up in quality with further aging. A young wine that may be closed up or shows potential for significant improvement. Assuming it opens and improves with additional age, it may merit a higher rating.
???
Flawed bottles or wines that are difficult to assess for any number of reasons. Judgement reserved.
Sparkling Wines:
Medici Ermette Lambrusco
Reggiano
Arte e Concerto
Drink Now-2009
$18
Sparkling red wine? What? Don't run screaming! This fizzy red is not Riunite. Sparkling reds like this can be great wines and can lead to some interesting food pairing combinations. Lambrusco is one of the more famous regions for sparkling reds and this one is a winner.

Aromatic, with ripe, raisined berries and pie spices, this wine is quite lively, like a sunbeam in your mouth with super bright, vibrant and bracing acidity to back up the ripe but tart fruit. If you are looking for that sweet Riunite-styled Lambrusco, stay far away! But if you want an a refreshing and food friendly wine which is a hypothetical blend of Prosecco, Chablis and Dolchetto, and is a fresh, fun and refreshing then this is it! Drink up. One Star Plus. Importer: JK Imports, Pasadena, CA.
---
White Wines:
Domaine de la Charrière
Jasnières
Cuvée Clos St-Jacques
J. Gigou 2004
Drink Now-2019
$20
Jasnières is a small appellation in the Loire Valley of France along a tributary called the Loir. Made of 100% Chenin Blanc, you can think of these wines as a hypothetical blend of Savennières and Vouvray, although it is unique. Not much is imported to the US but if you can find it, these wines can be fascinating and offer a lot of quality for the price!

What I find really unique about this wine is a fresh aroma that I can only describe as flat-leaf parsley, which gives lift and freshness to the sweet spiced apple and rose petal aromas. Very characterful. The initial impression in the mouth is of an austere wine with hints of stems and parsley framing laser-like tart fruit, pink grapefruit, granite stones and lemon zest. Mineral driven nervosity make this almost reverberate on your palate and this is quite unique really. Quite intense and wound up right now, you can enjoy it for its youthful energy or age for 10 to 15 years for more honeyed richness and complexity. Bravo! Two Stars. Importer: WineWise, Oakland, CA.
Domaine du Closel
Château des Vaults
Clos du Papillon 2005
Drink Now-2025
$27
I have introduced you to Savennières numerous times in prior issues but this is a producer I have not written about before. Closel makes this wine from the Clos du Papillon vineyard, so named because of its butterfly shape. I have long been a fan of Baumard's version so I was excited to try this one.

Hesitant young aromas are nevertheless classic Savennières with chalky minerality, quince and wool. A big rich mouthful is waxy and oily in texture yet has just enough citric acidity to balance it. Not as full of minerality as most Savs are in their youth and this seems decidedly in the riper style for the region but this does have hints of stones there in the structure, hidden a bit by the ripeness of the vintage. This is very good and I don't feel it is too ripe. This should drink well young but age nicely for quite a while. Two Stars. Importer: LDM Wines, Inc., New York, NY. Louis/Dressner Selections.
Baumard
Coteaux du Layon
Carte d'Or 2004
Drink Now-2019
$18
You have heard me extoll the wines of Baumard previously, mostly the wines from Savennières. This is from across the Loire river in a region called the Coteaux du Layon, lying along the tributary called the Layon. While most of the wines made here are quite sweet, mostly in the dessert wine category, this one is just slightly sweet but very well balanced and would make a beautiful accompaniment to spicy cuisines. It is 100% Chenin blanc, some of which has been affected by botrytis (Noble Rot) in this vintage.

Even with a bit of sweet, honeyed Botrytis on the nose, this smells breathtakingly fresh with white peach and white stones singing duo. An initial spicy attack of Botrytis in the mouth is followed by round, slightly sweet flavors that are balanced by stoniness and accents of grapefruit pit and zest. The level of sweetness is akin to that of a rich German Spätlese or average Auslese. A piquant, almost bitter note gives it intensity and lift. Fresh, pure and just simply delicious. Drink now or hold. Two Stars. Importer: ExCellars Wine Agencies Inc., Solvang, CA.
La Cosecha Fino Sherry
Bodega Santa Ana
J. C. Gutiérrez
Drink Now-Whenever
$12
Slightly chilled, dry Sherry is a great summertime treat, either as an apéritif or to accompany a slew of finger foods. This one is a true Fino, the driest style of Sherry. While dry Sherry can be somewhat of an acquired taste for those new to wine because of its nutty, oxidized notes, it is worth developing a taste for because they can be delicious and are quite inexpensive for such a great wine. For those of you who don't know, Sherry is a fortified wine from Jerez in the south of Spain. Learn more about what a fortified wine is on our How Is Wine Made? page.

Pretty, fresh Fino nose that recalls the spring in its complexity with hints of nutty ripeness developed by the flor. Pure, singular and crisp. No big, obtrusive flavors stand out from the crowd. Rather, it is a single entity, linear and without flaw. This is just delicious and quite hard to find a way to criticize! Two Stars. Importer: MHW Ltd., Manhasset, NY.
Deletang
Montlouis-sur-Loire
Sec 2005
Drink Now-2015
$16
It's no surprise by now that I love the Loire Valley! Especially the wines made from Chenin Blanc. Well Montlouis is an appellation on the Loire Valley across the river from its more famous neighbor, Vouvray. Also making wines from 100% Chenin Blanc, Montlouis tends to make richer, sweeter wines in general. However, this one, made by one of the best producers in the area, is a Sec or dry Montlouis from a great vintage.

Exhilaratingly fresh and pure aromas of cucumber, honeydew melon and finely powdered chalk all entice the nose before even taking a sip. Vibrant but at the same time rich and round with lychee fruit, honeydew and honeysuckle perfumes swirling around your palate. Pure, round, complete and delish! Sweet flavors but not residual sugar, this is well balanced. Does it seem like I'm giving a lot of wines two stars and more this month?! I must be drinking really well! Incredible quality to price ratio here! Two Stars. Importer: WineWise, Oakland, CA.
La Guita Manzanilla
Drink Now-Whenever
$15
Another "Sherry", but this one not from Jerez. Instead, it is from another small appellation on the Spanish coast near Jerez. Made in a similar style to a dry Sherry, the Spanish drink this with fresh fish brought in off the boats and pan fried.

Simple, not as complex as the Fino above. Nevertheles, this has vibrant and nutty aromas with hints of salty sea air from the beach. Savory, almost salty, seafood-like flavors are also fresh and lively. This positively screams for some fish. Chill it slightly, sit down outside with a plate of fried sardines and imagine you are on the beach in Spain! One Star Plus. Importer: Kermit Lynch Wine Merchant, Berkeley, CA.
Dr. Loosen Riesling
Wehlener Sonnenuhr
Kabinett 2006
Drink Now-2018
$22
Ever wonder why so many German wine producers are called doctor? Me too. Maybe we'll never know. Well not knowing won't get in the way of enjoying this beauty. Loosen is a fantastic producer in the Mosel and his whole range of wines are hard to miss with. This Riesling, from one of the most famous vineyards in the Mosel called Wehlener Sonnenuhr is a Kabinett. Kabinett is the lowest ripeness level in the Pradikat system of wines in German. It is made from normally ripe grapes, not late-harvested grapes which are more rich and sweet like Spätlese or Auslese. Some do have a bit of residual sugar but the best have a laser-like acidity and minerality.

This is simple a great Kabinett, vibrant white stones, a hint of honey. The mouthfeel is what really sets this apart, intricate, like it was chiseled out of the rock and yet ethereal, gliding over your palate without weight. Delicious. Two Stars.
von Schubert Riesling
Maximin Grünhäuser Herrenberg
Kabinett Feinherb 2006
Drink Now-2020
$23
von Shubert is the producers of the Maximin Grünhäus estate in the Mosel river valley of Germany. This historic estate can produce some of the best wines of the Mosel-Saar-Ruwer river valley. Their top two vineyards are Herrenberg and Abtsberg, the later being the more famous and profound. This wine, a feinherb, is a Kabinett (meaning that the grapes were of average ripeness when harvested), but fermented close to dry. The neck label reads "Kabinett - Off Dry". Feinherb, meaning off dry or half dry, is a German wine term which is largely synonymous with Halbtrocken.

This 06 has a super stony nose, almost gravely, with honey and grapefruit pit aromas. The flavors are linear and bright, akin to mountain water filtered threw stones with essence of grapefruit, peach pit and other stone fruit thrown in for good measure. This is downright great for the price. Are there better German Rieslings? Yes. Do you care when you are drinking this delicious and refreshingly pure wine? No. Two Stars.
---
Red Wines:
Baudry Chinon
Les Granges 2006
Drink Now-2016
$15
This and the next wine are two extremes from one great producer in Chinon in the Loire Valley of France. How are they extremes? Well the first is this young vines cuvée from sand and gravel soils along the Vienne. It tends to be fruitier, earlier drinking and more simple and easy. The next is from a more noble terroir in limestone based soil. Both are made by this great producer, one of the top couple in the region. Chinon is Cabernet Franc based with the majority of the blend made up of that varietal. Interestingly, Cab Franc is a relatively minor grape in Bordeaux with a few exceptions but it reigns in the Loire.

The ripeness of the vintage and the youth of the vines make themselves known in the chewy, jammy and spicy nose of dark ripe fruits. But don't be mistaken, this isn't a simple quaffer with no guts! The palate is actually quite rich, dense and chewy with blueberry, cherry and currant flavors and meaty tannins. For a young vines cuvée this is quite serious. This will only get better with time as it is a baby now. But the baby fat fruit makes it delicious now as well. One Star Plus. Importer: Kermit Lynch Wine Merchant, Berkeley, CA.
Baudry Chinon
Le Clos Guillot 2005
Drink Now-2020
$17
From the same producer as the previous wine and only a couple dollars more, you have this wine from a bit more noble terroir with chalky limestone and clay soils. This is one of Baudry's two top wines.

While the previous wine flattered with its ripe, chewy fruit, this one already dazzles with its complexity. Smokey herbs, meat, and roasted black fruits literally jump from the glass! It can barely be contained by the bottle. Deep, smokey and profound, you can get lost in there! And on to the mouth...Fresh crushed dark berries and rocks roll around on your palate and coat your tongue with rich, velvety, ripe tannins. Quite suave and has good acid to balance its rich body and intensity. Simply great Chinon. Lots of potential for the future too. Another unbelievable bargain for the meager cost. Two Stars Plus. Importer: Kermit Lynch Wine Merchant, Berkeley, CA.
Château Hélène Corbières
Pénélope Rouge Tradition 2003
Zero Stars
Drink Now-2009
$8
Corbières is a large appellation in the south of France making rich red wines from Carignan, Grenache, Syrah, Mourvèdre and other southern grapes.

There are some excellent Corbières values around, but unfortunately this isn't really one of them. Woodsy, stewed fruits and pungent earth have a little alcoholic heat in the nose. And thats the best this wine can do as the flavors fall flat with stewed, alcoholic fruit which is a bit harsh, chunky and astringent. Not technically flawed, but not all that appealing either. Not recommended. Zero Stars. Importer: Wine Warehouse, Los Angeles, CA.
Conti Sertoli Salis
Canua 2002
Sforzato di Valtellina
Drink Now-2022
$45
This is gonna be a controversial one. Sforzato is a little-known wine from the Valtellina in Northern Italy. Like its more famous colleague Amarone, it is made from grapes which are left to air dry on mats for several months after the harvest, producing concentrated raisins. When pressed and vinified, this produces richly aromatic and concentrated wines with great character. While Amarone is made from grapes indigenous to the Veneto (including Corvina, Rondinella and Molinara), Sforzato is made from the famous Nebbiolo grape, famous for being the basis of Barolo and Barbaresco from Piedmont. The controversy comes in because wines such as this tend to be polarizing. Some people adore their rich, heady (and a touch alcoholic sometimes) aromatic breadth and warming depth, while others find them overly alcoholic, too earthy and just strange. My advice is to go into tasting these types of wines with an open mind. They are not like most other dry table wines. You must form a new folder in your brain to classify them under.

This Sforzato has a heady, aromatic aroma of earth, leather, tar, rose petals and dried cranberries and cherries. Unique and intriguing, it leads the way to a luxurious, caressing mouthfeel with long, rich and deep earthy flavors. Great texture and a good ripe tannin structure. This will probably improve with age but is already quite an interesting wine. I'm in the camp that really likes these. Two Stars. Importer: Vitis Imports, Santa Monica, CA.
Michel Lafarge
Bourgogne Passetoutgrains
l'Exception 2005
Drink Now-2015
$22
Lafarge is a famous producer making mostly Volnay. However, this wine is a Bourgogne Passetoutgrains. This Burgundy appellation allows for inclusion of some Gamay in with the Pinot Noir. It is not considered a noble terroir but it can make wines which are fresh and fruity and drink nicely young, somewhere between a Bourgogne and a Beaujolais.

This one has appealing crunchy, ripe cherry and raspberry aromas followed by young, bright fruit with good grip on the palate. Decent acid and ripe tannins make this more than just a fruity wine, it has some focus and intensity. Excellent food wine which is a great red for the summer and could accompany a whole host of foods. One Star Plus. Importer: Vinalia Imports, Camarillo, CA. Becky Wasserman Selections.
Lopez de Heredia Rioja
Viña Bosconia Reserva 1999
Drink Now-2025
$30
In Issue 005 of the Poor Man's Guide I introduced you to this outstanding producer in Rioja, Spain. While the introduction included a white and rosé, this here is one of their great red Riojas. This Reserva is the current vintage since they age the wines so long at the domaine prior to release. The current Gran Reservas, aged even longer, are much older! This one is 80% Tempranillo, the primary grape of Rioja, with the rest made up of a blend of Garnacho, Graciano and Mazuelo.

Very pretty aromatic complexity of sandlewood, white pepper, spice and red fruits. Delicious, pure and silky, the flavors of leather, spice and red fruits are presented in a fine, intense and silky mouthfull. There is the slightest hint of alcoholic heat on the finish but in my opinion it only serves to brighten the spice and red fruit flavors that linger well after you've swallowed the wine. Bravo! But I'm not surprised, it is Lopez de Heredia after all. Two Stars. Importer: WineWise, Oakland, CA.
---
Dessert Wines:
Blandy's Madeira
10 Year Old
Rich Malmsey
Drink Now-Whenever
$38
Madeira, from the island of the same name, is a fortified wine made in various styles depending on the grapes used. This is a Malmsey, made from a grape of the same name but also known as Malvasia, typically the sweetest of the Madeiras. This one was aged an average of 10 years in oak prior to bottling and release. Unopened, Madeira can age almost indefinitely. Even after opening these wines will hold much longer than most wines. I like to drink them up, relaxing with a glass in the evening, over a week or less to catch them at their most fresh.

Smokey, roasted coffee and caramel notes are simply great. Spicey, piney, rich and sweet, this is an excellent young (10 years is young in Madeira age) Madeira. Serve with cheeses, nuts and dried fruits after dinner or just enjoy it on its own as you unwind from a busy day. Two Stars. Importer: Premium Ports & Madeiras, San Francisco, CA.

---
Have a Reader Tip or a Question? Contact Me!
I love to hear from my readers and visitors. If you have a handy tip to share or questions or comments on anything related to wine and wine tastings, please contact me!


---
Looking for Wine or Wine Tasting Related Info? Search our site!
You can now search through all of my pages by using our handy Search This Site feature. You can also browse through a site map to find the information you desire. Still can't find what you are looking for? Then contact me!


---
© 2008 Poor Man's Guide to Fine Wine. All Rights Reserved.


---