Hello from the Wine Tastings Guide!

This is The Poor Man's Guide to Fine Wine™, a monthly newsletter on all things wine and your guide to finding great wine at affordable prices! Each issue brings you articles about goings-ons in the world of wine as well as reviews of inexpensive wines.

If you like this newsletter and our website, please forward this email to someone you know who enjoys wine or wants to learn more about wine and wine tastings. If this was forwarded to you and you like what you read, you can subscribe to The Poor Man's Guide to Fine Wine for free now.

If you have suggestions, questions, article requests or comments, please contact me -- I love to hear from my readers!


---
Contents of this issue of
The Poor Man's Guide to Fine Wine™
Rosé: The Perfect Summer Wine!
What's New at the Wine Tastings Guide? - New Articles
The Poor Man's Guide's Wine Reviews
---
Rosé: The Perfect Summer Wine!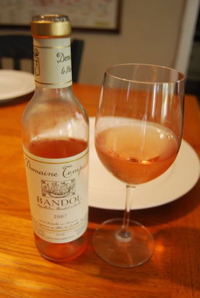 You have to admit it looks temptingly refreshing! The French call it Rosé, the Italians Rosato, the Spanish Rosado, you may even hear it referred to as "blush" wine or pink wine. Whatever you call it, rosé is really quite under-appreciated in the world of wine. Often seen as "wine-light" or "wine for girls", somehow rosé has gotten a bad rep. Maybe its the oceans of pink plonk from California which is sold as "White Zinfandel" or "White Merlot" which has people confused and has sullied the reputation of the style. These inferior wines are often watered down and sweetened versions of pink wine which are about as far from a true rosé as you can get! In fact, they seem to have more in common with wine coolers than real wine. Real rosé should not be written off so easily. And no, it does not make you any less serious a wine drinker to enjoy rosé. To learn more about this fun wine, read on.

Rosé wines are made in many styles, from many types of grapes, in many regions around the globe. A rosé wine is basically a lightly colored wine, somewhere between a white and red wine. They are generally bone dry, but packed full of fresh ripe red fruit flavors. They are generally made from either all red grapes or a blend of red and white grapes. In general, the rosé color is obtained by pressing the grapes early, limiting the contact the juice has with the grape skins. The skins of red grapes is where red wines get their color. Therefore, by limiting the skin contact, and by the addition of white grapes, the wine only picks up a slight red hue. However, the winemaker can vary the darkness of color depending on the grapes used and the amount of skin contact the juice sees. Thus rosé wines vary in color intensity from just a slight blush of red to quite dark red, just shy of a true red wine.

So what is the point? Why should you care about pink wine? Well, in the regions that rosé are made, it is generally enjoyed as a fresh, fun and lively wine which is easy to drink and a great pairing with a number of simple foods. There is something life affirming and simply jovial about enjoying a glass of slightly chilled rosé. A great rosé has complexity but is also simple, easy to enjoy and refreshing. Enjoyed on a summer afternoon, a chilled rosé is thus a perfect picnic wine or a great apéritif to an afternoon dinner party. Serve it along with finger food appetizers like bruschetta, tapenade, brandade, stuffed mushrooms, sausages and cured meats, and herbed olives. And there is absolutely no better wine to sip on while cooking on the ol' barbecue (and it goes well with some barbecued foods too)!

So where should you start your rosé exploration? There are a few classic regions which are known for producing outstanding rosé wines. For starters, look to the Mediterranean. The warm weather of the regions lying on the coast often produce outstanding rosé wines. Because of these regions' warm summers and rustic, family cuisine, fresh and refreshing wine is a necessity to enjoy the hot summer days. In Provence, in the south of France, there are many regions that make excellent rosé, from Bandol on the coast to Tavel and other regions in the Southern Rhone Valley to simple Côtes de Provence. All along the coast you can find it, over in the Languedoc, even in Spain and Italy. Many other regions have followed suit and you can find rosé wine from California, Burgundy, the Loire Valley and many other places. Below, I have selected several fine examples to review which are all currently available in the wine market.

And the best thing about rosé? Besides being fun, refreshing, jovial and just simply delicious? It also tends to be quite affordable! Most examples can be found for well under $20 and even the very best are rarely more than $30 (although the Tempier is slowly creeping up beyond that). So what are you waiting for? Get to your local wine retailer and stock up on a selection of various rosés to explore this summer. You, and your guests, will not regret it!
---
What's New at the Wine Tastings Guide
It's summer! What better time to enjoy a wine tasting party or just relax with a cool glass or white or rosé wine. We are always trying to add more fun and educational content to the Wine Tastings Guide so check back often.

For example, get some ideas for how to host a great Wine Dinner Party or Wine Tasting Party. Don't forget to print out some helpful Wine Tasting Forms to help take notes on all those new wines you and your guests experience.

Need any other info or help with wine or wine tastings? Don't be shy! Contact me or Search Our Site!
---
The Poor Man's Guide's Wine Reviews
Wine Ratings Explained:
Zero Stars
A wine I don't particularly recommend.

One Star
Well made, simple and tasty wines that I recommend.

Two Stars
Excellent quality. Worth an extra effort to search out and enjoy.

Three Stars
Outstanding wine of the highest caliber.
+
Plus
Either a wine that is close to deserving a higher score or a wine that may not be showing that much but with the potential to move up in quality with further aging. A young wine that may be closed up or shows potential for significant improvement. Assuming it opens and improves with additional age, it may merit a higher rating.
???
Flawed bottles or wines that are difficult to assess for any number of reasons. Judgement reserved.
Sparkling Wines:
Chapalou Vouvray Brut
Drink Now-2014
$19
Vouvray is one of my favorite regions in the Loire Valley. Made from 100% Chenin Blanc, the wines can range from dry (see the Huet sec wines reviewed in Issue 004) to sticky sweet. However, sparkling wines have been made here by the traditional methods for decades, even centuries! This wine, made by a great husband and wife team, is a brut Vouvray made by the traditional Champagne method.

The aromas of this sparkling Vouvray are more on the Champagne side than most Vouvray with creamy yeast and dough aromas which fill the nose. The flavors are quite rich with earthy melon, cream and bread dough enveloping your palate with a dusty, chalky minerality on the finish. This is not a simple, light sparkler like you find in many inexpensive sparkling wines. This is serious, almost as deep and as rich as a fine Champagne. Dry, but with a hint of sweet fruit to keep it lively and fun. Definitely recommended, particularly for these hot summer months! One Star Plus. Importer: Kermit Lynch Wine Merchant, Berkeley, CA.
Gosset Champagne
Grande Réserve NV
Drink Now-2016
$50
Gosset is a tiny Champagne producer which makes excellent Champagne. As some of the prices for the big names have become crazy, many excellent, quality smaller producers have come to the fore in recent years. This Grande Réserve is a non-vintage Champagne and is a blend of 3 vintages. Of note, Gosset's entry level non-vintage Champagne, "Excellence", is even less expensive and is still an excellent value. I'd buy it any day over most of the big houses' non-vintage swill.

Pretty, lemon-butter and melon aromas lead to a creamy, luxurious medium bodied wine with bright white fruits and citrus. Silky and refined, this is quite pure and well made. This doesn't yet have the complexity or stature to be profound, but it is outstanding. I think it would benefit from a couple years in the cellar to expand and gain complexity. Two Stars. Palm Bay Imports, Boca Raton, FL.
---
White Wines:
Botter Pinot Grigio
Veneto 2005
Drink Now-2009
$5
We all know it. Pinot Grigio is one of the most popular white wines in the world these days. There are hundreds of them on the market, most inexpensive and very poor, others not so cheap and still poor. It is always nice to find one that isn't insipid, weak and hollow. This one from the Veneto is excellent for the miniscule price.

Juicy apple and white grape aromas are jubilant and fresh. Apple and pineapple juice flavors with a hint of zesty spice are simple but quite flavorful for this very inexpensive Pinot Grigio. Nice value! One Star. Importer: Il Nettare Divino, LLC, North Hollywood, CA.
R. López de Heredia
Rioja Viña Gravonia
Crianza 1996
Drink Now-2016
$25
While I have enjoyed several López de Heredia red Riojas, this was my first white if I am not mistaken. This is one of best producers in Rioja and Spain and the world. This white, made from 100% Viura, is aged for 4 years in wood prior to being bottled and then an additional several years in bottle at the domaine. The 1996 is the current vintage! And this is just the Crianza...the Reserva and Gran Reserva being much older!

The aromas and flavors are smokey, stony and quite complex. Not overly oaky, this has mature notes of spice and nuts but is still very fresh and lively. Dry, silky and long, this is the real deal and not to be missed! Two Stars. Importer: Wine Wise, Oakland, CA.
Joh Jos Prüm
Bernkasteler Batstube
Riesling Auslese 2005
(AP 2 576 511 07 06)
Drink Now
-2035+
$35
JJ Pr&uuml:m is one of my favorite producers, hands down. Fine German wines can be confusing, but make no mistake about it, the single-vineyard (QmP) wines from Deutschland can be profound! Pr&uuml:m is most known for the wines from Wehlener Sonnenuhr and Graacher Himmelreich, both of which produce awesome wines (Sonnenuhr a hint above Himmelreich). This Batstube vineyard is one of the more rare of Pr&uuml:m's wines, but also a great terroir, as the French would call it.

This has classic Batstube aromas of petrol and granite, chiseled and deep. Rich, lush and honeyed Mandarin orange and white peach flavors are exquisitely underlined by finely filigreed mineral structure and mouthfeel with a long, citrus, orange and chalk finish. This kind of wine is hard to put into words how awesome the texture and detail is. Is it the sweetness placing this above the Huet and Baumard wines in the last issue? Maybe. But there is something almost holy about this wine. Ok, all three...otherworldly, maybe I should go back and upgrade those scores too! Three Stars. Importer: Rudi Wiest Selections by Cellars International, San Marcos, Ca.
---
Rosé Wines:
Allozo Rosado
Tempranilla de Fincal la Fuente
2006
Drink Now-2010
$11
This is an inexpensive Spanish rosado. This one is made primarily from Tempranillo, the wonderful grape of Rioja.

Fresh strawberry fruit and a dash of spice lead to a spicy, bright wine with a hint of sea salt brine and mineral nuances. Quite nice and nuanced for a cheapie. Great value. One Star Plus. Importer: Vitis Imports, Inglewood, CA.
Borsao Rosado
Borja, Spain 2005
Drink Now-2009
$9
This inexpensive Spanish rosé makes its mark with fun simplicity. Fresh berry fruit is clean, bright and simple. Another no brainer, fun rosé which is easy to drink and quite refreshing. One Star. Importer: Henry Wine Group, Benicia, CA. Jorge Ordoñez Selections.
Le Galantin Bandol
Rosé 2006
Drink Now-2015
$15
Bandol, in the south of France in the middle of Provence, is famous for their outstanding rosé wines. Pretty much ever producer makes one (see the Tempier version below). Most producers see it as their entry level wine for simple summer sipping and also make big, full-bodied, age-worthy red wines as well. This small producer also makes excellent value reds.

This rosé really sets itself apart with a very pretty floral component to its aromas and inner mouth perfume. The fresh strawberries and salty minerality you expect are there but the flower perfume really makes this one a charmer. Not as dense or structured as the Tempier or López de Heredia, for example, but a pleasure nonetheles. Seeing that those go for quite a bit more moola than this one, this is a great value. One Star Plus.
R. López de Heredia
Rioja Viña Tondonia
Crianza 1997
Drink Now-2017
$23
As mentioned above, López de Heredia is a fanatical and traditional producer from Rioja in Spain who makes outstanding examples from the appellation. While best known for their old, long-aged red wines, their white (above) and this rosé are absolutely outstanding as well. Aged for 4 and a half years in barrel prior to bottling and further bottle aging at the domaine, it is made from 30% Tempranillo, 60% Garnacho and 10% Viura grapes.

Smokey and stony strawberry aromas and flavors are serious, dry and complex for a rosé. This has the power, complexity, finesse and fine mineral presence on the palate that you would expect of a great wine, which is all too uncommon for a "lowly" rosé. This is not a fruity, simple rosé. This is serious wine! While Tempier rosé is more famous, this is every bit as good and quite distinctive. Its core of living personality is something to behold. I wouldn't be surprised if this continued to improve with some additional bottle age as well. Great stuff. Two Stars. Importer: Wine Wise, Oakland, CA.
Muga Rioja
Rosé 2006
Drink Now-2012
$12
Muga is another big Spanish producer in the Rioja region, most famous for their red wines. This was my first experience with their rosé.

Very fruity nose of ripe strawberries, this wine is one dimensional but fresh and delicious. Tasted alongside Lépez de Heredia, this has less complexity and also less structure, but it makes up for it somewhat with a nice spiciness which promises to go nicely with Spanish summer cuisine like Tapas. A pretty, unassuming rosé value. One Star.
Domaine Tempier
Bandol Rosé 2007
Drink Now-2016
$32
Tempier is the preeminent producer in Bandol for most US wine drinkers. Pibarnon and Pradeaux come close, but more people list Tempier at the top than any other producer. While the majority of this fame comes from their outstanding red Bandol wines, the rosé produced here is second to none. In fact, many would argue that the Tempier Bandol rosé is the gold standard by which all pink wines should be judged against. While this isn't quite fair since there is plenty of room for different styles, when Tempier is on its game, it is hard to say anyone surpasses them.

This 2007 is a worth successor to the throne of Bandol rosé. Complex, freshly crushed red berries, exotic lychee fruit and rambutan, dusty chalk and sea air envelope the senses as you inhale this natural beauty. Tangy red fruits accented by citrus burst onto your palate and lead the way to sea brine and mineral nuances that linger on the finish. All this and rich and creamy texture with a perfumed midpalate and finish. Who could ask for more? Two Stars. Importer: Kermit Lynch Wine Merchant, Berkeley, CA.
Valle Martello "Cerasuolo"
Aprutium Alma Mater
Montepulciano d'Abruzzo
Rosato 2004
Drink Now-2012
$8
This Italian rosato from Montepulciano d'Abruzzo is made from basically the same grapes as the reds from the region. The reds are known for their dark, black, dense and meaty fruit. This cheap rosato isn't far behind!

The first thing you notice right off the bat is that this sucker is dark! Almost as dark red garnet as may red Burgundies, the black fruit of Montepulciano makes its presence known from the get go. The aromas are akin to fresh strawberries and raspberries finely dusted with chalk. The flavors, bold and spicy with mature, ripe berry flavors. This is a dark, forboding, earthy and serious rosé, even a bit meaty like the reds from the region. Quite full bodied for a rosé, this performs well above its pricepoint! One Star Plus. Importer: Vitis Imports, Santa Monica, CA.
La Viña Rosé
Vallformosa
Catalunya Dd'O
Drink Now-2010
$8
Yet another inexpensive wine from Spain. This Rosé is made from 40% Garnacha (same as the French Grenache), 40% Cariñena, and 20% Trepat.

Bright aromas of freshly crushed strawberries and sea air. This is simple and easy to drink but has abundant spicy raspberry and strawberry fruit which is fresh and refreshing. On the simple side of rosé but good value for relaxed summertime sipping. One Star. Importer: Alconte Inc., Union, NJ.
---
Red Wines:
Andean Vineyards
Malbec 2006
Mendoza Argentina
Drink Now-2012
$8
Malbec is one of the 5 traditional grape varieties of Bordeaux red wines. In Bordeaux it is a minor grape, usually only making up a small percentage of the blend. In higher percentages of wines like Cahors, Malbec is known to produce a dark, black wine with big structure and power. Argentina has been planting Malbec for many years and makes some excellent examples.

This big wine has aromas of meaty, stewed plum and blackberries with a fine dusting of powdered sugar. The flavors are big, almost burly, with dense black fruit. However, despite its size it is not heavy and retains a bright strawberry back end. Quite good balance for a big, inexpensive wine. One Star. Importer: Bolero Group, LLC, Miami, FL.
Andean Vineyards
Condor Peak Malbec
Mendoza 2006
Zero Stars
Drink Now-2009
$5
This is the even less expensive stable-mate to the Malbec reviewed above.

This one has simpler fruity and juicy aromas which are almost a bit "bubble-gummy" like a cheap Beaujolais Nouveaux. The flavors are very simple and juicy, even a bit out of balance as the soft, almost sweet fruit predominates without much acid grip or other structure. Not a flawed wine, just not all that flattering or fun to drink. Okay for a simple wine to slug down with pizza but nothing more. Surprising given that the above wine was quite a big step up in quality. Zero Stars. Importer: Balero Group, LLC, Miami, FL.
Clavel "Le Mas" 2003
Coteaux du Languedoc
Drink Now-2013
$10
I reviewed the 2003 Clavel "les Garrigues" last month, giving it One Star as well. This one, the "le Mas", is 60% Grenache and 40% old vines Carignan, also from the Languedoc in the south of France.

An earthy wine, like turned dark earth with black licorice and spicy pepper. This is on the rustic side, with chewy fruit. The initial attack is bright but is followed by dense, spicy southern flavor. One Star. Importer: Wine Warehouse, Los Angeles, CA.
Chateau Fougey
Bordeaux 2005
Drink Now-2012
$12
Cheap Bordeaux is usually not that satisfying. But some are tasty and remind you of those great, inexpensive bistro wines you find in little Paris restaurants.

This one is smokey, dusty and simple with hints of ripe cassis aromas. The flavors are bright and simple with blackberry and cassis fruit. Not noticeable or obtrusive oak. This is a good, basic bistro Bordeaux which doesn't disappoint but also doesn't thrill. Good with food but nothing more. Enjoy it for what it is. One Star. Importer: Wine Service Inc, Neptune City, NY.
Torre Oria Tempranillo
Reserva 1994
"El Derramador"
Primer Centenario
Drink Now-2019
$30
The region of "El Berramador" is in the small wine producing region of Spain called Utiel-Requena. The region produces many wines of different grapes but this one is 100% old vines Tempranillo. It is from an old producer who celebrated their 100 year anniversary with this wine. It was held in wood barrels for 4 years, followed by 4 years of bottle aging at the domaine. It is sold in beautiful 2 and 3 bottle boxes with labels that display several different artistic backgrounds. Truly beautiful packaging for a great wine! Yes, this is an old wine to be reviewing just now. However, much of this was recently released to the market and some of it has been available for well below its initial price.

This wine is not to be missed! It starts with an aroma which is floral and earthy at the same time, like dried, crushed rose petals scattered on the wet earth with mushrooms pushing up beneath. The flavors are bright and vibrant but with complex secondary inner-mouth perfume nuances of earth and mushroooms. Tart, bright, crunchy red fruits linger on the finish, reminiscent of a Chambolle-Musigny. This would be very good at $30 but on sale at $9 this was an absolutely outstanding value. Two Stars.
---
Dessert Wines:
Graham's Porto
20 Year Tawny
Drink Now-2025?
$55
Graham's is one of the big names in Port. This is a tawny, aged for an extended time in oak barrels. There is no vintage as this is a blend of vintages averaging 20 years of age. This review is a good example of why it pays to be a smart shopper and keep your eyes open for great values and deals. This wine is normally around $55. At that price, it is certainly not inexpensive, although the quality is high. However, I found this on closeout at my local supermarket for $25! Be sure to look out for those types of values. A little education about wines will help you recognize a great value when you see one.

A beautiful amber tawny color leads the way to a smokey and nutty nose of raisins. This made me think of savory roasted almonds and walnuts. This is at a nice place, having shed its youthful color and bright fruit, giving way to nutty complexity and a whiff of sea air brine. The mouthfeel is suave with mellow, silky raisin, nuts and hickory smoke lingering on the pure finish. This is excellent and has such a relaxing long, lingering, warming feel. Perfect for nighttime sipping while unwinding or contemplating a great book. Two Stars. Importer: Premium Port Wines, Inc., San Francisco, CA.
Porto Krohn 2003
Late Bottled Vintage
Drink Now-2020
$20
Late Bottled Vintage (LBV) ports are given longer wood aging than their Vintage Port counterparts. This one, bottled in 2007, is made by a producer more known for their single vintage tawny ports (Colheitas). The stenciled label is hard to miss.

Woodsy, wild aromas of baking spices and wild berries great you before even taking a sip. Rich and quite deep with dense black fruit and silky tannins. This doesn't show any over-ripeness or excessive alcohol despite being from the "Global Warming" vintage of 2003, although there is the slightest hint of finishing astringency. This is on the drier side of port. One Star Plus. Importer: Mega Wine, Inc., Van Nuys, CA.

---
Have a Reader Tip or a Question? Contact Me!
I love to hear from my readers and visitors. If you have a handy tip to share or questions or comments on anything related to wine and wine tastings, please contact me!


---
Looking for Wine or Wine Tasting Related Info? Search our site!
You can now search through all of my pages by using our handy Search This Site feature. You can also browse through a site map to find the information you desire. Still can't find what you are looking for? Then contact me!


---
© 2008 Poor Man's Guide to Fine Wine. All Rights Reserved.


---