Wine Dinner Parties
We frequently enjoy themed wine dinner parties where we pair a certain wine producing region's wines with the traditional cuisine from that region. This can be a great way to explore and learn about a certain region's food and wine and to live like they do without having to travel to the region. Here we will post notes and descriptions about the food and wines of such wine tasting dinner parties. The focus here is not on detailed wine tasting notes, but more on the overall experience of the wine and food and the theme of the dinner. We hope you enjoy them!
If you are looking for more general information and other ideas for wine tasting themes see our Wine Tasting Themes section, including information on Wine Dinner Parties and Wine Tastings Based on a Wine Region.
---
Cusp of Spring Southwest France Wine Dinner Delight!
Sunday, March 30, 2008
A few friends of ours who are excellent chefs like to through themed wine dinner parties occasionally. This was the most recent. We thought it would be fun to taste through some of the classic dishes of the Southwestern region of France along with wines from that same region. While Bordeaux is the most famous region from the SW of France, there are several other less celebrated but great wines produced in this area. Thanks to everyone who helped make this wonderful wine tasting dinner happen, particularly Tad and Amy for the awesome cooking and Adam and Lorraine for opening up there home and picking and supplying most of the wines. The Bordeaux came from our own cellar and we were happy to share them with this fun wine dinner crowd.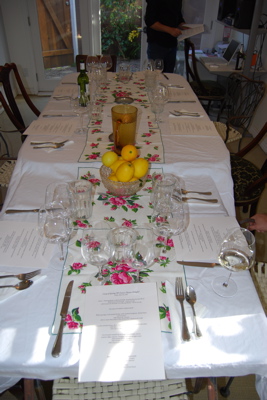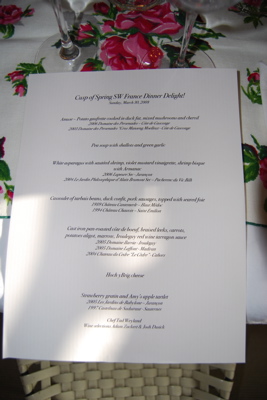 Wine Dinner Menu:
Amuse - Potato gaufrette cooked in duck fat, mixed mushrooms and chervil
Pea soup with shallots and green garlic
White asparagus with sautéed shrimp, violet mustard vinaigrette, shrimp bisque with Armagnac
Cassoulet of tarbais beans, duck confit, pork sausages, topped with seared foie
Cast iron pan-roasted côte de doeuf, braised leeks, carrots, potatoes aligot, marrow, Irouleguy red wine tarragon sauce
Hoch y Brig cheese
Strawberry gratin and Amy's apple tartlet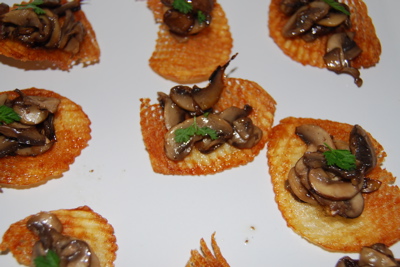 We started off the wine dinner with a couple whites to wake up our palates. For the
amuse bouche
we had tasty friend potato chips with mushrooms and herbs. The first white, the
2006 Domaine des Persenades - Côte de Gascogne
, is a blend of Ugni Blanc and Colombard from Gascony. It was simple but bright, grassy, dry and refreshing, just like an aperitif should be. To follow, we enjoyed another Gascony white from the same producer. The
2003 Domaine des Persenades "Gros Manseng Moelleux" - Côte de Gascogne
is made from 100% Gros Manseng and is made
moelleux
, literally "soft" but means sweet or late harvest in French wine speak. It had a riper, meatier nose with slightly sweet, creamy fruit.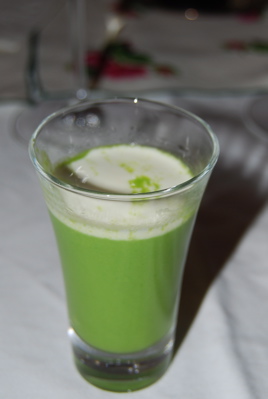 We then formally started the dinner and sat down to a beautiful pea soup in a shot glass. It was creamy and fresh at the same time. Very tasty and quite elegant.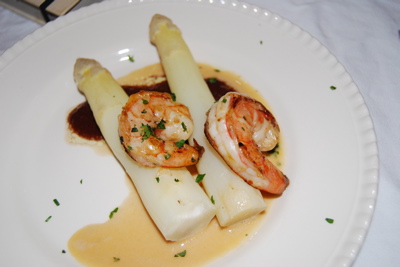 Next up we enjoyed the shrimp and white asparagus dish with beautiful, thick white asparagus spears which I haven't seen before. This delicious dish was enjoyed with two interesting wines that you don't see much of in the US. The
2006 Lapeyre Sec - Jurançon
was fresh, dry, stoney and floral, a great match with the aromatic shrimp dish. We also enjoyed the
2004 Le Jardin Philosophique d'Alain Brumont Sec - Pacherenc du Vic Bilh
which is 100% Petit Courbu, a grape I know absolutely nothing about! It was fatter and a bit nutty, similar to what you might expect from a Meursault or old Savennieres. I enjoyed it a lot.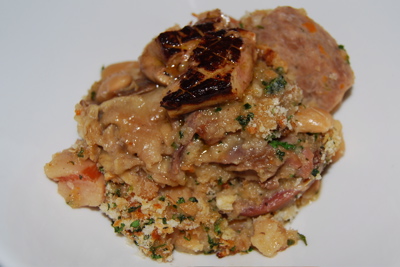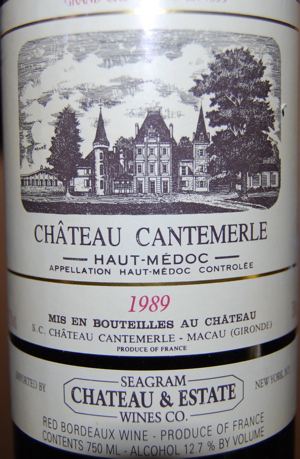 Now for the
coup de grace
, the cassoulet, a dish that is legendary in the southwest of France and can make or break a chef's reputation. There are many arguments about what goes into the perfect, traditional cassoulet but in general it is a complex, baked bean dish with a crusty top which is chock full of goodness, various meats and such. This one with duck confit, various sausages and a slice of seared foie gras on the top was outstanding. Tad even passed around a cup of the melted duck and foie fat to pour over for the real hedonists in the group (we partook in abundance!). This great dish was paired with the two wines we brought, the only Bordeaux of the night. The
1989 Château Cantemerle - Haut Médoc
is showing classic left-bank Bordeaux aromas of cedar, pencil shavings and tobacco and has silky, mature earth, cassis and pencil lead flavors. There are still some finishing tannins but this is basically mature and drinking very nicely now. The
1994 Château Chauvin - Saint Emilion
had more jammy cherry preserves, cinnamon, and tobacco aromas followed by a round, jammy fruit flavors with hints of chocolate and tobacco. Nice, silky tannins. This too is drinking very nicely now.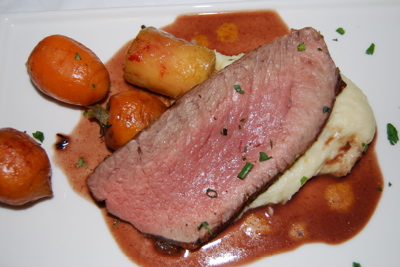 On to the beef dish, the
côte de boeuf
looked impressive roasting in their big cast-iron skillets. The red wine sauce and poached marrow made this dish extra authentic and rich. The
2005 Domaine Ilarria - Irouleguy
was the wine used to make the sauce. It is made with 70% Tannat, a grape common in the southwest. It was smokey with jammy black fruits and a dense, dark flavor profile. Monolithic but powerful. The
2005 Domaine Laffont - Madiran
has an intense nose of black licorice and cassis and flavors of dark, hard tannat fruits. Quick big and young, the tannins are quite big on the finish. The
2004 Chateau du Cedre "Le Cèdre" - Cahors
is mostly Malbec, the classic grape of the Cahors region although it is a minor grape in nearby Bordeaux, with the remainder Cabernet Franc. It had a spicier nose of cedar and alfalfa but was also a big, dark wine which is very young, hard and tannic. Despite the size of these wines, they went well with the rich fat and intense flavors of the beef dish.
The cheese reminded me of a hypothetical blend of a Swiss cheese and some stinky Morbier. Very nice!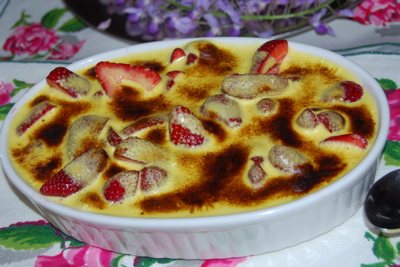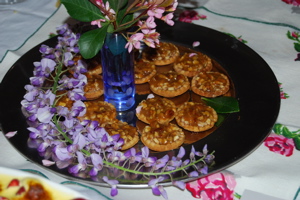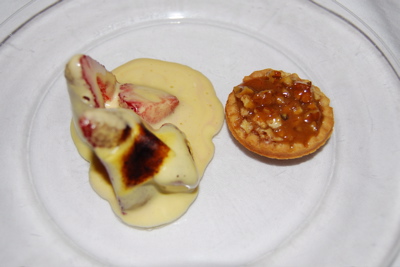 Finally, for desert we enjoyed a strawberry gratin and apple tartlets which were served separately but we enjoyed together. Both were outstanding. To accompany them we enjoyed two dessert wines. The
2005 Les Jardins de Babylone Didier Dageneau - Jurançon
is a wine made of Petit Manseng by a producer, Dageneau, who is best known for his wines from the Loire Valley. It showed bright, grassy fruit aromas and bright, herby and floral flavors. Despite its sweetness it was fresh and had a lively zing to it that won over everyone at the table. In comparison, the
1997 Castelnau de Suduiraut - Sauternes
seemed downright cloyingly sweet. While on its own I think it would have shown better, it seemed to lack a bit of focus next to the vibrant Dageneau wine. It did have classic Sauternes aromas of botrytis, honeysuckle and creme brulée with rich, sweet flavors. It did seem to lack a bit of depth in the middle though.
Overall this was an outstanding wine dinner to explore the wines and cuisine of Southwestern France. A great time was had by all! We hope to do it again soon!
---
Done with the Wine Dinner Parties page?
Return to the Wine Tasting Guide Tasting Notes page.