Dinner Party Theme
Wine Tasting
Whether you are looking for a dinner party theme or wine tasting themes you've come to the right place! While much wine is drunk on its own, way back through the ages wine has primarily been produced and consumed as a beverage to accompany food. Whether a simple wine to wash down your pizza or a complex and profound wine accompanying a gourmet meal, wine and food love each other. You'll love them together too and so will your guests!
When planning your next wine tasting party consider a dinner party theme. Rather than just tasting wine, center the wine tasting around a full dinner. This can serve many purposes. First of all, who doesn't like to eat? Wine makes you hungry so having good food along with your wines is a no brainer. This also opens the discussion to food and wine pairing, what works and what doesn't. You can also help focus on a particular style of food and wine or a regional style. There are many ways to do all this so read on to get some more ideas.
---
Here are some ideas and things to consider in planning your perfect wine and dinner party theme:
Welcome Your Guests with an Apéritif
An apéritif is an alcoholic drink usually used as an appetizer or introduction to a large meal. The ideal apéritif is a drink which is light, fresh and simple, enticing the palate, waking up your taste buds and stimulating your appetite. What better way for your guests to be welcomed to your wine tasting party than to receive a cold glass of refreshing wine at the door!? There are many types of wine that serve this purpose perfectly. Some of our favorites are chilled sparkling wines such as Champagne, Italian Prosecco, or Spanish Cava. Other options are lighter, crisp white wines like a Sauvignon Blanc based wine. But no one says an apéritif has to be wine! Well, you are throwing a wine tasting party but you can always start with a nice cool lager-style beer or a light cocktail. Go with what feels right for the dinner party theme of the night. Trust me, your guests will thank you and it helps open up the air of celebration, relaxation and good times.
Focus on Wine and Food Pairing
A wine and food dinner party is a great setting to explore food and wine pairing. This can even be the whole focus of your evening. Tell your guests ahead of time what you are serving and ask each to bring a wine to pair with it. You may find some surprising combinations! Pairing foods with the appropriate wines can be an intimidating task to the neophyte wine drinker but it doesn't have to be. There are no absolute rules but you'll learn over time what works with what. Trust your own taste and preferences and experiment. Maybe serve a couple wines with each course and ask your guests which they think compliments the food, and visa versa, the best. You can choose classic pairings, like Chateauneuf-du-Pape with Provençal lamb or Bordeaux with steak, or you can get creative and try to find pairings that may not be as intuitive, like German Riesling with spicy Thai food (one of our favorites) or Champagne with Indian cuisine (yummm!!). See our Food and Wine Pairing pages for more ideas and tips.
Center Around a Regional Style
One very fun dinner party theme is to make the whole night center around, and feel like a certain classic wine and food region or style. There are many options out there but here are a few ideas. Have a Provence wine tasting theme. Provence is in the south of France and has a very distinct style to its cuisine, ingredients and hearty wines. Decorate your table with herbs from the region, serve regional dishes throughout the dinner and serve wines from nearby. You'll find that some of the best food and wine pairings are one regions cuisine alongside their own wines. It makes sense, doesn't it! The cuisine and wines grew up alongside each other through history. It is no mistake that they go perfectly well together. Other possibilities are a general French style, Spanish Mediterranean (did somebody say Paella?), Northern Italian (Piedmontese), Southern Italian or even German. With a bit of research you can find some key touches to make your dinner party special and authentic to your dinner party theme. And don't forget to decorate with touches that give the feeling of the region!
Family Style Versus a Multi-Course Gourmet Meal
This is really up to you, your entertaining skills and the style of dinner you want to have. Some foods lend themselves well to simple, family-style service where you simply serve all your food at the same time. Rustic French and Italian meals are great this way. Simply serve the food and wine and start enjoying. However, for some more refined types of cuisine, like Gourmet Parisian French for example, serving multiple courses, one at a time can really be fun and elegant. Some great dishes and wines deserve this treatment so that they can each be savored and discussed individually. Granted, this type of gourmet meal takes a lot more time and effort for the host to pull off, so get some experience with simpler faire first and work your way up, particularly if you love to cook.
Wine Tasting Before Dinner or Serve Them Together?
This can be an important decision for your dinner party theme wine tasting. Eating a big meal can distract some guests from the wine. Once they dive in on the food they just start eating and drinking and the "wine tasting" just turns into a regular dinner. Additionally, it can be hard to really focus on the details of wines if your palate and nose are already filled with the flavors and aromas of a table full of hot food! This can be a bit easier if you serve multiple small courses one at a time with each wine. We really prefer to sit down to taste some wine first, before the bulk of dinner is served. You can serve some appetizers like cured olives, French bread, cheese or other small finger foods to keep everyone satisfied. This gives you time to really focus on the wine, tasting and discussing the wines before later proceeding to dinner where the wines can be enjoyed with the food you serve. This is up to your preference and how you want your dinner party theme wine tasting to go. If you really want the focus to be on the wine then start the tasting first. If you just want it to be a wine-themed dinner then serve it all together. Either way is fun.
Don't forget, however you plan your dinner party theme wine tasting, the goal is to have fun and to enjoy good food, wine, company and conversation! Once the wine and food are out you're guests will surely have a great time.
---
Done reading about Dinner Party Theme Wine Tastings?
Return to the Wine Tasting Themes page.

Search This Site
---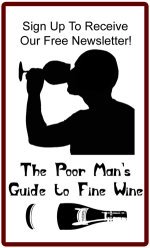 Site Sponsors
---

Peter Liem's
Champagne Guide
World's Best Grilling eBook!
---