Food and Wine Tasting Parties
We try to host or attend food and wine tasting parties as often as possible. While just drinking wine alone is fun and educational, true hedonistic pleasure comes more from enjoying wonderful food and wine together surrounded by friends and accompanied by great conversation. Sometimes we arrange or attend
themed wine tasting parties
which present food and wine with some common theme, such as everything coming from one traditional region in Europe with the local cuisine and wines paired at the wine dinner. Other times there is no set theme, just an orgiastic exploration of various foods and wines paired together in a
wine tasting dinnner
.
However you do it, we encourage you to host food and wine tasting parties yourself. Even if you don't cook, you can probably find a friend who would be eager to help out for these wine tasting parties. As a last resort, you can order in from a restaurant and pair the wines to the food. For more information on hosting food and wine tasting parties and dinners, see our Dinner Party Theme and Wine Dinner Party pages for tips and suggestions.
Below we will post some notes from food and wine tasting parties we host or attend. We hope you enjoy them!
---
Euro Decadence Dinner
Saturday, May 10, 2008
Having resolved in March to try our best to make these food and wine tasting parties monthly occurrences (notes from the previous dinner, a Southwestern French themed wine dinner, are available here), Amy was generous to open her beautiful home to us so that we could enjoy another fantastic display of food and wine. This time Amy took the lead in the kitchen but with lots of help from Tad and her old cooking teacher Cecilia. By the way, did I mention that Amy Jurist is a professional chef (Amysculinaryadventures.com)? I was happy to supply and present the wine pairings. This food and wine tasting party again was an awesome evening and my hat is off to Amy and everyone else for great food and wine, a great view and even better conversation and company!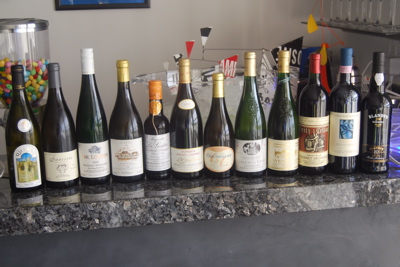 There was not as much of a general theme here except that Amy called it her Euro Decadence Dinner. The focus was on European cuisine which makes your head spin with rich aromatics followed by lush and powerful flavors.
The wine dinner menu was:

As the group gathered and enjoyed the view from Amy's back deck, we were greeted with the crostini with caramelized pear and chevre. This seemingly simple dish had wonderful, rich flavors. With it, we enjoyed two Sauvignon blancs from the Loire Valley. The first, the Domaine du Tremblay (Jean Tatin) Quincy 2006 was juicy, ripe and pretty with typical gooseberry and melon fruit flavors. The next was the Pascal & Nicholas Reverdy, Cuvée "Les Coûtes" Sancerre 2006. Drinking these back to back really emphasized the difference in the terroir in these two regions, the Sancerre being more restrained in the fruit department but superior in its core of vibrant, stony minerality. It had more grip and was much brighter and more vibrant on the palate. Both wines went very well with the crostini. We were off to a great start!
Our first sit-down course of the wine tasting party was the seared scallops. The scallops were perfectly seared with a tender interior that melted in your mouth. It was delicious with the rich leek confit and a hint of Balsamic syrup which added some intensity and sweetness. I was thinking outside the box a bit in terms of wine pairings since this dish promised to have some richness and sweetness from the confit and syrup. I chose two intense young white wines that have just a hint of sweetness but powerful acid and minerality for balance. The first was the Dr. Loosen Wehlener Sonnenuhr Riesling Kabinett 2006. From the ripe vintage of 2006 this was a bit sweeter than some Kabinett wines but ended up working nicely with the scallop dish anyway. It had vibrant stones and honey in the nose followed by intricate and detailed flavors that are never heavy and seem to float over your palate. Delicious! It is no secret that Huet is one of my favorites and holds a special place in my heart. The Huet Vouvray Le Mont Sec 2006 was no slouch (although I might have served it first if I were to do it again because it is much less sweet than the Kabinett)! A younger, most hesitant nose of primarily stones is followed by fine, crushed rock flavors with amazing purity and delineated. A totally different wine and expression than the Riesling, but both paired nicely with the delicious scallops in their own way.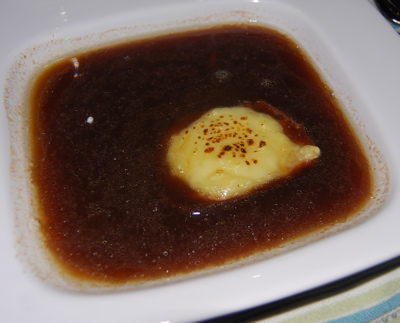 Next up was Amy's gourmet take on classic French onion soup. Rather than the muddy mass of clumped onions which you usually see, she had extracted all that aromatic onion essence but then filtered the onion chunks out, leaving a pure, rich and heady broth on which floated a single crisp covered in melted gruyere. Mmmm. To say this was the best French onion soup I've had would l be an understatement! In trying to match wines to such a rich and aromatic soup, I tried an experiment in contrasts. I served both a Manzanilla La Guita Sherry and a Michel Lafarge Bourgogne Passetoutgrain "L'Exception" 2005. Both complimented the soup in very different ways. They Manzanilla was nutty and salty, almost like a breath of sea air with vibrant, fresh flavors that were like a "wake-up call" for your palate after the hedonistic soup (as Amber put it). The red was very different with bright, crunchy red fruit flavors that blended quite well with the finish of the soup but didn't seem to add anything. For this reason some of us preferred the Sherry. I was happy to have been able to introduce some of the guests to Manzanilla who had never experienced Sherry before.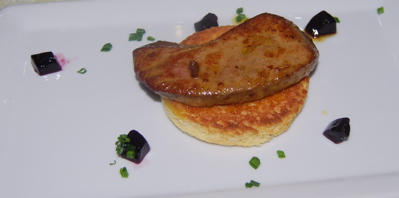 Now for the real decadence! What would a decadence menu and food and wine tasting party be without foie gras? Any what better to pair with it than a richly aromatic sweet Vouvray? The seared foie with blackberry gelee was awesome. Perfectly seared, it melted in your mouth like sun-softened butter. The Champalou Vouvray Moulleux Trie de Vendange "CC" 1997 helped wash it down beautifully, being both super rich and sweet but also with plenty of balancing acid to liven up your palate after the onslaught of rich fat. A delicious course all around.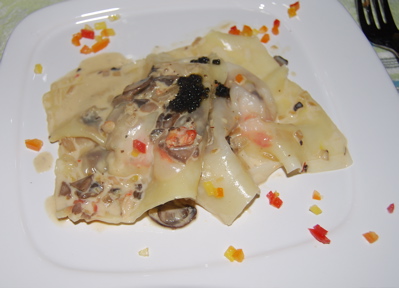 How can you follow foie gras and sweet wine? It is hard but Amy managed not only to follow it but to turn it up a notch. Many felt the lobster ravioli with Cognac saffron cream sauce and caviar was the winner of the night. For me it would be hard to pick but this was quick a beauty. Tender, super aromatic, creamy and rich and yet elegant and ethereal all at the same time. Bravo Amy! With this dish I wanted a white with a bit more body and creaminess than the earlier whites. I went for Savennières, one young, one old. The Château d'Epiré Savennières 2004 is rich and oily but in a young, dumb phase right now. It is flavorful, but not showing the intricate nuances it showed a year or two ago. The Baumard Savennières Trie Spéciale 1995 from my cellar was ready to go. More advanced nutty and waxy aromas and flavors with a rich core of fruit and honeyed rocks. Almost unctuous, this dry white is ready to drink. While it doesn't have the fine minerality that my favorite Savennières can have, it makes up for it in voluptuous body and richness. I thought this second wine paired better with the lobster ravioli, standing up to the aromatic richness of the dish.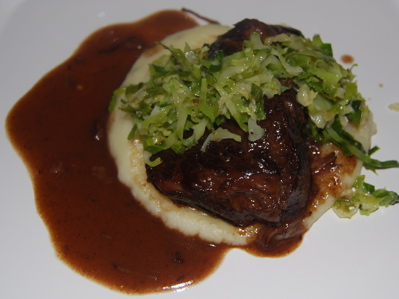 For the last entree course of this food and wine tasting party, Amy made braised short ribs in a port & red wine reduction sauce with mashed potatoes and paremesan brussel sprouts. I don't know how she cooked the short ribs but they were so tender and flavorful. Considering this was a "Euro" decadence menu, I thought I'd change things up and pair a California Cabernet with it! I poured the 1991 Heitz Martha's Vineyard from my cellar alongside a wine which could not be more different, a Conti Sertoli Salis "Canua" Sforzato di Valtellina 2002. The Heitz was almost Pauillac-like with dusty pencil lead, cedar and tobacco aromas underlining the cassis fruit and hint of eucalyptus. In the mouth it is approaching maturity with dark black fruits and a piney, eucalyptus structure and finish. My only complaint was that it was a bit monolithic, one-dimensionally even, but still very nice and particularly nice for Californian Cabs which I tend not to prefer over traditional Bordeaux. The Sforzato, made from 100% Nebiollo grapes which have been air dried from months prior to fermentation and pressing, was much more heady, aromatic and earthy with leather, tar, rose petals and dried cranberry and cherry fruit. The mouthfeel was quite nice with a luxurious, caressing texture and long, rich, deep earthy flavors and velvety tannins on the finish. Both went well with the short ribs but I preferred the Sforzato for its unique character and old world charm.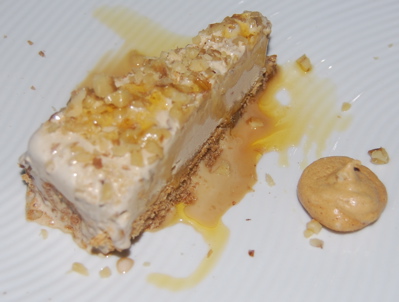 Finally, as if all that wasn't enough, it was dessert time. Amy served a killer frozen coffee walnut meringue cake with caramel sauce. I am not the biggest fan of sweets but I scarfed this down. It was delicious. Pairing wine with dessert can be hazardous. Most "dessert" wines actually do much better on their own or with a simple cheese and nuts plate than with any desserts. The rich sweetness of most desserts is just too much for most wines, even very sweet ones and you loose the nuances. However, I tried my best and thought I should pair this with something rich, sweet and hopefully with some smokey nuances to pair with the coffee and caramel. I think the Blandy's 10 year old Rich Malmsey Madeira was as good a choice as any. While I wouldn't say it was a transcendental wine and food pairing experience for this wine tasting dinner, the were both nice any neither obliterated the other. I saved a few sips of this excellent smokey, spicy Madeira for the end to finish the evening.
Again, a good time was had by all (as far as I could tell from their drunken smiles leaving the dinner) and I can't wait until Amy and Tad decide to do the next food and wine tasting party! Thanks for the wonderful food and opening your beautiful home to all of us!
Read about more food and wine tasting parties on our Wine Tasting Dinners and Themed Wine Dinner pages!
---
Done reading about our Food and Wine Tasting Parties?
Return to the Wine Tasting Guide page.