Wine Tasting Dinner Notes
We enjoy many wine tasting dinner events. Whether they are dinner parties we have at home with friends, at nice restaurants or more formal food and wine events, we very frequently enjoy wine and food evenings of one sort or another. Often times the focus of these wine tasting dinner events is not on any one wine or wine theme, it is just a nice evening with various good foods and wine. For that reason, rather than post each wine separately under the various wine region sections of tasting notes, we will post some of these wine tasting dinner notes here, all together by event.
So here they are, some recent fun wine and food experiences from wine tasting dinner parties or events. Some of these wine tasting dinner experiences will have less detailed wine tasting notes as the focus is often not on detailed note taking and more on the overall experience.
---
December 15th, 2008
Providence Burgundy Wine Tasting Dinner
Our usual group plus a couple extras had a great wine tasting dinner at Providence last night! My notes were limited by the number of wines and all the great food that kept distracting me (mmm...truffles!). However, this was a great wine tasting dinner with many outstanding wines. The primary theme was Gevrey Grand Crus and this turned out to be an outstanding lesson in the terroirs of the village. Thanks to everyone!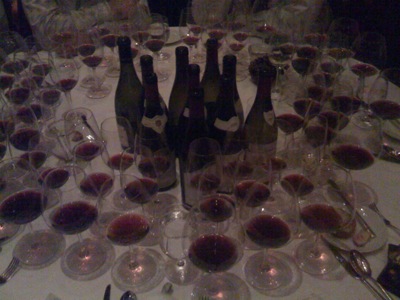 Starter Whites and Sparklers:
Girardin Quintessence Corton-Charlemagne 2004: This was an impressive wine although I felt it was a bit heavy handed on the oak. It was good oak, no overly charred or harsh elements, but oak nonetheless. However, the underlying power of the wine did shine through with a floral and stoney character. Quite powerful and has great mineral grip on the palate. This is very young but seems to have potential, especially if the oak dissipates a bit with time.
Chevillon-Chezeaux Nuits Les Bousselots Blanc 2006: Thanks for bringing this Howard, this was an interesting and rare wine. You don't see much Nuits blanc around. I immediately thought this was not Chard when I smelled it, smelled much more like Pinot Blanc with a floral and waxy hint. Mellon, citrus and a waxy texture in the mouth, this was not profound but very drinkable and very interesting. I looked this up this morning and it is in fact a blend of Chardonnay and Pinot Blanc, I don't know the proportions.
Gimmonet Fleurons 1996: Wow, this was an eye opener. Beautiful, vibrant aromas jump from the glass but also has some buttery and yeasty richness to it. Precise, stoney, but also lush and buttery with a silky texture. This is great stuff. This seems to be drinking great now but should continue to hold and improve for some time. Yum!
Godomé Extra Brut Multi-Vintage (1996, 1998, 1999, 2000): This really should have ideally been served before the Gimmonet as it is a bit drier but I thought this was lovely as well. More hesitant and young but very pretty with a very fine, silky, dry mouth. Not as flashy as the Fleurons but this is worth seeking out and I'd bet it will be even better in a couple years.
Jean Boillot & Fils Puligny Pucelles 2002: Quite expressive nose of hazelnut, honey and minerals, not oxidized thank god. Round texture and nice acidity. This is starting to show some secondary nuances but is still quite young. Very pretty though and assuming it doesn't oxidize this should age nicely as it still has quite a bit of depth.
Latour Corton-Charlemagne 1996: I thought this was the first of many interesting lessons in terroir this night. The difference in Corton from Puligny was on display as this had a very different rocky red earth and almost red fruit aroma. Round and chunky and powerful, this is young still, not oxidized, and a bit monolithic. The rich extract is there though and I think this is a nice wine which needs more time.
Flight 1 - 2002 Reds
Launay Latricieres-Chambertin 2002
: Meaty and earthy aromas as you'd expect from a Gevrey but very nuanced with just a hint of sweet oak vanillin and some herby spice. This is really quite nuanced and etched with spices and high-toned red fruit. Very silky and fine, this was lovely and followed by the two Beze the more exotic and silky
terroir
of Latricieres was nicely highlighted.
Gelin Clos de Beze 2002: This was immediately more jammy and decidedly more masculine compared to the more "feminine" and perfumed Latricieres. Bigger, sweeter fruit, tending toward the darker end of the spectrum. Great depth here but still very young and primary and perhaps a bit clumbsier than the other wines in this flight.
Faiveley Clos de Beze 2002: Even deeper with a more meaty, serious, iron- and aged beef-imbued nose. Young, but I thought the nose on this to be gorgeous, deep and passionate. This is just a baby in the mouth with deep, dark and almost brooding meaty flavors, almost bordering on the rustic in its chunkiness. Nevertheless this has great power and depth. With air the tannins started to show more. This has all the stuffing but is in a traditional style that I think will need decades to be at its peak.
Flight 2 - 2001 & 2003 Reds
Maume Mazi-Chambertin 2003
: Spicy and herby but also some sweet chocolate and cassis on the nose. Big sweet fruit and obviously 03 with its diffuse mid-palate thanks to lofty alcohol but this holds itself together quite well for an 03 with decent power and structure despite its ripeness.
Faiveley Latricieres-Chambertin 2001: Prettier nose of flowers and spice. Austere as heck in the mouth but the texture and flavor nuance is silky and feminine yet with a solid core of stones that gives this great cut and grip. Hard to evaluate at this stage as it is so young and tightly wound up. However, I think this is lovely and with many years will likely be even prettier.
Faiveley Clos de Beze 2001: Another monster, deep, dark and quite nuanced. A very complex nose already. The mouth on the other hand is even harder to evaluate as this is even denser, more rustic and hard. With air this just closed down harder. Again, seems like it has the underlying passionate expression of this powerful site but is simply so young and in Faiveley's style this could require decades to really show its stuff.
Flight 3 - 1996 and 1999 Reds
Rousseau Clos du Ruchottes 1996: Right out of the gate this wowed me with a quintessential Burgundy nose of beautiful earth, mushroom and raspberry complexity. The epitome of Burgundy. Wow, awesome. So pretty and in a very nice place right now. So silky and perfumed. Yum! At first I thought this was the wine of the night as it is in a beautiful place. However, with air, it became a bit more diffuse on the palate, while the next wine got better and better and overtook it.
Bachelet Charmes-Chambertin 1996: Beautiful leafy, floral and maybe an initial whiff of VA. With air this just blossomed and got more passionate, complex and nuaced. Young, tight and almost austere at first, the flavors also fanned out as it sat in the glass. So fine and silky and etched with flavor nuances. As this grew in the glass, this became my favorite (and severe other's as well I think) of the night. Just stunning.
Bachelet Charmes-Chambertin 1999: Again, so pretty, awesome nose. Tends more toward the ripe, primary fruit side but everything is in place. This is more immediately seductive in that its young, sweet fruit is just so silky and enveloping. Elegant and long as heck on the finish. Another "Yum!" wine. This does tend a bit more toward the ripe end of the spectrum so the 96 wins on its better integration and terroir-ist personality. But this whole flight is just splitting hairs really, they are all simply beautiful wines.
In fact, just about all the reds here were quite beautiful in their own ways. Some were very young but all were excellent expressions of their underlying terroir and highlighted the different personalities of the sites.
Cheese and Port and Spätlese
Taylor 1955: Ron brought this for Barry who celebrated his birthday recently. Thanks Ron! Decanted around 2 or 3 in the afternoon I believe. Heady spiced plum, prune, earth and chocolate aromas lead the way to a wine that is still remarkably vibrant and young with mellow, rich, warming flavors of prune, tobacco, cedarwood and lead pencil. Still has power and structure. I can see why RP has called Taylor the Chateau Latour of Port! Very nice.
Carl Schmitt-Wagner Longuicher Maximiner Herrenberg Spätlese 1997: At first this had a bit of a musty thing going on which slowly blew off and we all agreed it wasn't TCA. Maybe a bit of rot of some kind? Looking beyond that, this was silky and got better and better with air. This was a pretty wine but unfortunately the slight mustiness distracted us from really appreciating it as much as possible.
Thanks again to everyone! This was a really great wine tasting dinner.
Cheers!
---
March 27th, 2008
German and Burgundy Wine Tasting Dinner at Leila's
We just had a German and Burg wine tasting dinner with many of the usual suspects plus a board member from out of town who came to visit.
To start off, we had a touch of bubbly to get the wine tasting dinner underway...
Vilmart Creation 1998
I had never had this wine although I've enjoyed some of Vilmart's other wines. From what I've read, this is 70% Chardonnay and 30% Pinot Noir from a single vineyard in Rilly la Montange. I got the sense I was impressed by this wine more than most at the table but I thought this was something quite special! The nose is super yeasty with a big, rich doughy and ginger bread cookie spice. Very pretty. The mouth was intriguing because it had an intense, laser-like attack and structure but with a huge, voluptuous and caressing mouthfeel and mousse. The structure is like biting into a Pippin apple which fades to a nice linear, dry finish. This is super young but already delicious and what I would call a sexy wine. I want more of this.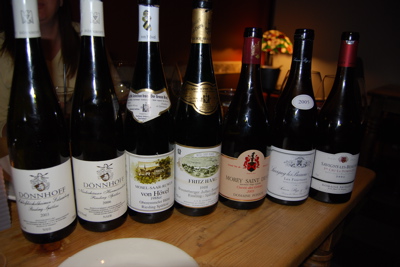 On to the Germans...
Flight 1
Dönnhoff Schlossbockelheimer Felsenberg Spätlese 2003
The aromas here were fairly simple right now but with a nice steely, smokey silex-like minerality and a hint of petrol. The flavors were a surprise. Expecting a ripe, flabby 03, this was the antithesis of what you might expect from that warm vintage. It was tight and austere with a grapefruit and pit-like intensity and lip-smacking acidity. This was far from flabby. However, it was also not entirely flattering right now. If this can gain a bit of complexity and loose a bit of its austerity with time it will be great. For now, it is nice but a bit hard.
Dönnhoff Niederhäuser Hermannshöhle Spätlese 2006
The nose here is totally different with a much younger, lush, ripe, sweet tropical fruits, flowers and a chalky minerality. The flavors are big, ripe and deep. Much more depth and obviously more exuberant young fruit. Despite the ripeness and depth, this has a crystalline-like minerality running through it. This is pristine but still super young. This is very impressive and should have a wonderful evolution.
Flight 2 (1988 spats)
von Hövel Oberemmeler Hütte Spätlese 1988
At first this had an almost volatile petrol note that was a bit extreme but with swirling and a few minutes it mellowed out. It was still petrolly (is that a word?) but was softened and integrated and had a mature mineral profile. Earth and mineral rather than fruity. This has a nice attack and a peach-pit finish with a hint of astringency. I liked this but thought it had a bit of a hole in the middle that kept me from loving it. Wine tasting dinner.
Fritz Haag Brauneberger Juffer-Sonnenuhr Spätlese Auction Wine 1988 (AP 2 577 050 11 89)
This is totally different with a butterscotch, honey and creme brulee character and hints of petrol and minerality. I almost felt this was a bit oxidized although it may just be advanced because of its age. However, I have had many older Spats that were not this butterscotch dominated. The mouth was not flabby however with bright, honeyed stones and linear steely minerality coming through on the end. It was definitely sweeter, rounder and more honeyed than the previous wine though. Again, I liked it but was a bit concerned that it may be prematurely mature.
On to the Burgs...
Flight 3 (2005's)
Ponsot Morey-St.-Denis Cuvee de Grives 2005
This had a great young nose of spicy reglisse, a hint of stemmy herbs and a core of deep, dark black fruits that was reluctant at first but opened as it sat in the glass. It seemed to develop a bit of an earth, stinky cheese aroma that was very nice...or was that the Époisse on the table? The mouth was big and young but with an intense granite, stony core that gave it great presence. Very very nice for its level and promising for the future.
Simon Bize Savigny-Les-Beaune Les Fournaux 2005
This was quite marked by its oak with aromas of toast, bacon, coffee and dark black fruits. The mouth had a dense, hard core of stony and meaty dark fruits. Super young but its deep core of minerality and dark fruit is impressive. My only concern is whether the oak will integrate. I'm my past experience with Bize wines it does after a few years, but most of those have been with the Latricières. The concern is whether the Savigny fruit will absorb all that oak. There does seem to be a dense core of fruit, so it may. Of note, the oak is quite fine and not an astringent or woody oak. In my experience wines with woody tannins never integrate while those with more fine oak do. Time will tell.
Pavelot Savigny-Les-Beaune Daminode 2005
Primary grapey fruit jumps from the glass. However, it also has an interesting green thing going on. I say interesting because it isn't an under-ripe greenness, more of a Provençal-like lavendar flowers and rosemary. Not something that I typically associate with Savigny but pretty nonetheless. The mouth of this was what worried me a bit. This is VERY tannic, big and rich. But a bit on the astringent side. I'm a bit worried that this will always be hard. In any case it needs lots of time. Definitely has big density there too, but the quality of the tannins worry me a bit. I am usually a big fan of Pavelot's Daminode but I'll have to wait and see on this one.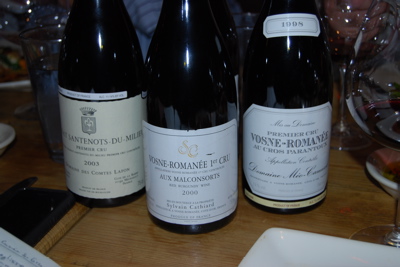 Flight 4
Lafon Volnay Santenot au Milieu 2003
Bright tart cherry aromas did start to lean toward the sweet, jammy side but I didn't think it was "Californian" or off-putting in any way. A couple people at the table were concerned it did have a bit of that 03 over-ripeness. The mouth was very balanced I thought with dark red fruits and a great silky minerality and acid. Young but already with a long silky finish. The only complaint I had was that it seemed a bit over-extracted and may lack real purity as you might see in a d'Angerville for example. Very nice though and excellent for a vintage that I tend not to love most wines.
Sylvain Cathiard Vosne Malconsorts 2000
A bit of dill at first quickly faded to reveal bright, spicy red fruits and a really floral, almost perfume or soap-like note. Very pure flavors of juicy, red fruits. Tender and very tasty. Lacks the core of power you'd hope for in a great vintage but for younger drinking this is lovely.
Méo-Camuzet Vosne au Cros Parantoux 1998
Smoky, earthy, lush red and black, spicy fruit aromas lead the way to a big, rich and super young wine. This had a great dense core of grippy and spicy Vosne fruit but with big tannins. This surely has great raw materials but is quite austere at this young age. I have no doubt this will only improve though but could probably use another 10 years at least.
To finish this wine tasting dinner we had a couple sweeter Germans to finish up.
Flight 5
Fritz Haag Brauneberger Juffer-Sonnenuhr LGKA 1988 (AP 2 577 050 16 89)
Interestingly, this had a much lighter, straw gold color than the Spat from the same year, further concerning me that the Spat had a bit of oxidation. Still a young nose of bright apple, pear, peach and a hint of petrol underlined by a fine chalky minerality. The flavors are creamy white fruits, peach and grape pit tannin which overall is still surprisingly young for its age. What really shows through now despite its youth is its great finesse. An elegant and beautiful wine, not a powerhouse. If this gains some complexity with age it will be even better.
Dr. Crusius Traiser Rotenfels Eiswein 2000
A young, somewhat simple nose of creme brulee, botrytis and floral notes were beautiful even if young. Sweet and rich but balanced with that typical Eiswein linear, laser-like acid structure. Again, this is very young but a very pretty wine.
As usual, a very pleasant wine tasting dinner where the company was even better than the food and wine, despite what some people at the table will tell you! Nice to meet Leslie as well. Thanks to everyone for the great wines and can't wait to do it again soon!
Cheers!
---
February 28th, 2008
Burgundy (Mostly) Wine Tasting Dinner for a Friend's Birthday
A group of Burgundy lovers gathered for a friend's birthday at our usual haunt, Leila's, for a wine tasting dinner celebration. We decided to go top shelf since we were celebrating.
We started the wine tasting dinner with a couple reds to warm up while everyone gathered:
Robert Ampeau Volnay Santenots 1991 had a smokey minerality that I'd describe as volcanic rock along with tart cherry, violets and oyster shell aromas. I don't know if the smokiness was from the wine or the oak treatment but it was not obtrusive. The texture was silky but dense with cherry and cranberry flavors. It did have a somewhat metallic element that I noted that wasn't quite integrated with the whole, but this is a minor point.
Gruaud-Larose 1959 (357ml bottle): Ron pulled this on to throw in given that it is from Andy's birth year. This is the first Bordeaux we've had in this tasting group but it did not disappoint. We were all worried that from half-bottle it might be fading. Quite the opposite! It was served blind to Andy and asked him to guess where it came from and age. He guessed French and thought it was young initially! Then changed his mind and said it was moderately old, but not as old as Robert, who is 37 if I remember correctly. The wine showed very pretty sweet pipe tobacco, cedar box and pencil lead with a minty complexity that came out with air. The flavors also included tobacco, herbs, and sous bois but all underlaid by sweet cherry liquor and cedar. This really is quite alive and very tasty. Silky with resolved tannins, while this was by no means over the hill it is certainly mature and I would guess at peak (at least from 375). I noted that if I could drink old Bordeaux often I would probably like Bordeaux more than I do. I just don't go for much of the young stuff.
Next up we enjoyed a couple Champagnes to really get the wine tasting dinner going...
Salon 1996...this was my first time tasting this wine and it didn't disappoint. Very young, intense citrus and grapefruit aromas but still quite tight. With extended airing it opened up a bit and showed some buttery richness. In the mouth this is super tight, linear and so mineral-imbued it almost feels tannic at first. Silky with fine mousse, this fattened up with air. Vibrant and seductively elegant. This is just an infant and needs a lot of time to be at peak.
Krug 1988...This I have had before, and while this was not the best bottle I've had, it was good. Others were more concerned with it and felt it wasn't up to snuff. I thought the nose very attractive with rich buttery fruit and a deep minerality. It does have that oxidative note though. Bold and masculine, much more Pinot than the Salon, obviously. Long, intense finish. Again, somewhat Sherried and that concerns me but this is also very young and may just need time to flesh out and integrate...or get more oxidized.
The birthday boy was very generous is bringing a flight of 93 Volnays as several of us are Volnay nuts.
The Lafarge Clos des Chenes 1993 had a very smokey nose that I felt was a bit oaky for my taste. Not nearly as transparent and typical as the wines that followed. The mouth was a bit hard and rustic with woody tannins. Nice, but not the best example of Lafarge Clos de Chenes I've had and just didn't stand up to the beauty of the next wine.
d'Angerville Clos des Ducs 1993...Wow! Stunning rose petal and ripe cherry liquor. Classic and flawless. Transparent, natural and alive...why I love Ducs! And that was just the nose! The mouth had deep layer upon layer of mineral imbued ripe red fruits. Very young and primary yet approachable and not shut down. A reverberating sustain of a finish with buttery, ripe, silky tannins. A beautiful expression of nature. While the next Grand Cru flight of the wine tasting dinner was clearly a step up to another level overall, I have a hard time saying any of them was better than this (ok, maybe the la Tâche).
Pousse d'Or Clos de la 60 Ouvrees 1993: Initially this had an almost medicinal, sweet red fruit aroma and chalky minerality. However, the medicinal hint blew off with air. This is more robust, masculine and burly with dark fruits and slightly rustic tannins. Despite the coarser texture, this is quite transparent and quite nice. Could still use more time.
Then on to a Grand Cru flight of the wine tasting dinner without any specific theme...
Meo-Camuzet Clos Vougeot 1989: I liked the nose on this a lot, tobacco, spicy earth, granite and a bit of sous bois. Heady and seductive. The mouthfeel is expansive and very Jayer-like with a caressing texture. I really loved the mouthfeel of this and thought this was delicious. We had a discussion about 1989's and most of us feel it was a weaker vintage, but I thought this one was one of the best 89's I've had. Maybe doesn't have the depth to be a truly profound or long-lived wine, but right now I thought it was showing beautifully.
The Clos du Tart 1996 was immediately noticeably younger with brighter, sweet red and black fruits. Hesitant and primary. The mouth was bigger, burly even with great grip and length. Needs lots of time but I think the big tannins are ripe and will integrate and this will become more suave. Very nice.
Dujac Charmes-Chambertin 1996 : Initially this had an almost dill and pine feel to the nose that I can only imagine is due to the stems Dujac uses. This quickly integrated however and gained a very nice meat complexity and pretty herbal aromas. The nose just got better and more perfumed as it sat in the glass. The flavors were initially linear and tight yet the texture was super silky, fine, regal and long. Definitely has the stuffing and breed but needs time.
JF Mugnier Musigny 2000 :This just had a beautiful earthy mushroom, truffle and fruit liquor nose that is complete, pure and has nothing out of place. The texture of this was awesome, just silk, silk, silk. Does not have the depth and power of some of the previous wines from bigger vintages but the Musigny breed shows through well with a caressing sexiness. Outstanding for the vintage. If I had to point at anything negative, I noted a bit of alcoholic heat after it sat in the glass for a while. Wine tasting dinner.
The next flight of the wine tasting dinner was designed to be mini-la Tâche's building up to the real thing. In the end, guess who won? It wasn't really a fair fight, but it was fun. Alone, the first two wines would probably have showed much better but in this company they couldn't compete. I should say that at this point we were eating and talking a lot and my notes got more sparse...
Potel Vosne-Romanée Gaudichot 2004: I'm not a big fan of 04's in general and this wine was no exception. Not bad, just a bit awkward. The green tea and tobacco aromas were pretty but clearly not that ripe. The flavors were good but had those slightly harsh, green tannins that I worry about in many 04's.
S. Cathiard Vosne-Romanée Malconsorts 1998 : There was discussion about whether there was something slightly off about this bottle. Some of us had had this wine not too long ago and had a much better experience. The nose was nice enough initially with warming, liquor-like smokey dark fruits. Unfortunately, with air this got a weird, musty aroma. Not quite corked but something was a bit off. The mouth was rich, dark and quite tannic and hard. Seems to have good stuffing but again this was a bit off kilter and seems to have something subtly wrong with this bottle.
The DRC La Tâche 2000 was awesome! Even in a not perfect vintage this vineyards fabulous terroir shows through in spades and stole the show at this wine tasting dinner. Awesome perfumed Asian spices, herbs, soy and spicy red and black fruits. I am always taken by the exansiveness of la Tache's aromas. With most other wines, when you first put your nose in that glass and inhale, you get the most intense sense of the aroma up front, with subtle hints trailing. With la Tache it seems like the more you inhale the more it expands and gets better and better. A long drawn out whiff expands to become so complex, heady and overwhelming. Ron said he wants to just pour it all over himself. The mouth did not disappoint either, rich and seductive yet ethereal. Seems impossible to be so mineral driven and focused and yet so lush and seductive at the same time. Great stuff. The best here at this wine tasting dinner. Thanks Ron for bringing this to this wine tasting dinner!
To finish the wine tasting dinner celebration, we enjoyed a half of Schloss Lieser Niederberg Helden Riesling Trockenbeerenauslese 2001. The nose of this is pure and ripe but not yet showing the complexity and depth it probably will in many years. Just pure, sweet and botrytized Riesling fruit. However, the mouth really shows the huge potential here with incredibly rich, sweet fruit yet with laser-like intensity and minerality keeping it well focused, even for such a ripe wine.
A great time was had by all!
Cheers and Happy Birthday Andy!
---
January 17, 2008

Wine Tasting Dinner at Sona
Sona is a great restaurant that is really at the top of the Los Angeles dining scene in the last couple years. We had yet to visit and when my aunt and her boyfriend invited us out to a wine tasting dinner as their holiday gift to us, we jumped at the chance to check it out. Everything was perfect about this evening and wine tasting dinner. While it didn't start out as a wine tasting dinner, we turned out to get the chance to try so many great wines with the awesome food that this was one of the best wine and food experiences we've had in a long time. Much of this was thanks to the outstanding sommelier, Mark Mendoza. He, the general manager and everyone there made it an evening to remember. In particular, Mark's skill and his great generosity in sharing wines was unparalleled. While we only ordered 3 wines for the evening, we ended up tasting many more thanks to him. It is great to find a kindred spirit like that who is eager to share their passion with others!
The food was flawless. There were too many courses to remember them all, but the venison with Périgord black truffles, the Wagyu beef, the cheese plate, the oysters and others were all memorable parts of this wine tasting dinner! The service here is flawless and we all could not complain about a thing! Definitely a great destination for any dinner or a wine tasting dinner event.
Ricard Pastis
We enjoyed our honeymoon in Provence, so we appreciate a nice glass of this anise-flavored liquor often as an intro to a wine tasting dinner or other nice evenings.


Dveri-Pax Renski Rizling 'E" 2005, Kakovostono vino ZGP suho, Maribor, Slovenia
Mark had overheard my wife and I discussing the wine list and therefore knew that we drink the Baumard Clos du Papillon often. Therefore, when I ordered it at table he shook his head. He said we could not have it and that we should trust him for the white wine selection. This is what he brought. I don't think we have ever had a Slovenian wine before so this was something totally new. It was a Riesling from Slovenia, more than that we cannot tell you about it.
However, this did not disappoint at this wine tasting dinner. Classic, intense Riesling aromas and flavors with great minerality. This reminded us a lot of a good Austrian Riesling from Wachau or something like that. Great with the first fish courses. Only a hint of sweetness, this was more of a dry Kabinett or Alsatian level of ripeness.


Baumard Savennieres Clos du Papillon 2001
When he heard that I had never had the chance to try this vintage, Mark said "I'm thirsty. Next time I go down to the cellar I'll grab a bottle to drink and I'll let you try it." Not only did he let us try it, he poured half the bottle for us! Amazing generosity.
We love this producer and this bottling in particular, but had never come across the 01. It is a lesser vintage but this just goes to show that a great producer can make excellent wines even in so-called "off" vintages. This was perfumed, lush and silky with a rich, round mouthfeel. It didn't have quite the intensity and minerality that the best vintages have in their youth, but who cares. This was a treat.


de Montille Soeur et Frère Meursault "Les Boucheres" 2005
de Montille is a great producer of red and bit of white Burgundy centered in Volnay. However, this is the children (daughter and son) with their new project that is separate from the usual de Montille domaine. This was also offered by Mark when he learned that we love Burgundy. It was a very nice, but very young and tight, white Burg, with stoney, pure fruit.


La Fenêtre Au Bon Climat Vineyard Pinot Noir, Santa Maria Valley 2005
Mark brought this to the table blind and asked me to tell him what it was. My immediate thought was Pinot. After smelling the ripe, slightly spicy fruit and tasting the silky, rich, meaty and very ripe fruit, I guessed it was a domestic Pinot. I think he was impressed. In fact, this is his and his partner's wine! He started making wines from the central coast of California recently and if this bottling is any indication then they are doing a great job! We don't drink much domestic Pinot, but this would give many Burgs a run for their money!


d'Angerville Volnay Premier Cru 2005
This was just beautiful. Young, spicy and dark ripe fruit followed by a lush, yet driven, mouth with stoney minerality. Like rolling around rocks from Volnay in your mouth with a bunch of ripe, dark fruits. Silky and long, this is just a baby but shows enormous potential. This was one of the highlights of this wine tasting dinner.


Domaine Tempier Bandol la Migoua 2005
We had this decanted at the start of the evening. We visited Tempier in Bandol on our honeymoon and it has long been one of our favorite producers from the south of France. This wine did not disappoint but was almost painfully young. Even after a couple hours in a decanter it was massive, with muscular, meaty fruit, and big, but ripe, tannins. This shows tremendous depth and hints at complexity that will come with age, but this is an infant. It needs at least 10 years, probably more to show its best. A true vin de garde!


Nicolas Feuillatte Rosé Champagne NV
The sommelier overheard us discussing sabering Champagne and asked us if we had done it. I mentioned that I had and really enjoyed it. He said we would do it at the end of the meal! I couldn't believe it when at the end of the wine tasting dinner, he gave us a tour of the cellar, where we grabbed a nice, heavy old saber. After a brief tour of the kitchen, we went out back and sabered this bottle which Mark supplied. We then retired to the bar to enjoy this with Mark and the general manager, Tommy. We were all flying high, giddy with wine and great times so we can't give specifics, but this was a very nice Rosé Champagne. Toasty, round and rich, it was a perfect ending to this stupendous wine tasting dinner evening of food and wine.


All in all, one of the best wine tasting dinner nights out we have had in a long time and a serious contender for one of the best wine tasting dinner events of all time! Thanks to Mark, Tommy and everyone at Sona for making this wine tasting dinner so special! Also, thanks to my aunt and her boyfriend for being so generous!
Check back as we will post more wine tasting dinner notes periodically as we are fortunate enough to enjoy them!
Wine Tasting Dinner
---
Done reading our wine tasting dinner notes?
Return to the Wine Tasting Guide Tasting Notes page.