Hello from the Wine Tastings Guide!

This is The Poor Man's Guide to Fine Wine™, a monthly newsletter on all things wine and your guide to finding great wine at affordable prices! Each issue brings you articles about goings-ons in the world of wine as well as reviews of inexpensive wines.

If you like this newsletter and our website, please forward this email to someone you know who enjoys wine or wants to learn more about wine and wine tastings. If this was forwarded to you and you like what you read, you can subscribe to The Poor Man's Guide to Fine Wine for free now.

If you have suggestions, questions, article requests or comments, please contact me -- I love to hear from my readers!


---
Contents of this issue of
The Poor Man's Guide to Fine Wine™
Warm Weather Is Coming
Mini-Producer Profile: The Bandols of Domaine Tempier
The Poor Man's Guide's Wine Reviews
---
Warm Weather Is Coming
Wherever you live, the warm months of the year are just starting. Traditionally, changes in the seasons and the accompanying changes in weather impact the way people eat and drink. While hearty foods like stews, roasts and such accompanied by hearty red wines warm our bellies and hearts in the dead of winter, the same foods and wines can be stifling and heavy in the heat of summer. My mind starts to crave fresher things when it gets hot.

You'll notice in this and subsequent issues an abundance of those types of wines that are most thirst quenching and fun in the summer months. Chilled sparkling wines, crisp whites and refreshing rosés are ideal to sip in the sun and to accompany fresh seafood, vegetables and cold soups. While you may be thinking that you need some heavy reds to wash down that rich barbeque, you might be surprised how thirst quenching a nice rosé to wash down that sticky barbeque sauce! In this issue I review a few inexpensive and lively sparkling wines, crisp, minerally Muscadets (which just screams for some shellfish!), Vouvray, and assorted rosés. More are to come next month so stay tuned!

If you are looking to tune up your grilling skills, check out the Firepit and Grilling Guru website for tips and recipes to use your grill or firepit to make some great grilled foods this summer!



---
Mini-Producer Profile:
The Bandols of Domaine Tempier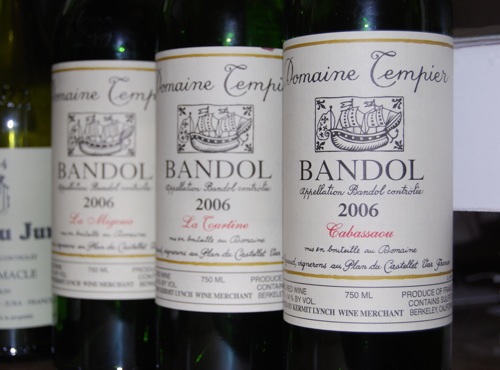 The story of Domaine Tempier is fascinating. This small domaine in Provence formed when Lucie (Lulu) Tempier married Lucien Peyraud and the couple was given the family vineyard in Bandol, a then little known appellation in the south of France. In fact, it was largely Lucien's subsequent hard work that brought Bandol to the world's attention and earned it AOC status. The domaine slowly grew and is now considered one of, if not the, finest producers in all of the the south of France. And if you are a fan of great, regional French cooking, don't miss the Richard Olney book, "Lulu's Provencal Table" which tells all about the amazing story of this great domaine, Lulu's legendary cooking and features dozens of her favorite Provençal recipes.

So what is Bandol? We'll, first of all it is a small fishing town on the Provençal coast surrounded by an amphitheater of hills and medieval towns facing the beautiful Mediterranean sea. These hills are filled with the vineyards which make the wine of Bandol. Because of Lucien Peyraud and friends' work, the wines of Bandol must now contain at least 50% Mourvedre (the remainder generally made up of Grenache as well as some other southern Rhône grape varietals). This grape, which is rarely used as more than a minor component of other famous wines from Provence, such as Chateauneuf-du-Pape, arguably reaches its greatest peaks here on the Mediterranean coast in the vineyards of Bandol. While unripe Mourvedre can be harsh, hard, tannic and even vegetal, when ripened fully on the sun-drenched hillsides of Bandol the results can be fantastic. While some of the wines can be called rustic, the best have a great finesse, although always maintaining a hint of the sauvage, passionate quality of many southern reds. Mourvedre creates a wine of great structure and is very resistant to oxidation, meaning that it ages a long time and can require years or even decades to be at its best. But for me, when Mourvedre matures, its complex and heady aromas can rival the best from Burgundy and Piedmont with all its meaty, truffled depth. For me, there is a passion and energy to the wines of Domaine Tempier that give them real life and depth. The aromas of Provence are present in all the wines. I almost always find scents of Mediterranean hillsides just jump from these wines ... sun roasted rosemary, thyme, lavendar, etc.

As Domaine Tempier has evolved over the years, the vineyard work and winemaking was passed to Lucien's sons, Francois and Jean-Marie and later to Daniel Ravier who took over with the 2000 vintage. Additionally, the domaine slowly added vineyards to its original domaine land. The grapes from the best vineyard plots are bottled separately as single vineyard wines which all have a unique character of their own while still expressing the Bandol character.

The basic Bandol bottling, called the Cuvée Classique but this is not found on the label anywhere, is a blend of grapes from the original domaine vineyards as well as some grapes from the individual other vineyards that don't make it into the single vineyard wines. This wine is generally the most accessible, and cheapest, of the Tempier reds. It is a rich wine with great depth of flavor but generally less structure than the singe vineyard wines. However, it can stand up well to other Bandol and is no slouch. I generally feel that it can drink well young, especially if decanted, but probably shows at its best after 5 to 10 years from the vintage. Tempier used to bottle another wine called the Cuvée Speciale but several years ago it was decided that it was best to blend those grapes into the Cuvée Classique so that only the later now exists in recent vintages.

Of the three single vineyard red Bandols, the La Migoua is the softest, partially due to the fact that it contains the lowest percentage of Mourvedre. Although it varies depending on the vintage, the Mourvedre is generally just over 50% with a relatively large proportion of Grenache. This gives La Migoua a plump, chewy fruitiness which is quite seductive. It is a showier wine in its youth than the wines that follow. That being said, it is still a big, structured wine which requires 10+ years to show its best. La Migoua does not have the solid core of minerality and acid that the subsequent wines have. It is rounder, more fleshy and even a bit more alcoholic. While some tasters will prefer the more focused and intense structure of the next wines, others will love the lush and sexy fruit of the La Migoua. I love them both and enjoy the difference in personality from one wine to the next.

Next up is the La Tourtine, from a steep terraced vineyard. This wine has a higher percentage of Mourvedre, generally around 70% or more. The wine is more masculine than the Migoua with a deep core of iron and granite minerality that gives the wine intense focus but also makes it more austere and hard to penetrate in its youth. While there are similarities, if the Migoua is more like a lush Chateauneuf-du-Pape, the Tourtine is more sophisticated, like a Pauillac, Hermitage or even a Barolo, yet with its own unique personality. Lovers of traditional, long-lived and mineral-driven French wine may prefer this. It certainly can use even more time. I find that the Tourtine needs at least 10, but ideally 15+ years to shine.

Finally, the most recently added (I believe 1987 was the first vintage) and most expensive of the cuvées is the Cabassaou. Made from practically 100% old-vine Mourvedre from a small, steep section of the La Tourtine vineyard at its base (Cabassaou means "escarpment"). This is the most powerful and deep of the wines. So much so that some tasters fear that the wines will never mature, that they will always be painfully intense and powerful. In a sense, the Cabassaou is much like the La Tourtine but with an even greater intensity and sappy extract. I wouldn't say that Cabassaou is necessarily better than Tourtine. They are different. In 20 years will the current vintages surpass the Tourtine? Who knows. Regardless, it is a fascinating wine which seems like a distilled essence of Bandol.

Of note, the domaine also produces a white Bandol, which is rare in the US, and a rosé which is arguably one of the best in the world and widely available.

The wines of Bandol pair well with a range of foods but are most at home with the cuisine of Provence. Rustic grill meat and poultry dishes accompanied by vegetable gratins are an awesome combo.

The bad news? If there is any it is that the wines of Tempier are not quite inexpensive anymore. In fact, the single vineyard wines have gotten quite expensive. However, it is all relative. Fifty to sixty dollars for a great red wine that will age for decades is not too unreasonable considering the prices that the best Bordeaux, Burgundy, Barolo and Barbaresco go for.

Below are the whole range of 2006 red Bandols from Domaine Tempier.

All of Domaine Tempier's wines are imported by Kermit Lynch Wine Merchant, Berkeley, CA (with which I have no affiliation).

Enjoy!
Domaine Tempier Bandol
Cuvée Classique 2006
Drink Now-2030
$35
This was previously reviewed in Issue 12.

This took a bit of coaxing, not showing much at first. But after 15 to 20 minutes in the glass this started to show hesitant but undeniable earth and spice aromas that are just starting to poke through. There is a sense of ripeness and depth but the fruit is playing second fiddle to the spice and earth at this point. The mouth is also very young and not yet showing all that it will after a long sleep in the cellar but already there are dense black fruits, peppercorns, meat and even some iron-like minerals. Definitely feels like there are depths to plus as this ages. Quite young, but should be great, particularly for the Cuvée Classique. While this is approachable and enjoyable now with some time in the glass or a decanter, this will only get better. Ideally, I usually feel this cuvée is best after 10 years from the vintage. The single vineyard wines take even longer and can be extremely long-lived. Two Stars.
Domaine Tempier Bandol
La Migoua 2006
Drink 2016-2036
$60
The La Migoua was previously reviewed in Issue 15. I have simply included that review here.

This is very shy at first. Extensive coaxing reveals appealing hints of meaty plum and cherry fruit with flecks of earth and iron. It seems to gain precision with time, adding hints of spice. After a good 4 hours in a decanter it was much more perfumed and meaty. The flavors are round and ripe with plush ripe tannins. Deep and pure fruit but so closed up and young, this really needs time to unwind. It does have that ripe plumpness that Migoua often has young but is otherwise quite primary and closed. Like most young Tempier, the last sip, many hours later, was the best. This is for the patient but has excellent potential. Two Stars Plus.
Domaine Tempier Bandol
La Tourtine 2006
Drink 2020-2046
$60
After decanting, this already shows a great young nose of meat, rocky earth, iron and granite minerality with telltale Provençal garrigue including rosemary, eukalyptus and reglisse. Air does this wine good as it blossoms to reveal lavender and a meaty, earthy perfume. This is decidedly more focused and solid compared to the Migoua. The fruit on the palate is meaty and ripe, chewy even, yet with great mineral and tannic grip on the finish. While this is somewhat austere when compared to the fleshier Migoua but also packing more personality, vibrancy and "umpf". You could certainly enjoy this with a long decant now for its rambunctious youth, but for the real fireworks this needs at least 10 years to start to unwind and give up that old Mourvedre perfume. Three Stars.
Domaine Tempier Bandol
Cabassaou 2006
Drink 2020-2046
$90
It is really interesting tasting this right after the Tourtine. You can see the similarities yet they are distinct animals. This is perhaps more complex on the nose already with heady, swirling aromas of beef broth, cocoa, licorice, dark earth, crumbled rocks and roasted Provençal herbs. Each glass I went back to was better, evolving and opening to a smokey complexity and riper fruits. This has quite dark and palate staining intensity with mineral and acidic spices that makes it lively and balanced despite its power and size. However, this is almost painfully young and intense yet somehow retains a silky grace and finesse that is far from rustic. In fact the tannins, which can be quite chunky and hard in some Bandol, is are really quite fine and plush. I was struck by the fact that this, in addition to the lush tannic spine of the Tourtine, seemed to have a vibrant mineral and acid aspect to its structure which is almost Burgundian, reminding me of a powerful Gevrey. While this is wound up and ultra-young and perhaps even a bit less approachable than the Tourtine (like the Tourtine, this is for the patient), it may ultimately surpass it as it appears even finer with more finesse despite its power. Is this an iron fist in a velvet glove? Me thinks so! Three Stars.
---
The Poor Man's Guide's
Wine Reviews
Wine Ratings Explained:
Zero Stars
A wine I don't particularly recommend.

One Star
Well made, simple and tasty wines that I recommend.

Two Stars
Excellent quality. Worth an extra effort to search out and enjoy.

Three Stars
Outstanding wine of the highest caliber.
+
Plus
Either a wine that is close to deserving a higher score or a wine that may not be showing that much but with the potential to move up in quality with further aging. A young wine that may be closed up or shows potential for significant improvement. Assuming it opens and improves with additional age, it may merit a higher rating.
???
Flawed bottles or wines that are difficult to assess for any number of reasons. Judgement reserved.
Sparkling Wines:
Drusian
Prosecco di Valdobbiadene
Drink Now-2010
$12
Classic prosecco aromas of melon, salt and chalk on the entry leading to creamy and rich spumante style flavors that are both rich and refreshing. Tasty and definitely refreshing. One Star. Importer: Vinity Co. Emeryville, CA.
Domaine Huet Vouvray
Pétillant 2001
Drink Now-20016
$20
I featured Domaine Huet and its wines (with reviews of all their Vouvray Sec in the last issue. Less known than Huet's still Vouvrays, the sparkling Vouvrays made here are stellar. If you can find them (and its not that hard these days) then stock up! They are a great Champagne alternative with more finesse and class than most low priced sparklers.

Creamy and buttery aromas with a hint of nuttiness. Chalky minerality and peach pit flavors give zing to the luscious, expansive fruit. This lingers and expands on the palate with a subtle sweetness which keeps you coming back. This bottle went bye-bye way too fast. Delicious, super silky and fine. Two Stars. Importer: Miller Squared Inc., Buffalo Grove, IL.
Manzane Próseo Rosé
Vino Spumante Brut
Drink Now-2010
$19
This rosé Prosecco has exuberant fresh strawberry spiked lemons and stones which are pretty and appetizing and lead to bright and crunchy flavors of honeydew melon and strawberry. Juicy and refreshing, this makes me hungry! Great summer quaffer while the BBQ is cooking! One Star Plus.
---
White Wines:
André-Michel Brégeon
Muscadet Sèvre et Maine
2007
Drink Now-2017
$14
This producer in Muscadet was not previously familiar to me, but he is imported by Kermit Lynch, so I thought I'd check it out. As you know, I'm a big fan of the wines of Muscadet and even wrote about it in Issue 8.

Classic briny sea air aromas lead the way to a wine with saline minerality and sea stones at its core. Much of its pure and natural complexity is all about stones and minerals. So much so that they give a great tactile sense of stones and salt which make this piquant and flavorful yet light on its feet without any heavy fruit flavors to weigh it down. The balance and inner tension make me believe this will be a Muscadet that ages nicely for at least a decade. Two Stars. Importer: Kermit Lynch Wine Merchant, Berkeley, CA.
Domaine Huet Vouvray
Le Mont Demi-Sec 2007
Drink Now-2047
$32
Yes, another Huet. You're probably getting bored of them by now! But with value this great, its hard not to drink them all the time! This is the Demi-Sec from the Le Mont vineyard. Of note, the Secs from Huet's three vineyards are compared and reviewed in the last issue.

Deeper and more serious than the secs but with a fragrant slate, black tea, wool and hint of petrol nose that is at once hesitant and subtly complex. The palate impression is immediately of a smoky slate, much like the sec, but with a fatter midpalate and a hint of creamy citrus. It is hard to get much better than this for a Vouvray Demi-Sec. This has a powerful core yet is caressingly beautiful. The texture and expansiveness gets better and better and somehow is at once creamy yet etched and filigreed with great grip. For those of you who fear sweet, this wine, while containing some residual sugar, is well balanced by minerality and acid so that you don't even notice the sweetness. Bravo! Three Stars.
Joseph Landron
Amphibolite Nature
Muscadet 2007
Domaine de la Louvetrie
Drink Now-2012
$13
Landron, at Domaine de la Louvetrie, is one of the best producers in Muscadet. This bottling, Amphibolite Nature, is left on its lees much shorter than most to keep it fresh and lively.

Grapefruit pit, salt and brine on the nose. This Muscadet is pretty, fresh and simple. Not a complex Muscadet but vibrant and clear as a bell. The crisp liveliness of it makes it a great palate cleanser and very refreshing, but this is a fairly simple wine. One Star. Importer: Latitude Wines, Inc, Danville, CA.
Jean Macle
Côtes du Jura 2004
Drink Now-2054
$30
Jean Macle is arguably the best producer in the little known and often misunderstood region of the Jura in Eastern France. Just a stones throw from Burgundy to the West, this beautiful region tucked away at the foothills of the Jura mountains produces singular and polarizing wines. Most famously known for their Vin Jaune, or yellow-wine, which is made from Savagnin and aged in barrel for over 6 years prior to bottling! But thats not all, much like some Sherry from Spain, the wine is not topped up in bottle and as the wine evaporates it develops a layer of yeast on the surface, called Flor in Sherry and Voile ("veil") in the Jura, protecting and nurturing the wine as it ages. While the yeast protects the wine from outright oxidation and spoilage, it allows a gentle slow oxidation which is the source of much of the misunderstanding about these wines. They have intense, oxidative aromatics which can be phenomenally complex and really unlike anything else you'll taste. Some people love them, and some hate them. While Macle's Vin Jaune from the tiny grand cru appellation of Chateau-Chalon are hard to find and expensive, if you can track down these Côtes du Juras you can get a glimpse of the magic. In fact, its not just a glimpse, these are stunning and unique wines in their own right, as good as many lesser producers Vin Jaune. These wines are made from varying amounts of Savagnin and Chardonnay (the other major white grape of the Jura) and are aged in barrel sous voile for 2 to 3 years. While this 2004 is 80% Chardonnay and 20% Savagnin, the 2005 is 100% Chardonnay. Because they aren't aged as long as a Vin Jaune, they are not quite as oxidative and intense but that is splitting hairs. These wines give a classic sense of true Jura style. Of note, the vines for this Côtes du Jura are from vineyards which were previously within the borders of Chateau-Chalon until recently when the AC was redrawn. Macle does not have a consistent US importer, so you'll have to search a bit to find it. But its worth the effort!

The aromatics on this thing are insane! It is so intensely aromatic that I can smell it sitting on the table 3 feet away! Fragrant celery seed, Asian spices and curry overlay roasted nut aromas. Quite complex from the get go and very much like a Vin Jaune but this just got better and better with air as it sat over many hours. Later, savory, umami aromas like chicken bouillon came out to add even more richness and depth to the wine. In the mouth this is intense and young with a chiseled texture of fine marbleized minerals. Long lingering and mouth-watering acid, creamy marzipan and a lingering finish that is at once warming, caressing and pungent. Not warming as in alcoholic heat, rather it has a similar impression to a clove-like spice with an expansive warm spiciness, not unlike Chartreuse liquor. This is better than most Vin Jaune and definitely the best Jura non-Vin Jaune white I've had! Bravo! Three Stars.
Jean Macle
Côtes du Jura 2005
Drink Now-2035
$30
Another Macle. Apparently this 2005 is made from 100% Chardonnay, without the addition of Savagnin that the 2004 has.

This comes across as more reserved than the 04 but with a similar nose of nut oil, Indian aromatic spices, cumin, grapefruit pit and a citrus note which seems more pronounced than the 04. Maybe its the year difference but this seems more primary, coming across as more fresh but not as refined and complex. Initially creamy and fat on entry with a vibrant mineral middle and finish. This doesn't have the expansive intensity of the 04 and is not as clearly and uniquely Jura. Almost reminded me more of a Corton-Charlemage but with some umami and exotic spice notes thrown in. But maybe thats just because I know its 100% Chardonnay! With lots of air this firmed up and also became more pungent, rocky and even a bit coarse. I like this a lot and it only suffers in comparison to the 04 which for my taste is more integrated and more refined. Give this one time and it will probably gain in complexity and finesse. Two Stars for now.
Mercurio
Maurizio Rocchi
Drink Now-2011
$8
This wine from Italy may be a bit controversial because it seems to have a hint of an oxidative style. It is a blend of three grapes, Trebbiano Toscano, Malvasia and Moscato. The nose shows that hint of oxidation with nut oils and papaya fruit but the mouth remains fresh despite its ripe, creaminess. Caressing texture and you can sense the sweetness coming from the Malvasia and Moscato but this remains a fairly simple quaffer to enjoy over the next couple years. One Star.
---
Rosé Wines:
Saint Roch Les Vignes
Côtes de Provence Rosé
2008
Drink Now-2013
$12
This pretty rosé from the south of France is made of 65% Cinsault and 35% Grenache. Fresh strawberries ripening on the vine by a briny sea breeze in the telltale Provençal nose. Intense and mineral, this has a freshness and clarity to its fruit that is great and just simply delish. Enjoything throughout the summer with just about anything. One Star Plus. Selected by Jeff Welburn. Importer: Wine Agencies, Inc, Van Nuys, CA.
Vino Tierra de Castilla Y Leon
Caballero de Castilla
Tempranillo Rosado
Drink Now-2011
$9
This rosé, or Rosado, from Spain is made from Tempranillo, the grape of Rioja. Although its a rosado, it is quite dark in color.

As the dark color hints at, this is quite rich with jammy ripe fruit. Red vines and fruit leather on the nose with hints of Earl Gray tea. The rich, dark red fruit flavors are almost more like a red wine than a rosado, adding meaty and earthy nuances to the strawberry juice fruitiness. Another great summer BBQ wine that should stand up nicely to rich summer fare. One Star Plus. Importer: Vitis Imports, Inglewood, CA.
---
Red Wines:
C & P Breton Bourgueil
Trinch! 2006
Drink Now-2014
$16
Breton, also the local name for Cabernet Franc, is a great domaine in the Loire Valley run by a couple. Their Chinon and Bourgueil, both featuring primarily, you guessed it, Cab Franc, are consistently good to great in recent years. They practice biodynamic viticulture. This wine, Trinch!, means something like "Cheers!". It is not meant to be a powerful, long-lived Bourgueil, but rather a fun wine to help you enjoy life while not taking it too seriously. It is a great summer red slightly chilled and to accompany a whole host of BBQ goodies.

Effusive and ebullient aromas that just scream fun and life! Rather than any kind of complexity to speak of, this is just scrumptious, fruity and brings a smile to your face. The chewy happy fruit is high toned and refreshing yet with depth. There is just a hint of Bourgueil earth and meatiness to keep it interesting for the wine snobs. A quaffer that is fun and delicious. Two Stars. Importer: Kermit Lynch Wine Merchant, Berkeley, CA.
Mugnier Chambolle-Musigny 1er Cru
"Les Fuées 2006
Drink Now-2036
$150
OK, OK, OK! You can flog me with your wallets! I know this is not an inexpensive wine. But occasionally, I just feel that the relative worth of a wine exceeds its price. No, no one could argue a $150 wine is cheap. But for relative value it can be a deal. For example, Freddy Mugnier, one of the big stars of Burgundy these days, makes several stunning wines. Most of his top wines from heralded vineyards are getting to be crazy in price. The Musigny and Bonnes-Mares are almost sickeningly expensive. Even the other great Chambolle-Musigny premier cru like Les Amoureuses is twice this price. Yet this lesser known vineyard, Les Fuées, really performs. No, its not the Musigny, but it is so flattering and pretty, its truly a great wine in its own right. Of note, for an even better value, the relatively new Nuits-St.-Georges Clos de la Marechale from Mugnier is an even better value. At around $50 to $75 it offers much of the purity and finesse that Mugnier is known for but at a much more affordable price.

This Chambolle is lovely. It took quite a while to come out of its shell but eventually showed a very perfumed smoke, earth, rose petal and floral nose. The wine is velvet and lace. Subtle and ethereal yet with a silky grain to the texture that grabs you and shows lots of depth. Quite seductive, this grew and gained presence on the palate over time, becoming more lush and seductive as it went, just hinting at how great this will be in 10+ years. Three Stars.

---
Have a Reader Tip or a Question? Contact Me!
I love to hear from my readers and visitors. If you have a handy tip to share or questions or comments on anything related to wine and wine tastings, please contact me!


---
Looking for Wine or Wine Tasting Related Info? Search our site!
You can now search through all of my pages by using our handy Search This Site feature. You can also browse through a site map to find the information you desire. Still can't find what you are looking for? Then contact me!


---
Search This Site
---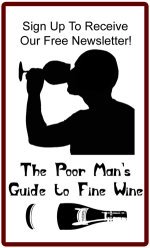 Site Sponsors
---

Peter Liem's
Champagne Guide
World's Best Grilling eBook!
---