Hello from the Wine Tastings Guide!

This is The Poor Man's Guide to Fine Wine™, a monthly newsletter on all things wine and your guide to finding great wine at affordable prices! Each issue brings you articles about goings-ons in the world of wine as well as reviews of inexpensive wines.

If you like this newsletter and our website, please forward this email to someone you know who enjoys wine or wants to learn more about wine and wine tastings. If this was forwarded to you and you like what you read, you can subscribe to The Poor Man's Guide to Fine Wine for free now.

If you have suggestions, questions, article requests or comments, please contact me -- I love to hear from my readers!


---
Contents of this issue of
The Poor Man's Guide to Fine Wine™
Busy, Busy, Busy! - Tasting notes from recent wine dinners
ChampagneGuide.net - Great new Champagne resource!
Mini Producer Profile: The Vouvray Sec of Domaine Huet
The Poor Man's Guide's Wine Reviews
---
Busy, Busy, Busy!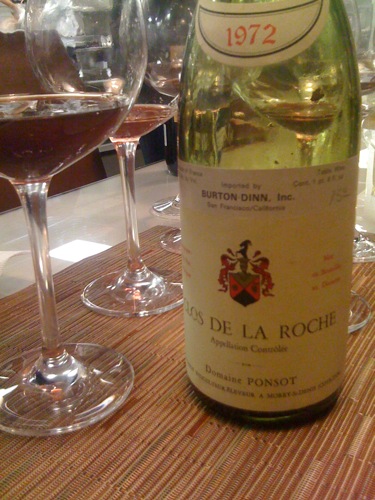 I've been keeping really busy! No, not with work. With wine dinners! The last several weeks have been hectic, attending several outstanding wine tastings and wine dinners in various places. Its hard work but somebody has to do it! The nice thing about making many wine-loving friends is that you can experience many wines together that you may not have had the ability to taste on your own, even if you are on a budget.

First there was a fun vintage tasting of 2006 Red Burgundy put on at the Woodland Hills Country Club by Woodland Hills Wine Company. I'm really liking the 2006 vintage. While it hasn't received as much attention because it falls on the heels of the "vintage of a lifetime" 2005 and because of poor economic times, the seductiveness of the wines is...well...seductive! Very pure fruit and just hard not to love. There were several excellent wines at the tasting including a couple from the likes of Mugnier, Roumier and d'Angerville!

Next up, I was in Las Vegas for a good friend's 50th birthday celebration. My first visit to Lotus of Siam and it was a memorable evening. The best Thai food I've ever had! And we had some awesome Rieslings including a stunning 1971 Auslese and a 1959 Trockenbeerenauslese that the birthday boy brought from his birth year!

The second night in Vegas we were off to Delmonico's in the Venetian. We got to sit at the kitchen table, inside the kitchen so we can watch all the action! This night was mostly red Burgundy and again there were some stunners of wines. 1972 Ponsot Clos de la Roche, 1993 Dujac Clos de la Roche, 1985 Clos du Tart and more! Even another 1959 German Riesling, this time a Beerenauslese, to finish up and celebrate his birthday right!

Most recently, I just attended the Alsatian wine dinner to end all Alsatian wine dinners! Not only an abundance of great Alsatian wines (mostly Zind-Humbrecht, including an 8 vintage vertical of Rangen Pinot Gris, but several other gems as well) but a blockbuster 20 course menu to boot!

Geez, I'm tired!



---
ChampagneGuide.net - Great New Champagne Resource!

My great friend Peter Liem is one of the most knowledgeable resources for fine wine that I know. He has extensive experience in many areas of wine but has been living in the Champagne region of France for several years now. He has passionately explored the area, determined to learn more and more about the unique terroirs of the region and the vast number of producers big and small making great Champagne today. As far as I know he is the only native English-speaking wine writer who lives in Champagne.

Just a couple weeks ago Peter has launched a fantastic new website called Champagne Guide.net. Over the last decade Peter has forged relationships with dozens, even hundreds, of the best producers in Champagne and has finally begun pouring all the experience he has gained into writing about them. There are over 100 detailed producer profiles as well as extensive tasting notes of their wines. Although most of us have heard of Moët & Chandon or Veuve Cliquot, with the relatively new focus on many smaller "grower" Champagne producers there are many "new" names on the Champagne map with which most people are not yet familiar. To help navigate this ocean of bubbly wine, Peter Liem's ChampagneGuide.net is an invaluable resource for lovers of Champagne.

I know, some of you are thinking that Champagne ain't too inexpensive. What's it doing in the Poor Man's Guide to Fine Wine? The Poor Man's Guide is first and foremost dedicated to fine wine with an emphasis on great wine values. But "value" doesn't always mean cheap. If you can find a great Champagne for $60 rather than over $300 for many of the top brand luxury cuvées then that is great relative value. While it is true that good Champagne often runs more expensive than many other wines, that is exactly why we need guidance from someone who has the experience of Peter. Finding great Champagne at an affordable price can save you a lot of money. Peter reviews hundreds of wines which are under $100 and many that are under $50, many of which can stand amongst the best Champagne has to offer. So if you love great bubbly like I do, check out ChampagneGuide.net. Tell Peter that I sent you!

Note: Other than being a friend and admirer of Peter's I have no affiliation with ChampagneGuide.net.



---
Mini Producer Profile:
The Vouvray Sec of Domaine Huet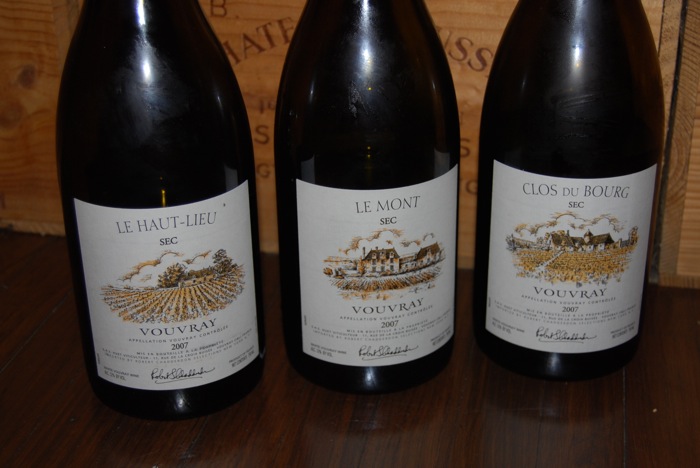 Although the wines of Vouvray are relatively under-appreciated in the US, most fine wine lovers appreciate Domaine Huet as one of the finest producers in the world. Gaston Huet started the domaine early in the 1900's. According to himself, when I met him in 2000, he was turning "of age" that he had to go out and start his own life. He asked his parents to buy him an apple farm. They couldn't afford the farm he wanted so they bought him "le Haut Lieu", the vineyard and domaine at the top of the Vouvray hill by the Loire river. They said, "They are shorter trees, they'll be easier to farm." With that, Gaston took off on a magnificent career as one of the finest wine growers ever. He was even the mayor of Vouvray for decades!

Although Gaston died at a ripe old age in 2002, his son-in-law, Noël Pinguet, had already begun taking the reigns at the Domaine and continues to this day. The entire domaine is run by biodynamique viticulture, putting a strict focus on healthy vines, soil and a move away from the use of any chemical treatments and pesticides. The wines continue to be pictures of beauty, clearly expressing the beautiful terroir of Vouvray.

In general, Huet produces several styles of wine, varying from almost dry to quite sweet, all from 100% Chenin Blanc. At the driest level, and the focus of the tasting notes below, are the sec wines, meaning "dry". These typically have a low level of residual sugar. The next level is demi-sec, from riper grapes with slightly higher residual sugar. However, the residual sugar is still generally in the range that would be considered a brut in Champagne. So these are just subtly sweet wines, not dessert wines. They are balanced by great vibrant acidity and minerality. Finally, the moelleux wines are made from late-harvested grapes, often with Noble Rot (Botrytis). The very richest, sweetest wines, made almost exclusively from the ripest and/or most botrytized grapes, are the result of a first pass through the vineyards each vintage, and labeled as the moelleux premier trie. Huet also occasionally botles a magnificent sweet wine from the best grapes called Cuvée Constance. Lastly, Huet produces one of the best sparkling wines in Vouvray, the most commonly encountered being the Vouvray Pétillant.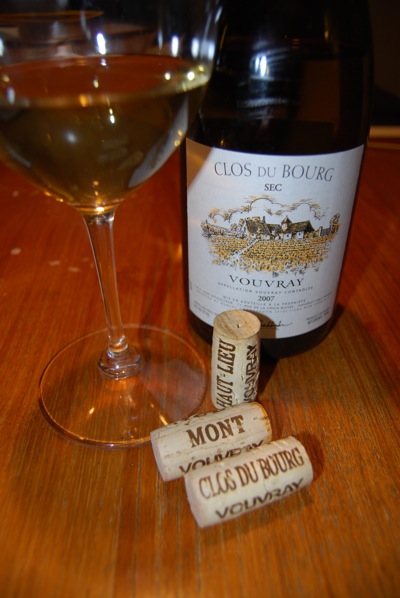 The wines of Huet in general are vibrant wines, transparent to their underlying terroir and with abundant minerality and grip. All of them, including the dry wines, have the ability to age many decades. When I asked Gaston what he thinks is the peak time to drink his Vouvrays he replied, "30 to 40 years". To this I said, "you mean for the moelleux?" since it is well known that rich, dessert style wines made from botrytized grapes can age indefinitely. He replied, "No! For the sec and demi-sec. The moelleux you can drink young or old, their sweetness makes them approachable when young but they will last forever." I know few producers of dry white wines outside of the best German Riesling growers who would tell people to keep their hands off for 30 to 40 years! That is impressive longevity.
After starting out with Le Haut Lieu, Huet slowly added vineyard holdings to the domaine. Through the 50's and 60's two other great vineyards were added to round out a mighty trinity of Vouvray, Le Haut Lieu, Le Mont and Clos du Bourg. Occasionally in the last decade a fourth wine of purchased grapes, Vodanis, has been bottled as well. The three primary vineyards are bottled separately for the sec, demi-sec and moelleux wines. Each can be brilliant but each has slightly different character. The Le Haut Lieu has a deep top soil of heavy clay which gives the wines a fatter, rounder and softer feel. They tend to be more approachable and flattering young, but lack some of the vibrancy, depth and power of the others. Le Mont is more stony, giving leaner, more mineral wines. Perhaps the greatest of all, Clos de Bourg has very shallow top soil over a dense solid base of limestone rock. This gives a wine of penetrating, crystalline purity, power and minerality. They can be more structured and tight in their youth but are likewise more long-lived.
Below are the "holy trinity" of Huet wines in their sec form, all from 2007 which is looking to be an excellent vintage in Vouvray. The good news for you? While the moelleux wines and Cuvée Constance can vary from quite expensive to very expensive, these wines are relatively affordable! All the secs are generally under $30 a bottle. The demi-secs are a bit more but still generally under $40. The Vouvray Pétillant is an outstanding sparkler for under $30 and a great Champagne alternative. Huet is the best of Vouvray. That you can enjoy his wines regularly on a budget is shocking but a blessing for us all!
As I tasted through the wines below, I was in awe of their clarity and beauty. They are all glorious. The longer I sat with them and let them evolve in the glass, each got better and better. I started to believe that perhaps they are all Three Star wines!
Enjoy!
Huet Le Haut Lieu
Vouvray Sec 2007
Drink Now-2027
$25
This is the most floral of the three but with a subtle chalk minerality brightened up by pungent citrus oil. In the mouth, flowery, round and slightly sweet but balanced by fine, vibrant citrus acid and oil. Really pretty lemon oil on the finish. Like a dry fresh lemonade with a lip-smacking finish that lingers. Refreshing and a thing of beauty. This got better and better with time so I wouldn't be surprised if my rating seems conservative in a few years. A day later this was still going strong, still intense and lively, not loosing any freshness and perhaps even gaining some intensity. Two Stars. Importer: Robert Chadderdon Selections, New York, NY.
Huet Le Mont
Vouvray Sec 2007
Drink Now-2037
$29
This is immediately more mineral, metallic even at first, with earth, stone and under-ripe pit fruits that remind me of a crispy white peach. The mouthfeel is noticeably denser with more slate minerality running the length of the wine on through the long finish. Thrilling, creamy citrus butter acidity too. Deeper and also more focused than the le Haut Lieu with a smoky slate complexity that kicks it up a notch! Really long finish. This is gorgeous. This too was singing on night two as well. Two Stars Plus.
Huet Clos de Bourg
Vouvray Sec 2007
Drink Now-2037
$29
The Clos de Bourg is more serious with a deeper and more complex nose. Gunflint, limestone, citrus and peach are all there in a bit more restrained fashion but also more noble, brooding even in its powerful character. Yet again, the flavors are a notch up from the Mont now with a tactile minerality that gives the wine a filigreed relief and grip on the palate. Impressive dry extract of flavors and texture with a powerful mineral core and a long lovely finish. This got even more powerful on day two with practically the grip and mouthfeel of a red wine! Great stuff! Three Stars!
---
The Poor Man's Guide's
Wine Reviews
Wine Ratings Explained:
Zero Stars
A wine I don't particularly recommend.

One Star
Well made, simple and tasty wines that I recommend.

Two Stars
Excellent quality. Worth an extra effort to search out and enjoy.

Three Stars
Outstanding wine of the highest caliber.
+
Plus
Either a wine that is close to deserving a higher score or a wine that may not be showing that much but with the potential to move up in quality with further aging. A young wine that may be closed up or shows potential for significant improvement. Assuming it opens and improves with additional age, it may merit a higher rating.
???
Flawed bottles or wines that are difficult to assess for any number of reasons. Judgement reserved.
Sparkling Wines:
Paul Bara
Brut Réserve
Bouzy
Drink Now-2024
$55
Paul Bara is a small grower in Champagne who makes outstanding sparkling wines that eclipse even the most famous houses bottles. But have you heard of him? If not, I suggest you get acquainted! This Brut Réserve is from 100% Grand Cru Bouzy fruit. Thats 100% Grand Cru for close to $50! Not many of the big names in Champagne can say that. Bouzy is Pinot Noir territory.

Yum! Like a Pinot Noir pie! Sweet fruit, buttery dough and powdered sugar grace the nose of this beauty, all kept together by a zing of pink grapefruit, chalk and white granite that come out more with air. Powerful, deep Krug-like richness and intensity in the mouth, yet shimmering and vibrant. The midpalate is expansive, coating your palate with rich, yeasty fruit. This is just delicious, passionate and sexy. This is one of the best non-vintage Bruts I've had. Three Stars. Importer: Kermit Lynch Wine Merchant, Berkeley, CA.
Foieta
Lambrusco dell'Emilia
Drink Now-2010
$21
For many of us, the idea of a bubbly red is strange. The most common Lambrusco most people encounter is Riunite, which does quite a disservice to good Lambrusco. The good stuff, like this one, is fun, refreshing and delicious with all sorts of food.

Grapey, fresh fruit aromas lead to a super-refreshing wine that is grapey but with hints of meatiness. Fun, unpretentious and gulpable. This is totally dry, so don't be scared away! This is a great food wine but buy it by the case or you'll run out fast! This goes down just too easily! One Star Plus. Importer: Vitis Imports, Inglewood, CA.
---
White Wines:
La Tunella 2005
Tocai Friulano Selènze
Drink Now-2012
$19
This is a comes from the Friuli region of Italy.

Honey and chalk dusted honeydew melon, wool and wax on the nose. Round and waxy melon fruit in the mouth. Juicy and round with a pleasing zing of acidity just on the end. Refreshing, unassuming and tasty. One Star.
Zidarich Vitovska
Carso 2005
Drink Now-Who Knows?
$50
This is simply a fascinating wine. It comes from the appellation of Carso which is in the far North-East of Italy, bordering Slovenia. It is not far from where the Tocai Friulano above comes from, but this is a different grape and style. It is made from Vitovska, an indigenous variety to this part of Italy and Slovenia. Zidarich is an interesting producer who is fanatical about minimalist intervention in the winemaking process. The wine is given extended skin contact and receives absolutely no fining or filtration. For that reason, the wine is a bit cloudy, but thats ok! Its a sign that the wine has been handled without excessive manipulation.

Initially this had a fascinating Furmint/Tokaji-like aroma of honey, igneous rock and papaya. There is something otherworldly about the wine, seeming to come from another place and time. The mouthfeel is initially round and caressing like an Alsatian Pinot Gris but with waxy citrus pith, seeds and grapefruit grip on the back end. It is an entirely unique wine and full of personality. It also makes you hungry! You want to start eating something as soon as you sip it. As it breaths in air it gets better and better, turning silky but also fattening up with a dense core of dry extract that is practically like a red wine in its mouthfeel. This amazing texture grows, adding minerals and even some tannin to the textures. After a couple hours this really reminded me of a red Burgundy. Yes, I said red. The nose changed too, almost reminding me of a Savigny with a splash of mango juice. This is really fascinating stuff but to be honest I don't quite know what to make of it since it is so different from anything else. I do know that I love it for its strong personality and finesse as well as that unique red wine-like earthy minerality and spice. Frankly, I'd probably give this Three Stars based on its fascinating character alone, but I have a feeling this wine will be controversial. I for one love it. I have no frame of reference to say how this will age but given how it grew and evolved in glass I'd say this will have a long life ahead of it. Two Stars Plus. Vinissimo Estate Selection. Importer: JK Imports, Pasadena, CA.
---
Red Wines:
Azul Portugal
Ribatejo 2006
Drink Now-2011
$12
This wine from Portugal (obviously) is a blend of two grapes that most people don't encounter often, 65% Castelão and 35% Trincadeira.

Bright, ripe, fruit roll up raspberry and cherry with hints of lemon, apple skin and spices lead the way to a juicy ripe wine that almost behaves like a good Beaujolais. Lingering brambly and meaty berry nuances on the finish make this a tasty, fruity quaffer. One Star. Importer: Vitis Imports, Inglewood, CA.
Baudry Chinon
La Croix Boissée 2006
Drink Now-2030
$30
I've reviewed several other Baudry Chinons in the past. I think these are amongst the best Chinons being made today. While the Clos Guillot vineyard is perhaps the better site, ultimately, the vines are still young. That wine may ultimately be the best in time, but for now this wine, La Croix Boissée, is generally the best of the Baudry stable.

Lovely blueberries and raspberries have a great spicy and woodsy complexity. Initially bright and brambly fruit, tart cherry, cranberry, iron minerality and flint give this wine a young, bright complexity. However, this is very young and tight with grippy tannins on the finish. This doesn't have the silk of the Guillot but more of a velvet, rocky texture and brighter acid. As this sat open and got plenty of air time it fleshed out and the fruit was rounder, sweeter and more complete with a velvety texture and minerality and even hints of rich, creamy aged cheese akin to Tallegio. This is really lovely. Ideally, keep your hands off for a few years, but if you do drink one now I suggest decanting it for an hour or two. The score will likely improve with time. Two Stars. Importer: Kermit Lynch Wine Merchant, Berkelely, CA.
C&P Breton Bourgueil
Les Perrières 2005
Drink 2013-2035
$32
The Breton's make Bourgueil and Chinon which are mostly Cabernet Franc. The funny thing is, the local Loire name for Cabernet Franc is Breton! So it seems theat this couple is destined to make great wine in this region. Along with the Baudry above, these are a great pair of inexpensive, serious reds that will age beautifully for a long time.

Warm, fertile crumbled earth, limestone minerals and fresh ripe plum, blueberry and blackberry make up the enticing aroma of this wine. This is a dense wine with flavors of blackberry, earth and big round stones. This is very young and a bit austere, showing tight and wound up with a powerful core of rocky fruit and firm tannins. This is very impressive but clearly needs a lot of time to show best. Compared to the Baudry, this shows a bit more sauvage personality, as Bourgueil often does, but this is a good thing, showing off the character of the terroir. Two Stars. Importer: Kermit Lynch Wine Merchant, Berkeley, CA.
Isolda 2007
Navarra
Drink Now-2012
$9
This Spanish wine from Navarra is 70% Tempranillo, 20% Garnacha and 10% Merlot and Cabernet Sauvignon.

Heady aromas of eucalyptus and menthol. Definitely seems to come from a warm growing season but still pretty. Chewy and fruity, this wine is simple but quite silky in texture. The only downside is that it is a bit hot on the end but I would think this would be a good summer red, chilled down a bit to accompany some BBQ or grilled meats and veggies. One Star. Importer: Vitis Imports, Inglewood, CA.
Tempier Bandol 2003
Drink Now-2023
$40
This is not the current vintage of Tempier's Bandol. But some of it is still around and it is fun to check in on past vintages to see how they are coming along. I reported on the current 2006 recently and that wine is excellent too, although very young.

This 03 initially shows just a hint of Brett but it blows off quickly to reveal ravishing reglisse, fennel seed, carob, cassis and anise. Rich, heady, complex and earthy, yet I don't get any hint of over-ripeness or alcoholic heat, as can be concerning with this hot vintage. The flavors are great with rich, leathery fruit and velvet tannins. This is still quite young, tannic and a bit closed on the finish. However, with air this sweetens and lengthens. This still needs time but I'm happy to see that there is no alcoholic heat in either the nose or flavors. Two Stars. Importer: Kermit Lynch Wine Merchant, Berkeley, CA.
Tempier Bandol
La Migoua 2006
Drink 2016-2036
$60
Unfortunately these Tempier single vineyard wines are not quite cheap anymore. But given the prices that top Bordeaux and Rhône wines can fetch, these are still relative values. This is the current vintage. La Migoua, one of three single vineyard wines that Tempier produces, has a slightly lower percentage of Mourvedre than the others. Whereas la Tourtine has upwards of 80% Mourvedre (depending on the vintage) and Cabassaou can have close to 100% Mourvedre, Migoua is more in the 50-60% range in most vintages. There is a higher proportion of Grenache and therefore tends to be a bit juicier, fat and alcoholic than the Tourtine which is more austere, structured and mineral.

This is very shy at first. Extensive coaxing reveals appealing hints of meaty plum and cherry fruit with flecks of earth and iron. It seems to gain precision with time, adding hints of spice. After a good 4 hours in a decanter it was much more perfumed and meaty. The flavors are round and ripe with plush ripe tannins. Deep and pure fruit but so closed up and young, this really needs time to unwind. It does have that ripe plumpness that Migoua often has young but is otherwise quite primary and closed. Like most young Tempier, the last sip, many hours later, was the best. This is for the patient but has excellent potential. Two Stars Plus. Importer: Kermit Lynch Wine Merchant, Berkeley, CA.

---
Have a Reader Tip or a Question? Contact Me!
I love to hear from my readers and visitors. If you have a handy tip to share or questions or comments on anything related to wine and wine tastings, please contact me!


---
Looking for Wine or Wine Tasting Related Info? Search our site!
You can now search through all of my pages by using our handy Search This Site feature. You can also browse through a site map to find the information you desire. Still can't find what you are looking for? Then contact me!


---