Birthday Celebration:
Red Burgundy at Delmonico's
in Las Vegas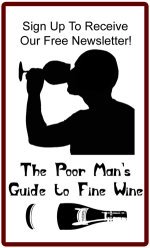 After Lotus of Siam, our second night celebrating Andy's 50th was mostly red Burgundy at Delmonico's Steakhouse. I had never been to Delmonico's and we had the kitchen table to enjoy our food and red Burgundy, a great little private room set just on the side of the kitchen with full length glass separating you from all the action beyond. The food was outstanding. After a couple starters we had a great tasting menu of several courses (I lost count) along with several flights of great red Burgundy. Even better than the food and wine was the great company!
Note on scoring: Zero stars = not recommended, not necessarily flawed however. One star = a nice wine worth drinking. Two stars = an excellent wine by any standard and worth an effort to search out. Three stars = a truly outstanding wine.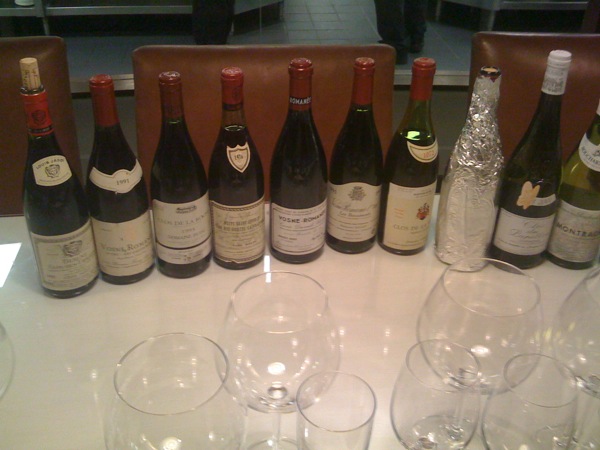 ---
The Tasting Notes (Red Burgundy and Others):
Gosset Celebris 1996 - A yeasty, slightly bready, nose is followed by a really tight and high toned wine just showing lemon citrus acid. Seems totally folded in on itself, tight and austere. This is really hard to judge at this point and difficult to tell if there is real depth there. With air this sweetened a bit but did not flesh out, still seeming linear and lean. One Star now but may improve with time.
Baumard Clos du Papillon Savennières 2001 - I'm a big fan of Baumard Clos du Papillon but 2001 was not a top vintage in the Loire. This had a pretty nose though of wax, wool, almonds, honey and even a bit of truffle. In the mouth there was an interesting profile of initially round, almost nutty and honeyed fruit but then followed by a back end that clamps down with stoney minerals. A bit hard to tell if this is just a factor of the vintage or in a slightly funky stage right now, some of the flavors, at least up front, bordered on the oxidized. One Star Plus for now, but also may improve.
Raveneau Chablis Valmur 2000 - This was initially quite tight, not giving up much on the nose but slowly opened in the glass to reveal complex earth, aged cheese and gunflint aromas. Also tight and austere in the mouth, this nevertheless had a fine silky texture and Chablis Grand Cru rocks and oyster shell in abundance. This unwound a bit with time but remained young and tight. It definitely seems to have depth there but its quite wound up right now. Two Stars and needs lots of time.
Bouchard Montrachet 1996 - The wine steward had a bit of trouble with the cork and needed to decant it. He took the bottle into another room. When we walked in the room we all knew something was amiss. In the decanter this had a dark, almost brown color to it. It looked considerably lighter in the glass but the wine was muted with only notes of early oxidation showing. As it sat in the glass this got worse although the texture in the mouth suggested depth and power. Unfortunately this was on its way out quickly. Bummer.
Served Blind: Dujac Vosne-Romanée Malconsorts 2006 - Howard served this in the second flight blind to start of the red Burgundy, not telling us anything about it but admitting it was on the young side. We were initially totally thrown by this. I was fooled because the first impression was a brambly, almost resiny or piney, thing going on that made me think it was an 04. In retrospect I think I was smelling the stem inclusion. My guess was premature however as this slowly unfolded and showed much more after hours in the glass. In fact it got really pretty with flowers, and pure earthy cherry of the finest quality. Only at the end of the dinner when it had been in my glass for hours did the Vosne spice start to come out and add to the complexity. In the mouth this was also initially brambly, herby and even a bit sauvage yet with ripe underlying fruit. Definitely young and very tight initially. But like the nose this blossomed with lots of air, integrating, softening and fleshing out, getting silkier and silkier. This is very young but lovely and should have a long life ahead of it. I'd love to revisit this in 10+ years. I have no doubt this will be a top class Malconsorts, but if you are going to touch one of these soon, give it a long time to open up. Three Stars.
Domaine de la Romanée-Conti 1er Cru Cuvée Duvault-Blochet 1999 - Corked! And just got worse with air. Very unfortunate.
Rouget Vosne-Romanée Beaumonts 1993 - Lovely tertiary aromas starting to jump out of this, truffles and earth augmenting the ripe, candied cherries, framboise and Vosne spice. In the mouth this is rich, deep and meaty, almost Richebourg-like with big burly, masculine rocks, earth and fruit. Still young and tannic but quite approachable and starting to show itself. Really excellent Beaumonts. Three Stars.
Forey Vosne-Romanée Gaudichots 1991 - A less complex nose but very pretty nonetheless. Sweet fruit, deep and spicy. With air this got a bit heady, bordering on hot, but not off-putting. This is less complex in flavor as well but silky and deep. A touch of austere, drying tannins come in on the end and shorten the initially sweet fruit up front. Two Stars.
Faiveley Mazis-Chambertin 1993 - This Mazis would have probably gotten a lot more attention served alone, as its a very nice wine, but in this flight with two excellent Dujac, it was simply outclassed. Meaty, wild, deep ripe fruit are still meaty and sauvage on the palate. Burly and young, this seems like a good Mazis but needs more time and doesn't have the aristocratic stature of the following wines. Two Stars.
Dujac Clos St. Denis 1995 - Wow, this was a totally different expression from the first sniff. Herbs, sappy red fruits just jump from the glass. Very pretty, much more feminine. The palate impression is of a liquor of rocks and red fruits. Lovely. Still tight and tannic on the end as many 95's are but so silky and sophisticated. Three Stars.
Dujac Clos de la Roche 1993 - As good as the Clos St. Denis was, this was even better! Old-school red Burgundy nose of animal, meaty sous bois and penetrating berries. Is there a hint of Brett? Probably, but I was loving it as it added to the ravishing complexity. The complex and beautiful nose was not all... another wow! for the mouth. Penetrating and transparent, meaty and deep. Layers upon layers of crunchy fruits, mineral-laden and rich with a complete midpalate and a long finish. One of my favorite 93's that I've had recently is the 93 d'Angerville Clos des Ducs. When tasting this wine I kinda thought that this was like the ying to the Ducs' yang. Totally different expressions that express their respective terroirs beautifully, but both with that amazing 93 penetrating depth and clarity of expression. Simply great. Three Stars(!!!).
Clos du Tart 1985 - Andy, the birthday boy, surprised us by ordering this additional red Burgundy off the wine list and throwing it in this last flight of red Burgundy. This was so pretty. The nose took a minute to cozy up to but once it opened it showed a complex melange of herbs, spice, sous bois, mushrooms and pretty red fruits. Lovely, deep and complex and got better and better in the glass. The mouth was quite enticing too with a burst of fresh, rip lovely red fruits up front, a full midpalate, followed by a bit of dryness on the tight finish. The sweet fruit stains and penetrates the palate yet is really transparent, pure and lively. My notes said "Floats like a butterfly and stings like a bee" because it was so elegant and ethereal in a sense yet also penetrating and lively. The slightly tight finish is the only downside, but not something that bothered me. Three Stars. Thanks Andy!
Jadot Beaune Clos des Ursules 1990 - Really earthy, mushroom, rose petal and a hint of Brett. This lovely nose leads to a big burst of ripe, roasted black fruits and brambly, chewy tannins that border on the rustic but is a pleasure to drink. While it has that ripe, roasted fruit of many 90 red Burgundy, its restrained and balanced enough to keep this very drinkable. Very nice but still quite young. Two Stars Plus.
Jules Gelin Nuits-St.-Georges Clos des Forêts de St. Georges 1976 - Spicy black fruits in the tight nose but the mouth is really something here. Like the previous few wines this has an impressive burst of sweet fruit that envelops the palate. But the really impressive thing here is that, while tannic, this does not have the hardness and austerity that much 76 red Burgundy has, or had. This is even more remarkable considering it is a Nuits. In fact, the tannins are quite silky and fine and I'd even call this elegant. Really fun to try this, it was far beyond what I thought a 76 Nuits would be capable of. Two Stars Plus.

Ponsot Clos de la Roche 1972 - What can I say? This is one of those wines that task the English language in trying to come up with words that can express the beauty of the thing. Even after the beautiful red Burgundy wines that preceded it, including the stunning Dujacs and Clos du Tart, I literally giggled out loud as a big smile covered my face when I first put my nose in the glass. This is what red Burgundy is all about. All the tertiary aromatics you hope for from a great aged Burg were on full display and this was just a joy to sniff over and over. Crumbly red rocks, earth, crushed leaves, flowers, tea, soy, beef jerky, etc. Gorgeous. Hauntingly beautiful. In the mouth, this was in a perfect place, the tannins fully resolved yet still with balance and lift, this just glided over the palate like a ballerina. Everything in the right place, grace, finesse and seductive red fruits and stones caress the palate. Seamless and harmonious. Just beautiful. A wow wine! Three Stars (Plus!!!!!) and perfectly mature.

Kloster Eberbach Steinberger Beerenauslese Cabinet Naturrein 1959 - We weren't sure what the "Cabinet" or "Naturrein" implied about the wine, but it didn't matter last night, this was lovely. Another birth year wine for Andy, this one, unlike the TBA the night before at Lotus of Siam, was actually still really young! What was so notable about this wine was that none of us could convince ourselves that, if served blind, we would have guessed this to be even older than the 70's. Young, fresh botrytized creme brulée and complex spices grace the nose but no tertiary aromas of age are present. So fresh and perfect. Just beautiful and so graceful. This will live forever. Three Stars.
While I've heard mixed things about Delmonico's, this night the food and wine service were excellent. The multiple flights of red Burgundy (which we didn't dump, we kept lining up rows of glasses as we went!) certainly tested the wait staff but Ryan, our wine help, was attentive, organized and did a great job. A great time was had by all. Its really saying something when you can have an oxidized Montrachet and a corked DRC in one night and yet its still a roaring success!
Cheers!
---
Done with the red Burgundy tasting notes?
Return to the Wine Tasting Guide Tasting Notes page.

Search This Site
---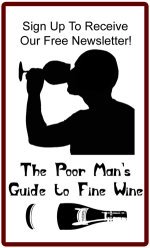 Site Sponsors
---

Peter Liem's
Champagne Guide
World's Best Grilling eBook!
---