Hello from the Wine Tastings Guide!

This is The Poor Man's Guide to Fine Wine™, a monthly newsletter on all things wine and your guide to finding great wine at affordable prices! Each issue brings you articles about goings-ons in the world of wine as well as reviews of inexpensive wines.

If you like this newsletter and our website, please forward this email to someone you know who enjoys wine or wants to learn more about wine and wine tastings. If this was forwarded to you and you like what you read, you can subscribe to The Poor Man's Guide to Fine Wine for free now.

If you have suggestions, questions, article requests or comments, please contact me -- I love to hear from my readers!


---
Contents of this issue of
The Poor Man's Guide to Fine Wine™
Dessert Wines with Dessert?
The Poor Man's Guide's Wine Reviews
---
Dessert wines with Dessert?
OK, I have to put my foot down!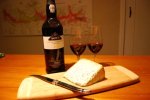 OK, I've had just about enough of all the newsletters and magazine articles suggesting "wonderful and decadent" wine pairings for dessert dishes! Port with chocolate decadence cake, Sauternes with fruitcake… I can't take it anymore!

In my opinion the last thing I want to wash down a sticky sweet dessert is more sticky, gooey stuff. Alright, I have to admit, I don't have the greatest sweet tooth in the world, preferring the more savory side of my palate. Excess sweetness, unbalanced by anything else, is cloying. Remember taking 'tussin as a kid when you had a sore throat? Yuck.

Just as with all wines and foods, balance is the key. If anything sticks out too greatly, its likely to be an unbalanced mess. If a wine has a lot of residual sugar, it should have ample acid, tannin and/or minerality to stand up to it! Think German or Austrian wines. They can be quite sweet, yet have excellent balance and remain bright and fresh. For my food and wine pairings, I want balance too. Too much sweet and I'm turned off.

Now, I enjoy a bit of Moscato drizzled over my fresh fruit salad as much as the next person, but when it comes to real desserts I'm categoric. Leave the super sweet desserts to themselves! If you need to wash down that diabetic nightmare with something, grab a cup of espresso.

So where does that leave so-called dessert wines? Well, first of all, not all "sweet" wines are created equal. Off-dry and moderately sweet wines often pair beautifully with a meal, not the dessert. German Spätlesen and Auslesen are wonderful foils to the spicy, complex flavors of Thai cuisine. Vouvray Demi-Sec is awesome with Indian dishes, on its own or with just about anything short of beef for that matter.

True dessert wines, the ones with a large amount of residual sugar like most Port, Sauternes, Monbazillac, Vouvray Moelleux, Alsatian SGN's, German and Austrian TBA's, Coteaux du Layon, the list goes on, do not belong with sticky dessert food. So where do they belong? I've got two suggestions… If they are older, more complex and complete examples, enjoy them alone after dinner as a wonderful contemplative digestif. If you want to serve them with something or if they are less complex and interesting examples on their own, serve them with an appropriate cheese plate, dried nuts and maybe, if you have to have something a bit sweet, some dried fruit. Port and Stilton… classic! The English (I'm assuming that is who invented it!) got this one right. The salty, pungency of the cheese being an awesome foil to the deep, dark sweetness of the port. Sauternes and other sweet whites will benefit from similar treatment too. Serve them with a creamier, salty blue like Roquefort or Gorgonzola and watch the eyes open!

I'm willing to concede that some people with the sweetest teeth (is that a phrase?) may enjoy taking sugar with their sugar. But for the mere mortals among us, let those sweet beauties be the centerpiece on their own without overwhelming anyone's palate.

Cheers!
---
The Poor Man's Guide's
Wine Reviews
Wine Ratings Explained:
Zero Stars
A wine I don't particularly recommend.

One Star
Well made, simple and tasty wines that I recommend.

Two Stars
Excellent quality. Worth an extra effort to search out and enjoy.

Three Stars
Outstanding wine of the highest caliber.
+
Plus
Either a wine that is close to deserving a higher score or a wine that may not be showing that much but with the potential to move up in quality with further aging. A young wine that may be closed up or shows potential for significant improvement. Assuming it opens and improves with additional age, it may merit a higher rating.
???
Flawed bottles or wines that are difficult to assess for any number of reasons. Judgement reserved.
---
White Wines:
Berthet-Bondet
Chateau-Chalon 2002
Drink 2019-2119
$60
If you don't know what Chateau-Chalon or Vin Jaune is, check out Issue 10 where I presented the 2000 vintage of this wine from Berthet-Bondet or Issue 12 where I discussed the Vin Jaune from Puffeney. These are singular wines that from great producers like these can be as complex, fascinating and long-lived as anything out there. The 2000 Berthet-Bondet was excellent but just short of greatness, I scored it Two Stars Plus. The 2000 vintage in the Jura, like in nearby Burgundy, was okay, but not great. It produced ripe, pretty wines but without the structure and underlying "umpf" to really be great. Curiously, I haven't seen any 2001's on the market but 2002 was an outstanding, classic vintage and it shows in this wine.

The specific aromas and flavors here echo the 2000 with all its complex roasted nuts, exotic spices and umami richness. But what you get here is a whole added dimension of depth, minerality, and pungent tangy structure. This wakes up your palate and reverberates there like it has a life of its own. Definitely has that "umpf" factor, in a good way! Layers of depth, midpalate punch, this has it all. If you drink it now, decant for a good 4 to 6 hours, otherwise hold it for 10 to 100 years for even more complexity and grace. Bravo! Three Stars.
Domaine Bordenave
Jurançon Sec
Souvenirs d'Enfance 2007
Drink Now-2017
$12
This is an interesting wine from a much neglected, at least in the US, appellation from the southwest of France, Jurançon. This is 100% Gros Manseng and produced by one of the best producers in the region.

Fresh and airy. Aromas mirroring a bunch of different grapes. A goosey aroma like Sauvignon, some wax, flowers and honeysuckle. A hypothetical Suav blanc, Chenin blanc and Viognier mix. The flavors are similar. Airy and fresh with pure flavors of wax, melon, gooseberry, honey, flowers and chalk. Vibrant and refreshing. A great value and a great relaxing fun wine. Two Stars.
d'Épire Savennières
Cuvée Spéciale 2007
Drink Now-2047
$20
I've told you about d'Épire's excellent, traditional Savennières before. The 2007 Loire Chenin's that I've had so far are turning out brilliantly. If you don't believe me, check out the Huet Vouvrays I reviewed in Issue 15. This Sav is further convincing me of the greatness of the vintage.

A very young profile without a hint of advanced aromas and flavors, this is a classic young Savennières with intense flinty minerals, chalk and hints of wool and wax. In the mouth, this is what I look for in young dry Chenin. Thrilling mineral-imbued acidity back up a full-bodied wine that clearly has depths to plumb. This is very young and primary and in that raw oysters stage of Sav. This should evolve beautifully and open to a first rate Sav in many years. The best young d'Épier I can remember drinking! Three Stars.
Huet Vouvray
Le Haut Lieu Demi-Sec
2007
Drink Now-2032
$30
Huet is awesome and indisputably the best producer of Vouvray. His 2007 Secs were all fantastic and this Demi-Sec is awesome too.

Initially quite sulfury, but as it warmed up in the glass this was overwhelmed by almond and ripe tangerine. These pretty and fine aromas open the door to a palate that is lively. The initial burst of sweet fruit is quickly given a shock of minerals, tangy acidity and a hint of grapefruit pit tannin. Great grip. Two Stars Plus.
Pascal Janvier
Jasnières 2008
Cuvée du Silex
Drink Now-2008
$19
Jasnières is a little known cousin to Savennières off of the main Loire river valley, near a tributary known as the Loir. It produces 100% Chenin blanc which can be great in the right hands. This one is grown in soils of predominantly silex, a finely ground flint silicate mineral.

Tincture of benzoin, honey, fresh red apple sauce and chalky minerals seem to be the trademark of this wine's aroma. Rich and quite ripe apple, tangerine and something like quince. Wooly and full yet with bright acid. Not nervous and super mineral like these can be. This seems to be from a riper, warmer year. While very nice now, I don't think this will make old bones like the more tense, structured examples can. Drink within 5 to 10 years. Two Stars.
Theo Minges
Pfalz Riesling 2007
Drink Now-2012
$20/1L
This fun wine from one of the leaders of the Pfalz comes in a nice, big one liter bottle! Plenty of refreshing goodness to slug down on a hot day with appropriate fare.

Fresh and simple oyster shell and tropical fruit. Happy and pure, crisp, just a whisper of sweetness, grapefruit, orange and lemon. Yummy to gulp down with spicy Thai food! One Star Plus.
Pépière Muscadet
Clos du Briords VV 2008
Drink Now-2015
$16
Pépière is one of the shining stars of Muscadet, producing many of the finest wines of that appellation in the western Loire valley. The Clos du Briords, made from a single vineyard of old vines is almost always my favorite wine each vintage. But something is a bit below standard here. I've gotten used to awesome vintages as the 05, 06 and 07 of this wine were all stellar. 08 is a bit rougher vintage in the western Loire and it shows here.

The flavor profile here is similar to past vintages with the tight, vibrant, pure fruit. But somehow this seems more grapefruit and other citrus than the past few vintages, less dense minerality. Great vintages of this seem more like a true expression of bottled rocks! This has a bit less flesh and power and less obvious terroir. Good but not up to the 05 through 07. Whereas those could age for 10 years plus, this I'd drink in its youth. Still a screaming bargain for the price. One Star Plus.
JP et JF Quenard
Chignin Vin de Savoie
Anne de la Biguerne 2007
Drink Now-2014
$14
I quite like this for its purity and freshness. Like a fresh mountain stream of rocks, gooseberry, citrus seed and green herbs. A creamy texture, but with an airy core of fresh, ethereal white fruits and chalky stones. Pretty and pure. Simple and unassuming, just a natural mountain wine. One star plus.
J. Puffeney Vin Jaune
Arbois 2000
Drink Now-2050
$60
The "puff daddy" is back with a 2000 that is definitely worth your attention, if you can find it. As mentioned above in my review of the Berthet-Bondet, 2000 was not as strong a vintage in the Jura, producing wines with less depth and structure than great vintages like 1999 and 2002. However, from a rockin' producer like Puffeney, the wines can still be great, if a bit more approachable and precocious than usual.

This has all the flavors that are going for the 1999 but in a bit of a softer package. It feels more plush, round and juicy. More approachable now without that searing intensity that makes the 1999 almost hard to drink at this stage. This will never have the depth, power and complexity of that great wine, but frankly that is splitting hairs. This is a great wine in its own right. Its use is just a bit different. This will show better in the next 20 years while the 1999 is still just a baby. This will probably last less long than the best Vin Jaune, but 50 years instead of 150 isn't anything to turn up your nose at. Three Stars.
---
Red Wines:
Baudry Chinon
Les Grézeaux 2007
Drink Now-2017
$17
Baudry has been on fire in recent vintages, producing arguably the top one or two ranges of Chinon. Joguet watch out! The Grézeaux tends to be a rustic wine, a bit rougher around the edges and more masculine but with outstanding depth and raw terroir.

Deep, DEEP and peppery black fruits, figs, plums, blackberry and cassis jump from the glass. My notes kept saying "deep". Deep and smokey, meaty even. Rustic and chewy. An excellent, terroir-driven Chinon full of fun, chewy potential. Chunky, bordering on velvety. Two Stars.
Domaine du Cayron
Gigondas 2006
Drink Now-2016
$22
From one of the classic, traditionalist domains in the southern Rhône, this Gigondas is worth searching out.

Cayron is a unique Gigondas. Not the forward, ripe, fruity Grenache-styled southern Rhône. This is more serious…a nose of smoldering incense and piney herbs like rosemary and savory. The flavor profile is more austere, almost aristocratic…pinched and tight, in a good way. Gives you the sense that this comes from a serious, but alive, place. Two Stars.
JL Chave
St. Joseph "Offerus" 2006
Drink Now-2016
$30
If you can't afford Chave's pricier Hermitage (much pricier!), his St. Joseph gives you a hint of his winemaking brilliance with the same grape, Syrah, grown in a nearby appellation in the northern Rhône.

Smokey roasted earth, blackberries, pepper and spice. Not complex but just right for a northern Rhône Syrah. Rich and dark peppery fruit that is quite deep and palate staining. A bit of smokey bacon and meat makes you know its in the Northern Rhône. Yummy and great with steak and other grilled meats. Two Stars.
Degani Valipollicella
2008
Drink Now-2014
$20
Ripe and grippy. Chewy and meaty. A fun mouthful of chunky, chewy fruit. This isn't complex or structured, but its fun and delicious to gulp down. Could do well with any number of things from grilled meats to veggies to barbecue to pizza. One Star.
Vincenzo Ippolito
Ciro' Rosso Classico
2006
Drink Now-2016
$15
100% Gaglioppo from an intriguing producer in Italy, this is some serious stuff for the price!

Smokey scorched earth, brambly berries and hawthorn. Meaty and earthy, masculine, tannic and chewy. A man's wine! LOL This is a rustic, chewy mouthfeel that wants some boar and elk. Two Stars.
Domaine Labet
Côtes du Jura
Trousseau 2006
Drink Now-2014
$20
You have to approach red wines from the Jura with an open mind. Most are so lightly colored they are practically a rosé. The flavors are light and subtle too. But the best have a subtle complexity and finesse which can be quite enticing.

Very light in color. Meaty and real from-the-earth, pinot-like perfume with fresh bright cherry fruit. Not terribly complex but very pretty. Bursting, juicy cherry fruit is soft and supple but with hints of spice and a deep meaty umami note. Almost like a half-Burg, half-meaty, stoney Beaujolais. One Star Plus.
Leroy Bourgogne 1999
Drink Now-2019
$30
Leroy is one of the top producers in Burgundy but the domaine wines, and most of the negociant wines for that matter, are silly expensive. If you can't afford those, or just want something a bit less serious, the Bourgogne put out by the negociant label can be quite good. This seems like an older vintage but there is actually a fair amount of it on the market if you look. Leroy tends to release older vintages periodically.

Fragrant aged nose of rose petals, barnyard and earth along with ripe berries. Chewy and ripe but with that telltale Burgundy Pinot sappy bite and acid that gives it liveliness and a silky texture. A fine Bourgogne and drinking very nicely now but improved with about an hour in the glass, fleshing out and becoming even riper and more forward. Two Stars.
---
Dessert Wines:
Dow's Vintage Port
2007
Drink 2017-2107
$60
Okay, Vintage Port is never quite "poor man's wine". But this newly declared vintage is fresh on the market and I just had to try a bit. Dow's is one of the top houses in Port and I quite like there style which tends to be a bit less sweet than some. Not usually quite at the level of Taylor and Fonseca but capable of greatness.

This 2007 VP is a great Dow. I decanted it for about 12 hours and enjoyed it slowly over two days. While it started out quite tight, young and monolithic, it slowly unfurled to show layers of dark fruits smothered in smokey, dark chocolate. This has all the stuffing to be a great Vintage Port with ample structure and layers of depth that are only just starting to unfold after a couple days open. Impressive. But this needs time. For the real fireworks wait 10 to 20 years, or more. This could ultimately warrant Three Stars. For now, Two Stars Plus.
---
Have a Reader Tip or a Question? Contact Me!
I love to hear from my readers and visitors. If you have a handy tip to share or questions or comments on anything related to wine and wine tastings, please contact me!


---
Looking for Wine or Wine Tasting Related Info? Search our site!
You can now search through all of my pages by using our handy Search This Site feature. You can also browse through a site map to find the information you desire. Still can't find what you are looking for? Then contact me!


---