Hello from the Wine Tastings Guide!

This is The Poor Man's Guide to Fine Wine™, a monthly newsletter on all things wine and your guide to finding great wine at affordable prices! Each issue brings you articles about goings-ons in the world of wine as well as reviews of inexpensive wines.

If you like this newsletter and our website, please forward this email to someone you know who enjoys wine or wants to learn more about wine and wine tastings. If this was forwarded to you and you like what you read, you can subscribe to The Poor Man's Guide to Fine Wine for free now.

If you have suggestions, questions, article requests or comments, please contact me -- I love to hear from my readers!


---
Contents of this issue of
The Poor Man's Guide to Fine Wine™
The Joys of a Wine Cellar
The Poor Man's Guide's Wine Reviews
---
The Joys of a Wine Cellar (or, Even Cellaring Relatively Inexpensive Wines Can Be Quite Rewarding)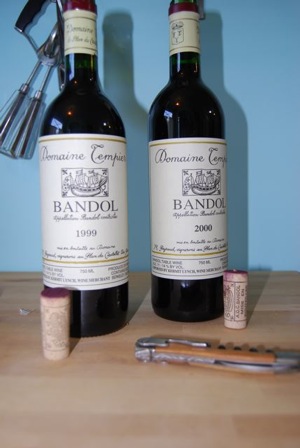 I've had too many complaining articles lately, I think its about time to just show my appreciation for things. I have to admit, life is good. You don't have to have a cellar full of Petrus to live the good life. I'm always trying to encourage people to start collecting wine. Cellaring your own wine has many advantages that I've talked about at length before. And it doesn't just have to be expensive wine that you age. There are many relatively inexpensive wines from the Loire, Germany, Alsace, the Rhone, Bandol, Italy, even Burgundy and Bordeaux, which can age beautifully for years. In this very issue are several wines that can improve for years or decade that will set you back less than $50, some much less.

I was recently reminded of the joys of a cellar when I went to pull out a couple wines for a relaxing backyard afternoon barbecue dinner with some good friends. I was making a traditional Provençal Boullabaisse and what better wine to serve with it than some Bandol! Of course we had some Bandol Rosé in the warm summer afternoon with tapenade and other finger foods to get started. But with the rich, heady soup, fish and spicy aioli, we needed some Bandol. I didn't want a big huge burly Bandol that would overpower the food.

I went to my cellar and thought it would be fun to pull out two of the same wine, from different sequential vintages, the 1999 and 2000 Cuvée Classique Bandol from Domaine Tempier. This type of side by side comparison is something you can only really do consistently (particularly with wines over 10 years old) when you pull them from your own cellar.

For those who missed it, I wrote a mini-producer profile of Domaine Tempier in Issue 16. This mini-vertical tasting was a fun lesson in aged Bandol and the two vintages. Adding to the intellectual fun of the evening was the fact that 1999 was the last year that Jean-Marie Peyraud (son of Lucien and Lulu, the amazing couple that started Domaine Tempier as we know it) produced the wine. In 2000 Daniel Ravier took over the reins. Although the general style of winemaking remained the same, Daniel instituted some changes. In particular, since some of the wines of Tempier have had problems with Brettanomyces, he replaced some of the oldest foudres, the huge wooden aging barrels the wines age in before bottling. So I was very curious to explore whether the character of the wines and their quality changed at all from 1999 to 2000. I was also eager to see if I could notice any difference in the expression of Brettanomyces which can give a distinctive aroma to the wines, which can be ok if it is mild and off-putting if severe.

Both wines were purchased on release and have been cellared in my own cellar since then. The original purchase price was about $20 a bottle. Granted, the price of Tempier wines has risen over the years and current releases of the basic Bandol now go for closer to $40. Both wines were in excellent shape and offered a lot of pleasure. The 1999 was mature, with softened tannins and a perfumed nose of earth, mushrooms and dark fruit. It was a very pretty wine. However, 1999 was a rather forward, less structured vintage and this wine was showing it. While on its own it was perfectly pleasing, when followed by the 2000, you noticed that the 99 seemed much more advanced, even lacking a bit in the midpalate density. It will not likely get better but should drink well for several more years.

The 2000 had many of the same characteristics with that perfumed Provençal herb and earthy complexity. It has evolved beautifully since release. However, everything is turned up a notch, with more complexity, depth and richness. It also simply has a more regal stature without that hollowness on the midpalate, it was a more complete wine. While it is delicious now and probably at peak, it is by no means in decline. While the 1999 is likely turning the corner, the 2000 is just starting to enter its window of maturity and may even improve further for several years.

Of note, there was a small amount of Brett noticeable in the 1999, but nothing distracting, just a barnyardy nuance. The 2000 was cleaner, without any noticeable Brett.

In all, the 2000 was the superior wine. This was likely due mostly to the fact that 2000 was a better, more classic vintage whereas 1999 made wines that were less complete and more fruity and forward. They have not handled the test of time quite as well. That being said, both wines were delicious and full of character, just different. In any case, the wines after the transition to Daniel are certainly great and have not shown any decrease in quality. In fact, if anything, they have just improved.

It is experiences like this that makes keeping a cellar so much fun and rewarding. People always ask if collecting wine is a good investment. I always tell them that I don't ever give a single thought to wether it is a good financial investment. But as an investment if your future wine drinking pleasure, it most certainly is!

Cheers!
---
The Poor Man's Guide's
Wine Reviews
Wine Ratings Explained:
Zero Stars
A wine I don't particularly recommend.

One Star
Well made, simple and tasty wines that I recommend.

Two Stars
Excellent quality. Worth an extra effort to search out and enjoy.

Three Stars
Outstanding wine of the highest caliber.
+
Plus
Either a wine that is close to deserving a higher score or a wine that may not be showing that much but with the potential to move up in quality with further aging. A young wine that may be closed up or shows potential for significant improvement. Assuming it opens and improves with additional age, it may merit a higher rating.
???
Flawed bottles or wines that are difficult to assess for any number of reasons. Judgement reserved.
White Wines:
Alento Branco 2008
Vinho Regional Alentejano
Luis B. Viegas Louro
Drink Now-2015
$15
This Portugese white is not quite like a vinho verde but is definitely a fresh, crisp style wine that has aspects that seem a bit like a Chablis and a Sancerre, if you have to compare it to something. There is an intense oystershell and gunflint minerality which leads to zesty, rocky fruits like honeydew and peach. It starts out mineral and tight but delivers a hefty dose of ripe fruit to balance it out and give it some depth. This is quite delish and hard to avoid going back for another sip. Two Stars.
Domaine Baumard
Savennières 2005
Clos du Papillon
Drink Now-2025
$30
Baumard is one of my faves in the Loire, making great dry and sweet Chenin Blanc from the Anjou. This one is generally my favorite Savennieres with more minerality and electric zing to it. The Trie Speciale which follows tends to be fatter, with riper fruit, produced mostly in the ripest vintages. While they tend to be more approachable I find more complexity and verve in the Papillon.

The 05 jumps from the glass with well focused oyster shell, wool, lemon verbena and lemon seed, all bolstered by a salty beach minerality. This vintage is already quite fat and ripe in flavor, but still maintains that vibrant, bitter citrus pith and seed and wooly waxiness of young Savs. Very distinctive and almost seems to have a lingering sweetness to the fruit. The mouth is much more ripe than the nose lets on and is more ripe than these usually are this young. Should continue to improve for some years. Two Stars.
Domaine Baumard
Savennières 2006
Drink Now-2017
$18
This one is Baumard's standard Savennières. It is less expensive and a bit less distinctive than the Papillon but it is certainly tasty and almost always a great value. Despite being a couple years old, I've seen this in the market recently. It is in a good place now.

Classic waxy and wooly Chenin fruit with hints of tropical fruit laced with chalky minerals jump from the glass. Quite round and waxy in texture with relatively low acid for a young Sav, this nevertheless stays fresh and vibrant. It is clearly for a rather ripe vintage for this part of the Loire but right now it is singing with complex flavors and a luxurious depth you can sink your teeth into. This isn't a teeth enamel stripping, mineral and acid monster like some intense young Savs can be, but it is fresh and fun and quite fetching right now. It should hold and even improve more for some years to come, but this probably won't make old bones like some vintages will (2002 and 1996 come to mind in the recent past). One Star Plus.
Domaine Baumard
Savennières 2007
Trie Speciale
Drink Now-2027
$30
The Trie Speciale, from special pickings of the ripest grapes, has an immediately riper nose in 2007. Ripe apple sauce, wool, chalk and honey. Very pretty but immediately riper and less mineral than the Papillon. Plush and sappy flavors with a piney spiciness that, rather than acid or minerals as in the Papillon, gives it lift and keeps it balanced. Yet this is decidedly ripe, almost bordering on some Botrytis, with a personality like a hypothetical dry Sauternes. Complex and interesting, this is a good vintage for this wine. Two Stars.
François Cazin
Le Petit Chambord
Cour-Cheverny 2007
Drink Now-2020
$18
Few know this region in the Loire and even less know of this stupendous producer. The wines of Cour-Cheverny, only white is produced here, are made of a little known grape called Romorantin. This wine is his basic cuvée, a crisp, dry, minerally wine. He also produce a later-harvested riper cuvée called Renaissance.

This shows off young, tart citrus and salty minerals like a hypothetical blend of a saline, maritime Muscadet and a Vouvray Sec. Stoney and citric with a strong pink grapefruit flavor. Like Muscadet with a bit more ripe fruit, like the melon and apple from a Riesling and Savennieres. Steely and nervous, a truly singular and characterful wine but this isn't for the faint of heart. Two Stars.
Chateau d'Épire Savennières
Cuvée Speciale 2008
Drink 2012-2025
$20
This 08 follows on the heals of one of the finest young d'Epire Savs I've had, the 2007 which I gave Three Stars. While this isn't quite at that level, this is no slouch either. Ripe and flirtacious, the apple and white rock aromas remind me of a young Mosel Kabinett Riesling. What this definitely has is that nervous, shimmering energy you hope for in a young Savennieres. Young and tight, yet with a ripeness to its citric fruit. This definitely needs time and is filled with chalky stones and citrus acid but its not as slatey and regal as the 2007. This may be splitting hairs though. While its approachable now, this will benefit from some time in the cellar and should age beautifully. Two Stars.
Antoine Jobard
Meursault-Genevrieres 2007
Drink Now-2027
$65
Jobard makes excellent wines from Meursault in Burgundy's Cote du Beaune, a famous village just to the north of Puligny-Montrachet. There are no grand cru vineyards in Meursalt but several excellent premier cru including Genevrieres.

This 07 is quite young, hesitant on the nose with just hints of chalky minerals. While a bit hard to evaluate, in the mouth this really shows that it has a lot of potential. Hark, chalky rocks, hints of fine oak and very pretty, silky primary fruit. This is a refined and natural Meursault that should have a fine evolution assuming no problems with oxidation down the road. Two Stars.
Les Héritiers du Comte Lafon
Mâcon-Milly-Lamartine
2007
Drink Now-2017
$28
Comte Lafon is one of the best and most sought after producers of white Burgundy, with top wines from Meursault and Montrachet going for hundreds to thousands of dollars. Les Heritiers is a more affordable extension of the domaine which makes wines from the southern part of Burgundy, the Mâcon. This wine offers up plush chardonnay fruit with a fine dusting of chalky minerals. Round in texture but still with acid and grip on the backend. What really sets this apart is its silky, textured mouthfeel that just seems more elegant and masterful than most cheaper white Burgs. This is an excellent value. Two Stars.
Matilde Zasso
Falanghina
Drink Now-2016
$14
When I visited the area around Napoli and Sorrento a few years back I first learned about Falanghina and was quite taken by the best examples. It has something familiar about it. It almost reminds me of a dry Chenin Blanc not dissimilar to a Savennières. That, or maybe like an Alsatian Pinot Gris? Like I said, it just seems familiar, not exactly like any other wine, with its own unique character.

Waxy, chalky with hints of ripe melon and pear, this is pretty and unassuming. In the mouth it is dry, fresh and minerally, yet with a bit of that almost Alsatian waxy roundness that gives it depth. One Star Plus.
Pierre Matrot
Meursault-Perrieres 2007
Drink Now-2020
$60
Perrieres is another famous premier cru vineyard from Meursault (see the Genevrieres from Jobard above). Matrot is an outstanding producer an this wine shows it.

Quite a bit more effusive than the Jobard from the same vintage, this has a butter, even creamy nose but with a very pretty subtle depth of minerals and flowers. Rich and seductive, this is also young but the granite mineral texture has a fine silky relief that is something to behold. A very different expression than the Jobard but still fine and with great potential. Two Stars.
---
Rosé Wines:
Le Galantin Bandol
Rosé 2009
Drink Now-2013
$15
A trio of Rosé here for those warm summer and fall afternoons. While this isn't one of the most famous domaines in Bandol, Le Galantin seems to make a pretty consistent Rosé that satisfies.

This Bandol has hints of that typical sea air, Provençal herbs and bright strawberry fruit. It is fresh, lively and fun. It is relatively simple, but it is a nice value for a refreshing wine to enjoy during the heat. One Star.
Domaine de la Solitude
Côtes du Rhône
Rosé 2009
Drink Now-2012
$12
The Solitude is not from Bandol like the other two Rosé here. It is from the southern Rhone. Solitude also makes Chateauneuf-du-Pape. However, for those of you who don't know, the southern Rhone is still considered part of Provence, like Bandol.

This is similar in character to the Galantin although it has less of that sea air brine-like minerality you see in Bandols, given that Bandol is much closer to the Mediterranean coast (the town of Bandol is actually right on the water). But it still has that Provençal character and fresh, juicy red fruits. Another easy quaffer that is fun to drink and quite refreshing. One Star.
Terrebrune Bandol
Rosé 2009
Drink Now-2015
$20
Terrebrune is an excellent source of Bandol. Kermit Lynch now imports this producers wines and I've really liked the Rosés and Rouge.

The Terrebrune Rosé tends to be on the more elegant, refined end of the spectrum, not as flamboyant and in your face as some more fruity or rustic examples. This comes off initially as a simple but very pretty rose with aromas of strawberry, chalk and sea brine with great purity and freshness. The purity of this makes it seem simple on first look, but as you snuggle up to it you notice excellent depth and complexity. It is pure, clean and fresh with a briney quality that makes it excellent with food, almost like a splash of fresh oyster juice. Very tasty. Two Stars.
---
Red Wines:
Bruno Giacosa
Barbera d'Alba 2007
Falletto di Serralunga d'Alba
Drink Now-2025
$35
Bruno Giacosa is arguably one of the top two or three wine producers in the world, certainly in Piedmont. This old wizard of Barolo and Barbaresco makes several wines and just about ever one of them are stupendous. His traditional style can be at once seductive and austere, many of the wines requiring years or decades to show their best. While his top wines, the single vineyard Barolo and Barbaresco like Falletto, Santo Stefano, Asili and others, now reach stratospheric prices (the Riservas can fetch hundreds of dollars on release), there are still values to be found here. In particular, his Barberas and Nebbiolo d'Alba are wonderful introductions to the wines of Piedmont. I reviewed the excellent 07 Barbera d'Alba in Issue 22. This is also a Barbera d'Alba but the grapes are from a different source, all grown in the famous vineyard of Falletto di Serralunga. The Nebbiolo grown there make up the Falletto Barolo which costs hundreds of dollars. But because this is a Barbera it cannot be called a Barolo and thus is still reasonably priced.

Barbera is sometimes referred to as "the poor man's Barolo" and it could not be more true with any other Barbera. This is quite simply the best Barbera I've tasted. While the regular Barbera was a wonderful wine in its own right, this just takes everything to another level in the stratosphere. A stunning perfume literally leaps from the glass, showing off ripe fruit but the other accents are what dazzles. Flower petals, tar, rich soil and undergrowth like savory mushrooms and truffles… I could go on and on. The complexity and aromatic personality is just stupendous. One of those wines you are just happy to sniff for hours. The flavors don't disappoint either with layers of velvety, rich fruit and all the other nuances echoing back on the long finish. This is delicious already but could certainly hold in a cool cellar for a long time. This definitely gives you a glimpse into the greatness that is Giacosa. It does not quite have the power of the best Barolo and Barbaresco but those wines tend to be quite a bit more austere and hard when young. This is in a sense and "easier" wine to get. But it is by no means just a "beginners" Giacosa, this is the real deal. Bravo! Three Stars.
Bruno Giacosa
Nebbiolo d'Alba 2008
Valmaggiore di Vezza d'Alba
Drink Now-2018
$25
Giacosa's Nebbiolo is also a great value. It comes from Piedmont but not from vineyards that could be called Barolo or Barbaresco. Alongside the regular Barbera, you get a nice introduction to the differences between these two grape varieties.

Similar aromas but with a bit darker, more brooding and austere personality. This doesn't have the fleshy ripe fruit that the Barbera has, it is more introspective and firmer in the mouth with more tannin and minerality. Over time this opens up more but is always on the more restrained, austere side. The acid and tannin in this make it an outstanding foil to savory Italian dishes. In a sense this isn't as "easy" to "get" as the Barbera and Falletto Barbera but it is an excellent wine. Two Stars.
Chevillon 2007
Nuits-St.-Georges
Les Cailles
Drink Now-2027
$75
Chevillon is one of the best producers in Burgundy's village of Nuits-St.-Georges. Les Cailles is one of his three best premier cru vineyards, the other two being Les St. Georges and Vaucrains. Different people have different opinions about which is best overall or from vintage to vintage. I'll avoid that argument but the Les Cailles tends to be the most approachable, the most supple and lush, of the three. This young 07 is quite pretty and seductive, with ripe cherry and cranberry aromas graced by a crumbly red earth minerality that is intriguing. Plush and sexy after getting some air, this is as seductive as Cailles gets in its youth but with a meaty kinkiness that is very Nuits yet also a subtle spiciness that is almost Vosne. Outstanding in this vintage. With some age this could certainly move up towards Three Star level. Two Stars.
Fico Grande 2008
Sangiovese di Romagna
Poderi dal Nespoli
Drink Now-2015
$16
This Sangiovese from Romagna has a dark sangio-Italy nose. Definitely a wine of terroir, this is quite nero with a meaty darkness almost Montepulciano-like. A leathery, velvety mouthfeel reminds me a bit of a Brunello. It has grip and earth, this is pretty darn good for 15 bucks! Although its rich and meaty, this doesn't have the structure to be a long ager. Enjoy it young for its boisterous personality with some hearty Italian food. One Star Plus.
Val da Pigana
Vinho de Mesa Tinto
António F. Bonifácio & Filhos
Drink Now-2012
$10/1L
This inexpensive red from Portugal is quite satisfying. It comes in a big 1 liter bottle and clocks in at only 10.5% alcohol, making it easy to slurp down on warm summer nights by the barbecue.

This has a meaty, peppery dark fruit nose, similar to a young, inexpensive Montepulciano. The flavors are simple and refreshing and is quite fun to drink with a slight chill on it. But it doesn't have that bubble-gummy fruitiness that cheap Beaujolais can have. Instead it has a clear dollop of dust, earth and meat that make it seem a bit more serious and complex. This is an excellent choice for an everyday summer red or a barbecue wine. One Star.
---
Have a Reader Tip or a Question? Contact Me!
I love to hear from my readers and visitors. If you have a handy tip to share or questions or comments on anything related to wine and wine tastings, please contact me!


---
Looking for Wine or Wine Tasting Related Info? Search our site!
You can now search through all of my pages by using our handy Search This Site feature. You can also browse through a site map to find the information you desire. Still can't find what you are looking for? Then contact me!


---