Hello from the Wine Tastings Guide!
This is The Poor Man's Guide to Fine Wine™, a monthly newsletter on all things wine and your guide to finding great wine at affordable prices! Each issue brings you articles about goings-ons in the world of wine as well as reviews of inexpensive wines.
If you like this newsletter and our website, please forward this email to someone you know who enjoys wine or wants to learn more about wine and wine tastings. If this was forwarded to you and you like what you read, you can subscribe to The Poor Man's Guide to Fine Wine for free now.
If you have suggestions, questions, article requests or comments, please contact me -- I love to hear from my readers!


---
Contents of this issue of
The Poor Man's Guide to Fine Wine™
Importer Focus Continued: Current Kermit Lynch Releases Part II
---
Importer Focus:
Current Kermit Lynch Releases Part II -
Burgundy and the Loire Valley
Last issue I started a brief series of special edition issues that focus on the current releases imported by Kermit Lynch Wine Merchant. To read the introduction and the other wines already reviewed (which includes Champagne, Sparkling wines, Alsace and Beaujolais), be sure to check out Issue 28 of the Poor Man's Guide online.
In this issue we continue with the fun as I'll be covering Kermit's current selections from Burgundy and the Loire Valley.
---
Current Kermit Lynch Selections - Burgundy and the Loire Valley
Burgundy: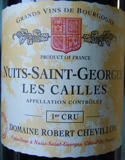 Who better to start off the wines of Burgundy than the domaine owned and run by Aubert de Villaine, who also manages Burgundy's most famous Domaine, the Domaine de la Romanée-Conti. The good thing is, the wines of Domaine A. et P. de Villaine don't cost anywhere near where their lofty cousins do. But they are made with the same exacting attention to detail and respect for terroir. Bouzeron is the only appellation in Burgundy whose wines must be 100% Aligoté, the often maligned and/or forgotten white grape of Burgundy. Lost in the shadow of Chardonnay, Aligoté rarely gets its due. But in the hands of a master, and from an area like Bouzeron, it can accomplish much more than the average wine drinker thinks. The Bouzeron 2009 (★+) is chock full of lovely and super pure melon and flowers. It is a delicious mouthful of white Burg and a great value. No, despite what some people will tell you when getting all hyperbolic, it won't fool your friends into thinking it is the DRC Le Montrachet in a blind tasting. But pretty darn close! ☺ The Bourgogne Blanc "Les Clous" 2009 (★★) is 100% Chardonnay grown in the village of Bouzeron. But since Bouzeron is supposed to be Aligoté (thank you very much!) they can't call this wine Bouzeron. Ain't French wine laws cool?! Anyway, this wine is noticeably more mineral imbued, more obviously a white Burgundy to the lay observer. And a very nice white Burg at that, nothing out of place, nice balance of fruit and earthy and mineral tones. Just what the doctor ordered. Next up was the Rully Blanc "Les Saint-Jacques" 2009 (★★). While the overall impression is not that different, this has a sneaky complexity to it and a subtle uniquity (not a word, I know) that is almost Meursault-like with nutty, more plush fruit held together by that same minerality. If this were a 100-point scale I'd give it a couple points more than the Les Clous, but here it is still Two Stars.

The reds from de Villaine started out with the Bourgogne Rouge "La Fortune" 2009 (★+). I know these wines from south of the Côte d'Or deserve their own recognition but I can't help comparing and contrasting them with the wines from their more famous neighbors to the north. Compared to the Mercurey to come next, this La Fortune seems like a Chambolle, with a bright, red piney and floral fruit that has a fine, etched texture to it, silky and elegant, cool and composed with a firm acid structure. Compared to the "Chambolle" of La Fortune, the Mercurey Rouge "Les Montots" 2009 (★★) seems downright Gevrey! It is meatier and darker, a bit chewy and dense. Both show more breeding than you would expect from these "lowly" parts of Burgundy, which is good for us because they are both much less expensive than any Chambolle or Gevrey! Last up was the Bourgogne Rouge "La Digoine" 2005 (★★+) which is from a vineyard close to La Fortune but with older vines, and it shows. The fruit here is darker and has that old vines sappiness and density to it. In addition, between the old vines and the extra age, this is certainly more complex and has a lovely meatiness and mushroomy and truffley undergrowth that Burg loves so adore. This is an older cellar selection but may still be available in the marketplace if you search. Time has done it good!

Up next was an assortment of white Burgundies from various producers. The first up was the Henri Perrusset Mâcon-Village 2009 (★). The nose is showing a hint of sulfur but underneath lies a fresh, chalky fruit. This is always a nice value Chard. The La Soeur Cadette Bourgogne Chardonnay 2009 (★+) is a bit riper and rounder but with a bitter citrus zest complexity that is very nice and entices you to take another sip (or take a bite of food!). Another excellent vintage for the Domaine de la Cadette Bourgogne Vézelay Blanc "La Châtelaine" 2009 (★+), compared to the previous wine it is woodsier and earthier, darker and richer.

A few Chablis were to follow, starting with the three wines of Francine et Olivier Savary. The first is the "plain" ol' Chablis 2009 (★+). In this context, "plain" isn't a bad thing. Despite its low status on the Chablis totem pole, this has all the characteristics to make it a dead ringer for Chablis. Smokey gunflint and oyster shell sets this off with an exclamation point from the previous wines. The next, the Chablis "Sélection Vieilles Vignes" 2009 (★+) is similar but a bit more complex and serious with a finer texture and more grip on the back end. The last wine of the Savary lineup, since Savary does not have access to any Grand Cru fruit sadly, is the Chablis Premier Cru "Fourchaume" 2009 (★★), raised in all stainless steel. As it should be, this has more personality, grip, depth and overall character. An excellent Premier Cru Chablis.

Moving right along, the Domaine Robert-Denogent wines, including the Saint-Véran "Les Pommards" 2008 (0) and the Pouilly-Fuissé "La Croix" 2008 (0), were nice, but frankly bothered me a bit. It seemed like they have good raw materials. Both were serviceable enough. But both had a bit more oak treatment than I like. It seemed a tad out of balance and gave the wines a bit of a disjointed feeling to them. Generally Kermit abhors excess oak. This is very far from the oak atrocities you can find elsewhere. But for me, it was just a bit out of balance with the rest of the wine and took away from the pleasure of the wine.

I had never tasted a wine from de Cherisey so the Comtesse Bernard de Cherisey Meursault-Blagny Premier Cru 2008 (★★+) was a welcome education. This was a big step up from the oak wrecks that came before (ok, they weren't that bad). This had a regal stature to it that made you know it was from a great terroir. Complex, silky, this has that Meursault chalky mineralty and a super refined, long finish. I liked this quite a bit.

The Antoine Jobard Meursault-Poruzots Premier Cru 2008 (★★+) is a bit more hesitant in the nose but it is bold and intense with a firm and striking mineral and acid backbone as Jobard is known for. This is super young but is delish.

Coming up next I had a chance to sample several wines from Christophe Buisson and I was quite impressed overall. The Saint-Romain Blanc "Sous Le Château" 2009 (★★) is a great example of Saint-Romain straddling the line between being pretty and aromatic and having an intensity in the mouth that grabs you. Of the reds, the Bourgogne Pinot Noir 2009 (★+) is the least complex but is a great value. It has a classic Burgundian earthiness but with a great balance of ripe fruit that makes it quite yummy. The Saint-Romain Rouge "Sous Le Château" 2009 (★★) is more structured and complex with a savory meatiness to it and a bit of a sauvage quality to it. This is an excellent red and again a good value for red Burgundy. As to be expected, the Auxey-Duresses Rouge 2009 (★★) is less meaty and more mineral. Along with the minerality is a more refined and silky feel, but with perhaps a bit less depth. Last of the Buisson wines was the Nuits-Saint-Georges Premier Cru "Clos des Argillières" 2009 (★★+). This vineyard is from the southern most part of the Nuits-Saint-Georges appellation, technically in Premeaux-Prissey. The nose here is refined and quite pretty. This is super silky and etched in the mouth with an almost Vosne-like spice and texture that I loved. Very nice.

A bunch of red Burgs followed, culminating with the Jean-Marc Vincent Santenay Premier Cru "Les Passetemps" 2009 (★+), not to be confused with a Passetoutgrain. As was to be expected, following a Nuits premier cru this was lighter and relatively simple. But when you gave it time, it spoke of Santenay with a pretty, silky character definitely worth giving voice to.

Next up, Domaine Follin-Arbelet Aloxe-Corton Premier Cru "Clos du Chapitre" 2008 (★), a new one for me. This was brighter, but had a more austere feeling to it, astringent even. The tannins is a bit too hard for the bright fruit of this wine. Right now it is ok. With time will it soften and integrate a bit? Perhaps.

Domaine Maume has been know for a long time for making burly, traditional and even rustic red Burgundies from Gevrey. The son making the wine recently has made strides to making the wines a bit more suave and approachable, but the Gevrey-Chambertin 2008 (★+) still shows its burly side. It is absolutely approachable though, with a classic Gevrey meatiness to its dark fruit that is full of character.

Domaine Robert Chevillon is a perennial favorite. One of the kings of Nuits, Chevillons wines are almost always amongst the best of each vintage from the village. The Nuits-Saint-Georges "Vieilles Vignes" 2008 (★★) needs some time. It is less ripe than the Chaignot from 07, with a bit of an austere edge right now. But it is an elegant wine with a great rustic bite to it that I like. It just needs some time to settle down and find its place. The Nuits-Saint-Georges Premier Cru "Les Chaignots" 2007 (★★+) on the other hand is quite seductive right now. Depending on the vineyard, Chevillons can vary from pretty to ballsy. This one is on the former end of the spectrum with fine texture that has a silky grain and relief to the silky tannins, giving it a finely etched, filigreed even, texture that is lovely. Given the vintage it is clearly an earlier maturing Chevillon, but it is lovely nonetheless.

I have mixed feelings about the wines of Domaine Lucien Boillot et Fils. They have some interesting holdings and they have good raw materials. But I just feel that those raw materials are not quite as respected as most of the wines Kermit imports. For example, the Nuits-Saint-Georges Premier Cru "Les Pruliers" 2007 (★) is full, rich and deep. But it just leaves me a bit short. It should be great. But it is just ok. There is something about the quality of the oak, the integration, the extraction, that just makes me feel like things could be done a bit more deftly.

One of the things that really surprised me was how good the wines from Régis Bouvier were. Not because I expected them to be bad, but because I have had little experience with this producer that Kermit only began importing in the last few years. The Marsannay Rosé 2009 (★) is a pretty, refreshing and saline rosé that is an interesting value from Burgundy, even if it is atypical. You don't see a lot of Burgundian rosés now do you? The Marsannay Blanc "Les Longeroies" 2009 (★+) was even better for what it was, a rustic Chardonnay with a unique personality. Talking about letting the terroir speak, well thats got to be whats going on here because it is unique and doesn't taste like white Burg from the usual suspects, in a good way. I also liked the Bourgogne Rouge "En Contre Cul" 2009 (★+) which is pretty and seductive. While silky and even sexy, it is not over-oaked or letting anything get between you and that naturally attractive Pinot fruit. Where we really start to get serious is with the Marsannay Rouge "Les Longeoies" 2009 (★★). Darker and meatier, this is a serious wine with a passionate, rustic soul. This isn't the pretty boy from Chambolle, it is the farmer cousin of your Gevrey family. The Marsannay Rouge "Clos du Roy" 2009 (★★) really hammered home for me that I love the deft touch and seductive textures of these wines, a true mark of an excellent winemaker. These are real Burgundies, without too much manipulation or anything getting between you and the terroir and Pinot fruit. This one is similar to the Longeroies but is a bit less rustic, more seductive and silky. Next we get to the big boys, first the Gevrey-Chambertin 2009 (★★+) which is more reserved at first glance but at the same time has more depth and refinement. Finally, the Morey-Saint-Denis "En La Rue de Vergy" 2009 (★★+) is more floral but still has a deep and serious soul. It is delicious and while it is higher toned than the Gevrey, it is every bit as good in its own way. Bravo to Bouvier, I'm an instant fan.
White Wines (Mostly) of the Loire Valley: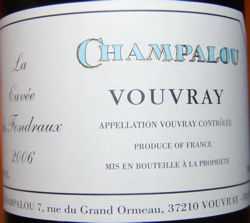 The Loire is such a diverse region, as these notes will show. From bright, mineral whites to meaty reds.

First up there are a handful of random wines from various appellations starting with the Domaine du Salvard Sauvignon Blanc "Unique" 2010 (★). Despite the name, there isn't anything particularly unique about this wine but it is a pretty, simply Sauvignon with the typical character you'd expect from a Loire Sauvignon.

Cheverny is rarely talked about but makes some excellent Sauvignon and the Domaine du Salvard Cheverny Blanc 2010 (★+) is no exception. This is an even better value than the above because it is only a tad more expensive yet has more intensity of expression and a mouthwatering grapefruit note that makes it quite refreshing and hard to put down.

Eric Chevalier is making some waves in Muscadet. His Muscadet Côtes de Grand Lieu 2009 (★+) is the real deal. It's got that granite minerality I love in Muscadet. Not the most depth of a Muscadet I've had, but it is convincing enough. His Fié Gris 2009 (★+) is a Sauvignon Gris from within the Muscadet region that has some familiar Muscadet characteristics but a unique bitter nut flavor on the finish.

I've long been a fan of Domaine Hippolyte Reverdy (gotta love that name) and their Sancerres. The Sancerre "Cuvée l'Ortus" 2005 (★★) is a unique example that is aged a much longer time than your typical Sancerre before bottling. This gives it a very NON-traditional character that doesn't seem like any Sancerre I've had. Yet, I'm willing to forgive its non-classicism because this is delicious. It has an almost aged-Burgundy texture and flavors to it but still seems to have a personality all its own. Very interesting and tasty.

I reviewed the Domaine Champalou sparkling Brut in the previous issue, but I've also been a fan of their regular Vouvrays. If I had to sum them up, I'd say that they don't have the intense and serious minerality, structure and depth that the very best (ie. Huet) Vouvrays have. But it doesn't seem like they are going for that. Huet does it better than anyone so lets stay out of his way. Instead, they maintain the purity of expression of the terroir but frame it in a bit softer, more accessible package. This doesn't mean dolling it up with oak or extended aging or opulent sweetness. It just means that there is a tenderness to the wines, a seductive softness that makes them irresistible, even to the uninitiated. The Vouvray "Sec Tendre" 2009 (★+) (it doesn't say Sec Tendre anywhere on the label, just so you know) is pretty, flirtatious and fun. An easy to drink Vouvray that is a great value. The Champalou Demi-Sec, called the Vouvray "Cuvée des Fondraux" 2009 (★+) is riper and sweeter but has a similar personality with lovely lingering honeysuckle and honey on the finish.

Next up is another new domaine for me. I know the wines of Reuilly, but as far as I know had not had the pleasure of experiencing the wines of Denis Jamain. A charming man, Denis' wines are pure and honest. I liked the Pinot Gris 2010 (★+) because it had a unique personality. While there was some of the Loire and Reuilly grassiness to the dry fruit, it also had an almost Alsatian Pinot Gris roundness and waxiness to it. His Reuilly Blanc "Les Pierres Plates" 2010 (★+) is rounder and riper than some other styles of Loire Sauvignon. A very pleasant and approachable Sauvignon Blanc that would be accessible to even Loire newbies. I have to say that the Reuilly Blanc "Les Pierres Plates" 2009 (★+) was quite similar and didn't really set itself apart with any unique vintage character. Both are nice wines that represent their appellation well. Finally, the Reuilly Rouge 2009 (★) is 100% Pinot Noir. While I was quite taken with the Alsatian Pinot Noire from Ostertag in Issue 28, this one didn't blow me away. That is not to say it wasn't good, it was. But it was on the bubble-gummy, juicy end of the Pinot spectrum. Very easy to drink and refreshing.
Red Wines of the Loire Valley:

The red wines of the Loire Valley seem to be still quite under-appreciated. When people think of the Loire they think of Sancerre, Pouilly-Fumé, Vouvray and Muscadet. But there are glorious reds here too!

The wines of Domaine de la Chanteleuseries may be hard to grasp for many newbies because they come from Bourgueil. The village is hard to pronounce and to spell. But the Cabernet Francs here deserve recognition, as do those from Chinon. But not TOO much recognition because we all want the prices to stay sane! The Bourgueil "Cuvée Alouettes" 2010 (★+), from clay and silica soils, is on the fruitier end of the spectrum. It has a Beaujolais Nouveau ripe fruitiness to it but with some meatiness and a plump, effusive personality. It is a quaffing wine that would be fun served cool on a hot spring afternoon. The Bourgueil "Cuvé Alouettes" 2009 (★+) is a more tannic, fuller and burlier wine despite being older. Otherwise, it is similar to the 2010. The Bourgueil "Vieilles Vignes" 2009 (★★) is noticeably darker and more concentrated but also more serious and refined. This is getting into the territory of a Cab Franc you can sit around the fire with and contemplate! The Bourgueil "Cuvée Veauvais" 2009 (★★), from limestone soils, is even more serious and elegant still. It is quite tannic and masculine but with great depth. It could use a bit of time in a cellar.

Domaine Baudry has been a new favorite in Chinon for me for some years now. I've often lauded the single vineyard wines in the Poor Man's Guide. Bernard's wines show an incredible transparency, each vineyard speaking uniquely. The Chinon "Les Granges" 2009 (★) is kinda along the lines of the Chanteleuseries Alouettes above. It seems to be from younger vines and is a forward, fruity Chinon for early drinking, chilled preferably. The Chinon 2008 (★+) is more structured and starts to bring in some darkness with an iron minerality and a more linear, firm midpalate. Where we get serious is with the single vineyard Chinons, such as the Chinon "Les Grézeaux" 2008 (★★). This cuvée is typically the most rustic and sauvage. It is darker and meatier with a rustic, chewy texture. The Chinon "Le Clos Guillot" 2008 (★★+) on the other hand is almost Burgundy-like in terms of its velvety complexity, earthiness and floral overtones. It has higher toned flavors, not as dark and meaty, but at the same time just seems to be the most put together and elegant of the bunch. In some vintages this is a three star wine and this one is getting close. Finally, the Chinon "La Croix Boisée" 2008 (★★) has the depth and complexity of the above but is the biggest and most tannic of the bunch. My notes said "Yowzah!" At this stage its a bit foreboding. But this has serious promise and is a potentially great wine. For now though, the elegant seduction of the Clos Guillot wins out.

Catherine et Pierre Breton are most known for their Bourgueils, although they make some Chinon as well. Their Bourgueil "La Dilettante" 2009 (★) is a simple fruity and fun wine for gulping down with sausages and barbeque. The Bourgueil "Trinch!" 2009 (★+) is a bit meatier and more complex, but still has that fun, juicy fruit. More serious still, but not necessarily qualitatively better, is the Bourgueil "Nuits d'Ivresse" 2009 (★+), the tannins raised up a bit and even more darkness to the fruit. Both the Bourgueil "Clos Sénéchal" 2008 (★+) and the Bourgueil "Les Perrières" 2008 (★★) need some time. They are both dark, rich Cab Franc based wines with a depth of extract and firm tannins. However, the Clos is a tad more refined than the Nuits and the Perrières is the most elegant and complete of the bunch.

To round out the Loire reds, the wines of Charles Joguet pulled up the rear. While the single vineyard Baudry wines have grown on me year after year, the best Joguet wines are still hard to beat in Chinon. To be fair, I wasn't able to taste the most recent vintages of the top Joguet cuvées such as Dioterie and Chˆne Vert. However, the three I did taste did not disappoint. The Chinon "Cuvée Terroir" 2009 (★+) is a younger vines blend that is, as the name implies, a good, simple introduction to the terroir of Chinon. It is fruity and accessible yet has some of the minerality and meatiness that the best Chinon can display. Chinon "Les Petites Roches" 2009 (★★) is a bit darker, meatier and chewier. Quite a complete Chinon in this vintage and very yummy right now. It is a good blend of forward fruit and the structure and complexity of the bigger Chinon wines. Finally, the Chinon "Les Varennes du Grand Clos" 2007 (★★) is an almost stinky wine, in a good way. It has that undergrowth, animal, barnyard, umami aroma that some people love and some hate. A bit of it may be Brett, but I seem to get it in the Varennes year in and year out so I think it is part of the terroir. To me it is in no way off-putting, it is just a very earthy, wild wine. The flavors are delicious with an almost Burgundy-like velvet and high toned red and black fruits. But the Varennes has a bit more tannin than your typical Burg.

That about does it for this installment. Stay tuned yet again, in the next issue I'll be covering the wines of Provence, the Rhône and the rest of the South of France!

Cheers!
---
Wine Ratings Explained:
Zero Stars
A wine I don't particularly recommend.

One Star
Well made, simple and tasty wines that I recommend.

Two Stars
Excellent quality. Worth an extra effort to search out and enjoy.

Three Stars
Outstanding wine of the highest caliber.
+
Plus
Either a wine that is close to deserving a higher score or a wine that may not be showing that much but with the potential to move up in quality with further aging. A young wine that may be closed up or shows potential for significant improvement. Assuming it opens and improves with additional age, it may merit a higher rating.
???
Flawed bottles or wines that are difficult to assess for any number of reasons. Judgement reserved.
---
Have a Reader Tip or a Question? Contact Me!
I love to hear from my readers and visitors. If you have a handy tip to share or questions or comments on anything related to wine and wine tastings, please contact me!


---
Looking for Wine or Wine Tasting Related Info? Search our site!
You can now search through all of my pages by using our handy Search This Site feature. You can also browse through a site map to find the information you desire. Still can't find what you are looking for? Then contact me!


---