Hello from the Wine Tastings Guide!

This is The Poor Man's Guide to Fine Wine™, a monthly newsletter on all things wine and your guide to finding great wine at affordable prices! Each issue brings you articles about goings-ons in the world of wine as well as reviews of inexpensive wines.

If you like this newsletter and our website, please forward this email to someone you know who enjoys wine or wants to learn more about wine and wine tastings. If this was forwarded to you and you like what you read, you can subscribe to The Poor Man's Guide to Fine Wine for free now.

If you have suggestions, questions, article requests or comments, please contact me -- I love to hear from my readers!


---
Contents of this issue of
The Poor Man's Guide to Fine Wine™
Starting a Wine Collection: An Introduction in Two Parts
The Poor Man Guide's Wine Reviews
---
Starting a Wine Collection: An Introduction in Two Parts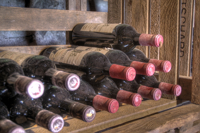 Last month I started out with the first of a two part series about starting a wine collection. Part I: "Building a Wine Collection on a Budget - Is that even possible?" is available in Issue 20 in case you didn't read it the first time around.

So here is Part II for your reading enjoyment…
Starting a Wine Collection - Take it slow!
Okay, so you've been bit by the wine bug and you are jumping in head first into your new-found hobby. You've read all about which styles of wine age the best and you are gung-ho to start stocking up that cellar. After all, these wines take years to mature so you better get as many bottles laying down as possible, as quickly as possible, right!?
Well… yes and no. While on the one hand its always nice to have a nice deep cellar to pull from in the future, there are wise and unwise ways to go about this. I don't mean to put the kibosh on your enthusiasm, but if your future self could go back in time and talk to you, he/she would likely tell you the same thing! Why? Read on…
First of all, as I discussed in the first installment of this enthralling series, most people new to wine do not yet have a suitable storage space for their wines. Wine is much more sensitive to their environment than people think, requiring very controlled conditions for optimal aging. Even in the short term, high temperatures or wide temperature swings will kill your bottles long before you would guess. And for long-term storage (years or decades) anything short of ideal conditions will doom your wines to a slow, depressing death. So one reason to hold off your big cellaring purchases is to wait until you have an adequate storage space. This could be a passive cellar under your house, if you are lucky enough to have a well insulated basement or cellar, a free-standing cellar unit, a built-in temperature controlled cellar or offsite storage space at a temperature controlled wine storage facility.
Now, beyond the practical matter of finding a suitable storage space, there is another important reason to take your early cellar building slow. When most of us are new to wine appreciation, we haven't yet developed our palates. Yes, we've tasted wines that we like and others we don't, but our scope of experience is rather limited. We likely drink the most of whatever wines are most available and accessible to us. Additionally, many will rely heavily on others opinions to guide their tastes in wine. If _________ (insert famous wine critic's name here) says that this wine is 98 points and one of the best wines in the world and will get better with age, we tend to trust them. After all, they are professional wine tasters and reviewers, they must know what they are talking about, right? Yes and no. Most wine critics have a wealth of experience and knowledge, yes. But what you must realize is that they are human. They have their own unique tastes and opinions. Wine appreciation is an objective art. Your tastes may differ!
So many of us go out and buy an expensive bottle of wine, lay it down in our cellar and protect it for years, only to later find that our taste in wine lies elsewhere and that "98 point" wine is wasted on us. I cannot count the number of times I've heard from wine lovers that they bought way too much wine when they were younger, before they defined their own unique taste in wine, simply buying up whatever was in vogue or got the big scores. Most of them just let that stuff sit now or have even sold much of it off to others who appreciate those styles of wine. I myself stocked my cellar with an assortment of California Zinfandels, Cabernets and Merlots at a young age. Now don't get me wrong, I'm not badmouthing Zinfandel or other Californian wines. My point is that as I got more experience with wine, my tastes evolved and changed. The more exposure I got to European wine regions and styles, the less I wanted to drink "New World" wines. Here I am, years later, still with cases of wine in my cellar that I'm generally not that excited about. Anyone want to buy some Silver Oak?
Almost everyone experiences an evolution in their taste as they broaden their experience. Yes, in some case you may stay in love with the first wines you were exposed to and fell in love with. But for many, what you would want your cellar composition to look like 10 years from now may differ dramatically from what you think now.
So what is the moral? Should you curtail buying any wine to cellar for years until your experience broadens and your palate becomes more seasoned? No. But I would caution against "going long" on any one wine, producer or style of wine. I would encourage you to try new things as much as possible. Learn about new producers, grapes, regions, styles. And if you want to start laying some wines down for the future, take your time. Buy a little bit of several different types of wines so you can see how they all evolve over time, which will also help you learn more about what you like the most. After all, no one would want a cellar full of hundreds of bottles of the same wine. Variety is the spice of life!
Cheers!
---
The Poor Man's Guide's
Wine Reviews
Wine Ratings Explained:
Zero Stars
A wine I don't particularly recommend.

One Star
Well made, simple and tasty wines that I recommend.

Two Stars
Excellent quality. Worth an extra effort to search out and enjoy.

Three Stars
Outstanding wine of the highest caliber.
+
Plus
Either a wine that is close to deserving a higher score or a wine that may not be showing that much but with the potential to move up in quality with further aging. A young wine that may be closed up or shows potential for significant improvement. Assuming it opens and improves with additional age, it may merit a higher rating.
???
Flawed bottles or wines that are difficult to assess for any number of reasons. Judgement reserved.
---
Sparkling Wines:
Billecart-Salmon
Brut Reserve
Drink Now-2020
$60
Good Champagne is never cheap. A high price tag just comes with the territory unfortunately. But some are better values than others. This one is from a small house known for making wines of great finesse and elegance. If you want finesse at a lower price, try the Huet below. But if the real thing (Champagne) is what you crave, this is pretty darn good.

Bold and authoritatively flavored, yet graceful, with a delicate touch and a caressing texture. This is what I look for in Champagne. This is an outstanding non-vintage Champagne and worth the splurge. Billecart's more expensive cuvées and vintage wines are truly great too, but this one ain't too shabby! Two Stars.
Huet Vouvray
Pétillant Brut 2002
Drink Now-2017
$22
For years I've been waxing on about how incredible the value is in these Huet sparklers. It is hard to find sparkling wine with this level of silky luxurious fruit. It is as elegant as Champagne yet at a fraction of the price. I mentioned the 02 previously in Issue 20 but this wine deserves a formal review. For those who don't know the Loire well, 02 was a stupendous vintage for Loire Chenin Blanc.

This wine is young and like still Vouvray, it is intense and reverberating with nervous energy. The aromas are bright and very young and primary, green even. But with some breathing time it opens up and because more enveloping, rich, even doughy. The mouthfeel is silky but intense, a hint of yeastiness, suave and sexy. This has it all but is very young, tight and wound up, just vibrating with energy and ready to explode. With time will come more seduction and layers of flavor but this has great stuffing and will definitely improve in bottle. Bravo Huet! Two Stars Plus.
---
White Wines:
Clos des Papes Blanc
Chateauneuf-du-Pape 2005
Drink Now-2020
$50
Yes, this is a bit on the pricey side, but white Chateauneuf-du-Pape can be quite an interesting diversion. While the region is known for its reds and these make up the large majority of the CdP's you see on the market, the occasional blanc can be found. Due to the unique terroir as well as the curious blend of grape varieties you don't seem much elsewhere these are wines to wake up your palate and take you in new directions. There are definitely unique and definitely not Chardonnay!

The Clos du Papes starts out with an intoxicating nose of butterscotch, orange peel, and acacia blossoms. It is a round and luxurious wine with the depth of a fine white Burgundy but the meaty, earthy fruit and minerality of a Rhône white. This is young but already quite yummy and should age nicely for several years. Chateauneuf blanc can be a bit flabby and alcoholic. This one is not, but it is certainly a rounder, fatter wine. Come to think of it, if you'd like an interesting contrast, serve the Tourmaline Muscadet below (or any high end Muscadet) before this wine. The differences couldn't be greater. The vibrant, sleek minerality of the Muscadet, the rich, heady fruit of the Chateauneuf. Both great, but quite different. Two Stars.
Chateanu Font Mars
Picpoul de Pinet
Languedoc 2008
Drink Now-2011
$10
As it has been in recent past vintages, this is a fun little value white. The lowly Picpoul grape can actually make some interesting stuff in the south of France. There is a waxy nose, and some lychee fruit, not unlike an Alsatian gewurztraminer or something like that. The flavors riff off the purity of the fruit, just fresh, straightahead round waxy fruit that while simple, seems effortless, round and complete. There is a hint of effervescence and tingle of minerals on the tongue. This is easy and fun. For drinking young. One Star Plus.
Protocolo Blanco 2008
Vino de la Tierra de Castilla
Drink Now-2012
$7
This widely available Spanish white is a no brainer. Bright, airy aromas of gooseberry, hay and powdered sugar. A creamy, grassy and quite pretty mouthfeel. Simple, but a simple delight to drink. No, you won't scream "Wow!", but you'll like it and be satisfied. One Star.
Domaine de la Tourmaline
Muscadet 2007
Drink Now-2017
$14
Yes, Muscadet is back. I've said it before and I'll defend it to the death, good Muscadet (and no, that is NOT an oxymoron) is one of the best kept secrets in the wine world. Unbelievable quality to price ratio. Tourmaline is one of the good ones, consistently making mineral-imbued wines of depth and complexity.

Classic oyster shell and granite. To say this is bright and fresh is a bit obvious and old news. This is what classic Moose (Muscadet, not Musigny) is all about. No, its not as complex and intense as some of the very top cuvées like Clos du Briords but this is head and shoulders above the average Muscadet plonk. This is serious, real Muscadet, full of personality and life. Drink up! Two Stars.
---
Red Wines:
Calon Ségur
St. Estèphe 2005
Drink 2015-2045
$75
I haven't been drinking much Bordeaux lately but the 05 vintage got so much acclaim that I had to dig into one to check on how they are doing. Calon Ségur is a traditional producer making dark, brooding St. Estèphe that can age a very long time. Not being a fan of those new fangled, over oaked and over extracted Bordeaux, I tend to like this style. However, they can be quite unapproachable young and I'll warn you right away that opening one of these should only be done in the name of science, or by certified masochists!

This needs lots of decanting as it is practically impenetrable, dark and hard upon opening. As you dig into the depths though you can get glimpses of what is to come. What you see is classic St. Estèphe with that rich, just short of jammy, cassis and a deep meatiness and muddy earthiness. In the mouth this is hard and dark too. Deep, dark, and rich black fruits, lead (but not quite like the classic Pauillac pencil lead), earth, and tobacco. This is very tannic, bordering on the rustic, and this is decidedly tough and masculine. Yet the fruit and tannins seem ripe and mature. There is just a hint of astringency but this should settle down with some age. In all honesty, this probably needs 20 years to be really just flirting with maturity. In the meantime, if you dare to open a bottle, give it ample time to show some of its stuff, or you'll be dissapointed. My score is based on what I believe the ultimate potential of the wine to be. Two Stars Plus.
Chateau Charvin
Chateauneuf-du-Pape 2006
Drink Now-2020
$50
Honestly, this was a bit disappointing. Partially it may be the vintage and the young age of the wine, but this just didn't seem to have the complexity and depth I'd hope for in a Chateauneuf from a respected producer. There was nothing "wrong" with it, not flawed, and in fact quite pretty. Just not what I was hoping for.

It was quite slow to open at first and definitely benefited from decanting and slowly showed off a bit of brambly fruit, kirsch, framboise and a dusting of herbs. The flavors were similar with bright, brambly grenache fruit, crunchy and ripe, even light on its feet. What it seems to be laking is depth, complexity, completeness. It is lovely in its simple, fresh fruit, but doesn't go beyond that. Maybe more complexity will come with age, but for now it is simply good, not great. And not really justifying spending the coin. I hope my score will improve with time in bottle. One Star Plus.
Martilde Barbera Tina 2005
Provincia di Pavia
Drink Now-2015
$15
I've raved about this Italian couple's organically grown wines before. With their naturalist approach to winemaking, their beautiful painted labels of the various animals on the farm, these wines represent a great value, largely because nobody knows anything about wines from the Oltrepo Pavese and surrounding Northern Italian appellations.

This one is a Barbera that just screams Italy. Prune, tar and leather, just the nose could not have come from any other region. The wine that follows is natural and very traditional, a true Barbera, not one of these newfangled Piedmontese Barberas with huge fruit, body and oak. This is definitely not flashed up, but thank god! Minerals and earth come in on the zesty finish to make sure you know its the real deal. Excellent stuff. Two Stars.
Matile Rosso Umbria
2007
Drink Now-2012
$10
This Italian cheapie doesn't disappoint. Smoke, igneous rock and turned earth all grace the nose. You don't get that kind of complexity and terroir-driven personality in many under $10 bottles of wine. Rich blackberry flavors and earth round out a very tasty package. One Star.
Moira's Frutado Tinto
2006
Drink Now-2012
$10
Okay, its named Fruity (Frutado). What do you expect from it? If you are looking for great complexity and layers of depth and subtle finesse, look again. This wine wears its personality on its sleeve and I'm glad. It is fruity and fresh, simple. Almost Beaujolais-like but a bit more Italian than that with an herby earthiness that keeps it interesting. This is unassuming, simple and tasty, with no hard edges or anything else to complain about. Just easy, fun drinking. And fruity! One Star.
Pavelot
Savigny-les-Beaune 1er Cru
Aux Gravains 2007
Drink Now-2027
$36
Savigny is value in Côte d'Or red Burgundy. And Pavelot is Savigny. Well, at least he is one of the top producers in Savigny. From my limited experience to date, the 07 red Burgundies can be charming. Not a powerhouse vintage but with bright, enticing fruit.

Initially, this was smokey and earthy, but later, much later, sexy rose petals, cherry liquor, herbs, mushroom and crumbled chalk made their presence felt in the perfumed nose, boding very well for this wine's evolution. The mouth was nothing to scoff at either, velvety and refined, it has all the structure, texture and minerality of a great vintage but a bit lighter in body and depth. It doesn't have the umph and layered complexity that the best have to make it great, but this is splitting hairs. It should last and improve in bottle and is pure and refined without any flaws I could detect. Two Stars.
Protocolo Rosso 2007
Vino de la Tierra de Castilla
Drink Now-2012
$7
Like the white from Protocolo, this is super-cheap Spanish red. But don't hold that against it. Like the Moira above, where it really excels is its charming fruitiness. Almost Beaujolais-like again, but with a spicy herbiness which is very Spanish, almost Rioja like. The flavors are bright and fruity too but with a bit of jamminess, some earth, some spice. Simple, but drinkable and tasty. One Star.
Las Rocas de San Alejandro
Garnacha 2007
Calatayud
Drink Now-2015
$10
This Spanish Garnacha (Spanish for Grenache) is quite dark in color for Grenache. The dark peppery black fruits are spicy, brambly, wild and untamed. It is fresh enough to enjoy alone but it has a meaty tannic bite on the end that would pair well with meat dishes. Quite deep for an inexpensive red. One Star Plus.
Domaine Tempier Bandol
La Tourtine 2007
Drink 2017-2047
$60
Not cheap, no. But as I've defended before, for what they are Tempier's wines are still relative values for what you get in the bottle. Unfortunately, as their popularity has grown, so has their price. But they are still in a range that mere mortals can enjoy from time to time. For you Poor Man's Guide newbs, I gave an introduction to Domaine Tempier in Issue 16 along with reviews of their full line up of 06 reds.

I was excited to crack into the first of the 07 Tempiers. With the hype that 07 has been getting in the Rhône, and Chateauneuf-du-Pape in particular, I was sure that these Bandols would be great too. You see, while technically in the Rhône Valley, Chateauneuf-du-Pape is also in Provence, where Bandol is. So the weather and vintages can be similar. This wine was no less great than I anticipated, however, a big note of warning is that this is super young! Almost painfully so. It took more than 12 hours of being open to really start to show much and even then was young. However, as you slowly coax it out, you'll note that the mineral, pencil lead, earth, meath, blackberry and reglisse aromas are classic Provence. There is a velvet texture and many layers of depth. Meat, iron and other minerals, this is serious stuff. An "iron fist in a velvet glove"? I think so! This is a great wine in the making but as young as a baby. It needs time, patience, age and lots of experience before it will mature into the superstar it is. Of note, the Tourtine (and Cabassaou) are typically the most reticent of the Tempier Bandols. The Migoua, with a lower percentage of Mourvedre in the blend and more Grenache, tends to be a bit more approachable young. The basic Bandol, or Cuvée Classique, is even more approachable young, especially with a bit of a chill on it. Three Stars!
---
Dessert Wines:
La Tour Blanche
Sauternes 2005
Drink Now-2035
$30/375mL
I hadn't had much Sauternes in quite a while. Not by choice, it just seems to have been a dry spell for the stuff. I had the occasion to crack a young one open recently so here it is.

This has that classic Sauternes nose of creamy creme brulée that is so common in the good ones. Baked pears, spicy botrytis and baking spices round out the nose and lead to a creamy and scrumptious mouthful. It is already tasty but it is quite young and primary with many years ahead of it. You could drink it now with food for its youthful exuberance or save it 10 years or more for more complexity and depth. Two Stars.
---
Have a Reader Tip or a Question? Contact Me!
I love to hear from my readers and visitors. If you have a handy tip to share or questions or comments on anything related to wine and wine tastings, please contact me!


---
Looking for Wine or Wine Tasting Related Info? Search our site!
You can now search through all of my pages by using our handy Search This Site feature. You can also browse through a site map to find the information you desire. Still can't find what you are looking for? Then contact me!


---