2001 White Burgundy
2001 White Burgundy Vintage Tasting and Oxidation Check--Part I: Campanile
February 4th, 2009
Don C. has been organizing these vintage summary tastings for some time now and I was honored to be invited to join in. This was the first of what is to be three tastings of 2001 white Burgundy over the next few weeks.
The thing that strikes me about this fascinating tasting is how variable the wines were and how many created controversy. While there were a number of wines everyone agreed were very good or better, many were controversial.
We started out with a Champagne, the Veuve Cliquot RD Reserve 1988, served with a Gourgéres with jamón Serrano, parmesan & arugula. Buttered brioche and rich yeasty aromas are followed by a rich wine which is developing a meaty, almost mushroomy complexity. This is powerful and is quite sweet but balanced. Rather than residual sugar, it seems like a ripe pinot type of sweetness and there is good lime acidity and chalky minerality on the back end to keep it focused and vibrant.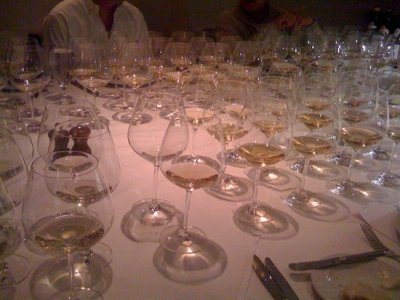 The 2001 white Burgundy in the following flights were all served blind.
---
Flight 1: 2001 Chablis Grand Crus
Served with Crab Ravioli with shrimp bisque
#1 - Several of the wines in this flight in particular were quite full of sulfur. This one was initially smoky with sulfur primarily. With extended air time, after an hour or more, this blew off and the sweet underlying fruit showed its stuff. In the mouth, smoky oak nuances framed pretty, vibrant fruit held together by flint and good acid. Good, but not better. This was the Raveneau Valmur.
#2 - This too showed lots of toast and sulfur off the bat but this one blew off quicker. Tighter and more mineral with oyster shell and green apple skin tannins. Quite young and powerful with a dense inner core of nervous energy, this culminates in a long, intense finish. Almost painfully intense actually with a saline minerality. Excellent and my WOTF. This was the Dauvissat Clos.
#3 - This was immediately a bit more fresh and clear without noticeable sulfur but it was also less complex. Mineral and apple sauce aromas lead to a riper, more fat and round wine which has good balance now but is much more forward, without as much thrust and verve. Good but uninspiring to me. For drinking now it is ok but doesn't have that intense minerality and power I expect from a great grand cru Chablis. This was the Fevre Clos.
#4 - Again the fruit here is decidedly apple sauce (like many of these wines) but this had some crystalline, fine, chalky minerality along with it. This probably had my favorite nose of the flight. In the mouth this was big, deep and brooding but also a bit foresquare and clumbsy. This is not the class of this flight but does seem to have some good raw materials. With additional time it may show better. I guessed this was the Preuses. It was the Dauvissat Preuses.
#5 - Quite sulfur filled. Even after going back at the end of the night I still mostly got sulfur from the nose. The flavors were not much better. A touch flabby at first, this initially lacked focus. I was starting to think it might be knocking on the door of early oxidation. Upon returning to it after some time in the glass, this actually fattened up a bit and gained some focus remarkably. Still, a bit pedestrian and does not live up to what a wine of this pedigree should. This was the Raveneau Clos.
---
Flight 2: 2001 Meursaults
Served with Turbot with oro blanco mignonette
#6 - Initially this was kinda funky, maybe showing a touch of rot, some sulfur and oak. With air it softened and after an hour or more it was quite pretty, all those defects blowing off. This really shined in the mouth though, round & creamy with well integrated oak and a fine, filigreed, chalky minerality that gives this great texture and presence on the mid palate and finish. I guessed Perrieres, maybe Lafon, because of that fine, elegant minerality. I was wrong. This was excellent and my WOTF. This was a surprise to most of us as it was the Jean Boillot Genevrieres.
#7 - This was one of the controversial wines. Some people at the table hated it and though it was bordering on flawed. I quite liked it but thought it was a bit forward and not as focused as I'd think a wine this young would be. I liked the nose others were put off by. To me it was exotic with a nutty hazelnut, earth and heady, spicy scents which I thought were seductive. Lush, rich and seductive in the mouth too, this however lacked focus initially but seemed to gain some with time. Very nice, but I'd suspect this will not make old bones. This was the Lafon Perrieres.
#8 - I never really got over the nose of this one as it had a weird dill pickle thing going on at first that faded but never fully disappeared. The mouth was round and caressing, soft and pretty. But I thought this lacked greatness. Pretty to drink now, but not serious enough to really catch my attention. Several people, myself included, suspected this might be the Coche. It was the Coche-Dury Caillerets.
#9 - Again, controversial. I believe some people loved this. I did not. It was more non-descript, hesitant even. In the mouth it was simple. Oak, sweet fruit, but not much energy or complexity. I guessed this was either the Roulot or the Jean Boillot. Interesting that the J. Boillot turned out to be my favorite of the flight! This was the Roulot Perrieres.
#10 - This was not controversial. It was oxidized, only really showing stewed apples and some rot to top it off. Flabby and shot in the mouth. It was the Henri Boillot Charmes.
---
Flight 3: 2001 Corton-Charlemagnes
Served with Wild Mushroom Tart with bourré
#11 - This seemed darker in color than the others. Sweet apple fruit aromas seemed perhaps to be slight early oxidation, but not overtly so. Fat in the mouth, with a bit of spicy botrytis. This was not oxidized but maybe on its way. Otherwise just not that interesting a wine to me, simple and a bit clumbsy. This was the Faiveley.
#12 - This one seemed the most austere of the flight as it was hesitant and tight, showing only glimpses of stones on the nose. The palate was a bit angular and with a bit of spicy, toasted oak. I guessed it was Faiveley based on its austerity and the style of oak. Despite it all, this seemed to have some depth lurking there and may just be too young. If it mellows out and gains complexity with time this could be much nicer. This was my second favorite of the flight. It was the Louis Latour.
#13 - This was not controversial, pretty much everyone liked it. The freshest nose yet with pretty floral fruit and rocky minerality that seemed to keep blossoming more and more. This is just lovely and I haven't even tasted it yet. Powerful, young and etched with minerals. This is the best in this flight by far, deft, silky and fine. Lovely, but so young. I guessed Boillot as did several at the table I believe. It was indeed the Henri Boillot.
#14 - This tied with the Faiveley as my least favorites of the flight. Kinda stinky with some evidence of rot and sur maturite. This was fat and ripe in flavor, but kinda flat and uninteresting. I didn't really sense this to be any oxidation though, just not great raw materials. It was the Girardin.
---
Flight 4: Sauzet and Friend
Served with Veal Scallopini with polenta, apple & meyer lemon mostarda
#15 - Very pretty nose of sweet Martinelli's sparkling apple cider liberally dusted with chalk. Powerful, dense and young. This showed off ripe sweet apple fruit but excellent acid giving focus and clarity. I guessed this might be the Combettes. It was indeed the Sauzet Combettes.
#16 - The aromas here took everything up a notch with more ripe, even jammy, fruit which was still apple-like but riper. No rot or any problems although there is a noticeable touch of sulfur. When you put this in your mouth you know its serious stuff. Dense, serious, darker and very long. This obviously has the most breed, stuffing, depth and reverberating power of any of these. Many of us guessed correctly that this was the Sauzet Montrachet.
#17 - A pure, fresh and floral nose is nonetheless quite hesitant. Lighter on its feet with pretty floral inner mouth perfume. Quite nice. Due to its more ethereal, spritely form I didn't guess this to be a grand cru and was impressed to find it was the Sauzet Batard. I think I actually preferred the Combettes overall but this was close and really it is splitting hairs as these are two unique wines with different characters and both very nice.
#18 - More advanced, darker in color and cooked apple pie fruit. With air this improved a bit, getting headier and more sexy. This was maybe the most full-bodied of this flight with dense, ripe fruit. However, it lacks the focus and minerality of the Sauzets in the flight. It was the Coche-Dury Puligny Ensignieres.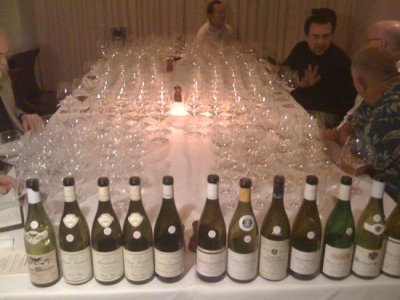 That concluded the official 2001 White Burgundy tasting but some of us started perusing Campanile's wine list and Howard and Michael ordered the following two reds. We knew what the first was but the second was served blind. Thanks Howard and Michael!
Dujac Clos de la Roche 2005: Quite simply, this was a stunning wine. Beautiful fine herbs and spicy, rocky red fruits in the nose. Nothing is out of place. Pure, fine, pristine, crystalline, transparent and beautiful. This is almost a perfect young Burg nose to me, just hinting at its long evolution ahead of it. Take a sip…Wow! Perfect. So silky. Dense yet not over extracted at all. Super. Nobility up the kings ass! Young and primary yet so delicious, silky and flawless. Wow again!
Blind: This was noticeably oakier with darker, black fruits and some toast/extraction notes of torrefaction like chocolate and coffee. In the mouth this is also really dark, extracted and dense. Rougher tannins and a meatier, blacker fruit that made me guess Dugat-Py Gevrey fruit. This doesn't have the deft, transparent touch of the Dujac, the style weighted more towards the winemaker signature and oak treatment but the underlying material here is obviously substantial and powerful. I didn't guess 2003 because I generally don't like the vintage and didn't sense any heat or hole in the middle here. It was solid and balanced. This is an infant and I'm hoping that with time it will become more integrated and show its underlying terroir better. After being told it was not a Dugat-Py and it was not Gevrey, I guessed de Vogue, but thought it might be the Bonnes-Mares based on its powerful meatiness. Actually, it was the Comte de Vogüé Musigny VV 2003.
For dessert with a Boca Negra with crème anglaise…
de Fargues 2001: I didn't take many notes at this point but this was an excellent young Sauternes, quite rich and pretty.
Thanks to Don for organizing this educational and fun tasting of 2001 white Burgundy! Also thanks to the Jay and the staff at Campanile for accommodating us wonderfully. And to everyone for helping to supply such interesting and generous wines!
Cheers!
---
Done with the 2001 White Burgundy Tasting Notes?
Return to the Wine Tasting Guide Tasting Notes page.