Central Coast Wine Tasting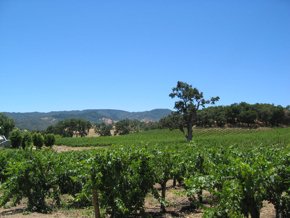 California Central Coast wine tasting tours are gaining in popularity rapidly. While California wine country initially became famous in Napa and Sonoma counties, north of the Bay Area, may regions throughout the state have followed suit, producing outstanding wines from beautiful wine country locations. Many of these span the vast coastal lands along central California, south of San Francisco and north of Los Angeles.
The Central Coast is therefore a large area! A Central Coast wine tasting tour generally will not include touring all of the Central Coast. Unlike Napa, which is relatively small, the entire Central Coast encompasses many wine growing regions, all of which can make an excellent wine country tour.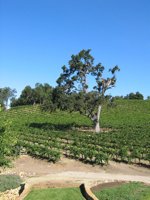 What Kind of Wines are Made in the Central Coast?
Much of the California coast, while relatively warm year round, benefits from a cooling breeze and occasional fog coming in off the ocean. This helps to keep many areas of the coastal regions from getting too baked in hot, desert sun. This type of weather, which prolongs the growing season somewhat, is better suited for some types of grape varieties such as Pinot Noir, Chardonnay and, to a lesser extent, Syrah. Whereas Napa is generally warmer and is best known for Cabernet Sauvignon, Merlot, Zinfandel and others, the Central Coast does better, in general, with these other grapes. This is particularly true of the southern part of the Central Coast. As you travel north in the Central Coast, there are some areas where Cabernet, Merlot, Zinfandel and other grapes do very well, such as in Paso Robles. Therefore it is hard to generalize and is better to focus on each individual region along the coast.
---
Specific Central Coast Wine Tasting Regions
There is not enough room here to list every sub-region along the California coast, there are dozens, one practically spilling over to the next! Nor is there room to list all the producers here. Instead, we've listed below some of the general parts of Central Coast and listed some of the better known wineries in each region. There are many more that deserve your attention! So if you are planning a Central Coast wine tasting trip, leave room to hit other producers you come upon!
Ojai - Just south of Santa Barbara County in Ventura County, this pretty little region is not far from Los Angeles. It isn't teaming with wineries but there are at least a few famous ones here.
Some Producers:

Ojai Vineyard
Sine Qua Non - One of the most sought-after of all California's wines, the many wines of Sine Qua Non are often very hard to find and very expensive. If you are one of the lucky few to be on the mailing list, you may be able to purchase some at reasonable prices. Call ahead and if you are lucky maybe you can get a tour.
Santa Barbara County (Solvang, Buellton, Santa Ynez Valley, Santa Maria Valley, etc.) - This is a big region mostly to the north of Santa Barbara and includes many small sub-regions to explore. In particular, make a point to stop in Solvang, a small Danish city which looks like it belongs in Europe. Shopping, food, wine...lots of fun for the whole family!
Some Producers:

Brander
Andrew Murray
Beckman
Buttonwood
Byron
Cambria
Firestone Vineyard
Fess Parker
Foxen
Gainey
Sanford
Sunstone
Zaca Mexa
Arroyo Grande (Edna Valley) - A bit further north from the previous but really just a continuation as you move up the coast.
Some Producers:

Laetitia
Talley Vineyards
Saucelito Canyon Vineyard
San Louis Obispo (Morro Bay, Los Osos, etc.)
Some Producers:

Edna Valley Vineyard
Morro Bay
Tolosa
Paso Robles (Cambria, Templeton, etc.) - Paso Robles and the surrounding areas are a hothouse for fine wine. This rapidly growing region has tons of great wineries and it is quite beautiful. Enjoy a relaxing Central Coast wine tasting ride down the winding roads while stopping to enjoy wine from dozens of great producers (just be sure to spit if you are driving!).Some Producers:

Justin - Of note, besides making excellent wines, Justin vineyards has a quaint little bed and breakfast (only about 3 rooms) which makes an excellent boarding spot from which to set out on your wine country tour.
J. Lohr
L'Aventure
Peachy Canyon
Tablas Creek - Owned by the producers of the famous Chateau de Beaucastel in Chateauneuf-du-Pape, this vineyard produces world-class Rhône-styled wines.
Turley
Wild Horse
Enjoy Your Central Coast wine tasting tour!
---
Return to the Wine Tasting Tours page
from the Central Coast Wine Tasting page.