Muscadet Wine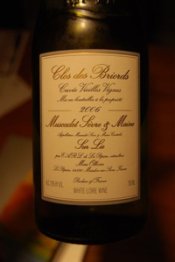 Muscadet wine got a bad rep for a long time. The problem is that the melon de Bourgogne grape, which accounts exclusively for the wine made in the Muscadet wine region of the western Loire Valley of France, can produce insipid, bland, uninspiring wines if not treated properly and over produced. For years, the large bulk of the oceans of wine flowing out of this relatively large appellation within the Loire valley was vapid, insipid plonk, to put it lightly. Sure it was cheap, but it was barely worth that cheap price.
So why do I consider Muscadet one of my favorite wines in the world and one of the best value wines in the world? Well, read on and let me tell you.
First of all, Muscadet is a relatively large wine producing region in the far west of the Loire Valley in France. The whole Loire river valley is a vast area in the northwest of the country that includes a slew of different appellations producing wines from many varieties of grapes and in numerous styles, from light quaffable whites to serious, dark reds and everything in between.
Muscadet, because of its errors of the past, has become misunderstood and under-appreciated. As I said, for years the large majority of Muscadet wine was pretty banal. It was watered down stuff that was at best cool and refreshing and could wash down raw oysters or other shellfish pretty well. So many wine drinkers even today think of Muscadet as just that, a simple, uninteresting thirst quencher. But to ignore Muscadet beyond that is simply a crime these days. There are a growing number of conscientious growers who are doing all the right things in the region and making wine that is simply outstanding.
In fact, many wine lovers are now realizing that the once maligned melon de Bourgogne grape is quite noble and capable of some serious wines with great depth and interest. When grown well, from the best vineyards in the region Muscadet wine can be stunning.
So How Does The Wine Taste?
To understand Muscadet, one must understand the mineral components that wines can exhibit. In fact, many of the flavors and aromas of the best Muscadet cannot really be described in terms of fruit or other typical food descriptors. Yes, there is some fruit there, a hint of honeydew melon and the occasional floral aroma, but what really speaks of the terroir of Muscadet is the soil, rocks and minerals. While there is some variability depending on whether the grapes were grown on granite soil, gneiss, or orthogneiss, the best Muscadet wine are decidedly mineral. Aromas of wet stones, granite, salt, even briney sea air, are common. The flavors mirror those aromas. These are not big fat juicy or fruity wines. They are taut, intense, saline and shimmering. They can reverberate with an incredible mineral intensity that lingers on their finish.
Another misconception about Muscadet is that it cannot age. Of course, the bad wines which are insipid and watered down will not last in bottle. But the best wines can hold and even improve for some time in bottle. These aren't wines to age for decades, but the best can certainly hold or improve for 5 to 10 years, even up to 15 or 20 in some cases.
Great Value Wines
Of course, being the writer of the Poor Man's Guide to Fine Wine I am always on the lookout for great wines at a great price. It is easy to find world class wine if money is no object, but if you are on a budget you need to dig a bit. Well, Muscadet is one of the ultimate quality to price ratio winners. The wines show up regularly in my newsletter. Even the finest Muscadet are usually under $20 and many are closer to $10.
Which producers should you watch out for?
Well there is a growing number of great producers but a handful come to the fore. Marc Ollivier of Domaine Pépière makes breathtaking Muscadet wines, particularly his top bottlings like the Clos du Briords (pictured above), Granite de Clisson, and Gras Mouton. Luneau-Papin is another great example. Tourmaline, Bregeon, Eric Chevaliere, Michel David, Domaine de l'Ecu (Guy Bossard) and others all make wines worth seeking out as well.
---
Done reading about Muscadet Wine?
Return to the French Wine Regions section.