Wine and Food Pairing:
Some Unique and Exotic
Flavor Combinations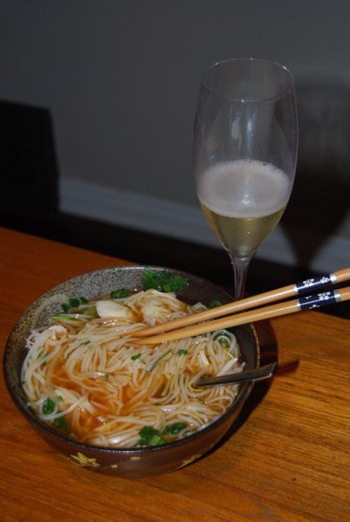 Wine and food pairing is fun and sometimes surprising. While there are many classic food and wine pairing guidelines and ideas, sometimes you can be pleasantly surprised by the unexpected. Seeming unrelated cuisines and wines can fuse into something great, making a food and wine pairing that is unique and exotic. While it makes sense that a classic Provençal dish would pair well with wines from the same region, it can be amazing that some wines can compliment exotic foods that are completely unrelated. This just goes to show that there are no hard and fast rules about wine and food pairing and that you should experiment a bit to find your own unique flavor combinations.
Here we will discuss a few great pairings that are a bit different from the classic, traditional pairings you might expect. Enjoy these and let us know if you come up with any other unique pairings that you like!
---
Japanese Cuisine with Champagne
Japanese food, particularly sushi and sashimi are typically paired with sake and/or crisp lager beers. However, these foods go beautifully with many wines! We particularly love pairing a dry, crisp Champagne with sushi or sashimi. Besides being one of our favorite wines with one of our favorite foods, there is something wonderful about washing down the luxurious, fresh fish with a crisp sparkling wine. Other sparkling wines and even still wines that are crisp, acidic and fresh will work as well.
Thai Food with German Riesling
How someone discovered this brilliant combination we have no idea! Who would think that Thai food and German wine would be one of the best wine and food pairing combinations? The spicy food is perfectly complimented with the slightly sweet, yet vibrant and intense flavors of the wine. Even very spicy food can be mellowed out by these wines and the flavor combinations are awesome! Generally, the spicier the food, the higher sugar content will work. More mild dishes can go with Riesling Kabinett and Spätlese wines while very spicy foods are excellent with even fairly sweet Auslesen. It can be hard to pair many wines with spicy cuisine, but these work like a charm!
General Ideas about Pairing Spicy Food with Wine
In general, spicy foods, particularly Asian (Thai, Laotian, Vietnamese, Indian, etc.) cuisine, are best with slightly sweet, high acid wines. Wines such as German or Alsatian Riesling work wonderfully. Alsatian Gewurztraminer, with its richness and slight spiciness can also work well although we prefer it with Chinese food. Champagne and other sparkling wines pair beautifully with these cuisines as well as Indian foods. The complex flavors of the wine stand up to the complex spices in the dishes. However, the spicier dishes, either Thai or Indian, ideally need a bit of sweetness in the wine to stand up to it. For these fiery foods, try to find off dry Champagne like a Demi-Sec or slightly sweet Italian sparklers like off-dry Prosecco or Moscato d'Asti. Another option is to go back to the old German Riesling standby or even a lager beer.
One type of spicy food which can be hard to make a perfect wine and food pairing is Mexican and other spicy Latino cuisines. In general, crisp, dry lager beers, like Pacifico, Corona, Dos Equis, Tecate and the like, are good matches here. For the less spicy dishes, a rich but fruity red wine like Zinfandel can occasionally work, but with any heat, these tend to prefer beer. For some reason the whites that work with spicy Asian cuisine don't really work with Mexican food.
Well that is it for now! If you have any unique and/or exotic wine and food pairing ideas that you've tried let us know and we would be happy to feature them here!
Cheers!
---
Done with the Unique Wine and Food Pairings?
Return to the Food and Wine Pairing home page.