Wine Tasting Kit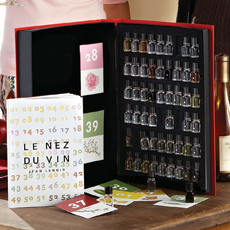 A wine tasting kit is an outstanding and fun way to learn more about wine tasting.
Why? When people first start tasting wine seriously they often have a hard time identifying aromas and flavors they experience in each wine. Therefore, they have a hard time describing what they are tasting or why they like or dislike a given wine. It can be intimidating seeing wine tasting notes that talk about aromas of earth, mushrooms, oak, vanilla, cassis, and so many more descriptors.
What is it? Well, a tasting kit helps to learn by supplying dozens of smelling samples to train your nose and to compare to wines. The kit is basically a big case of vials, each filled with essential oils or other ingredients which have a distinct aroma. By going through them, you can train your nose to recognize these common aromas when you smell them in a wine.
At a wine tasting party the kit can be a great conversation piece and be educational and fun for your guests. You can all go through the aromas trying to identify some of them in the wines you are tasting. You can even have a contest to see who can identify the most aromas blindly.
Once you have a lot of experience with wine tasting, a tasting kit may become less important. Most experienced tasters do not compare each wine to kit or practice with the kit regularly. However, at the start, it can be a useful and fun tool.
You can buy the tasting kit pictured above at International Wine Accessories.
---
Done learning about the Wine Tasting Kit?
Return to the Wine Tasting page.