Wine Tasting Party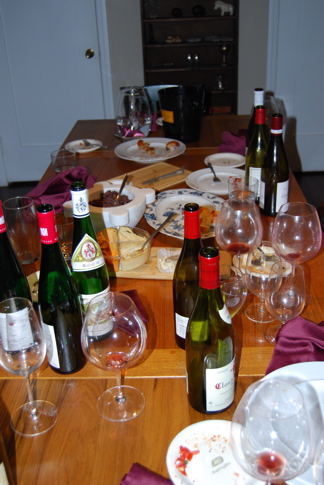 A wine tasting party is one of the best and most comfortable ways to taste wine and learn more about this wonderful beverage. A tasting party is generally a private event hosted at someone's house, where numerous wines are tasted, sometimes along with snacks or even a full meal. As opposed to a more formal, organized wine tasting event or dinner, this is an un-intimidating setting to learn about and enjoy fine wine.
What is a wine tasting party?
A wine tasting is an event at which people taste through a flight of wines. It is an opportunity to taste several wines to experience and learn about wines you may not have been able to taste on your own (at least not as quickly). But what makes a wine tasting so much fun is the relaxed atmosphere where guests can discuss and rate wines, comparing their impressions and debating the wines' merits. It can be educational and lots of fun. As compared to a more formal wine tasting dinner or event, it can be a really un-intimidating for even complete beginners.
How do you find tasting parties?
The easiest way to attend a tasting party, particularly one which you feel comfortable at, is to throw one yourself with your friends! Besides that, ask around your local wine retailers to see if they know of any tasting groups who are looking for more members or if they host organized wine tastings. Another great way to hook up with like-minded individuals is to join wine-related message boards on the internet. You will likely find many people in your area who are interested in setting up "off-line" get togethers either at someone's house or in a restaurant to start a wine tasting group.
How do you host your own tasting party?
Even if you have little or no experience with wine and wine tasting, hosting a wine tasting party does not have to be hard. All you really need is a group of people, a handful of wines and some wine glasses. Everything beyond that is just icing on the cake. Be sure to check out our
How to Host a Wine Tasting
section as well as our information about
How to Serve Wine
.
---
Done with the Wine Tasting Party page?
Return to the Wine Tasting 101 home page.