Wine Varietals
It's All About the Grapes
Understanding wine varietals is one of the first steps to understanding wine. As we all know, wine is made from grapes, and only grapes. However, there are hundreds of grape varietals or varieties that vary quite dramatically. Grape varietals are different varieties or breeds of grapes, some of which are ancient and others which are newer hybrids of other varietals. These different wine grapes have different characteristics and personalities that they instill in the wines that are made from them. Understanding what each wine varietal can add to a wine and which types of grapes grow in each region helps us to understand the styles of wines that result from their vinification.
Now don't get all stressed. This isn't school and we don't expect you to memorize the names and characteristics of hundreds of wine varietals. In fact, the majority of common and important wines from around the world come from only a small handful of wine varietals. So the first step is to familiarize yourself with these common grapes and what they are capable of, what they add to a wine and their characteristics. This is an introduction to wine varietals so that you can better understand the diversity of wines out there.
To help you start to understand both grape varietals and wine producing regions, it is important to recognize that for most Old World (Europe primarily) regions there are only certain grape wine varietals that are allowed by law to be produced in that region. For example, in Burgundy in France, most of the red wines are only produced from the red grape Pinot Noir. Likewise, most of the white wines produced there are 100% Chardonnay. This means that learning about wine varietals also helps you get started on your way to understanding wine regions as well! However, for New World wine regions (the US, Australia, etc.) you can often see many different grapes grown in the same region (for example you can see Napa Valley Cabernet, Merlot, Pinot Noir, Zinfandel, Chardonnay, etc.).
Another thing to keep in mind as you read on is that any one grape, while it has certain general characteristics, can make very wildly different wines depending on where it is grown and how it is vinified. Therefore, for example you can have a Syrah (a Rhône wine varietal) which is a full-bodied and hugely complex wine from one region and producer while you can have another that is much lighter and simple and fruity from another. Such is the complexity of wine, but the general characteristics will hold true for most wines. In general, truly great examples of each grape will be more on the complex end of the spectrum while lesser wines or inexpensive wines tend to be more simple.
---
Red Wine Grape Varietals
Barbera
Regions: Barbera is one of several wine varietals indigenous to the north of Italy, primarily in the region known as Piedmont. This area, as well as other northern Italian regions (such as the Oltrepo Pavese) generally make the best examples. The wines are called Barbera, often with the name where it came from following (Barbera d'Alba for example). A small amount is planted in other areas around the world including California.

Characteristics: Barbera is a red grape wine varietal which is fruity yet with good depth and can have a meatiness to it. It has good acidity and for all these reasons pairs very well with many foods. It is one of the workhorse table wines in the north of Italy. Often known as the poor man's Barolo, it has some of the same rich and complex characteristics but is generally much less expensive. While some examples can improve with some age, they generally are not long agers and can be enjoyed young for their rich, vibrant fruit.

Cabernet Franc
Regions: Cabernet franc is one of the wine varietals that are allowed to be grown in Bordeaux in the southwest of France (the others being Merlot, Cabernet Sauvignon, Malbec and Petit Verdot). It is part of the blend in many of the wines from this region and features prominently in some of the "Right Bank" villages such as St.-Emillion (particularly in the legendary wine Chateau Cheval-Blanc which is primarily Cab franc). It is also indigenous to the Loire Valley in France, where wines from Chinon, Bourgeuil and Samur-Champigny are primarily Cab franc. It is also planted in California and other places where Bordeaux varietals are grown. There it is usually part of a blend with Cabernet Sauvignon or Merlot but there are a few bottlings of primarily Cab franc.

Characteristics: This grape has some similarities to its big brother, Cabernet Sauvignon. Generally considered not quite as noble but in the right places is capable of greatness. It can tend to have a bit of a vegetal or herbal aroma and flavor. While this can be a nice complexity, if under-ripe this can be dominant and off-putting. Generally full bodied but some examples from Chinon and Bourgeuil are made in an almost Beaujolais-like style that is fresh and fruity and simple. The best Bordeaux, Chinon and Bourgeuil can be quite long-lived.

Cabernet Sauvignon
Regions: Originally from Bordeaux in the southwest of France, most wines of the "Left Back" appellations such as Pauillac, St.-Julien, Margaux and St.-Estephe feature a high percentage of Cabernet blended with the 4 other red grapes of Bordeaux (Merlot, Cabernet Franc, Malbec and Petit Verdot). Cabernet is widely planted around the world, featured prominently as a blend or along in wines from California, Italy (particularly some "Super Tuscans" from Tuscany), Australia and others.

Characteristics: This is considered one of the "noble" wine varietals, producing some of the most profound red wines in the world. The true classic examples come from Bordeaux where wines like Chateau Lafite-Rothschild, Margaux, Latour and others hit heights of brilliance. More recently it has shined in California, most notably in the Napa Valley. Cabernet tends to be a full-bodied wine varietal which can often age very well, lasting for decades in the best Bordeaux and Californian examples. It is often described as having flavors of cassis (black currant liquor), blackberries and other dark fruits mixed with complexities such as pencil lead, tobacco and cigar box cedar. When young they can be quite big and tannic, mellowing with age and gaining complexity.

Gamay
Regions: Gamay is primarily grown in the southern part of Burgundy in France, an area called Beaujolais. Small amounts are planted elsewhere such as in California.

Characteristics: Gamay makes a light to medium-bodied with which tends to be very fruity. The best examples from Beaujolais can have more depth and some meaty, earthy complexity while most of the Beaujolais Villages and particularly the Beaujolais Nouveau tend to be much more simple and fruity. Beaujolais Nouveau ("New Beaujolais") is a special example which is bottled early, without extended aging, to preserve its fresh fruitiness. It is released once a year shortly after harvest and fermentation, generally early to mid November. It is considered a seasonal celebratory wine, helping to celebrate the joy of the recent harvest.

Grenache
Regions: Grenache is one of many wine varietals grown in the southern Rhône valley of France, particularly in the appellations of Chateauneuf-du-Pape and Gigondas. It is widely planted throughout the south of France as well. While Chateauneuf and Gigondas can include several varietals, grenache generally makes up the majority in most wines. It is planted some in California, particularly in the central coast, and in Australia. Also known as Garnacha in Spain.

Characteristics: While grenache is known for its rich, ripe fruitiness, from the best examples of Chateauneuf-du-Pape and Gigondas they can be quite complex, with earthy, floral and herbal overtones. The fruit flavors tend more toward the red fruit end of the spectrum, as compared to Syrah for example which is generally darker. They can be quite full-bodied, high in alcohol and quite big and chewy in the mouth. Cheaper examples are generally simpler and fruitier with lighter body.

Malbec
Regions: One of the Bordeaux wine varietals, this is primarily a minor part of the blend in wines from this region. It is also grown and blended with Cabernet and Merlot in other regions which produce these wines. Single varietal bottlings are rare but are most prominent in Cahors, in the southwest of France, and in parts of Argentina where Malbec is widely planted.

Characteristics: Malbec generally has a very dark color and rich, almost hard, personality. It is used in blending to add structure and color to wines. When vinified alone it can make a deep, black wine of black fruits and earthy, meatiness. These tend to be quite austere and hard.

Merlot
Regions: Another Bordeaux region grape, second only in fame to Cabernet Sauvignon. In the "Left Bank" appellations of Bordeaux it tends to be a smaller percentage of blends, with Cabernet more prominent. However, in the "Right Bank" appellations such as St.-Emillion and Pomerol it can be prominent. It is also widely planted in other regions that grow Bordeaux wine varietals, such as California and Tuscany.

Characteristics: Merlot can have a similar character to Cabernet but tends to be more on the red fruit end of the spectrum and tends to be a bit softer, without as much austere tannins, being more caressing and seductive. In blends it tends to soften and add a gentle mouthfeel to wines with Cabernet. In the right place it can make a profound wine on its own which can age very well. The best examples generally come from the Right Bank appellations of Bordeaux and can be quite expensive (Chateau Petrus and Le Pin, both primarily Merlot, are a couple of the most expensive wines in the world) but there are other excellent examples from California and Tuscany in Italy, among others.

Mourvèdre
Regions: This grape is widely planted in the south of France, really shining in the area of Provence in appellations like Chateauneuf-du-Pape and Bandol. While in the former it is generally a blending grape, accounting for only around 10 to 30% of the blend, in Bandol it can make profound wines that are primarily Mourvèdre. Called Mataro in parts of Spain and California. It was once thought to be the same as the Spanish grape Monastrell, this has since been shown to be not true.

Characteristics: Mourvedre can be one of the confusing wine varietals. Finicky and hard to grown, most regions do not result in fully ripe Mourvedre which likes a long, warm growing season. In general it produces a full-bodied wine with big tannins and tends to have earthy, meaty and almost animal aromas and flavors. While these can all be great things in the best examples, under-ripe examples can be excessively vegetal, animal and excruciatingly tannic. Therefore, in most regions it is primarily used as a blending grape, adding color and structure to the wines of Chateauneuf-du-Pape and others. In Bandol and other wines where it ripens full and is featured prominently it can be a profound wine with a very aromatic nose, huge depth, and chewy richness.

Nebbiolo
Regions: Nebbiolo is the noble grape of Piedmont in the north of Italy. It is grown extensively in the villages in that area as well as elsewhere in the north like Valtellina. In Barolo and Barbaresco, both in Piedmont, it reaches its heights of greatness. Examples are also grown in California and some other areas.

Characteristics: Nebbiolo is a grape capable of greatness. Like Cabernet, Pinot Noir and Syrah, it is a grape that is capable of profound depth, complexity and finesse. The wines can be very aromatic, combining red and black fruits, rose petal and earthy scents like truffles, mushrooms and leather, particularly with age. They can vary from medium to full-bodied but generally produce a well structured wine with firm tannins and bright acidity, making it an excellent wine for aging long term.

Petite Sirah
Regions: Grown in small amounts in the south of France, where it is known as the Duriff grape, but primarily grown and bottled in California.

Characteristics: Most people think that Petite Sirah is related to Syrah but in fact it is not. They do have some similarities, both generally producing full-bodied, dark wines with rich meaty flavors. However, Petite Sirah tends to be very peppery and spicy. It also tends to be even more black and can be quite hard. This wine varietal is really only bottled alone in parts of California.

Pinot Noir
Regions: Pinot Noir is one of the classic and noble wine varietals from Burgundy in France. The red wines of Burgundy (except for those from Beaujolais) are made with 100% Pinot Noir. Pinot Noir is also widely planted in California (particularly in regions like the central coast and the Russian River Valley) and less so in parts of Italy and others.

Characteristics: Arguably the grape capable of the greatest heights, Pinot Noir can be hard to understand because it is also one of the most difficult and finicky grapes to grown and vinify well. It tends to be lighter in body compared to Cabernet, Merlot and Syrah, for example, although this varies considerably. The best examples from Burgundy are truly profound with extreme complexity, finesse, a silky, caressing and seductive mouthfeel and lush and heady aromatics which have made many a wine lover fall head over heals for Burgundy. However, unfortunately these examples are hard to come by and can be extremely expensive. Lesser examples can seem thin and overly acidic or even harsh and green if not ripened well. Specific descriptions can vary tremendously because Pinot Noir is very influenced by where it is grown, tasting like red fruits and flowers in one vineyard and like meat, truffles and black fruits in another. For this reason it is often bottled separately from different small, named vineyards in Burgundy and can be confusing for the wine beginner. Nevertheless, it is a grape that is definitely worth your attention as it can achieve the greatest heights possible in wine, even if they are few and far between.

Syrah
Regions: Syrah is a wine varietal indigenous to the northern Rhône Valley in France, being the primary grape of the appellations of Côte-Rôtie and Hermitage (also St.-Joseph, Cornas, Crozes-Hermitage and others). Also known as Shiraz in Australia where it is planted extensively. California, particularly the central coast, grow a lot of Syrah too.

Characteristics: Syrah tends to make a big, deep wine with red and black fruits as well as considerable complexity which can include everything from the earthy to the floral. Particularly in the Rhône valley appellations like Côte-Rôtie it can often have a smoky bacon-like aroma which is very appealing. The texture and mouthfeel can have lots of finesse but tends more towards the velvety end of the spectrum as compared to the more silky Pinot Noirs from Burgundy. This is another noble wine varietal which is capable of everything from simple full-bodied wines to profound complexity and finesse. The classic examples are from the northern Rhône but excellent examples are made now in California and Australia. These examples tend to be more fruit forward and higher in alcohol. Good examples are capable of long aging.

Tempranillo
Regions: The primary grape of Rioja in Spain, Tempranillo is also planted heavily in many other appellations in Spain. There are smaller amounts planted in parts of California.

Characteristics: Tempranillo is capable of greatness in the best Rioja. It can make a full-bodied wine, but tends to be a bit lighter than Syrah or Cabernet, producing beautiful red fruits which have a supple and caressing texture and lovely aromatic complexity which brings Pinot Noir to mind.

Zinfandel
Regions: As the name Zinfandel, this grape is planted almost entirely in California. However, Primitivo is the same grape and is grown in Italy, primarily in the south.

Characteristics: This grape is capable of everything from simple fruity wines to huge, ripe wines of considerable heft and depth. Generally tending towards the fruity end of the spectrum but often has nice spicy aromas and flavors. It is capable of intense ripeness with high alcohol and almost cloying ripe fruit. The best examples can have a nice velvety texture and good complexity. While it can age some, they are generally best in their first several years. The Primitivos from Italy tends to be more earthy and not as over-ripe and alcoholic.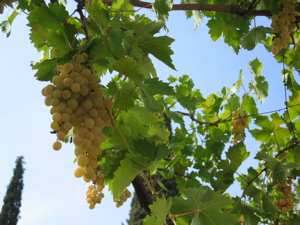 White Wine Varietals
Chardonnay
Regions: Classically grown in Burgundy in France, Chardonnay is now widely planted around the world from California to Australia, Italy to New Zealand. The white wines of Burgundy are generally 100% Chardonnay.

Characteristics: Chardonnay is capable of a wide variety depending on where it is grown. Generally it is a more full-bodied white wine with a rich, round texture. However, the best examples from Burgundy have an intense minerality and acidity which give it intensity and grip in the mouth. Capable of huge complexity and finesse, this is one of the truly great white wine grapes. Often over-oaked and over-ripe from California and other hot climates, it can be flabby and woody in the less than great versions.

Chenin Blanc
Regions: Chenin Blanc is grown widely in the Loire Valley of France, particularly in appellations such as Vouvray and Savennieres. In parts of the Loire it is known locally as Pineau de la Loire. It is know as Steen in South Africa and is planted a bit in California as well.

Characteristics: Classic examples of Chenin Blanc can be profound wines with tremendous complexity. It can be vinified dry (as in most Savennieres or Vouvray Sec), off-dry (as in Vouvray Demi-Sec or some Coteaux du Layon) or very sweet (as in Vouvray Moelleux or Quarts de Chaume). These can be quite full-bodied whites but when young the dry wines have intense acid and minerality, making them seem shimmering and laser-like. With age, and they age beautifully, they round out, gaining complexity and developing a honeyed richness. Aromas and flavors varying from melon and other white fruits to wool lanolin, wax, almond and minerals. Definitely capable of greatness in the right regions. These can also be quite a value in world class wine!

Gewurztraminer
Regions: Meaning "spicy"-traminer, Gewurztraminer sounds like it would be a German grape, but while it is grown somewhat in Germany, the best examples come for Alsace in France, near the border with Germany. Other examples can be found from Italy, Germany and California.

Characteristics: Gewurz is an interesting grape which has a singular flavor which isn't quite like anything else. It tends to have a floral, rose petal aroma along with tropical fruits and lychee fruit. The mouth is big and round with rich and bold flavors that tend to be quite spicy, hence the name. Because of its distinct and powerful personality, tasters tend to either love or hate this wine varietal. It is capable of greatness, particularly in Alsace. Can be made dry or sweet.

Pinot Gris (Pinot Grigio)
Regions: Grown in many parts of the world, Pinot Gris is most famous from Alsace in France. However, in Italy it is known as Pinot Grigio and is grown in the north, notably in the Alto Adige and Friuli. It is now one of the most popular wine varietals given the recent popularity of Italian Pinot Grigio in the US.

Characteristics: Pinot gris from Alsace is a full-bodied, round and supple wine which can be fermented dry or with residual sweetness. These can be beautiful wines with great depth and complexity. In Italy, called Pinot Grigio, they are generally produced dry and also tend to be lighter-bodied with fresh fruitiness.

Riesling
Regions: One of the noble wine varietals, Riesling is planted widely but is classic to Germany and Alsace in France. You can find examples from many other regions including in Italy, California and others.

Characteristics: Truly one of the greatest of the white wine varietals, Riesling can be produced anywhere from dry to extremely sweet and everything in between. In Alsace they tend to make intense, full-bodied wines that tend to be more dry, except for some late-harvested versions. In Germany, they vary from the lighter, drier Kabinett up through several levels of sweetness to the super-sweet dessert wines called Trockenbeerenauslese. Riesling produces intense, minerally wines with great acidity to balance any residual sweetness and are capable of great complexity and intensity. Their specific flavors can vary greatly depending on the site they are grown.

Sauvignon Blanc
Regions: Sauvignon Blanc is grown in several areas in France. It is one of the important white wine varietals in white Bordeaux wines. It is also the primary grape in several appellations in the Loire valley, most notably Sancerre and Pouilly-Fumé. It has seen a lot of success in New Zealand and South Africa and is widely planted in California.

Characteristics: Sauvignon blanc tends to be a medium-bodied white with tropical fruit flavors which are often highlighted by either smoky, flinty aromas or grassy aromas. Often described as resembling gooseberries, although most people have never tasted a gooseberry. We have and we can definitively say that this wine varietal does indeed often smell and taste like "goosey". If they have good acidity, these can be outstanding food wines with a fresh and crisp feel. Examples grown in hotter climates like California can tend to be a bit flabby, with less definition and intensity.
---
Done learning about Wine Varietals?
Return to the Wine 101 page.

Search This Site
---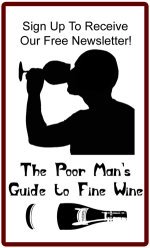 Site Sponsors
---

Peter Liem's
Champagne Guide
World's Best Grilling eBook!
---