Bandol Wine Tasting Notes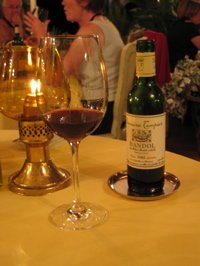 Bandol wine comes from a small appellation on the southern French coast in Provence. Several small villages surrounding the coastal town of Bandol make these wines. Like Chateauneuf-du-Pape nearby in the Southern Rhone Valley, many grapes can go into these wines but, unlike that place, here the focus is on the Mourvedre grape. All red wines must include at least 50% of this grape. It is a fickle grape which is hard to grow and does not ripen fully in many places. Only in warm climates with a low slow growing season can it express itself fully as it does here in Bandol. At its best it can be a rich, meaty wine with layers of complexity, a velvety texture and decades of potential longevity. At its worst, unripe Mourvedre can produce Bandol wines which are hard and aggressively tannic with an astringent feel. While known most for its reds, the region also makes one of the world's most famous Rosé wines as well as some white.
For more introductory info about various wine regions including Bandol wine, see our Wine Regions page!
---
February 3, 2007
Domaine Tempier Bandol Migoua 2004
Domaine Tempier is the most famous in Bandol. Started in the 40's by Lucien and Lulu Peyraud (her maiden name is Tempier; they received the domaine as a wedding gift!), it quickly became the most important domaine in the appellation. The beautiful area near the Mediterranean has several vineyards they have added to the domaine over the years. They make several bottlings. In addition to a white and a rosé, they now make 4 red Bandol wines. They make the basic Bandol, Classique as they call it, as well as three single vineyard wines. These include the la Migoua, la Tourtine and Cabassaou, a small, old vines parcel of la Tourtine which is almost 100% old vines Mourvedre. The Migoua tends to have the lowest percentage of Mourvedre, around 50 to 60%, and so has more Grenache and is thus a bit more approachable, less tannic, when young.
This wine had a really deep, smokey, meaty, earthy and even chocolate-like aroma which also had ripe fruit similar to reglisse (black licorice). All this and ripe black fruits too! Rich, meaty flavors and a velvety texture make this one sexy wine. It has big tannins now but they are soft and dusty, not astringent. This is just and infant but it has tremendous potential!
---
January 26, 2007
Gros 'Nore Bandol 2000
This is a small domaine which only started bottling their own wine recently. They used to sell off their production to others such as Domaine Ott. After old Honoré died, his son took over control and started bottling the wines himself. He named the domaine after his father, Big Honore ('Nore is short for Honore). The wines have gotten better and better with each vintage. This 2000 was only his 3 vintage I believe.
Spicey and peppery reglisse and earthy scents with nice ripe Bandol fruit. A big mouthful of grapey and chewy primary fruit with a bit of meatiness and a chunky tannic finish. This is definitely a rustic styled Bandol wine but it is well proportioned and balanced. It still needs more time but if the tannins soften out some this could be quite velvety. We have a few more bottles so we will wait a while before opening the next.
Check back as we will post more Bandol wine tasting notes periodically as we are fortunate enough to taste them!
Get great French cheeses shipped to your door by Fromages.com!
---
Done with the Bandol wine tasting notes?
Return to the Wine Tasting Guide tasting notes page.