An Intro to Wine Regions of the World
Understanding wine regions is very helpful to the wine beginner. We include it early in Wine 101 because if you understand a bit about the common wine producing regions, then you know what to expect from a given bottle of wine. When you read a wine label, if you haven't had the wine before, you can tell a lot about what is in the bottle before even popping the cork. By knowing what region a wine comes from you can often tell in general what grapes may be used in the wine, what the general style may be and other details. While these are of course generalizations since a variety of wine styles are made in each region, they can be a very helpful guide.
Here we are going to give you brief introductions to several wine regions. We are by no means covering all the wine regions because there are hundreds of them. You can also see that while some wine regions are heavily represented (France), others will just be touched on. This does not mean that the sub-regions within these areas are not of importance, we are just trying to focus on some of the most common regions you may come across. For example, while there are many different wine regions in Germany, in the US only a couple of them are well represented in wine stores in general. Again, we'd love to give you details about every region the world over, but there simply isn't enough room here. However, once you've learned the basics, if your thirst for knowledge continues, there are many resources to get more detailed information about all these wine regions and many more sub-regions we are not covering.
For each region we discuss, we will give a bit of info about the types of grape varietals grown there as well as the styles of wine that is produced. For more information about the various grape varietals and their characteristics, see our Wine Varietals page.
---
France


Bordeaux: One of the most famous wine regions in the world, Bordeaux only allows 5 red grape varietals, Cabernet Sauvignon, Merlot, Cabernet Franc, Malbec and Petit Verdot, and most wines are a blend of these. The wines tend to be full-bodied and well-structured wines of nobility and grace, at their best. They exhibit dark fruits and sometimes earth, cedar, tobacco and pencil lead-like aromas and flavors. They generally age very well. Generally, "left bank" appellations such as Pauillac, St.-Estephe, St.-Julien, Margaux and Graves have high percentages of Cabernet in the blend while "right bank" wines such as St.-Emillion and Pomerol have more Merlot. The dry white wines produced largely consist of Sauvignon Blanc, Semillon and Muscadelle. The whites are minerally, rich wines that can also age well. Sweet white wines are also made in the appellation of Sauternes and Barsac.
Burgundy: Most of the wines of the Côte d'Or, the most famous part of Burgundy, are made from either 100% Pinot Noir for reds or from 100% Chardonnay for whites, although there are a few exceptions. These each produce potentially profound wines that can have a seductiveness that is hard to resist. The reds vary from fruity and light to meaty, earthy, and floral dark fruits and everything in between. The whites are full-bodied and full of minerals as well. Both can be very complex and have great finesse with a silky mouthfeel.
Northern Rhône Valley: The Northern Rhône, which includes such appellations as Côte-Rôtie, Hermitage, Crozes-Hermitage, Cornas and St.-Joseph, primarily makes rich red wines from the Syrah grape. These wine regions, particularly the first two, make profound wines which age well and have great, smoky dark flavors and a velvety texture. There is some white wine made, mostly from Marsanne, except in the villages of Condrieu and the Chateau Grillet which make aromatic whites from Viognier.
Southern Rhône Valley: The southern part of the valley produces meaty, rich red wines like the north, but from a very different mix of grapes. In fact, 13 red varietals are allowed in Chateauneuf-du-Pape, the most famous village in this area. The most common in order of decreasing usage in blends are Grenache, Syrah and Mourvedre. These wines are generally rich and chewy with great aromatics that echo the scents of the Provençal hillsides, smelling of wild herbs and flowers. They also tend to be quite mineral due to the large stones that are in many of the vineyards. A bit of white wine is made as well, a large percentage from the Roussanne grape.
Loire Valley: The Loire is one of the largest wine regions in France with many sub-regions so it is hard to generalize. For white wines, there are three important grapes. Chenin Blanc makes the wines of Vouvray, Savennieres and the Coteaux du Layon, all of which can vary from dry to very sweet. These are vibrant, fresh, mineral-imbued wines that are capable of improvement with air. They can be a great value as they are under-appreciated on the world market. Sauvignon Blanc is the grape of several regions including Sancerre and Pouilly-Fumé. They make medium to full-bodied wines which can show smoky minerality like flint and even an herbaceous grassiness. They are excellent food wines. Finally, the melon de Bourgogne makes simple, fresh and pure light-bodied whites in Muscadet that are very refreshing and great with shellfish and other seafood.
Alsace: Alsace is a small region that is near the border with Germany. Its beautiful towns look more Germanic than French and the food is similar as well. Unlike most of the previous regions in which you will not find the grape varietal mentioned on the wine label, in these wine regions most of the wines are named for the grape, often with a vineyard or village name as well. There are several grape varietals grown but the most prevalent and important are Riesling, Pinot Gris, Gewurztraminer and Muscat. All can make dry wines as well as late harvest sweet wines (called Vendange Tardive or Selection de Grains Nobles, which are the most sweet, produced from shriveled concentrated grapes). The styles for each vary so see our Wine Varietals page for more details on some of the wine styles.
Champagne: As you probably are all aware, Champagne primarily makes sparkling wines. The primary grapes grown in these wine regions are Pinot Noir, Pinot Meuniere and Chardonnay. Most wines are a blend of the grapes but a Blanc de blancs is a Champagne of only white grapes (Chardonnay) while a Blanc de noirs is a white Champagne of only red grapes. Rosé wines are also produced. While they vary from light, ethereal and crisp to big, rich, yeasty and toasty, the best Champagne can be a profound experience.

Italy


Tuscany: This large region in the middle of Italy is most well know for Chianti, a region that grows primarily Sangiovese. The wines are fruity and earthy, with good acid, making them excellent food wines. Brunello is another region with red wines made from a breed of Sangiovese called Sangiovese grosso or Brunello which are more full bodied and can age very well. While there are several small sub-regions, many wines from Tuscany have gone their own way and produce interesting new wines from any number of varietals, from Bordeaux varietals like Cabernet and Merlot to traditional Italian grapes. These vary tremendously in style but are generally called "Super Tuscans" or Vino da Tavola (literally, table wines).
Piedmont: In the north of Italy, this region is know most for its rich, seductive red wines made from the Nebbiolo grape in wine regions such as Barolo and Barbaresco. These wines can be profound and are worth a special search, however they can be quite expensive. Easier to afford are the table wines made from Barbera which makes a nice rich, heady and fruity wine that is outstanding with food (often referred to as the poor-man's Barolo). Dolcetto is a lighter grape which makes easy, fresh and fruity wines for easy drinking.

California
It is very hard to generalize with wine regions like California. There are no restrictions on what types of grapes you can grow where so there is a huge variety of wine types and styles produced. There are also no truly indigenous grapes so all the types of grapes are ones brought from France, Germany, Italy and other Old World countries. In general, California wines tend to be more fruit-forward and ripe than their European cousins, even when made from the same grape. Part of this is the warmer climate, but it is probably also a stylistic difference. Here are some generalizations about the different wine regions within California.

Napa and Sonoma Valleys: These are two of the oldest regions that have been producing wines in California. Many grape varietals are planted but Cabernet Sauvignon, Merlot, Zinfandel, Chardonnay and Sauvignon Blanc are all prominent. Styles vary dramatically from grape to grape and from producer to producer. Most of Napa and some of Sonoma are best for the Bordeaux varietals like Cabernet and Merlot.
Central Coast: This is a large region ranging from around Santa Barbara and all the way up to just south of the Bay Area. Many types of wines are grown here but because of the slightly cooler conditions in many parts of the central coast grapes like Chardonnay and Pinot Noir seem to do particularly well here. Syrah has also taken on and shows a lot of promise at many excellent vineyards.
Russian River Valley: This is technically part of Sonoma, at the far northern end of the valley, but is often considered separately. Again, like the central coast, this tends to have a cooler climate, with fog and cool air coming in from the Pacific to cool the vines. This makes it excellent for cooler weather grapes like Pinot Noir and Chardonnay as well.

Germany: It is a shame to lump all the wines of Germany into one paragraph. There are several wine producing regions and many wonderful wines which range from bone dry to sticky sweet. The large majority are white wines, most profoundly produced from Riesling, the noble grape of Germany. You do see other grapes as well but most are hybrids of Riesling and other grapes. In regions like the Mosel-Saar-Ruwer river valleys, the Pfalz and Rheinngau, profound wines can be made. There is a complex set of names for the level of ripeness of wines, ranging from dry to sweet. However, even the sweet wines are not cloying and hard to drink as the best Rieslings have intense mineral flavors and acidity to hold it together and give it power and grip. These can be truly great wines that age a very long time.
Spain: Again, sorry to abbreviate a whole country into one section. Spain produces a number of wine styles in many different regions. One of the most famous, Rioja, makes beautiful aromatic red wines from the Tempranillo grape, which is often blended with others. Other regions like Priorat and Rueda among others have come on strong of late and can be found in many wine stores. White wines and Rosato are also produced in most of these regions. Sherry is a special wine produced in a couple wine regions in Spain. It is a fortified white wine which is cask aged and can been anywhere from dry to sweet. They have a unique oxidized flavor that some people love and some hate. It has been described as nutty and honeyed. It makes a great aperitif, dessert wine or even accompanies some foods beautifully.
Madeira: Madeira is an autonomous Portuguese archipelago in the north Atlantic ocean which is known for its wine by the same name. This is a fortified wine which is also made in dry and sweet versions like Sherry. Many people compare it to Port because of some similarities but they can be quite different in flavor, with Madeira exhibiting a roasted, smoky aroma and flavor. These are often aged a long time before release and even today you can find 19th century examples for sale frequently.
Australia: Like California, there are no indigenous grapes in Australia and so they produce several types of wine including Cabernet, Merlot, Grenache, Chardonnay and others. However, they are probably most well known for their Shiraz which is the Australian name for Syrah (it is the same grape). Also like California, Australian wine regions tend to be quite warm, leading to ripe, rich and alcoholic wines. The Shiraz do not tend to resemble their cousins in the Northern Rhône valley in France, tending to be more fruit-forward. However, they do make many world class examples which can be very impressive.
Portugal (Duoro, Port): Portugal is most well know for its red, fortified, sweet wines called Port, although they do make a number of dry wines as well. Port comes in several styles and is produced from several grape varietals, most of which are unfamiliar to people outside of Portugal. Vintage Port, produced from a single vintage, is the grand-daddy of them all, requiring many years or decades of age to reach its peak. Tawny Ports are aged in wood casks and therefore are more evolved, lighter in color (hence the name) and ready to drink when bottled. There are other styles as well, including Ruby Ports, Vintage Character Ports, Late Bottled Vintage Ports, Single Quinta Ports, and Colheita. If you are interested in learning more about Port, there is a great site dedicated to this unique wine called For the Love of Port.
New Zealand: Another of the newer wine regions, New Zealand has produced some very interesting wines in the past couple decades. Many grapes are grown but they have come to be known for their Sauvignon Blancs. They are actually very good, with bright, crisp acidity and minerality, much like their French counterparts. Some good Chardonnays are produced as well.
South Africa: Like New Zealand, South Africa has produced some interesting wines. Sauvignon Blanc does well here too as does Chenin Blanc, which is called Steen here.
---
Done learning about Wine Regions?
Return to the Wine 101 page.

Search This Site
---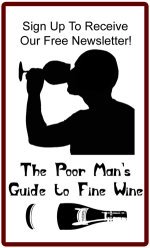 Site Sponsors
---

Peter Liem's
Champagne Guide
World's Best Grilling eBook!
---