Champagne Tasting Notes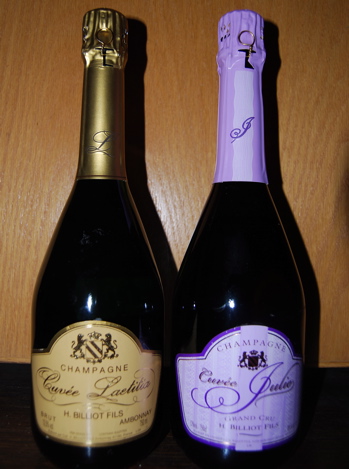 Here are some Champagne tasting notes of wines we have enjoyed recently! Champagne is a region in France about an hour east of Paris. As you probably know, Champagne primarily makes sparkling wines. The primary grapes used are Chardonnay, Pinot Noir and Pinot Meunier. They can vary from crisp and light to rich, yeasty and doughy wines of great grandeur and complexity. What many people don't realize is that Champagne can age very well. Also, while most is consumed alone as a celebratory drink, Champagne is a great food wine, pairing beautifully with a number of foods and cheeses. We may even throw in a couple other sparkling wine notes even though this is the Champagne tasting notes page.
Of note, there is quite a movement these days towards the smaller growers in Champagne, moving away from the large, conglomerate Champagne house of old who bought and blended wines from many growers across the region. We try to focus on these smaller growers as the wines tend to be more interesting and less homogenized than the big houses that blend wines to create a stable and non-offensive product.
For more introductory info about various wine regions including Champagne, see our Wine Regions page!
---
January 21, 2008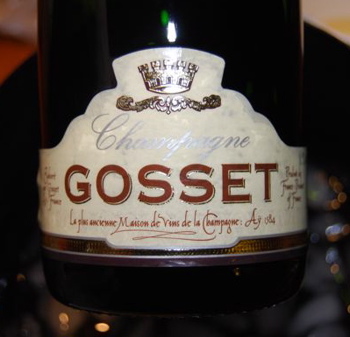 Gosset Excellence Brut NV
This grower has been around for a long time but is really making a name for themselves lately. We have had a few of their wines a long time ago but these Champagne tasting notes on this wine is the first in a long time. The rumor is that as Krug has become so expensive that only billionaires can afford it (although it is amazingly good!) Gosset is replacing it as the "go to" Champagne for those seeking big, doughy and yeasty, full-bodied Champagnes. At under $30 a bottle, this is an excellent entry-level Champagne for a reasonable price.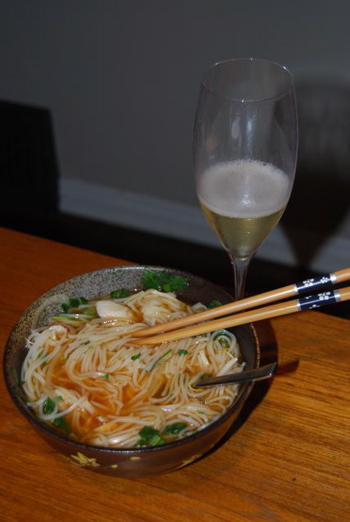 The aromas are somewhat Krug-like with rich yeasty, doughy and buttery goodness. The mouth, while rich and moussey, is also bright and vibrant with almost citrus-like fruit. Very tasty and a great value! We always like to comment on great food and wine pairings and we enjoyed a great one with these Champagne tasting notes. We had this sparkling wine with big bowls of delicious Vietnamese Seafood Phở, the savory noodle dish. The pairing worked perfectly with the bright and rich flavors of the Champagne complimenting the spicy broth beautifully. It also went well with the Royal rolls we had as well. Yum!
---
January 21, 2008
Brut de Charvis Caves de Bailly NV
We know this is the Champagne tasting notes page, but this is actually not a Champange, it is a sparkling wine made in Burgundy in France. While most cremant de bourgogne are not up to the quality of good Champagne, they can be an excellent bargain for bubbly.
This one had a bright, fresh nose of apricot, citrus and some nice yeasty, doughy stuff going on too. Rather simple but pretty nonetheless. In the mouth this is crisp, with intense white fruits, peach and some stones. This is simple, good, unpretentious bubbly which is a steal at $15. An excellent everyday sparkler to enjoy with dinner or just relaxing around the house. Also would make an excellent Apéritif to welcome your guests!
---
January 11, 2008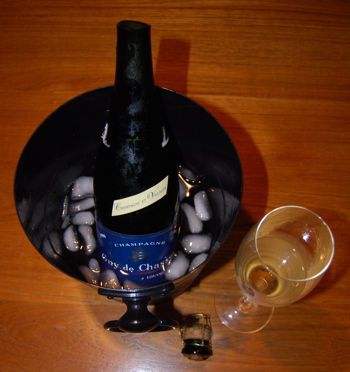 Guy de Chassey Brut 1996
I don't have much experience with this Champagne grower but have heard good things so we were eager to try it and post some Champagne tasting notes. de Chassey apparently uses a pretty low dosage, meaning little sugar is added at disgorgement. This leads to a more intense, dry style Champagne. This is their vintage brut from a great vintage, 1996. This bottle was opened with a Champagne saber as you can see here!
This started out with a slightly sweet fruit and yeasty nose which led to beautiful, focused aromas of apple, caramel, stones and minerals. A hint of what I can only describe as meatiness as well which gave complexity. In the mouth this is very dry with focused, mineral-laden bright fruit flavors, salt and spices. We really liked this and look forward to trying more wines from this domaine!
---
December 31, 2007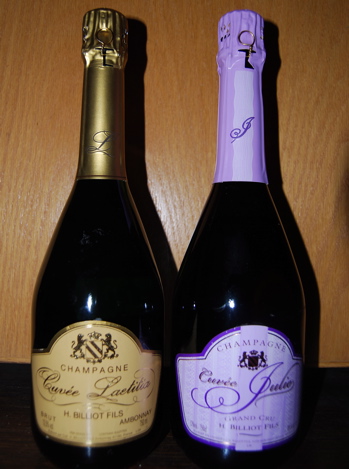 Henri Billiot Cuvée Laetitia (Disgorged May, 2007)
Billiot is one of my new favorite growers in Champagne, so after an introduction by his non-vintage brut a few months ago I was eager to try this, one of his luxury cuvées. It is named for his daughter and is a blend of vintages dating back many years with a predominance of Chardonnay although not 100%. He also makes another wine named after his granddaughter, Cuvé Julia (Laetitia's daughter), pictures here as well, which is a younger blend of more Pinot Noir.
We do not have detailed tasting notes for this wine since it was New Year's eve and we were simply having a good time and not being too serious. However, this wine really blew us all away. It was luxurious and seductive, silky and long. This is an outstanding wine for a relative bargain compared to many bigger names' luxury blends.
---
December 31, 2007
Agrapart "Terroirs" Extra Brut Blanc de Blancs
Another small grower Champagne tasting note we enjoyed on New Year's this year, this was a "Blanc de Blancs" which is a Champagne made from 100% Chardonnay. This is a super dry (extra brut) and intense Champagne which is not as big and lush as the Billiot we had later in the night. Instead, this wine was like a living expression of the rocks of the Champange region, with an intense, mineral-filled personality that was just shimmering with life. Not a wine for those who like their sparkling wines sweet and soft, but for me this is a great wine. We commented that it reminded us of a hypothetical sparkling Chablis!
---
December 20, 2007
de Sousa Blanc de Blancs 1996 (Disgorged 2005)
Another small grower that was new to us, this one had us convinced from the word go! A "Blanc de Blancs" is a Champagne made from 100% Chardonnay. My friend Peter, writing a book on the wines of Champagne and Champagne tasting notes, brought this to my house when he visited recently. I'm glad he did!
This was simply stunning. Great aromatics make way to a vivid expression of Champagne that is both bright and intense as well as lush and almost creamy in the mouth. Don't mistake me though, this is not a wimpy or soft wine, it is intense and super long in the finish. It got better and better as it sat in the glass and got some air. It reminds of somewhat of older Salon in its style. This is quite young but already delicious and just a pure joy. Thanks Peter!
Check back as we will post more Champagne tasting notes periodically as we are fortunate enough to taste them!
---
Done with the Champagne tasting notes?
Return to the Wine Tasting Guide Tasting Notes page.