Loire Valley Wine Region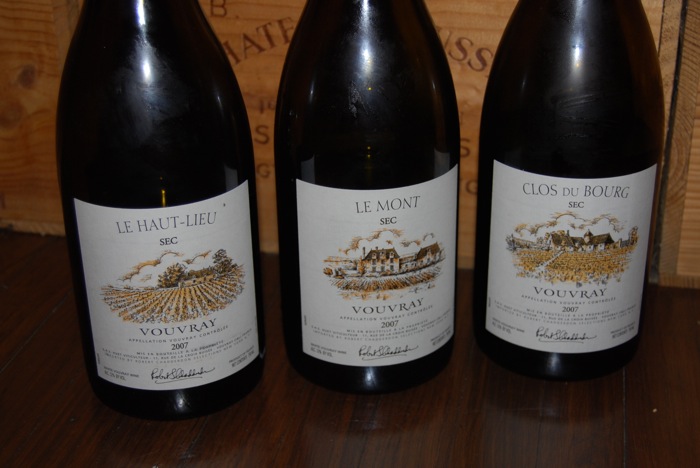 The Loire Valley wine region in France is a massive wine growing region that is a conglomeration of dozens of appellations that follow along the Loire River valley that starts practically in the middle of the country and winds its way west all the way to the Atlantic coast. It is really worth your effort to explore and learn about because there are so many great producers and regions. Because many of them are not that well known, the prices for all but a few of the rarest are still reasonable, even for some outstanding wines.
While the wines emanating from this area are often collectively called Loire Valley wine, there is such heterogeneity in the types and styles of wines produced that it truly is unfair to generalize them as such. They really do deserve their own discussion and study and each appellation produces its own unique voice. If you return to the French wine regions page you can see many of the notable individual Loire Valley Wine appellations listed there with links to more information.
Below, we will give you a bit of an overview to this large and fascinating wine growing region. If you are thinking of traveling, the Loire is a great destination. While it varies a lot from town to town, this area is know for its beautiful castles and great natural beauty as well.
Loire Valley Wine Region Wines and Grapes: There are literally dozens of different styles of wine produced in the Loire. Most appellations focus on one or two individual styles, often from a single grape variety which is grown there. Therefore, below is a brief run down of some of the most famous types of grapes that are grown in the Loire and some of the notable appellations they come from as well as a brief mention of the wine styles produced there from that grape. Sound complicated? It can be with so many unique wine growing regions, but read on and it will start to make sense.
Sauvignon Blanc: One of the most famous grapes of the Loire is Sauv Blanc. Many wine drinkers don't even realize it is a Loire grape since it has been adopted by so many other regions in the new and old world alike. For example, California, New Zealand, South Africa and many others make many fine examples of the grape. Yet, the most classic and arguably the best come from Loire regions as well as Bordeaux (not in the Loire) where it makes up at least some of the blend of most white Bordeaux wines.
In the Loire, the two most famous appellations for Sauv Blanc are certainly Sancerre and Pouilly-Fumé, although it is also the principal grape in a number of other appellations including Quincy, Cheverny, Reuilly, and others. In general, the grape produces wines that are crisp and dry with a taut mineral or citrus acid component. Their specific flavors can vary but they are often fruity, with an aroma similar to gooseberries, along with some non-fruit aromas like hay, grass, gunflint or slate. Like most white Loire valley wines, most wines see little or no oak influence and remain bright and fresh, zesty and lively.
Chenin Blanc: Chenin blanc really reaches its peak of perfection in the wines of the Loire Valley. Although it has been grown elsewhere, it rarely achieves much success in other regions. Although it can be grown in many regions of the Loire, it is certainly most famous for two general regions. Not far from the city of Tours, Vouvray is one of the most famous. Further west, the general region of Anjou, that contains several small appellations, is also mostly Chenin blanc. Some of the famous appellations here include Savennières, Quarts de Chaume, Coteaux du Layon and others.
The Loire Valley wines made from Chenin blanc can vary quite a bit. It is a grape capable of making everything from bone dry wines of great mineral intensity to sticky sweet dessert wines, and everything in between. For example, the dry wines of Vouvray Sec and Savennieres have an intensity to them that can be breathtaking with mineral and other nuances and can be capable of long aging. On the other end of the spectrum, the late harvest Vouvray and Quarts de Chaumes are deep and rich with intense sweetness, yet almost always balanced by firm acidity that keeps them from being cloying. Even with this one grape, it is thus hard to generalize about its style. In general, the best Chenin wines are vibrant and fresh with a succulent, pure fruit and layers of complexity.
Melon de Bourgogne: Although this often misunderstood grape is named for Burgundy (Bourgogne), it is best known for its Loire Valley wines, most notably those from Muscadet. I say it is misunderstood because grown almost anywhere else on the planet and it is a boring, insipid wine that is far from noble. However, in the best hands and from the best vineyards in the western edge of the Loire valley, this "lowly" grape is capable of greatness. While there are oceans of banal wine made in Muscadet, there are also hidden gems that are still relatively inexpensive since they are largely misunderstood and underappreciated. For less than $20, the best Muscadet can be stunning, with a pristine, clarity and vibrancy to them. They are not big or fruity wines. But what they lack in fruity complexity they make up for in minerality, sea brine, granite and more. These shimmering wines are classic pairings to raw seafood and other lighter fare.
Cabernet Franc: A lot of people think of mostly white wines when they think of Loire Valley wine, probably because of the popularity of Sancerre and Pouilly-Fumé. However, there are some stunning red wines grown as well, most notably from the Cabernet Franc grape, a cousin of the more famous Cabernet Sauvignon. While Cab Franc is also grown in Bordeaux, it is usually not much more than a minor component of those red blends, with Cab Sauv and Merlot often making up much more of the wine. However, in some appellations in the Loire, it is the predominant grape. Most notably, the wines of Chinon and Bourgueil are capable of producing fascinating wines that vary from light and fruity to dark, deep and complex. The most serious of these wines are capable of great complexity and can age quite a long time. But many are made to be fruitier and more approachable young as well.
Other Grapes: The 4 grapes above make up the majority of the most famous and fine wines of the Loire Valley. However, a number of other grapes are grown in various appellations. Some, like Romorantin in Cour-Cheverny, are quite unknown, even by frequent wine drinkers. Others, like Pinot Noir in Sancerre, are famous but much more associated with other regions in France (such as red Burgundy for Pinot Noir).
---
Done reading about Loire Valley Wine?
Return to the French Wine Regions section.