2001 White Burgundy
2001 White Burgundy Vintage Tasting and Oxidation Check--Part II: Campanile
February 11th, 2009
This was the second of Don's 2001 White Burgundy retrospective and oxidation check, again at Campanile. This time the theme is all
grand crus
from Puligny, the baby Montrachets, including Bienvenue-Batard-Montrachet, Batard-Montrachet and Chevalier-Montrachet. Notes from the previous night can be found at
2001 White Burgundy Part I
.
As usual, we started the evening with a Champagne served with the first course, Roesti, gravlax, dill crème fraiche. I didn't know quite what to make of the Alain Robert Les Mesnil Tradition Reserve 1990. There was an interesting but slightly weird interplay of both an intense spine of citrusy acidity and fruit that was super ripe and gooey, almost caramelized in aroma and flavor. Unique but a bit weird and I just couldn't say I loved this. It would probably have been nice with a spicy Indian dish come to think of it. On to the 2001 white Burgundy!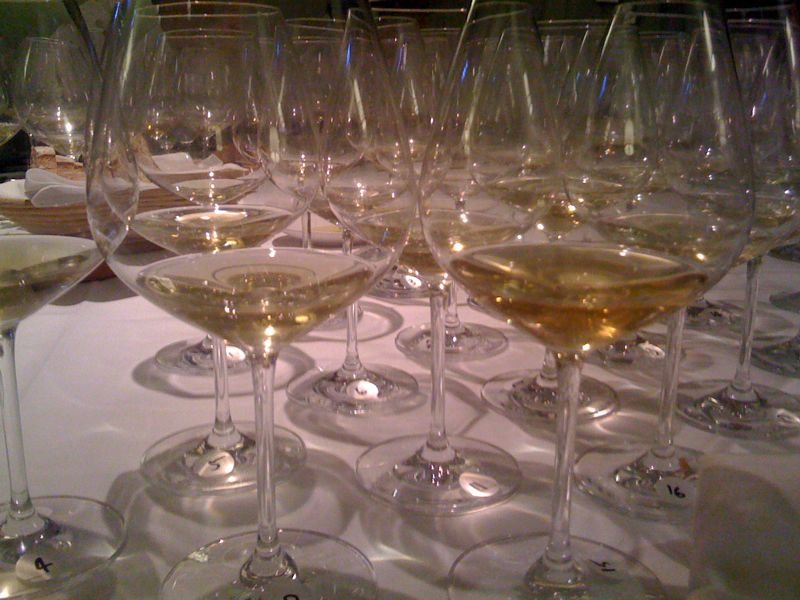 The 2001 white Burgundy in the following flights were all served blind.
---
Flight 1: 2001 Bienvenues-Batard-Montrachet
Served with a unique and absolutely delicious
Ravioli Giganti with mushroom duxelle
which oozed egg yolk from inside as you cut into it!
#1 - Like many of the 2001 white burgundy last week, this initially showed lots of sulfur which slowly blew off but always remained kinda smoky. A toastiness on the palate too which was hard to tell if it was some sulfur or also toasted oak and frankly I felt it was a bit hard to see through. However, there was some nice minerality and bright acid under there. This was my favorite of the flight because of its energy but frankly that isn't saying much as this flight was somewhat underwhelming. It was the Carillon BBM.
#2 - Ripe apple sauce and a hint of chalky minerality on the nose but otherwise quite primary and closed up. However, with air this got a bit weird, seeming to fall apart with a weird empty, soapy thing coming out and noticeable alcohol. This is riper and almost sweet and a bit flabby. This is on the over ripe side and even shows a bit of botrytis. This was a disappointing Henri Boillot BBM.
#3 - There seems to be denser, rocky fruit here but quite young and hesitant. At first I felt it had more depth and power but at the same time seemed a bit blowsy without the midpalate punch that I'd expect from a grand cru white Burgundy. This even seemed somewhat advanced, not oxidized thought. Interestingly, when I went back to this wine after a few flights it seemed to have firmed up a bit, showed even younger and started to win me over. It was the Ramonet BBM.
---
Flight 2: 2001 Batard-Montrachet
Served with a delicious
Seared Scallops with pancetta and potato puree
.
#4 -Young ripe spiced apple aromas are followed by a bright and lively wine that is also a bit piney and herby. Pretty but I didn't think this was great. It was the Henri Boillot BM.
#5 - This one seemed a bit controversial with people at the table. Initially kinda stinky with sulfur but also a truffle-like aroma. This blew off but there was some interesting secondary notes of earth and mushroom that gave this a bit of a sexy, exotic feeling to it. I think some others liked it less. This was certainly more powerful and ripe in the mouth but had a lovely tactile sense of balanced opulence. This was rich but lovely and fun to drink. This was the best up to that point, but we hadn't gotten to the big boys to follow. It was the Pernot BM.
#6 - A bit of spicy, sexy oak shows itself but the nose was initially quite closed up and hesitant here. But in the mouth this was excellent. Suave and sexy, not as powerful and fat as the previous wine but full of finesse and quite delicious. This tied with the next wine for the wine of the flight for me. It was the Leflaive BM.
#7 - Fresh and primary, this is also quite obviously young. Somewhat similar flavors with a refined mouthfeel but more thrust and minerality. This was excellent too and tied for my favorite of the flight. It was the Sauzet BM.
#8 - Hints of flowery, chalky fruit poke out beneath the prominent sulfur. This seemed a bit disjointed in the mouth to me. Bold and concentrated but seemed to lack the finesse of the previous two wines. A bit chunky and still a touch of oak noticeable. This may be much better with time, but seems quite young now and needs to integrate better. It was the Ramonet BM.
#9 - Candied, sweet apple, advanced and bordering on oxidized. Fat and big in the mouth but flabby. This definitely seems to be on a fast evolutionary track and while not bad yet this seems like it is going downhill. It was the Fontaine-Gagnard.
---
Flight 3: 2001 Chevalier-Montrachet, Part I
Served with
Poached Seabass with vanilla bean fondue, wild mushrooms, roast potatoes
Of note, we were told that Ron inserted a mystery Chevalier in this flight. We knew who the other producers were, although not in order.
#10 - Rich and sexy nose with a hint of sulfur. Subtle with a deft touch of oak. This seems to have good depth and is quite pretty but not as full of personality as the best of these Chevaliers. It was the Henri Boillot CM.
#11 - A young and primary nose is followed by an equally young mouthful of very dense and long fruit. At present, this is not that flattering in that its kinda closed up. However there is clearly great underlying minerality and energy with lots of concentration. This had a nervous energy just filling up the middle of this wine that I liked quite a lot and though this was one of the better wines of the evening. Some disagreed, preferring the more accessible and ripe wines but I'm a fan of this style and the grand cru vitality it has. We were all pretty impressed to see that it was the Colin-Deleger CM and that it was not in any way oxidized.
#12 - From the first sniff this was clearly the mystery wine as it stood out from the bunch like a sore thumb. At first it has a weird piney, stewed fruit to it. After some time in the glass it mellowed out but remained hard to pin down. Then it dawned on me, it was gooseberry, grass and a hint of petrol I was smelling. It became pretty clear that this was Sauvignon Blanc and not a white Burgundy. Bright, velvety and rocky in the mouth. This was nice, but taken in the context of the 2001 white burgundy it seemed weird and awkward. On its own I might have liked this more but am never as much a fan of white Bordeaux. Yes, this was the Domaine de Chevalier 2001. Thanks Ron, that was a clever and fun trick you played on us!
#13 - Toasty, again with noticeable sulfur, this was vibrant and more noticeably acidic but without as much stuffing as the Colin-Deleger. A more forward, less serious wine. Nevertheless it was nice and taken on its own is a lovely drink. This was Georges Deleger CM.
#14 - Quite shy on the nose, this was rich, without as much minerality and power at first. But with air this improved, gaining breadth and some punch. It was the Bouchard Le Cabotte.
---
Flight 4: Chevalier-Montrache, Part II
Served with
Chicken and Prawn Pot Pie with lobster butter
#15 - This was the most oxidized wine of the night with stewed apple and caramel aromas and a fat palate with more caramel. While not totally flat yet this was not vibrant and seems to be circling the toilet in terms of oxidation. Drink up! It was the Niellon CM.
#16 - Hesitant nose showing sulfur. Deep, vibrant and intense etched minerality that is filigreed and fine. Powerful with a great sense of inner energy and nervosity that rivals the Colin-Deleger in the previous flight. I think this turned out to be my second favorite of the flight and of the entire night. Young but outstanding. It was the Sauzet CM.
#17 - Yet again I didn't get much on the nose here as it seemed young and closed up. The palate was fatter with good underlying concentration but I felt this one to advanced and bordering on oxidation. Nice to drink now but I don't trust that this will ever be great. This was quite controversial around the table, as it seems some people really loved this and ranked it very highly. I though it was nowhere near as complete or lively a wine as the two wines that flanked it in this flight. It was the Leflaive CM
#18 - This had the freshed nose but also was quite hesitant. Intense, mineral, silky and etched into stone. This is quite powerful and almost painfully young and closed up at present. But this has the stuffing to be truly great. It was the Ramonet CM.
Overall, there were many lovely wines and a handful of truly excellent ones. If I had to choose I think I'd rank that Ramonet Chevalier first for the night, followed closely by the Sauzet Chevalier and the Colin-Deleger Chevalier. The Sauzet and Leflaive Batards would follow closely behind that. Many people flip flopped, preferring the Batards this night, partially I think because they are showing more now and quite more accessible, as one might expect when comparing Batard to Chevalier. Yet again I was impressed at the relatively low level of oxidized or advanced wines. The sulfur was definitely noticeable and again this may have played a role in protecting from premature oxidation in these white Burgundy.
---
After the 2001 white Burgundy, to finish up we had a couple stickies with dessert, a tasty Vanilla Flan, sugar cookie with berries. It was late and I only took superficial notes but here they go…
Suduiraut Sauternes 2001: Pretty, young, floral Sauternes nose. A bit heavy and rich in the mouth with hints of herbs. Not as vibrant and pure as the BA which followed and in comparison it seemed heavy and a bit clumbsy. I think it only suffered in comparison though. On its own this would probably be lovely. But the wine that followed was so dynamic that anything would seem fat and clumbsy in its presence.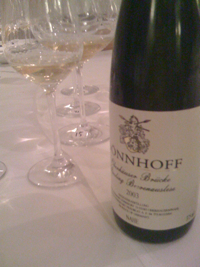 Dönnhoff Oberhauser Brücke Beerenauslese 2003: You can probably guess that this was going to be great. Young hesitant nose of botrytis, white minerals and red fruits explode into a vibrant, mineral, ethereal, pristine and crystalline wine that is simply great. This is young but will probably be thrilling to drink young, medium, old and really old! A great way to finish up a night of tasting 2001 White Burgundy.
I was walking out the door but someone opened a magnum of red Burg that I had to have a quick sip of…
Ponsot Morey-St.-Denis Cuvée des Grives 2003: The thing that stood out to me about this wine was that none of the 2003 ripeness was evident. In fact it seemed downright lean and had bright piney Pinot fruit and a hint of steminess. Lighter in body but silky and very Morey in its herb tinged vibrant red fruits.
Thanks again to Don for organizing this great tasting of 2001 white Burgundy! And thanks to everyone for sharing the wines!
Cheers!
---
Done with the 2001 White Burgundy Tasting?
Return to the Wine Tasting Notes page.