Burgundy Tasting Notes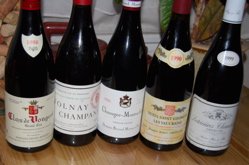 Here are our Burgundy tasting notes! Burgundy is one of our very favorite wine regions in the whole world. Burgundy wine is capable of so much, of such beauty, of such depth, of such finesse and such seduction, that when someone has their first Burgundy "epiphany" they are usually hooked for life. It can become a lifelong quest to find more great Burgundy and to learn as much as possible about the region, its vineyards and producers. However, there are many things about Burgundy that are confusing and difficult for beginners. It can take a long time to "get" Burgundy, both the region and the wines. For one thing, the labels are often confusing, with hundreds or thousands of different names for vineyards, many of which several producers make wine from. The villages, vineyards, producers and the often frustrating search for great Burgundy can turn many off this region. But for those with the patience to persevere, this can be the holy grail! Some Burgundy tasting notes are below.
The very best vineyards are called grand cru, roughly translated as "great growth", and the 2nd tier vineyards, also very good but generally considered a notch below, are called premier cru, or "first growth".
For more introductory info about various wine regions including Burgundy, see our Wine Regions page! For Burgundy tasting notes, see below.
---
---
Burgundy Tasting Notes:
November 5, 2008
Burgundy tasting notes from Barry's birthday! So we got the usual group together and drank some good burgs. The theme was Morey Grand Crus at our usual meeting place. Although we had a couple missing, those in attendance had a great time as usual.
To start out I opened a Milan Terres de Noël 2002, a grower Blanc de Blanc from Oger. This didn't get much attention as people were still gathering but I really love this wine. It shows pristine and precise aromas of chalk and granite minerality and citrus fruit. This is vibrant, a breath of fresh air. Singing and reverberating with stony minerality. On the dry side but just enough sweetness to keep it fruity, fresh and very appealing. I've had this a few times now and it always makes me think of dry Austrian Riesling with bubbles.
Next up, while we had a delicious lobster starter, Barry opened a Fevre Chablis Grand Cru Bougros 2002. Nice aromatics initially with a hint of truffley, earthy hints to the fruit. In the mouth this was a bit round, almost rustic. Full and flavorful but perhaps lacking some detail and complexity. This just seems to lack some verve for a Grand Cru Chablis this young. Not oxidized though, so that's good!
The first flight of red burgs was next. Wine number one was one that I brought and served blind. I like to stir things up a bit and bring something interesting blind and get people's reactions. First my notes…Initially spicy and herby aromas with a hint of woodsyness and a touch of alcoholic heat. However, with air this integrated nicely and was pretty and even complex, getting more mellow, meaty and interesting. The flavors were caressing and pretty, a bit diffuse and alcoholic at first but still balanced and pleasant. Again, settled in with air and was quite nice. Drinks nicely now although there is some depth. Others seemed to like it but thought it to be a bit lighter and less powerful than a Morey Grand Cru so most did guess that it was not in fact a Burg. Ron went as far as to say he though it was a cool climate Pinot but not Burgundy. It was a Puffeney Arbois Vieilles Vignes 2003, an interesting Jura wine which is made from Poulsard, Trouseau and Pinot Noir.
Next was the Chezeaux Clos St. Denis Cuvée Vieilles Vignes 2004, which is made by Ponsot. This was controversial. While clearly not as flawed as the bizarre 04 Clos de la Roche from Ponsot, this had some of the vintage's stemmy, green, even pickle-like at times, aromas. Interestingly, this changed a lot each time I went back to it. Initially really green, next started to show more ripe red fruits which were dark and brooding. But then the pickle came back as it sat in the glass! The mouth was better with a sense of deep, serious fruit with a velvety and etched texture. A nice wine, but still marked by those 04 characteristics that put me off a bit.
The third in this flight was the Lucie & Auguste (Hubert) Lignier Clos de la Roche 2004. Smokier at first, seemingly from a bit of oak, but this blew off and integrated nicely in just a few minutes. More importantly there crunchy red fruits of considerable depth. Did this have that 04 green-ness? Yes, a hint, but this one was much more subtle and integrated and really just added to the complexity and didn't detract from the wine to me. The flavors were really quite beautiful. Velvety and deep but there is the sense of more detail and relief to the spicy high toned red fruits. "Crystalline" as somebody put it, this is still tight and young but seems to have the most potential of this flight. Frankly, I haven't been a big fan of the vintage, but this may be one of the best I've had.
Next flight started with the Clos du Tart 2000. Upon first sniff I was a bit surprised. There was a weird stewed tomato aroma. However, this did blow off with a bit of swirling and showed pretty ripe red fruits. To me it was clearly 2000 in that it had nice bright fruit, maybe the brightest here, but was also kinda juicy and simple. Has great silk and lace in the mouth with flavors of earth and red fruits. Some dusty tannins on the finish give it some grip and balance and overall I though this was very nice. I don't think it has the complexity and depth to be truly great, but it is drinking well now and may even improve for some time as it certainly did not lack for structure.
Next up, Ponsot Clos de la Roche VV 2001. This one won me over from the start. The most promising nose yet. Very pretty crunchy red fruits and stones. Powerful and focused, the terroir really shows through here with minerals and ripe, complex, "crystalline" as someone put it, red fruits, spice and young tannins. This is really what you look for in a younger red Burg and this was clearly the wine of the night. Despite its youth and power, this is so lifted by its acid and minerality that it just sings. Beautiful wine.
Finally, the Gerard Raphet Clos de la Roche VV Cuvée Unique 2002 paled a bit in comparison to the previous wine, but taken alone, I liked it. This was considerably darker, with ripe black and red, almost jammy, fruit. Dark and brooding, this didn't have the freshness and focus of the previous Roche. But it certainly has depth and extract. Chewy and young but not particularly powerfully structured. This is dense and long but not as etched and filigreed as I might hope for and witness in the Ponsot. A bit pedestrian in comparison.
To finish up, Howard shared a beautiful split of Dönnhoff Schloßbockelheimer Felsenberg Auslese 2007. My notes said "Wow!" upon smelling this. Pure, beautiful peach, white granite and white flowers. Intense and jumps into your nose and makes you happy. Really, really pretty but super young. Flawless, silky. This has great purity. I find the Felsenberg structure to be based more on citrus and a bright herbiness that gives the wine lift, as compared to say the intense mineral core of the Hermannshöhle. This is not a criticism, just a difference of terroir and the resulting personality. Ultimately, I like the Hermannshöhle better for its breed and detail but it is hard to argue anything is better than this beauty while you are drinking it!
Thanks to everyone for the generous wines and Happy Birthday Barry!
---
More Burgundy Tasting Notes:
October 7, 2008
Burgundy night with the guys again and here are the Burgundy tasting notes. My friend Barry brought some outstanding Neal's Yard cheeses straight from London. The wine theme was supposed to be Pommards and Beaunes but it turned out to be just Pommards.
For the first flight we enjoyed a couple white burgs to warm up. The Brocard Chablis Fourchaume 1996 didn't seem as fresh as you might expect for a 96 Chablis but it was not oxidized. Apple pie and cinnamon aromas lead to a fresher palate of oystershell, lemon seed and salty pink grapefruit. Fattened up and lost edge with air, maybe too much. Again, this is not oxidized but it was not that lively either. Nice but not great.
The Lafon Clos de la Barre 1996 was better. Ron said that other bottles from the same case have been oxidized but this one certainly wasn't. Pretty, floral aromas are still young and hesitant. A bit of toasty oak frame nutty and mineral-imbued flavors. Silky and inviting, this is still young but very promising.
Flight two was three 2005 reds. The first bottle was brought by myself and served blind because I thought it would make for an interesting conversation piece. All these 05's were a bit hard to evaluate at this stage as they are quite tight and starting to close down hard with big tannins. The first started out very pretty with young, floral red fruits. While excellent density and structure, this seemed to have a more silky, pretty character than the other wines. Grip and length and got nice and silky with air. In fact got better and better with air and this probably would have benefited from decanting. I think everyone at the table liked this and the 3rd wine in this flight most with this edging out that one because of its greater nuance and finesse. Ron said it seemed more elegant and more Volnay-like. He was very right. This was the d'Angerville Pommard Combe Dessus 2005, a rare wine that is from a lieu dit right on the border with Volnay. Man does d'Angerville do a great job with everything, I love their style (or lack thereof).
The next wine was the Moillard Pommard Epenots 2005. More tangy and juicy aromas but young and hard to crack. Similarly young, tannic and tight but not as dynamic as the other two wines. Has good substance but rather monolithic. Hard to tell what time will hold for this but seems to have the stuffing to be something interesting in 10 years.
The Jadot Pommard Rugiens 2005 was bigger and more masculine that the other previous wines as one might expect. A smokier nose of bacon and darker black fruit, earth and a hint of Brett. Gives the sense of depth and complexity lurking there but this too is very tight and young. Darker and denser in the mouth, this is the most Pommard of the flight but with almost jammy fruit. Monolithic right now but has lots of depth and a fat midpalate that suggests a long evolution. Very nice but again in a stage that is a bit hard to evaluate.
The next flight started with two Armand Clos des Epeneaux. The 1998 has an earthy and meaty aroma of ripe black fruits but seems clamped down in the mouth still. Big and tannic still and even a bit disjointed and austere. Maybe a feature of the vintage but this also just seems to be in a weird stage and should be held longer. Assuming it softens a bit and becomes more flattering with time this could be quite nice but seemed out-classed by the next wine to me.
The 2001 Clos des Epeneaux had a more intense, deep rich nose of blue and black fruits which blossomed with air to give off ripe earthy, truffle aromas. Dense and much more "filled in" in the midpalate with a core of meaty and iron minerality. While some 2001's are starting to drink very nicely (for example I loved the Cathiard Malconsorts I tried a couple weeks ago) this seemed very young and hard. Chiseled and complex. But unlike the 1998, I had no doubt that the density and depth is there to stand up to the structure. I'd hold at least another 5 years to open another.
Next up was the de Courcel Grand Clos des Epenots 2001 which was kinda weird! Very different nose which was almost piney and green yet initially with an almost oxidized carmelized red fruit component. Less grip and power in the mouth, a bit unfocused and lacks energy. Angular and a bit green on the finish. I've heard from others that this was nice so I don't know what happened here. Ron said he has had a similar green impression from other de Courcel wines. I think they make this with whole clusters with the stems so maybe in the not super ripe vintage of 01 they got just a bit too much green, steminess.
The final flight with a cheese plate started with the Lejeune Les Argillieres 1988 and 1993. The 1988 had a deep, spicy nose that almost seemed Vosne to me. Deep and smoky flavors of coffee and dark fruits. Still quite tannic and tough. This was nice but worried me that the structure will always be coarse and hard like many 88's.
The 1993 showed riper spicy fruit with really intricate and etched flavors on the palate. I liked the tactile sense of this that I get from many 93s. This was my favorite in this flight right now but still on the young side and could use a few more years.
To finish up the Leroy Pommard Trois Follots 1999 was a well put together wine. Sweet, sappy dark fruits are riper, more plus and polished and even more elegant with a silky texture. More modern in style but sexy and ripe. Also very young and primary and should improve with age. However, because of its plush style this drinks quite well young.
---
More Burgundy Tasting Notes:
September 10, 2008
My Burg buddies met up again at our usual haunt and here are the Burgundy tasting notes. The theme was pretty loose...it started out as "hey, we should do Chevillons again!"...then "I'd like to revisit some of the 01's, maybe the 04's too."....then "Bring something Chevillon, or other Nuits, preferably 01 or 04...otherwise, just bring something." Sounds like a plan to me. There were even a couple non Burgundy tasting notes thrown in.
To start, I brought a cheap-y but goody that I thought would be fun to try.
Pepiere Muscadet Clos de Briords VV 2006: I personally love this wine, enjoying its intense salty, granite minerality. Salty sea air, melon, granite but quite rich and long. The salty, tangy finish lasts for over a minute. However, this seemed to be a bit polarizing. Some seemed to really like it, others not so much. I'm in the camp that thinks this is one of the best QPR's on the planet. It also happens to be my son's birthyear so I stocked up both in bottles and mags. Of note, this is not a Burgundy tasting note, it is from the Loire.
Our first flight of red burgs were all 04's...
Leroy Bourgogne 2004: We had tried this wine a while back at an 04 tasting but wanted to check back in since it is a controversial wine. This showing was considerably better than the last. While it still has a somewhat cloudy appearance, the aromas have really come together with bright red fruits, a hint of smokey bacon, and really floral notes like beautiful wild rose petals. I can convince myself that there is some herbal/greenness to it, but not nearly as much as previously and just adds to the complexity at this point. The flavors are linear and tight with silky, bright red fruits with leaves, flowers, powdered sugar, tangy cherries and cranberries. Still quite tight and angular. But compared to what this was a while ago, it is quite an improvement. I actually like it now.
F. Magnien Nuits VV "Saint Georges" 2004: There was a lot of discussion and debate about the label for this wine. It is labeled as a Nuits 1er and VV but the vineyard name under the Nuits-St.-Georges is simply Saint Georges, not Les Saint Georges. There was discussion whether this was just the general Nuits 1er VV or the Les St. Georges. I think we were all convinced of the later by the end. This had a kinda strange nose that I didn't know what to make of. Oak but also something else weird I couldn't really put my finger on. Better in the mouth, this is suave and polished. Round and pretty but this doesn't have much character. Seems more "internationally" styled, hiding the real terroir. Just TOO polished. Uninspiring. This has generally been by impression of this producer in the past as well.
F. Mugnier Nuits "Clos des Fourches" 2004: This is the younger vines from the Clos de la Marechale. Unfortunately, to my taste this was the most green so far with a leafy, dill-tinged nose. The flavors were tight, with a slightly metallic tang of iron and minerals. With air it opened somewhat and got sweeter, deeper and more lush. While this didn't blow anyone away initially, with time it may provide some pleasure.
R. Chevillon Nuits "Vaucrains" 2004: Just when we were thinking 04 was not so good, this came along to save the day. While the nose was somewhat reticent at first, it showed a nice meaty iron and blood component which was enticing. In the mouth, this was quite powerfully giving a sense of a rocky hillside. Dense and masculine, this didn't have any sense of greenness. Definitely young and tight but this seems like it has a lot of depth and potential. The depth here is actually quite shocking for the vintage. Definitely the class of this flight.
Our next flight of Burgundy tasting notes was all 2001's...
Gouges Nuits "Les St. Georges" 2001: Now we are talkin! Immediately the aromas coming from the glass let you know we are in another league. Meaty, rich coffee, rich earth, menthol and a sense of craggy rocks. Young, rich and tight but loads of depth, rocky and refined. Lots of potential here. This is a natural and transparent wine with a solid core of minerals giving the wine energy and power. Loved this. Great Burgundy tasting note.
Burguet Gevrey "Mes Favorites" 2001: This gives more of a sense of what I'll call red granite, along with some meat and spicy black fruits. Riper with supple, velvety fruit and a nice fine mineral texture. Doesn't have the depth of the others in this flight, which I expected given that it is not a 1er, but this is very nice in its own right. It only suffered by being surrounded by such beauties.
Cathiard Nuits "Murgers" 2001: Having not tasted them young, I've come to the conclusion that Cathiard hit it out of the ballpark in 01! Recently had the 01 Malconsorts and it is glorious, as good as, and maybe better than, the 98, 99, 02 and 03, all of which I've had in the last couple years. So I was pleased to see that this one is great too. Definitely more polished and not as terroir driven as the other Nuits in this flight, but the beauty of this cannot be denied. Makes sense that it is from a vineyard nearer to Vosne as this was less meaty and "rustic" and more floral and spiced. The nose is very pretty, floral and spicy, not unlike a Vosne. The flavors are powerful, ripe and deep, as well as long and just delicious. Beautifully integrated with a fine, silky texture. Yes, this is polished when compared to the others, but still maintains lots of character. Polished like DRC is polished, not in an obtrusive, modern way like the Magnien was.
Chevillon Nuits "Vaucrains" 2001: Beef blood, meaty and rich, very mineral driven. This was powerful, rocky but also really nuanced with a tactile sense of texture on the palate that gave the sense of facets and craggy corners to explore. Very young and quite tannic, but approachable. This needs lots of time but was very impressive. Like the Gouges, this one was really a classic burg in the sense of its terroir-driven, transparent character and dense core of Earth energy.
Overall, for me the clear winners were the 01's, showing extremely well across the board. I couldn't quite choose between the Chevillon 01, Gouges and Cathiard for my favorite of the night. They were all so different and each had their own unique character that it is hard to compare them. All three were great. The 04 Chevillon was not far behind.
To finish up with cheese we had two wines. The first a burgundy tasting note served blind, the second a port, thanks to Andy.
Bouchard Le Corton 2006: This seemed a bit diffuse on the nose with an oaky overlay that didn't give much else to go on. While the nose almost seemed older to me since I could not detect any fruit, the mouth was obviously young with rich body and big tannins, although they were quite silky. The midpalate seemed to be lacking a bit though and it was stunted on the finish. Overall, uninspiring. When it was revealed it just seemed to confirm what some of us had been suspecting, that Bouchard has become a bit more heavy-handed on the oak of late. While their 99-02's were often pure and very pretty, they seem to be slipping. Time will tell.
Fonseca 2000: I don't think we've ever had a port with this group. Note: This is not a Burgundy tasting note! This is a Port! I don't think I mentioned it that night, but I was very interested to try this wine because the last time I had tasted it was as the wine we said the prayer over and drank at my wedding. My anniversary just happened to be the next day after this dinner so it was an interesting coincidence that I got to taste it almost exactly 4 years since the last time. However, from what I can tell, 4 years doesn't mean anything in port-time. Despite decanting this when we got there, this is still super young. A pretty nose of violets, cassis and framboise leads to powerful and tannic fruit which is very long and deep but so primary. This needs decades yet. Outstanding potential but this is infanticide.
As usual, great wine and even better company. Thanks to all!
---
More Burgundy Tasting Notes:
July 16, 2008
Three of my wine buddies and I went to our usual spot to drink some wine and here are the Burgundy tasting notes. There was no general theme and the wines were served blind initially while taking Burgundy tasting notes and then revealed after discussing them...
Flight One (Whites):
Albert Grivault Meursault Perrieres 1996
Burgundy tasting note: I remember really liking this on release. No such luck anymore. This was flat out oxidized immediately upon opening. You can read more about oxidized wine and other wine flaws on the Wine Aroma page.
Patrick Javillier Meursault Cuvée Tête de Murger 1996
Burgundy tasting note: Fresher aromas but with some nutty hazelnut and almond layered with honey and citrus notes. I was wondering if the nutty and honeyed notes could be from a hint of early oxidation but giving it the benefit of the doubt I guessed by the nose that this was a Meursault. The palate was round with a mineral, almost metallic finish. Some buttery vanilla notes suggested oak aging. This was nice, but not great. Seemed a bit advanced and with a little less acid structure and definition than I'd hope for from a youngish Meursault.
Baumard Savennières 1988
non Burgundy tasting note: Initially this gave off a rich creamy aroma almost like creamed corn, wool and talc dusted flowers. I've noticed that similar aroma with other aged Baumard Savs, the 97 in particular. Quite pretty and with air this continued to expand with the almost Riesling-like fruit showing itself with hints of petrol. In fact, this kept changing and a new nuance showed its face with each swirl with earthy truffle aromas coming in later. The mouth here is rich and powerful with rocks and honey and a very mineral, etched finish. Deep and long yet never heavy. I thought this was delicious but I brought it so I guess my vote doesn't count. Everyone else at the table thought it was Riesling, maybe Alsatian. This is really the quality price ratio winner of the evening considering that this basic Sav is still only around $15 to $20 on release!
Verget Chablis Grand Cru Valmur 1996
Burgundy tasting note: I brought this one as well. I remember this being a controversial wine when young, with some people's Burgundy tasting notes loving it and others not so much. Right now it has definitely developed some aromatics with nutty, truffled aromas with hints of Chablis stoniness that got quite nice with air. While I didn't detect oak on the nose, I did feel the mouth showed some oak with some dryness on the finish but does have decent lift and some minerality shines through. This developed nicely with air as well and while I wouldn't say it's perfectly typical for Chablis Valmur it is drinking nicely now. My fellow tasters thought it was Chardonnay based but I believe there was some discussion whether it was Burg or maybe domestic Chard.
Flight Two (Reds):
One friend who supplied two of these wines told us up front that one was from a ripe vintage and the other was a 1996 and that one was from the Côte de Beaune and one was from the Côte de Nuits. The other told us that his was a 1998. He then later added that we had had this wine together before and liked it. So these weren't 100% blind Burgundy tasting notes, but their exact identities were not revealed until later.
Méo-Camuzet Nuits-St.-Georges Aux Boudots 2003
Burgundy tasting note: My initial impression of this was the just upon initial sniff this was the wine from a ripe vintage as it showed ripe fruit with a hint (not offensive though) of alcoholic heat. However, once you got past that it is very pretty with red fruits spiced by black pepper. Some reductive aromas of burnt rubber were also noted initially but faded. Seems youngish, but not closed, just primary. Nice big attack of ripe fruit but the midpalate is a bit diffuse and hollow. The finish picks up nicely though with linger red fruits and spice. Soft and caressing texture and while this is ripe it is not overtly hot, alcohol-wise. Rather, I think the hot vintage shows itself with the lack of depth on the midpalate.
Chevillon Nuits-St.-Georges Les Cailles 1998
Burgundy tasting note: The Burgundy tasting notes for this were dramatically different despite being from the same village. Initially I was a bit confused by this as it had a strange, kinda stewed and diffuse aromas. But with air this woke up and got a rich plummy, chewy fruit with a bit of earth and spice. After being open an hour or so, it started to get quite sweet. In the mouth, spicy and chewy dark fruit. It also developed a greenness or steminess on the finish. Despite this, the fruit got quite ripe, almost candied. Nevertheless, this was very nice but I suspect it is in a bit of an awkward stage as I've had previous bottles of this (with some of the same company) that I liked a lot more. Since I knew I'd tasted this before with one of the guests I guessed this to be Chevillon but I don't know that I would have guessed that or even Nuits had I not known anything about it.
Méo-Camuzet Corton Clos Roguet 1996
Burgundy tasting note: This was quite different from either of the previous wines with a pure and intense nose that was much more focused. Black licorice, anise, almost seemed Provencal with a brambly rusticity to the aromas (in a very good way). The flavors are richer, more intense and with stony minerality giving a good solid structure and balance. Dense and rocky. At the same time, this seems more fine. With air this expanded, fleshing out and becoming quite powerful. I thought this was the best of this group of red Burgundy tasting notes by a fair margin. Still quite young though. In my notes I guessed this was the 1996 given its focus and intensity. I guessed Nuits, which I guess is not too far off since it is in the far south of the Côte de Nuits and Corton is in the far north of the Côte de Beaune.
---
February 28, 2008
I enjoyed a wonderful wine tasting dinner to celebrate a friend's birthday recently. Everyone pulled out some awesome wines, mostly Burgundy. It included some great Champagne, a DRC La Tâche and other great wines. The Burgundy tasting notes as well as a few others can be found on our Wine Tasting Dinner page.
---
More Burgundy Tasting Notes:
December 19, 2007
Bouchard Meursault 1er Cru Perrières 2004
Burgundy tasting note: Meursault is the village, Perrieres the premier cru vineyard in the village and Bouchard is the producer. Meursault is one of the most famous villages for white Burgundy, producing mostly Chardonnay. Bouchard is a larger domaine producing many wines both red and white but they do an excellent job, particularly of late.
This wine was quite young with a steely, mineral frame with a bit of oak toast on the nose. Tight and restrained, this seems to have good depth but just isn't showing much right now. This is a good example of how a young wine can be quite reserved and needs time in the cellar to open up and show its stuff. Seems to have good potential though.
Pousse d'Or Volnay Caillerets "60 Ouvrées" 1979
Burgundy tasting note: Here the village is Volnay and this comes from a premier cru vineyard within Volnay called Caillerets. This wine comes from a small plot within that vineyard called 60 Oivrées.
This older bottle appeared to have been stored well, with a good fill. The nose was beautiful, with a complex perfume of earth, mushrooms, dried leaves, and even flowers and spice that you can often see in old Burgundy tasting notes. Initially in the mouth it seemed like it was fading, with a short finish. However, with time, over the course of the evening, this expanded as it took a deep breath of fresh air. This stayed medium bodied but the finish lengthened and the midpalate fattened up. I liked this a lot.
Marquis d'Angerville Volnay Taillepieds 1995
Burgundy Tasting Note: One of my favorite producers of Volnay, this comes from the premier cru vineyard of Taillepieds.
This was quite young still, reserved and not showing much. It was pretty and interesting and has everything there for it but it just wasn't filled out yet and was quite backward with predominant tannins, although they were ripe, suave tannins. Give this a lot more time!
Lafarge Volnay Clos des Chênes 1996
Burgundy tasting note: 96 is also a young vintage, many of the wines not showing well yet. This another one of the top producers from Volnay.
This wine was also tight and reserved on the palate. It needs more time. Good long finish and good body. This just needs time, probably a lot of it. I'd wait at least 10 years if I had some in my cellar.
Lafon Monthélie les Duresses 1995
Burgundy tasting note: From the les Duresses vineyard in Monthelie, this producer, Lafon, is much better known for his white Burgundies, particularly those from Meursault and Montrachet.
This red was deep and dark with spicy, earthy fruit. Not hugely complex and lacked a bit in finesse, as most Burgundy tasting notes of Monthelies attest to. This was a rustic wine that is becoming drinkable, more full bodied and fleshed out than the 90's Volnays that preceeded it.
Simon Bize Aloxe-Corton Suchot 1993
Burgundy tasting note: This is a lieu dit from the village of Aloxe that I didn't know existed. Suchot is the name of a famous premier cru vineyard in Vosne-Romanée but this is different. This seemed to have a nice fleshy body and is starting to show very nicely. This was very interesting to taste.
Domaine de Varoilles Gevrey-Chambertin Clos des Varoilles 1988
Burgundy tasting note: This is a lesser known producer who just make this monopole (they are the only ones who make it) in the village of Gevrey. It started out a bit lean and tight with the slightly astringent tannins you often find in Burgundy tasting notes from 1988. Seemed to start to open and give more pleasure. If this improves with time it could become quite nice. Of note, this was served blind and I guessed that it was an '88 Savigny based on my Burgundy tasting notes. I recognized the tannins from '88. However, my guess for a village was Savigny.
de Montille Vosne-Romanée Malconsorts 2005
Burgundy tasting note: This famous domaine in Volnay recently acquired several new vineyard plots from a purchase of another domaine, along with Dujac. They got their hands on some Malconsorts, a famous premier cru vineyard in Vosne. One of the things that is famous about it is its proximity to la Tâche, a grand cru vineyard next door that is a monopole of the Domaine de la Romanée-Conti. La Tâche is one of the most sought after and expensive wines in the world. Most of Malconsorts is just to the south, but one tiny strip of vines abuts la Tâche directly, separated by the rest of the vines by a small dirt road. Treasure hunters hope that wines from this little strip will be as good as la Tâche but without as high a price tag. de Montille made two versions this year, his first year making it. One is this wine, from the normal part of Malconsorts. There is another bottling, the Cuvée Christianne, which is just from the little strip of vineyards next to la Tâche.
This was also served blind and confused us all. It was extremely ripe in the nose. So much so that all of us, without exception thought it had to be a California Pinot Noir. You don't usually get that amount of sweetness in Burgundy tasting notes. The nose was not just ripe but fairly simplistic, with jammy, almost candied fruit with hints of oak spice and vanilla. However, in the mouth, this changed its tune. It was quite big and had some serious grip and good balance. While still very ripe, it has great velvety, almost silky texture, depth, minerality and long length. I started to change my bet once I tasted it. I know of no California Pinot that tastes remotely like this. Others were a bit less convinced. When it was revealed that this was the de Montille, a producer who is known for making very traditional and often austere Burgundies, we were amazed. This does not seem like his style and is not the style of Burgundy that most of us look for. I give it the benefit of the doubt, hoping that with time the candied quality will fade, and the complexity and finesse will prevail. Only time will tell. However, because of the rarity of this wine, I am unlikely to have the chance to try it again. I wonder how the Cuvée Christianne tastes?!! I may never know!
Check back for more Burgundy tasting notes as we will post more Burgundy tasting notes periodically as we are fortunate enough to taste them! I love Burgundy tasting notes!
---
Done with the Burgundy tasting notes?
Return to the Wine Tasting Guide tasting notes page.