Southern Rhone Wine Region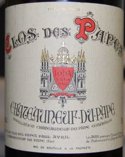 The Southern Rhone is, surprise, south of the
Northern Rhone
valley. However, while the northern part is a long string of tiny appellations, the south is a bit more expansive. It is also more expansive in terms of grape varieties. Whereas the red wines of the north are almost exclusively
Syrah
, the wines of the south allow a veritable smorgasbord of grape varieties. Most of the wines, including those from the most famous village Chateauneuf-du-Pape, are a blend of 2, 3 or up to 13 different varieties all together in one wine! The southern-most parts are considered part of Provence as well.
Most of the red wines of the Southern Rhone Valley can blend 13 different red varieties together, as in Chateauneuf-du-Pape, or even more in some instances. Probably the most predominant red grape is Grenache. But Syrah, Mourvedre, Carignan and Cinsault are also abundant. A number of other less well known varieties are grown and blended into some of the wines as well. When wine tasting Chateauneuf du Pape, you never really know what you are getting do you?
The white Rhone wines of the southern part of the Rhône valley are less abundant, in general, than the reds. They do tend to be blends of various white grape varieties as well, however. The most common white grapes include Ugni Blanc, Roussanne (especially in white Chateauneufs, in which it can be the predominant variety), Bourboulenc, Picpoul, Clairette and Viognier.
---
Major Southern Rhone Wine Appellations
Chateauneuf-du-Pape:
The most famous and regal of the southern Rhone appellations, Chateauneuf du Pape ("the new home of the pope") generally makes wines that fetch the highest prices, get the highest ratings and will age the longest of all these wines. The reds can be a blend of up to 13 grate varieties but are usually predominantly Grenache with variable amounts of Syrah, Mourvedre and various other grapes depending on the vineyard and producer. The wines tend to be fruity but with a wild,
sauvage
complexity and chewy texture. They often have Provençal aromas of herbs like lavender, rosemary and thyme, but yet have an earthy meatiness that runs the length of the wine, giving it a chewy and wild texture. The more modern styled wines can be quite ripe and suave (it is not far from the warm Mediterranean coast after all!) but the traditional wines are on the more rustic side, with wild, brambly fruit, stoney minerality and abundant structure. A small amount of white is made in Chateauneuf as well and can be a round, plump wine with an earthy complexity. The old vine examples made from mostly Roussanne can be striking, especially the example from Beaucastel (both the reds and whites from this domaine are classic).
Côtes du Rhône: The Cotes du Rhone appellation is huge in the southern Rhone valley. While the Cotes du Rhones from the north tend to be mostly Syrah, in the south they are often styled after Chateauneuf, with a blend of Grenache and other grapes. However, it is impossible to generalize as the wines with this label can be anything from cheap swill to quite dense, complex and age-worthy examples. Stick to the best producers and you can find some great values in this category, both for whites and reds.
Vacqueyras: The large bulk of these wines are red and while they have a fair amount of Grenache, they often have a healthy dollop of Syrah. These are some of the darkest and most structured wines of the south, often appearing almost black in the glass. While they have intense structure and density, they often lack a bit in elegance. They tend more toward the rustic, burly side of the spectrum. While powerful, they lack the noble breed of their neighbors from Chateauneuf and even from Gigondas. They can be excellent values for a powerful, dark red wine.
Gigondas: Another neighbor of Chateauneuf, Gigonadas is almost always predominately Grenache, although it can blend other grapes like its neighbors. It tends to be chewy and wild yet having a silky, elegant side to it, at its best. It can resemble Chateauneuf, although it rarely quite reaches the heights that the more famous appellation attains. But again, this can be a stupendous value for the better wines, nearly eclipsing its more famous neighbor in quality, complexity and elegance.
Beaumes de Venise and Muscat de Beaumes de Venise: While a small amount of red can be made under the first appellation name, the most famous wine from this region is the later, the Muscat de Beaumes de Venise. These sweet white wines from the Muscat grape, at their best, can be fresh and fruity, lively and fun. They are not dense, age-worthy sweet whites like a Sauternes or German Trockenbeerenauslese. Instead, they are wines with a softer structure that are easy to drink younger but have a floral and fruity essence that can be intoxicating (and impossible not to like, except for masochists). Pour half the bottle over a glass of fruit salad and serve the rest alongside for a summer dessert and your guests will be quite pleased!
Tavel: This is a unique appellation in the southern Rhone that is 100% devoted to Rosé wine. Made from the same grapes as elsewhere in the Southern Rhone, the best Tavel Roses are both fruity and refreshing but also a bit wild, dark, complex and earthy. Good rosé is wildly underrated in the US and these can be awesome values for sublime summer wines that won't break the back yet are irresistible and food friendly.
Others, such as Coteaux du Tricastin, Rasteau and Cotes du Vivraise: There are a number of other appellations in the southern part of the Rhone valley. Most make predominantely red wines that resemble, at least in part, the other more famous appellations such as CdP, Gigondas and the Cotes du Rhone. There are a handful of high quality producers but many are weak producers that produce a glut of mediocre wine, so choose carefully
---
Done reading about Southern Rhone Wine?
Return to the French Wine Regions section.